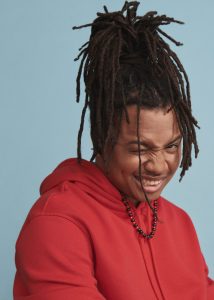 Today we'd like to introduce you to Amir Royale.
Amir, can you briefly walk us through your story – how you started and how you got to where you are today.
I derive from a family of artists, musicians, singers, lawyers, social workers, politicians—you name it—as well as being a native of Saint Albans, a neighborhood that in it's prime was rich with Jazz, Soul, activism and humanity, being populated by renown souls such as Jackie Robinson, W.E.B. DuBois, James Brown, Ella Fitzgerald, Fats Waller and so many others.
But these days, my neighborhood has slowly deteriorated from a hub for artists and humanitarians to a simple hood where neighbors are nothing more than people I barely know. A place where people bow their heads into their phones as if with the slightest smile or positive outlook, they could be attacked. Houses have foreclosed on my block, people have moved away to other boroughs and even states, and I don't have any connection to a single person who helped me grow on my own street, let alone even kids I went to school with. So, aside having the incentive to become a greater skilled artist and entrepreneur, as well as having well-rounded academia talents, I ventured to prestigious higher education schools to escape the unfamiliar and scary inputs that were infecting and in some cases, replacing my childhood memories.
We're always bombarded by how great it is to pursue your passion, etc – but we've spoken with enough people to know that it's not always easy. Overall, would you say things have been easy for you?
I've taken it upon myself to succeed not just for my 80-and-aging grandparents, my loving deceased mother, soul-searching father, lost friends, crumbling community, busy-body state, arrogant country and the world—but most importantly for myself because all I've wanted more than to be upon a stage, make others smile or warm a heart, is be unregrettably and irrefutably happy. That's all anyone can ask for and it's all anyone should strive to find.
So let's switch gears a bit and go into the Amir Royale Entertainment story. Tell us more about the business.
At Fiorello H. LaGuardia High School of Music & Art and Performing Arts I studied conservatory acting for four years. I then proceeded to the Clive Davis Institute of Recorded Music where I studied to become an entertainment entrepreneur and professional recording artist. At 21—I have a certified theatre degree attached to my high school diploma, a Bachelor of Fine Arts in Recorded Music and Business, as well as a minor in Cinema Studies. I'm currently applying to Columbia University for advancement into a Master of Fine Arts in Filmmaking and Directing.
Since becoming a college graduate, I've dove headfirst into building a multimedia conglomerate entitled M. StageScene Communications, as well as beginning to establish a record label (Blues Bell Music) and film studios (Royale Pictures Inc. & Obey the Crown Entertainment) and animation companies (SPECTRUMM Animations) that my crew and I believe are uncontrollably fit to attack the culture, revive art and compete to bring life back to the currently dying and stubborn market that we know as the entertainment industry. I want to introduce new artists, producers, creatives and journalists to a wide range audience that otherwise would not get to know them. I want to help them find YOU—and more importantly, I want to help you find US. I want to help others find success the way I still am working to achieve it myself. Music is an incredible life-changing opportunity for me and while I also am an actor, writer and director, I've found that bringing all that together and giving it to the world is my current purpose. And I'm going to try my very hardest to stay true to myself and empower others the way they may never have had the chance to. And truthfully, I'm hoping all those who join me along the way of this journey shall be able to help me in terms of covering my immense tuition, battling my own demons and moving closer to my dreams.
Has luck played a meaningful role in your life and business?
Success in our society today is one of the strongest and most celebrated parts of the American Dream. Sadly though, it is still often praised in the wrong light and skewed in the media. Many believe their dreams can only be acquired one way or end on the same road as others—this is not true—we are not all the same. Daily, we are exposed to successful millionaires and celebrities as the norm of success, and most (not all) sometimes wrongly influence the public or accidentally present a strict definition of what triumph truly is. Success isn't about wealth, it is about prosperity. And PROSPERITY could never derive from just "luck."
In an era where job employment has become almost impossible for college students and college debt has been grimly sneaking toward High Schoolers everywhere, there's a shade of darkness on a large amount of our futures. But there's always hope, which is one of the many unforgettable concepts to achieving one's goals.
Did I have bad luck growing up? Perhaps. I was unfortunate enough to lose my mother at an early age. I was unfortunate enough to be the only racially mixed child (Black, Puerto Rican, and Native American) with the light complexion for miles ahead of me throughout my childhood. I was an only child. I was bullied heavily in some respects, but in others, I wasn't given the proper chances to feel like a kid in most circles.
I think it's more about perspective though—because was a lucky kid growing up? Yes. I was raised by a single father who did everything in his power to keep me on a path towards higher learning and success. My grandparents are nearly 100 years old. My intelligence got me into rooms my creativity wouldn't and vice versa; so being an academic AND an artist put me ahead of the curb in ways I didn't expect. Being racially mixed—I never saw one side of the coin in this country—and I still don't. I was an only child lol. Heck, I was lucky enough to be bullied for being different and not the same as everyone else.
I think God played a lot into where I am today; but moreover I think I didn't give luck a chance to be against of for me in the first place. I paved my own path and didn't care to listen to the doubt people wanted me to hear.
Pricing:
Acting / Coaching: $50 per day (negotiable depending on budget)
Acting / Self-Tape Help: $50 for 30 mins. / $75 per hour (negotiable depending on budget)
Music / Recording Engineer Work: $100 per day / $60 per hour (negotiable depending on budget)
Music / Mixing Engineer Work: $100 per day / $60 per hour (negotiable depending on budget)
Music / Mastering Engineer Work: $50 per day / $50 per master (negotiable depending on budget)
Journalism / Press Releases, Articles & Publicity: $50 per chronicle
Business / Marketing Help: $50 per day (negotiable depending on budget and/or contract)
Business / Social Media Help: $125 per week (negotiable depending on budget and/or contract)
Contact Info:
Image Credit:
Lead Photo of Amir Royale in Red Hoodie (please credit Alex John Beck). Photo at LaGuardia High School of Music & Art and Performing Arts is property of Amir Royale and Nova Photography. All other photos were taken by Aja Eden Adam (and are property of Adam of Eden Photography).
Suggest a story: VoyageLA is built on recommendations from the community; it's how we uncover hidden gems, so if you or someone you know deserves recognition please let us know here.