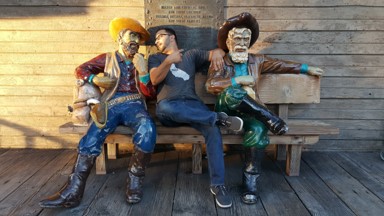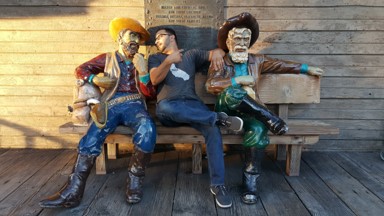 Today we'd like to introduce you to Amir Mertaban.
Amir, can you briefly walk us through your story – how you started and how you got to where you are today.
I'm a So Cal kid through and through and grew up primarily in the 909… woot woot! My parents left Lebanon back in the early 80's to get out of the civil war and give us a better life. I was born in 84, the year Jordan starts with the Bulls, the year the Olympics are in LA and the year Knight Rider was on TV (ok it really started in 82 but who's going to fact check this article).
I grew up in a Muslim family but we weren't really practicing. I didn't know any Arabic or anything about Lebanese culture, so one day my dad closes his business and moves us all to Lebanon. I was nine years old and I hated the first three months of my life because it was 24/7 language tutoring. After all of that hard work, I was held back in 3rd grade because I didn't pass the Arabic exam, so that sucked. Anyways, we lived in Lebanon for three years and it was some of my favorite years of my life. The weather was the same as Cali but a bit more humid and the seasons were more pronounced. I loved the snow in the mountains and the sand on the beach. The food was amazing and the culture was extremely hospitable and filled with values of family first, co-existence and a strong sense of identity. I loved it.
We came back to the states because the economy in Lebanon sucked and plot twist, I skipped 6th grade! Boom, Arabic teacher! I came back knowing a lot more about my roots, culture, religion, language and it was now time for me to figure out who the hell I am as an American born Muslim from a Lebanese family. Ha.
I went to Walnut High School and Cal Poly Pomona and was pretty much the poster boy for social activism. I was interested in everyone and everything and that helped me get a wider picture of how everything is. I was involved with my local youth group and then college Muslim Student Association and that's where my love for events took off. I was organizing conventions and working on large scale events on campus.
I fell in love with the scene of someone experiencing something live. I didn't care what the occasion was, a protest, a concert, a convention, I loved the interaction between content and fan/guest. I would attend events and immediately would dissect how it was run and what improvements I would make if I was in charge.
I thankfully got a job at Fairplex in Pomona right out of college because a good friend of mine was the HR Manager. The lesson learned was to network with all HR people, ever, Fairplex is bizarre and there honestly isn't anything like it. It's a 540 acre facility that hosts horse racing (it used to at the time), NHRA Drag Racing, Consumer Shows, Trade Shows, Conferences, a Hotel, the LA County Fair, a Child Development Center, a museum, multiple restaurants and bars, an Equipment Rental company and the list goes on. The greatest thing about my experience at Fairplex was that it was in Pomona, CA. It was a 3rd tier location/venue for events and that made me learn how to hustle and be scrappy. Business wasn't being fed to us, we had to work hard to get it. I made great friends and mentors for the six years I was there.
Naturally, I became hungry for more and almost accepted a sales job at Universal Studios but then Live Nation called and I accepted a position out in Washington DC. My wife was pregnant at the time and it was a huge deal for us to move. I took a pay cut because I felt that Live Nation was growing like crazy and it was a good opportunity to join the family. I became the Assistant General Manager at the Warner Theatre in DC. It was a few blocks from the White House and it was one of the coolest gigs I've had. President Obama was at my venue a few times along with the First Lady. Michelle Obama is a freakin' G by the way! It was snowing outside and crazy cold but I had to go outside and change the letters on the marquee for an upcoming show. As I'm doing my thing, 2 SUV's pull up at the corner and a few Secret Service guys get out and start scoping the area. After a few minutes, another 2 SUV's pull and Michelle Obama gets out and starts walking towards the restaurant at the corner, Boss Shephard's. She saw what I was doing and yelled out "So that's how you do that!?" and I said "I dare you to come and try it." She walked up in the snow, grabbed the pole and suction cup and I taught her how to change a letter on the marquee. I was in love, but she was married and I was married so it wasn't going to work out. Lots of really cool things happened in DC and it was a great learning experience. I was involved in managing a venue from top to bottom. I learned about all aspects of the live entertainment business. I was booking a ton of shows, most of them with 3rd party promoters and also running the day to day operations of a venue. Lots of hours and a ton of fun.
I was fortunate to get promoted after two years and came back home. I was the GM at the Fox and RMA in Riverside, CA. These two venues are very special and the community in Riverside was amazing. I had the best team in the country running these venues and we were able to almost triple the amount of shows, attendees and profitability. Live Nation gave me a lot of leeway to try and tinker with stuff. My team created a ton of shows from scratch because of necessity. We didn't have artists knocking on the door trying to get into the venues so we created shows: May the 4th Fest, Twisted Xmas, A Tribute to Batman, FleaEsta and the list goes on. Our Guest Services scores were among the highest in the country and we were kicking ass!
Three years later, I joined AEG and became the GM at the Microsoft Theater. I loved every second of that gig and worked on some major events. The theater hosted the Grammy's Pre Party, the Emmy's and a ton of really cool events. I eventually left and started my own company. I'm brokering a deal between a major live entertainment company and a venue in Orange County. I'm working on a podcast tour and running point on a bluegrass festival.
I'm definitely in a weird place in my life because working on your own sucks. The money is good but I miss people. I miss having dance parties in the office and throwing crap at my coworkers. So much of this industry is time spent with your team and I definitely miss that.
I'm married with two kids and my family is my entire world. I'm not sure what the next few years look like but I'm hella excited to see what happens next.
We're always bombarded by how great it is to pursue your passion, etc – but we've spoken with enough people to know that it's not always easy. Overall, would you say things have been easy for you?
It's always smooth if you're content with yourself. I'm not someone that sits quietly on the sideline during a storm. I've learned to speak up and fight for what I want.
It's not easy being Muslim or Arab in this country. You're automatically at a disadvantage because of what happened on 9/11. Throughout my whole life people have looked at me/treated me as if I was a suspect. My first visit from the FBI happened when I was 18 years old, my first year in college. This is unfortunately pretty common if you're an active Muslim American. My first time going through the extra special search at the airport was when I was 21. I was at LAX for 14 hours after my trip from China and Malaysia. The first time I was asked to get out of my car and sit on the curb was when I was 22 in Irvine because the officer said my registration had expired. He was confused about what I was doing in Irvine. Who knew going to UCI to visit a friend was suspicious activity.
I obviously have amazing friends and a huge network of people that I can trust and rely on, but Corporate America worries about risk and liability. If they perceive potential risk, then they'll gut you in a heartbeat. SO, that meant I had to work extra hard and make it clear that I'm move valuable than any of their other employees. Racism and Islamophobia are rampant in corporate culture but it's also easy to let it consume you. I had a boss who once told me "Sales hides Sins," and I figured that is pretty true for a lot of things. I figured Sales could also hide internal prejudice as well. As crappy as that sounds, it's so damn true.
We'd love to hear more about your business.
I should have started Coletto Consulting years ago but I never had the time to get it up and running. It's basically a consulting firm that specializes in Venue Management, Event Services and Entertainment. We can do a variety of things from brokering tour dates between artists and entertainment companies to developing SOP's for your security staff at your venue. It's been a ton a fun so far. I'm an Expert Witness on a case and I'm also putting together a ten-city tour for a podcast.
My biggest problem with consultants is that too often, they've never done the job their consulting on. Our greatest asset is that the people I work with have been in the business for large and small companies for years. Some of them still work for big companies and do this on the side. I don't gouge people and I'm not interested in nickeling and diming your company to make a few bucks. I'm in it for the long run and have done a ton of pro bono stuff just because it was the right thing to do.
What were you like growing up?
I am and have always been a giant goofball. I'm a lot of fun, cheesy, annoying and I enjoy being in a good mood.
I'm an adrenaline junky. I've been skydiving, bunjee jumping and have even chased a bear away from a campground. I like the thrill of the outdoors and I love to explore.
I'm generally pretty methodical about things and can detach emotionally from a decision but I can also be very impulsive so there's that.
Contact Info:
Getting in touch: VoyageLA is built on recommendations from the community; it's how we uncover hidden gems, so if you know someone who deserves recognition please let us know here.