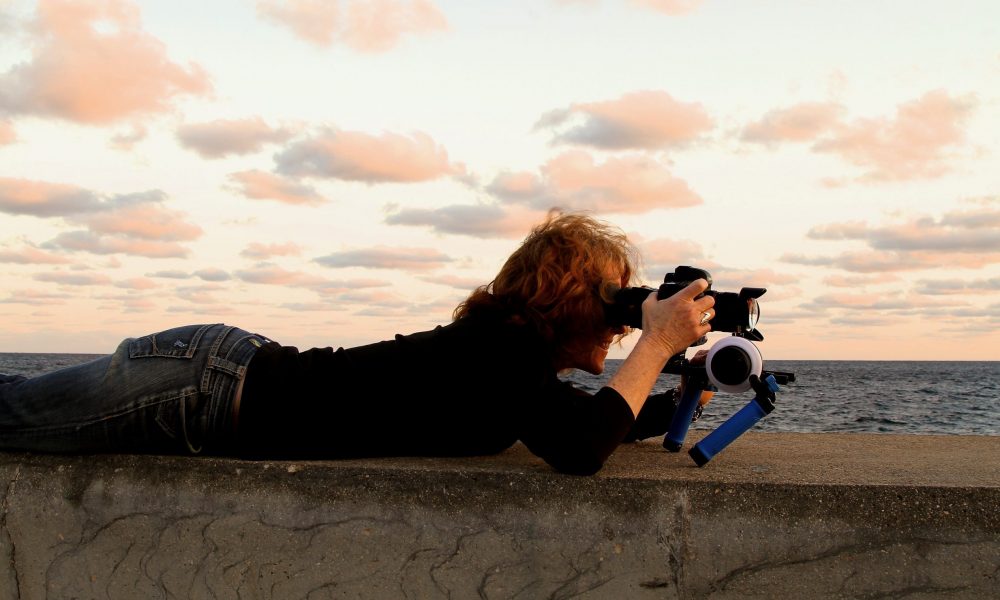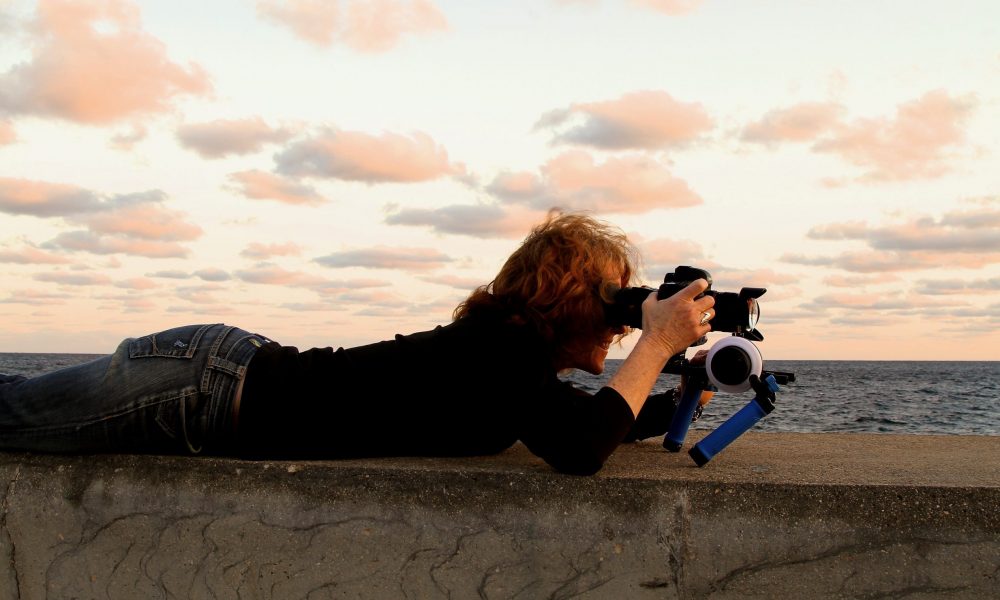 Today we'd like to introduce you to Amie Williams.
Amie, can you briefly walk us through your story – how you started and how you got to where you are today.
"I feel at home in the entire world, wherever there are clouds and birds and human tears…" — Rosa Luxemburg
I love this phrase from Rosa Luxemburg, (it's on the homepage of my website) and I think as a documentary filmmaker/writer it kind of summarizes my life and work, from directing films to writing articles and scripts to the work that led me to co-found and run GlobalGirl Media, an NGO that develops the voice, media activism and leadership of young women, ages 14-22, in under-served communities around the world.
I have spent much of my career covering conflict zones as a journalist and filmmaker, reporting and making films about immigrants, refugees, workers and women, always looking for the untold story, reporting from the margins. I think because I have spent so much time in remote villages or hard to reach places, I have developed a keen sense of humanity, and how our human story is as similar as it is different.
My deeply woven grassroots sensibility started for me growing up in Wisconsin, the granddaughter of hardworking Irish immigrant farmers, then years later in a small Kenyan village, where I went to teach school right after college. This led to me first picking up a camera on the slopes of Mt. Kilimanjaro, no joke, this is true! The camera was brought over by a friend who came to visit, and I will never forget how it first made me feel, looking through that old VHS lens! For me, it was first a tool of healing because it distracted me from the very real pain of trying to summit a mountain with a pulled hamstring. I went on to attend UCLA film school where I was taught exclusively by men but studied the films of Chantal Akerman, Agnes Varda and Trinh-T. Minh-ha, desperate for a "feminist film" foundation that would speak to the kinds of stories and images I was imagining in my head but not seeing on the screen. I remember pitching my first short film project to my (male) graduate supervisor. The main (female) character never spoke. He didn't understand. I tried to explain the metaphor, the idea of being female and voiceless…it seems I have been trying to explain this ever since.
Much of my work has focused on women and girls. From my early year's teaching and filmmaking in East Africa to founding the non-profit GlobalGirl, I think what I have learned over the years is how critical women's emancipation is to making any kind of systemic change. I have always worked globally, and I think I bring a unique perspective to the overall movement for gender equity in media, having seen it from many angles, both micro and macro, both individually and through the lens of actually mounting and running a global organization.
Great, so let's dig a little deeper into the story – has it been an easy path overall and if not, what were the challenges you've had to overcome?
Given the current landscape in media and entertainment industry, it's not a secret that women have had to struggle for every gain. My story is no different, but I think the uphill battle to get funded, recognized, promoted, etc. led me to start my own film production company, which in turn led to a group of my female colleagues getting together in my kitchen to discuss the founding of GlobalGirl Media, ten years ago, well before the Weinstein debacle or #metoo movement.
All of us women working in this industry have been driven by this adversity, shaped by it, even inspired to rise above it and move beyond, However, I want to be really honest here and say this: I don't think it's enough to fight for gender parity, it is our responsibility now to do much more. We live in intersectional times, where race, class, gender, identity are all cutting deeper and more dangerous divisions between us. I used to worry about patriarchal media institutions and male-dominated narratives, but now I think it's a much broader challenge—when the media and its message is presumably owned by all of us but in reality it is only very few platforms (Facebook, YouTube/Google) that allow us to share our message…there is a far greater concentration of power. When social media is quite literally swallowing good journalism, fake news is taken as truth, and our work is judged not by its content but by its number of CLICKS, I think the crisis is much deeper.
When 70% of the one billion people living in extreme poverty are women and girls, and one in three women will experience some form of sexual violence in their lifetime, it's not enough to put hashtags on the problem, we have to stay vigilant, and push for more stories from the margins. And for me having fought for this for so long and being a progressive is wanting progress, wanting change. But I want the change to be toward something more just, more inclusive, more diverse overall. And we need our male allies. If we simply fight for more women behind the camera, we are missing a huge opportunity to rethink the entire media landscape, especially as it relates to how we produce, access and consume this media.
GlobalGirl Media – what should we know? What do you do best? What sets you apart from others?
GLOBAL GIRL MEDIA develops the voice and media literacy of underserved young women by teaching them to create and share digital journalism designed to incubate leadership and drive social change. We are on a mission to create a new ecosystem for journalism. We target girls, ages 14-22 in the adroit media and ethical skills they need, not only to fight for gender parity, but to restore dignity and democracy, and most critically, to amplify their voices. Through our award-winning training program, mentoring, and access to a worldwide network of media partners, we train adolescent girls to be the builders of their own narratives.
GGM offers an immersive, interactive educational curriculum which features both soft and hard media skills, with a focus on entrepreneurship: our training prepares young women to be competitive in an increasingly tech-driven and challenging job market. We also connect girls across borders and boundaries, via Skype and social media. Since we are global, we encourage girls to think about citizen media as a global movement.
Since launching in Soweto, South Africa in 2010, we have trained over 500 young women in Morocco, Kosovo, London, Greece, Kenya, Chicago, Los Angeles, and the Bay Area, producing over 600 pieces of original content, short, journalistic videos and blogs on topics ranging from immigrant rights in L.A. to child marriage in Kenya to street harassment in Morocco to gun violence in Chicago to women in tech in the Bay Area. Trainings typically run during the summer, with year-round projects, internships and reporting opportunities for the girls once they complete the program. Each chapter is incubated by us and then through local partnerships launches its own operation and runs autonomously with our guidance and global connections. In addition to four-week trainings, Global Girl reporters participate in year-long mentorships with leading journalists in the field. In this way, we provide both short-term and long-term support.
What sets us apart from other girl-empowerment or film/media training projects is our global focus and the fact that we target low-income girls. These are the main two pillars of our vision and we feel what makes us both unique and successful. By arming girls with cameras in low-income urban areas, the invisible girl is transformed into an agent of visibility, with the power to disrupt the silence surrounding gender-based violence, reproductive rights, poverty, racism, sexism, and many critical issues facing adolescent girls today.
We also work in the new media/journalism space, a place that is changing almost daily. With over 80% of millennials now getting their news from Facebook, rather than fight this trend, we embrace it and teach girls how to utilize storytelling in social media for social change. Media plays such a central and powerful role in girls' lives that being authors of that media is critical in helping them navigate a world seemingly daunting because the white, male perspective dominates it. What we are really doing is advocating for a girl-driven "global citizenship" where young women connect using new media and share their experience, strength and hope with each other from places that are under-reported, marginalized, stereotyped or silenced.
What moment in your career do you look back most fondly on?
This is such a tough question, because I could say it was when I did my Tedx talk in Barcelona, sharing the stage with some of the most incredible female titans in media worldwide, or when I was selected by Take the Lead as One of 50 women who can change media and entertainment" last year (again, humbled to be among some pretty amazing women there as well). Or when I got a phone call from NBC/Universal telling me GlobalGirl Media had just won 100K from its community outreach media grant, our largest grant to date.
But really it is the quiet moments I spend with an individual girl, like Purity, a Samburu girl from Northern Kenya who escaped child marriage and recently took our training and fell in love with the camera, or Adele, an Afghan refugee girl who taught herself FinalCut Pro, editing her entire video without my help, about going to her Greek school in Athens, while facing eminent eviction from the squat she lives in with her family.
I also am really proud and so appreciative of all the selfless and inspirational women over the years that have worked with GlobalGirl Media, reaching out to help, volunteering or taking over a chapter –one of whom, Tobie, actually moved from Malibu to Chicago during the coldest winter on record to run the program there and she is still there! Another, Annea from Kosovo reached out on the internet and told me "we need GlobalGirl here in Kosovo, there are too few female journalists," and they proceeded to run one of our most successful programs. I could never have done this without the help of all these women who saw in GlobalGirl not only a way to give back but a movement we are collectively building to "put more girls behind the camera and at the center of the story…" Hey, and we are always looking for strong board members, mentors and volunteers, so please get in touch!
Pricing:
Contact Info:
Address: 4203 Jackson Ave.
Culver City, CA 90232
Website: www.globlgirlmedia.org
Phone: 310-795-7182
Email: amie@globalgirlmedia.org
Instagram: @global_girl_media and @GGM LA
Facebook: www.globalgirlmedia.org
Twitter: @globalgirlmedia

Image Credit:
Main photo: Meena Nanji
Last photo: India Baird
Getting in touch: VoyageLA is built on recommendations from the community; it's how we uncover hidden gems, so if you know someone who deserves recognition please let us know here.