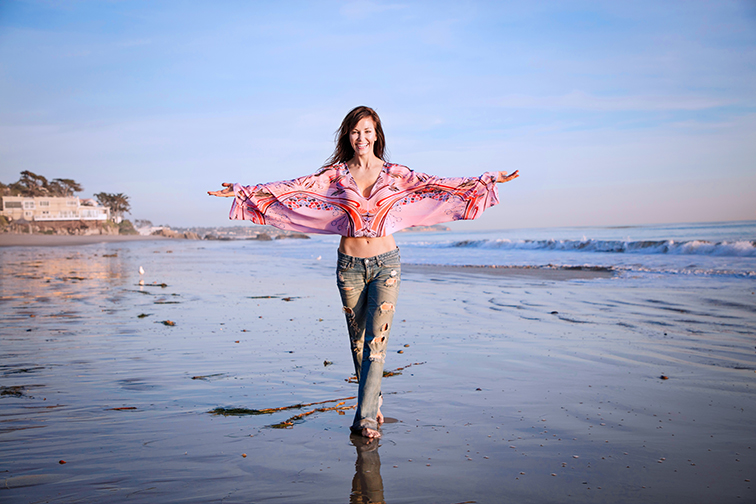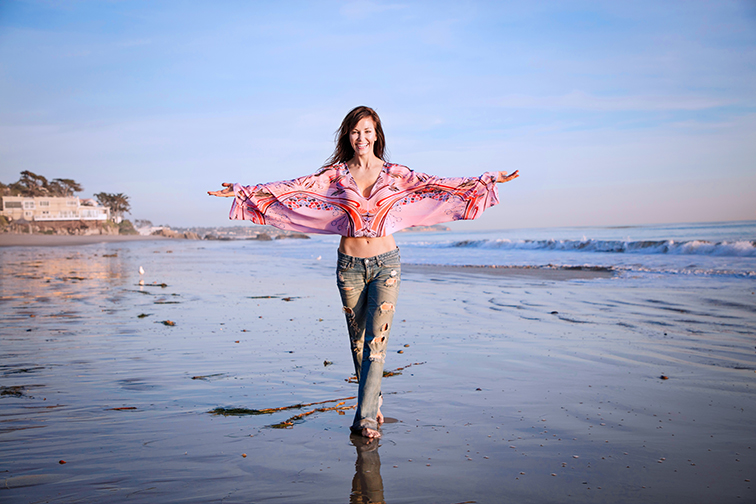 Today we'd like to introduce you to Amie Barsky.
Thanks for sharing your story with us Amie. So, let's start at the beginning, and we can move on from there.
I am a small town girl from Atco, NJ, a tiny dot on the map just off the coast of the Jersey shore. I graduated with a BFA in Dance from University of the Arts, Philadelphia and later traveled the world as a professional dancer and choreographer. After touring in over 40 countries, and finding my way into film and television, I planted roots here in Los Angeles. LA is where I fell in love with Health and Wellness.
I have always been athletic. I started in competitive gymnastics for most of my childhood, then there were my dancing days, and then I became a Pilates, health & fitness trainer… for me, physical movement was always a necessity. When I first found yoga, I was one of those people who went to class for the sweat: chaturanga, burn, breathe, move, chaturanga again and again. More, please!
I loved feeling my body completely fatigued and my mind on a "yoga high." Every once in a while, one of my teachers, Dan Ward, would say, "Why don't you become a yoga teacher?" I'd respond, "I don't have the time." A bit later he'd ask again, and I'd come up with another lame excuse like "I don't have the extra cash…"
Eventually, despite my rewarding physical practice, I found myself living a very unhappy and unfulfilled life. I was working dead-end jobs just to pay the bills, I was exhausted from an unhealthy marriage and a toxic relationship with myself, and I began struggling with severe spouts of anxiety and depression, more than I ever had before.
One day, it was a Tuesday in June, sunny with a cool breeze, I had a knot in the pit of my stomach that felt like a ten-ton boulder, I had a burn in my eyes that could melt Iceland, and I was filled to the brim with anger, anxiety, guilt & shame. I stood in the middle of my beautiful, luxurious Marina del Rey living room with a half-packed suitcase, staring out over the boats, the water and Malibu mountains (my life looked FANTASTIC from the outside) and finally had an honest, rock bottom conversation with myself.
My life felt ugly and inauthentic, and the life I wanted felt unreachable, but I knew that staying where I was was not an option! I said out loud, "YES, I'm ready!" I quit my old life, and my SHIFT began then and there.
The volcano exploded, and I finally said YES to ME. I walked away from the "secure" life I knew and took a leap of faith into the direction I really wanted to go. It was definitely the hardest decision I've ever made, but it was a necessary one. I dove deep into learning about self-love & personal care. I became a self-help junkie. I took advantage of so many tools, like podcasts, books & seminars, absorbing all the transformational lessons I could find.
A few months later I was in a car accident that flipped me over, physically and mentally. I feel grateful beyond words that I only walked away with a shoulder & hip injury, but I was unable to practice power yoga for a bit. I was upset. Power yoga was my saving grace, as I was finally learning, understanding and applying the deeper levels of my practice, beyond the physical.
Fortunately, that was my pivot, and I continued my inner journey working with life coaches and workshops. One day a friend introduced me to Kundalini Yoga, a mantra-based meditation yoga.
I'll never forget my first class! I cried like a baby nearly the whole time, emptying an entire tissue box, but I left feeling lighter and happier than ever! I felt good, the fog in my mind started to lift, and I could see my path to happiness more clearly.
Once my body was healed from the car accident, I knew it was finally time to teach yoga. I went back to my old yoga class, and it just so happened that Dan was starting his next teacher training the following month. It was during that course that I saw my path so clearly.
I bore witness to my own transformation, saw how it was completely possible to heal from past trauma, depression, and anxiety without reliance on medication, and I knew right then that I needed to share it with other people. So I followed my heart and became a certified life coach.
Overall, has it been relatively smooth? If not, what were some of the struggles along the way?
LOL of course not! As I mentioned before, like many people, I've struggled with dark depression and severe anxiety. I know what it's like to hibernate under the covers in a hot & cold sweat for days, to be so anxious that your heart is racing and your stomach is in knots…to feel you are losing your mind. Fortunately, my struggles are my inspiration to learn ways to handle obstacles, triumph over them, and then use what I've learned to help my clients.
Please tell us about Full Fit Mind Body.
As an Integrative Wellness & Empowerment Coach, I serve health & wellness community, as I've done for over a decade. I've worked with thousands of people, helping them balance their heads, hearts and bodies to live healthier, stronger lives. I am known for helping people who struggle with anxiety and depression gain more peace, clarity & rest through supportive daily practices. You're not alone.
More than 19 million people suffer from depression in the United States alone, and with over one hundred million sufferers worldwide, it is the number 1 cause of disability on the planet. And anxiety is on the rise like never before. Raise your hand if you've ever had a panic attack! I feel a strong sense of urgency to help modern women and men access the tools and practices that have helped me, and thousands of others alike.
The thing that sets me apart is my comprehensive program, The Shift: A Head, Heart & Body Breakthrough. Packed with nutrition, fitness and lifestyle strategies for managing & overcoming depression and anxiety, it's available online, as well as live group coaching settings, and of course, 1:1 for those who need extra special care and attention.
I am most proud of all my clients who said YES to themselves, trusting me to guide them through their personal journey to a healthier life. I'm also proud to have my hands in multiple humanitarian efforts locally and abroad, from building schools in Africa & Nepal & teaching at an orphanage in India to running my own LA local non-profit, Maryvale Angels.
If you had to go back in time and start over, would you have done anything differently?
Nothing and everything! As an entrepreneur, I've created my "dream life" through trial and error. I designed & built my website from scratch, wrote every word of content, shot and edited pictures, videos, daily posts, weekly newsletters… And that's not to mention the actual practice of coaching & teaching!
Honestly, it's not the easiest path… but I've learned through direct interaction what people need and how I can best serve them. I love this part about my job (most of the time) LOL- because it requires me to be on top of my game.
Because in order to show up and hold a safe space for my clients, I frequently have to take a true, honest look at my life to see where my own anxieties and fears might still want to show their face. Every day I have a choice: will I do the work or not? Fortunately, it seldom feels like work because I'm creating a life I LOVE.
Perseverance is the key element to my success.
"Just start" is what I tell myself and my clients. When I simply begin, I get a rush of curiosity, creativity, and inspiration. I try to tap into that as often as I can, which means that I'm always beginning again. I also LOVE to learn, so I am always researching new scientific discoveries pertaining to how we as humans function.
LOL! I guess in a lot of ways, I'm still that same small-town girl, dreaming of bigger, brighter futures and dancing around the world. The only difference now is that it's not just about me anymore… it's about my students and clients, and lives they've yet to live.
Contact Info:
Image Credit:
Brandin Shaeffer, Pernille M. Worek
Getting in touch: VoyageLA is built on recommendations from the community; it's how we uncover hidden gems, so if you know someone who deserves recognition please let us know here.