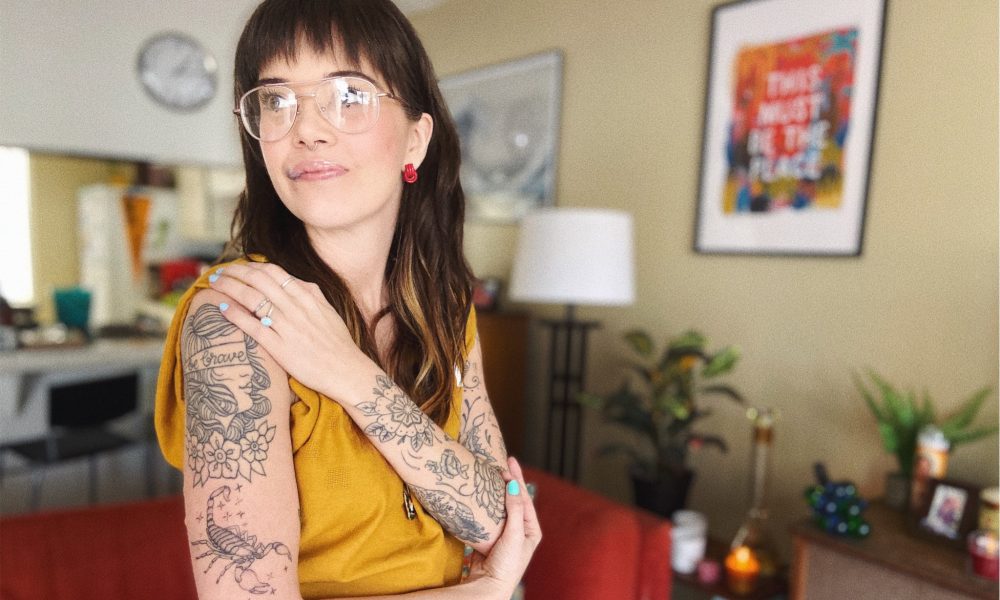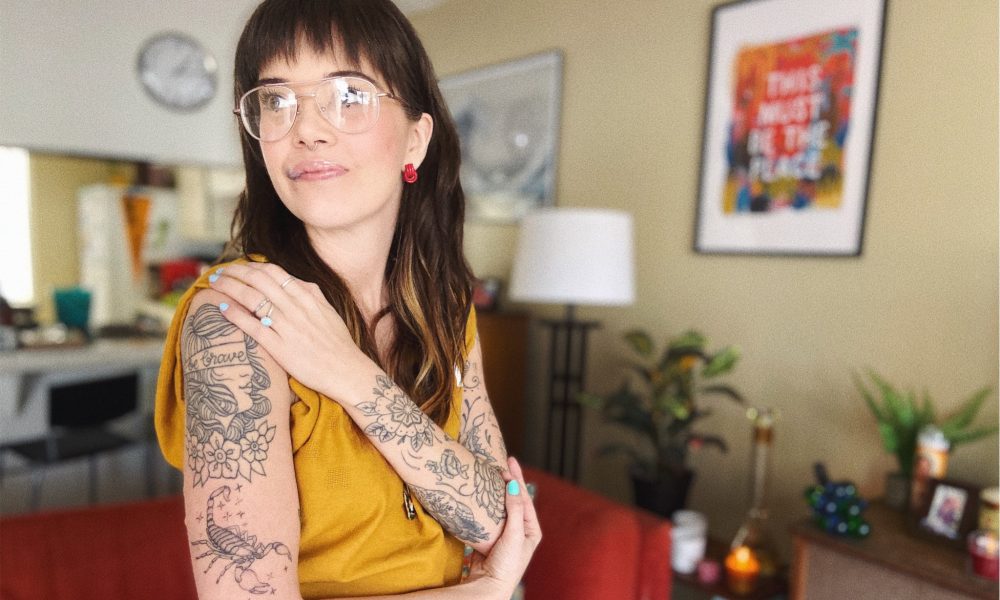 Today we'd like to introduce Amberlee Nicole.
Thanks for sharing your story with us Amberlee. So, let's start at the beginning and we can move on from there.
I was always the kid in class that did not work well in group projects. Never because I thought I could do any better than my classmates, but because the thought of trusting anyone with something I was creating terrified me, and ultimately resulted in me trying to do everything myself, forever. I've carried that defense mechanism with me well into adulthood and it has served me well. For example, it gave me the non-conforming edge that I needed to be a successfully weird teenager, and also irrationally leave a stable job at 28 years old to pursue a completely different career.
I first got into the world of nail art about ten years ago when it was first hitting the scene hard. I took to it like a duck to water, which was surprising since I hadn't done any sort of drawing before then, but I loved it. Every 3 or 4 days, I would put on The Office, sit on my bed with my nail polish bottle pinned between my knees, and meticulously draw dots, hearts, and geometric designs with the dedication of a watchmaker, simply because that dedication was towards loving myself. So in 2014, I decided to quit my job and share that gift of self-love with the masses by getting my manicurist license.
I set up shop in my hometown of Whittier at a local hair salon where I was able to build a semi-steady clientele over the next three years. In 2017, I was beginning to feel the strain of paying a weekly salon rent after a second manicurist was hired, and I began to consider moving my appointments into my living room around that time. However, if I'm being honest, I had struggled to find my place in the beauty industry from day one. I'd love to say that my transition to a home salon was initially successful, but spoiler alert-it wasn't. I lost more than half of my clients in the first month, and after one more lean month, I had to find another full-time customer service job that left me almost no time or energy for clients. For a few months, I even considered giving up on nails altogether.
Then one day, I woke up with that same nagging feeling that has propelled me towards making all my seemingly irrational and ultimately brilliant decisions in life. The one that made me feel like I would explode if I made one more choice that put me in an increasingly smaller box. So once again, I quit my day job-that was on a Monday. By Friday, I had reopened my books and come up with a brand-new business model that was sure to break me out of my proverbial box while also allowing me to be my true self. And so, in the summer of 2018, Ambie's Nails & Nugs was born: Whittier's first & only cannabis-friendly nail boutique!
These days I'm cultivating a unique & loving self-care experience for my client community, as well as for my online community of friends and followers. So much growth and change has happened since the start of Nails & Nugs that I've had to keep my books closed for the better half of this year, and I'm even in the process of cutting down my client hours to make room for other projects that promote self-love and emotional healing. I've learned so much through serving this community about how the people in my life see themselves and struggle to love themselves, and that nagging feeling is once again propelling towards my next irrational and brilliant endeavor!
Has it been a smooth road?
I always tend to look back on how my life has unfolded with a sort of horrified awe. Horrified because it always looked like a string irresponsible, irrational, and emotional decisions that led to some setbacks, but in awe at how that complete chaos seemed to ultimately lead me into something beautiful and necessary. It looked no less chaotic when it came to my career journey. Throughout all the hurdles that came with creating my business, the real struggle boiled down to accepting that the beauty industry currently exists to capitalize on my insecurities, and if I were to conform to that business model, it would always challenge my pursuit of self-acceptance.
Figuring out my place in this industry felt very defeating at times, and I think that's why it was so easy to contemplate giving up everything I had worked so hard for. Working in a salon environment put me within earshot of so many self-critiquing conversations that constantly reminded me of how impossible it is to measure up as a woman. Then when I moved home and lost so many clients, I felt like I was the only person that had a problem with that narrative.
When a person has insecurities, those self-deprecating thoughts bleed into every part of their life. So even though I am continuously making positive steps towards changing this narrative in my community and hopefully the in beauty industry itself, loving myself is still a constant struggle. But it's the participation in that struggle that has been the driving force behind Nails & Nugs. The nail art and the weed are just the catalysts.
So let's switch gears a bit and go into the Ambie's Nails & Nugs story. Tell us more about the business.
At the beginning of this year, I would say that I was known by my community as Whittier's "Stoner Nail Lady", and that alone was enough to set me apart from the rest of this town's otherwise professional beauty salons. But I believe what has really made me stand out this year is figuring out what it takes to love and accept myself and making room for others to do the same.
When I worked at a salon, there were other reasons I constantly felt out of place aside from the bombardment of body-scrutinizing conversations. In my last year there, my personal life was facing some new and difficult challenges and since I had established a level of friendship with a number of my clients, a lot of my healing was found through sharing my story and finding commonality and strength in theirs. In turn they began to heal too, and it was powerful to experience that catharsis through verbal affirmations. I never shied away from that vulnerability because I finally felt like myself in that space and I saw how meaningful those conversations were, but unfortunately, that public display of emotion was not well-received and I began to feel like even my thoughts and feelings were problematic in this space.
I will be the first to say that navigating that difficult time in my life did not bring out my most palatable emotions, and so I'm not shocked when I think back on being made to feel like those emotions were an issue to a salon full of people who didn't understand me or what I was going through at the time. Nevertheless, I constantly think of how disappointing it is that I existed in a room full of women and never felt so alone. If my demeanor let on that I was anything but happy, it was met with pep-talks about maintaining the vibe of the salon so as to not make anyone uncomfortable, as opposed to simply asking if I was okay.
I often think about that, and how the perfectionism of the beauty industry lends itself to that type of emotional shaming-where even mental & emotional imperfections have no place in society. Challenging that shame is what made me who I am today, and what makes me proud to call this my career. I am proud to be a woman who created her own brand of self-care; someone who is currently championing self-acceptance both physically and mentally though sessions of self-love, pampering, and creative art!
How do you think the industry will change over the next decade?
It definitely seems like the beauty & self-care industry have already experienced a shift in the last several years when it comes to how we define both physical beauty and mental health. I think that shift is largely thanks to role models like Tess Holiday or Jen Gotch, who challenge society's concepts of what it means to have a healthy & beautiful body and mind-role models that my generation of women needed when we were young and didn't have. These women and so many more are doing the necessary work to create a better and kinder narrative for everyone.
Seeing Nails & Nugs transform this year from simply an at-home nail salon into a self-love & safe-space promoting machine makes me feel like I'm exactly where I'm supposed to be. I do feel like I'm on the cusp of a shift in my career, and while that feels scary, my purpose has and will always remain the same: I am here to share my story to anyone who needs to hear it, and to foster change and healing where they are needed. I am excited and nervous to see what the journey will look like getting there because I know it'll probably feel a lot like chaos but look a lot like beauty.
Contact Info:
Email: ambienails@gmail.com
Instagram: @ambies_nails_n_nugs
Image Credit:
Omar & Amberlee Loera
Suggest a story: VoyageLA is built on recommendations from the community; it's how we uncover hidden gems, so if you or someone you know deserves recognition please let us know here.