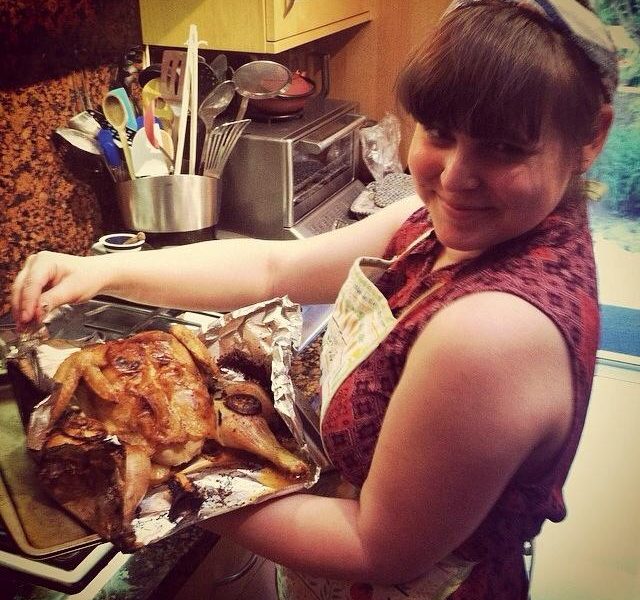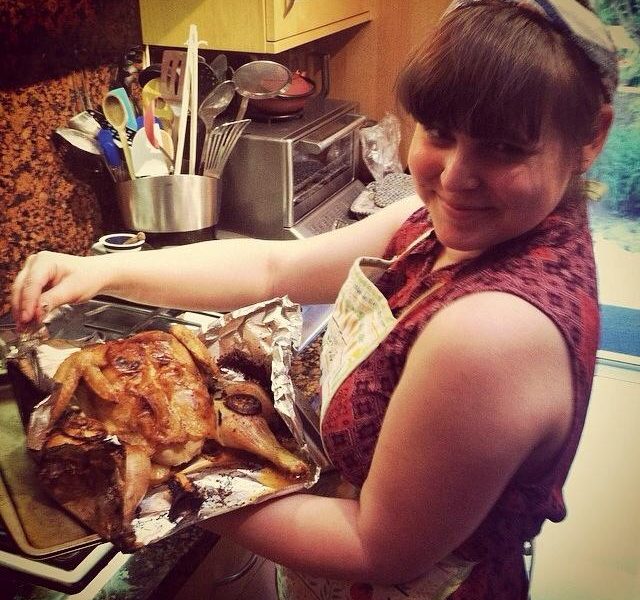 Today we'd like to introduce you to Alyssa Ilves.
So, before we jump into specific questions about the business, why don't you give us some details about you and your story.
I cannot remember a time in my life where I wasn't cooking or around food. My grandmother loved to cook and both of my parents love to cook, so we were a family who was always in the kitchen together. At age seven, my parents enrolled me in an after-school cooking class where we learned about new ingredients and how to prepare them. In this class we made potstickers, pumpkin soup, fried chicken, and more! It was an activity I cherished greatly, and I saved all of my recipes from that class, I even reference them once in a while.
When I was in high school, my dentist informed me that I would need to have reconstructive jaw surgery because of an overbite. After the surgery I was to have my jaw wired shut for three weeks (which meant no eating of solid food).
On day two of recovery, I began watching the food channel on television. I had been cooking here and there since my elementary school class, and I knew about the food tv celebrities from my aunt who watched the food channel all the time, but I had never really watched it. One of the first shows I turned on had a recipe for puréed asparagus soup, and I thought to myself, "I can make that, and I can eat that…" So I wrote out a shopping list and we went to the store and the next thing I knew I was eating asparagus soup when all I was supposed to eat was chicken broth and yogurt for three weeks. It was the best asparagus soup I'd ever had.
As soon as I recovered from my surgery, I was unstoppable in the kitchen. I would come home, do homework, watch one hour of the food channels (usually Ina, Giada, Rachael, because I looked up to them like role models), and then cook dinner for my family, whatever I could find in the pantry. One day I wanted crème brûlée, I'd never made it before, but I just followed a recipe and made it, and it came out beautifully. One day I wanted to make spring rolls, but didn't have the shrimp to fill with, so I made spring rolls with Russian meat pie filling, because that was something I knew how to make. This became my daily routine throughout the remainder of high school, and when I got to college, the cooking fever didn't end.
I had received the gift of a rice cooker before going away to college, and in turn I purchased two cookbooks that were dedicated to cooking in rice cookers. You can do anything in a rice cooker… even bake bread. So I would sit up in my dorm studying while frying eggs in my rice cooker (it was better than the cafeteria on campus). I spent two years doing this until I had access to a real kitchen, and I would expand my horizons daily, cooking great feasts for my roommates and friends and having leftovers galore to eat during the busy week of classes. I don't regret going to college before attending culinary school, because I think the experience of really having "nothing" to cook with shaped who I am as a chef today, and how resourceful I can be in the kitchen.
When I arrived back in Los Angeles after college, I decided to enroll in the part-time professional cooking program at The New School of Cooking in Culver City. I ended up taking both of their part-time professional cooking series and both of their part-time professional baking series while also working in various food-related gigs around town: cheese shops, bakeries, farmer's markets, restaurants, cafés, etc. I learned how to do many things when it came to cooking and baking in school, and also apply them practically to my many jobs outside of school. In late 2016 I was just finishing a job teaching kids how to cook in an after-school program (similar to the one I had taken as a child), and I was approached by a parent to cook for their family weekly. This is where my business was planted, and then it only began to grow from there.
At first, I worked for one family, but when their neighbors found out what I was doing, they hired me as well. Soon after that another family contacted me, and then another! I found this work to be the most rewarding of all of the jobs I've had in the food industry (besides teaching which is fantastic). In addition to cooking for some families each week, I also teach when there are students, and help people throw dinner parties, luncheons, and brunches. This is where I am today.
We're always bombarded by how great it is to pursue your passion, etc – but we've spoken with enough people to know that it's not always easy. Overall, would you say things have been easy for you?
It has definitely been a bumpy road. Starting your own business has immense financial, legal, and personal strains that have been hard to navigate at times. All of the jobs I've had in the food industry have taught me different lessons that eventually lead me to where I am today, but the toughest part about being self-employed is that I'm never not working. My business is currently operating on a word-of-mouth basis, and sometimes there are weeks where I don't have any clients to cook for! I'm hoping that by my second year of business (2018) things will be a little less rough, especially in Summer when everyone seems to go out of town.
We'd love to hear more about your business.
I am a personal chef and independent chef teacher working in Los Angeles. I cook for some clients on a weekly basis, and others once in a while when they have a dinner party, lunch, or brunch. I will cook anything and everything from traditional Chinese Dim Sum to some of the most sumptuous Barbecue you've ever had. I can also make healthy meals, vegan meals, or meals that follow dietary restrictions. My specialty is making people happy through food. We all have to eat on a daily basis, in fact, three times a day, so shouldn't we spend that time being happy and eating foods we love?
In addition to cooking for people I also teach people how to cook for themselves. I love when students contact me after our lesson and tell me that they have been using the techniques they learned from me in their home cooking.
These are the moments when I feel proud of my company. I know I'm doing something right, and I'm making someone's life a little easier.
I think the one quality that sets me apart from others in this business is, when it comes to cooking I am practically fearless, and always wanting to learn more. There are many things about the world of food and cooking that I have yet to learn about, but I'm yearning for those lessons! I would love to learn how to butcher my own meat, make my own flour, grow a garden that doesn't turn brown in a month (I have a little bit of a black thumb, but I keep trying to grow my own veggies & herbs)! But what I truly love learning about over everything else is the food of other cultures. There are thousands of flavors in this world and I want to incorporate them into my own cooking. On several occasions clients have asked me to make things I'd never made before, and without hesitation I would make whatever it was they were asking… from baby back ribs to gluten free pie, I've had no fear in the kitchen!
What were you like growing up?
Growing up, and even a little bit now, I've always been very opinionated and bold. This didn't always put me in a good place with others, so I've learned to have an open mind when meeting with other people instead of always thinking that my opinion is the right one. This has allowed me to learn so much more from others, and because it is my goal in life to learn as much as possible, I think I will continue to have an open mind.
As a child I learned at an accelerated rate and was reading college material in the 5th grade, this meant that I also made better friends with adults than peers. Because of this, I've always been interested in more independent activities such as art, reading, listening to music, but this developed into… discussions about art with peers in college (As an art history major), attending plays and concerts with friends and learning to share experiences rather than have them by myself. Cooking can be both a solitary act and also an act that you share with others, and I find that the most rewarding activities are those that benefit others.
I learned a new word recently that defines my personality perfectly, it's "Ambivert". This is someone who is both introverted and extroverted, it just depends on the situation.
Contact Info:
Getting in touch: VoyageLA is built on recommendations from the community; it's how we uncover hidden gems, so if you know someone who deserves recognition please let us know here.