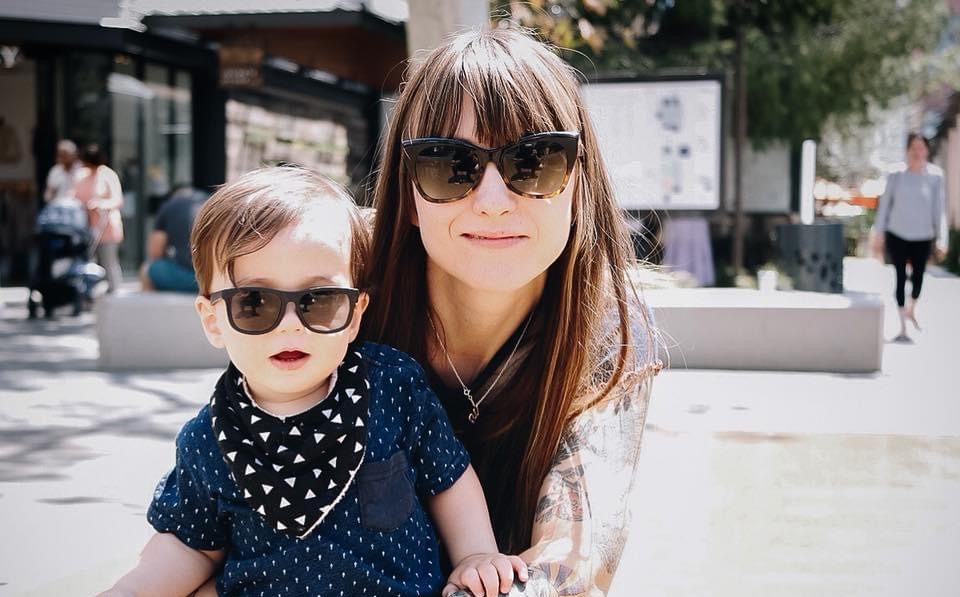 Today we'd like to introduce you to Alyson Flack.
Thanks for sharing your story with us Alyson. So, let's start at the beginning and we can move on from there.
I was a fashion designer in New York for several years. Mainly I worked on color, concept and print (fashion direction) for a few different large corporate brands. For the most part, I loved my career, I loved the creativity, the constant change and the challenges. What did not resonate with me, was the corporate politics and the instability of the industry, especially since the financial crisis in 2008. I went through a couple of years of lay-offs and career instability, that happened to coincide with my first marriage ending. My entire direction in life, that I had worked so hard for, wasn't working anymore.
That's when I realized that I needed to shift my path and to change my career. Additionally, my empathetic nature was becoming more apparent. I always had the feeling that I was supposed to be helping people in someway. My role in my family had always been the peacemaker while growing up. I was the person that friends and coworkers would often come to with their problems. After my marriage ended and my fashion career became unstable, I realized I wanted to use this aspect of myself to help people while creating healthy boundaries.
I had first heard of acupuncture when one of my best friends from Massachusetts, where I'm originally from, had tried acupuncture when she had Bells Palsy years before. It had helped her recover tremendously. Over the years since then, I had heard other great things about it and I was somewhat intrigued. It wasn't until I was in this time of transition did I try it, at a community acupuncture studio called WorkSong Chinese Medicine, in my neighborhood of Greenpoint Brooklyn. Since my first treatment, I was hooked, and I knew it was what I wanted to do. Chinese Medicine wasn't like any type of healing I tried before, it helped me with both my emotions and my physical issues, and down the road it helped me spiritually as well (and this was before I even tried Chinese Herbs!)
There were two schools for Acupuncture and Chinese Medicine in New York City when I was first thinking about changing my career. I did two tours of both each and something didn't feel right about either. Then in the summer of 2013, I went on a business trip/ vacation with a close friend who is a jewelry designer. At the time, I ran a small business of making candles and bath & body products that I sold at craft markets as a side gig. We traveled to share a booth at Renegade Craft Fair in Los Angeles and then San Francisco. After the trip a good friend that lives in Los Angeles emailed me telling me about a great Chinese Medicine school, Emperor's College in Santa Monica. I laughed it off at first, but when I did look into the school. I was sold. The school had a great reputation and curriculum. Also, I had always wanted to move to Southern California even when I was planning on staying a fashion designer.
I found my path. I applied to the school in October, got accepted, enrolled and moved to Los Angeles on Jan 1st, 2014, the day before my 36th birthday.
Overall, has it been relatively smooth? If not, what were some of the struggles along the way?
A lot of people have told me over the years that they can't believe I made such a drastic change in my career and lifestyle at age 36. The truth of the matter is, it was not easy. There definitely have been some challenges along the way. Also, the process of becoming an acupuncturist is not easy or quick.
Leaving New York City was very bittersweet after 12 years of living there. I had really put down roots, especially with beloved friends old and new. I was very sad in the first few months in Los Angeles, but even in my loneliness, I knew that I made the right decision.
Acupuncture/Chinese Medicine schooling in California is a four year master's degree program. The program is very extensive, with little to no breaks throughout the year, as in, no summers off. Also for me, four years turned into five, because I had a baby about halfway through the program.
After graduating from school, I studied for four months everyday for my California licensing exam. The days were long, sometimes 6- 10 hours of studying. Then after passing my exam, I had to somehow figure out how to run a business, find an office to work out of and most of all, find patients. One of the biggest challenges for me was learning that, not as many people as I thought knew about Chinese Medicine/ Acupuncture. I was not prepared to have to inform people about the medicine and its benefits. Although, after a short while, I grew to actually love explaining the medicine to patients.
Alright – so let's talk business. Tell us about Moon Phase Acupuncture – what should we know?
Moon Phase Acupuncture is a very small business, as in, it's just me, Alyson Flack L.Ac.
I named my company Moon Phase Acupuncture because of two reasons:
One, because I strongly believe healing, in all forms is not linear. Healing comes in phases, like the moon. For instance, acupuncture is cumulative. It builds up in your system. The cumulative effects of the treatments, mixed with the constitution of the patient, change the healing process. We are living creatures and are always shifting, in constant flux, like the moon.
Two, because of my parents, who while growing up, would always talk to me about astrology and the phases of the moon. It was always, "today is the new moon or full full moon and it means this"… My mother, who passed away two years ago, had a craft store in Massachusetts in the 1970s, called New Moon. (Which was my original business name but was already taken.) She is, in many ways, why I became a healer. She struggled with addiction and mental illness. Growing up in that environment inspired me to help people, especially with mental health issues.
Although I treat a wide variety of general health. I have a strong focus on the psychoemotional issues, such as anxiety, depression, insomnia, trauma, PTSD, OCD, etc. Also, I have a focus on women's health, including; menstrual cycle regularity, pregnancy, postpartum, fertility, and menopause. I use a combination of; acupuncture, herbal prescriptions, cupping, gua sha, moxibustion, acupressure ear seeds, Reiki energy healing, nutritional guidance and lifestyle recommendations.
I'm always talking to my patients (or rather writing them on Instagram.) I like to check in to see how they are doing the day or two after their treatments, and to see how their herbal formulas are going. I have a background in energy healing/ Reiki. I believe that healing comes out in my treatments, even when people don't come in for that specifically. I use crystals with certain patients as well, if they are open to that form of modality as well.
As much as, I love one on one time with patients, I also love collaborating with other healers and small business owners! This past year I've worked with some amazing people creating different events and healing workshops. I hope this continues in the future, if even if this means adapting to the current state of the world and taking these events virtually.
Any shoutouts? Who else deserves credit in this story – who has played a meaningful role?
I'd have to say my husband has been my biggest supporter. He has been my rock, helping me with every challenge I've had along the way, in both school and my business. We met four months after I moved to Los Angeles, which further proved to me that I made the right decision, and was now on the right path.
Also, I wouldn't have been able to do this without the support of my father and my two nieces. I don't have much family, but the family I do have I am very grateful for. They are all very loving and supportive. I'm proud to have them on my team.
At Emperor's College of Traditional Oriental Medicine, I trained with some of the best teachers and practitioners in the country. I'm very appreciative of all of them. I had a few professors that I really resonated with, although, I never did find a mentor. I will be forever grateful for my time there and all the valuable knowledge I gained.
Even though I never found a mentor in grad school, I am very grateful for all my friends I made there, my colleagues, my Acu buddies. We have a constant group text in which we support each other. We help each other with case studies, give each emotional support for personal problems and everything in between.
Lastly, I am forever grateful for all my patients. They are such a pleasure to work with and have helped me so much along the way. Most of my business is based on referrals. I wouldn't be able to survive without their trust and support!
Pricing:
Acupuncture Initial Session: $140
Acupuncture Followup Session: $100
Cupping Therapy Only: $50
Cosmetic Acupuncture: $85
Reiki Energy Healing: $85
Acupressure Ear Seeds: $40
Long Distance Reiki, 30 min: $40
Long Distance Reiki, 60 min: $75
Telemedicine for existing patients: sliding scale $30 – $60
Contact Info:
Suggest a story: VoyageLA is built on recommendations from the community; it's how we uncover hidden gems, so if you or someone you know deserves recognition please let us know here.