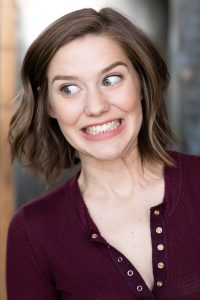 Today we'd like to introduce you to Ally Dixon.
Ally, can you briefly walk us through your story – how you started and how you got to where you are today.
When you sing, there's nowhere for you to go besides theater. Some find choir but my hefty alto sound never suited me in there. SO I landed in theater classes because where else do you put a wanna be popstar? It's not like you can major in Pop-stardom. So when you sing and do theater, the only option is really to go to school forrrr, you guessed it! Musical Theater.
In high school, I received virtually no support from my teachers in a suburb of Kansas City. Everyone thought I was too loud, rambunctious, my vocal range was too limited and my attitude was too sharp. I ran around auditioning for college programs with zero knowledge on the world and ended up getting in to known. After a conversation with Florida States program, they mentioned the average statistic is 1 in every seven program auditions you'll get. I ended up at The New School University in NYC. Living out my New York dreams as an 18 years old and attempting to find any major that wasn't performing, after all I loved so many things, dance, writing, political science, philosophy. Most actors do. We're generalists. Wanna-be'ers. We act so we can pretend we do it all. Which is why I quickly learned, performing was it for me. It's my only option. It's what I need. But After some financial aid complications, I had to leave New York and was dragged kicking and screaming back to Missouri for in state tuition. I chose Missouri State University because they were the only school with a theatre program.
After crying for weeks, I packed up and moved alone to Springfield, Missouri. I auditioned late for their program, and it was my 7th musical theatre program audition. Just a year later from the other 6. And I got the email at intermission of a production of Spring Awakening that I had been accepted by lucky number 7. For the first time I had mentors who celebrated my unusual sound and found me valuable (particularly because they would use me to fill out the tenor section) As graduation four years of the best time, later approached, I ended up surprisingly as the outlier of my BFA musical theatre program, and I chose to move to LA upon graduating from Missouri State University instead of the Musical Theatre Meca and my true home, of NYC. As I trained in acting in my program through those years more and more of my professors pushed me towards film acting. They encouraged me to showcase in LA with the Acting Majors as well as in New York with the broadway babes. My showcase in LA landed me my first agent and a Voice Over Workshop with Bill Holmes (known as the voice over doctor) landed me my first LA VO auditions that very same week. I chose to move to LA because with my smokey, Emma Stone/Jennifer Lawrence voice, I got nothing but encouragement in Los Angeles, but with Musical Theater, my voice was too low for many casting directors to be able to do anything with. I look like the adorable girl next door but talk like Kathleen Turner (Also a Missouri State Alum!). It's been slow and relatively steady. I've been doing a lot of non union voice over work, babysitting and bartending at the best Wine Bar in the Valley Mirabelle.
Luckily amid my day jobs, I have the classic inspiring actor story – I was working my but off, taking class, studying, reading scripts, lots of VO auditions, some VO work. I was doing background on a show (I hardly ever did extra work) and I decided I would get my union vouchers through this show. I would just keep returning, get to know the crew and start asking for them. I did my journal who-doo manifesting in the mornings, writing down that it would happen. On my 2nd day working for this show. I was listening to the director while the other actors chatted. I could hear her complaining that we weren't doing what she needed and suddenly the AD says, "this one?" And I look up and realize he's pointing at me. And I think, "Well, fuck, I'm fired, I suck." The AD looks at me and says, "You're non union" I fearfully replied yes. And he said, "Even better, I'm about to make your day, can we get her a script?" And the director gave me a line. I received a pay bump, my SAG eligibility and my first Co-star all in one short moment. The universe heard my plan to start asking for what I wanted and decided to hand it to me on a silver platter.
Now, I saw the universe work like this and was reminded THIS WORKS. This wasn't the first time that's happened, I was once on a hike a couple of years ago and meditating, I missed singing and I don't do it much in LA. I told myself as soon as I got home, I'd start submitting for more musical theatre auditions and also to plan a trip somewhere the leaves changed colors And about 20 minutes later, while STILL ON THAT HIKE. I got an email from a music director I'd worked within the past, that they had an actor drop out last minute, could I come spend Christmas in the Colorado mountains and replace her. THATS THE UNIVERSE BABY. Now I'm rollin with this universe energy and I have some BAD ASS agents for Voice over. And although I've been doing pretty consistent non-union voice over work, I decided I didn't want to sit in idle anymore. I'd go harder, ask for more, Take more class, say what I wanted in writing very specifically. And thennnnn Covid-19.
But here's the thing. To me? Quarantine was an opportunity to for once not have to work on scripts with kids around, or in between pouring glasses of wine. All of a sudden, I had all the time I'd always wanted. and spoiler alert, I still did a whole lot of nothing. But, throughout this tough time. I've consistently worked from home. I built a curtain contained voice over studio, landed in a turbo relationship with someone I met just before this started, (On the same set that got me union-ized! That place is good luck for me). I've been able to do zoom voice lessons with my favorite NYC vocal Coach Andrew Byrne, private lessons for acting with incredible teachers, weekly on-going audition intensives. I've had more and more producers sessions over zoom and booked more and more jobs and now I will be on an upcoming animated series as a series regular. No major credits to my name on IMDb, working alongside some INCREDIBLY talented people, that push me to better, encourage me to want to be better. This time, which we'll never get again, was a damn GIFT. And I made sure the universe knew I felt that way. Six months ago, I was non-union and now I'm on my way to qualifying for SAG insurance this year. Aligning what I wanted with the right energetic frequency's (sounds like mercury Gatorade I know) is what I credit all of my success, during the most trying time for some, too. This quarantine is MY BITCH.
We're always bombarded by how great it is to pursue your passion, etc – but we've spoken with enough people to know that it's not always easy. Overall, would you say things have been easy for you?
I want to quit every six months. I sometimes don't say that out loud and then I hear another actor say it and I scream ME TOO! I've spent years being told my voice doesn't match my face. Or will never work for that role, or I need to work on it or get "checked out by a doctor" (HIII My vocal cords are healthy per multiple doctor checks) I work hard to trust myself and know my worth, but it's hard sometimes when your whole "get the job and whether you get paid" is determined by other people. It takes a LOT of self-care, sitting quietly and chugging some "who gives a damn" tonic.
We'd love to hear more about your work and what you are currently focused on. What else should we know?
I'm just Ally Dixon. That's all of me. I do stand up sometimes and am just your average sassy, smokey voiced midwesterner who's probably always singing Lady Gaga. I'm a voice over actor who is climbing the ranks and have some big projects in the works. I'm anti-racist advocate and will be very public about my former republicanism informing the way I approach a debate or conversation. I also live for making narratives out of insta stories but hardly ever post actual posts. I'll also mess with anyone who I think can handle it. I love pranks (that are done out of admiration or friendship not cruelty) and I hardly ever take anything seriously. Which can be hit or miss with the professional world, but hey, it's not how I want to live my life.
Has luck played a meaningful role in your life and business?
The universe has my back when I ask it to. Right place right time has helped all my successes. Bad luck is usually by some fault of my own, which I'm quick to admit so I can write a self-deprecating stand-up bit about it.
Contact Info:

Image Credit:
Joanna Degeneres, Dillon G Artzer
Suggest a story: VoyageLA is built on recommendations from the community; it's how we uncover hidden gems, so if you or someone you know deserves recognition please let us know here.