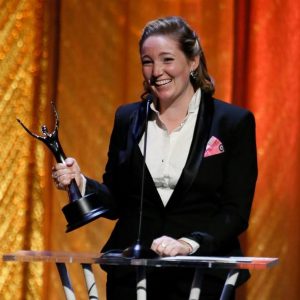 Today we'd like to introduce you to Allison Dillard.
Thanks for sharing your story with us Allison. So, let's start at the beginning, and we can move on from there.
I started sewing in high school home ec class and began making costumes because my younger sister was doing Hamlet and needed costumes for her production, I enjoyed the creativity of making the costumes and choosing colors, and when I graduated later that year and went to college I decided to major in costume design.
I graduated from Southwestern University with a BFA in Theatre Design- there wasn't a specific costume track, so I studied all design fields but emphasized in costuming. I then worked at summer stock theatres over multiple summers during and after college, I worked as a costume apprentice at the Walnut Street Theatre in Philadelphia after college for a year, then applied to graduate programs because my drawing skills weren't strong enough to show the designs I wanted to create.
I was accepted to the University of Missouri- Kansas City where I spent three years earning an MFA in Costume Design and Technology. After grad school, I taught for a semester at Otterbein University and then decided to move to LA where I had a short term job sewing for the LA Opera. Once in LA, I worked as a stitcher for several months, I designed some short films and student films and then met a producer who got me working on my first theatrical production, and since then I have been freelance designing all over the city.
This January, I won an Ovation Award for Best Costume Design for my design of Priscilla, Queen of the Desert and nominated for two Los Angeles Drama Critics Circle Awards, coming up in April for Priscilla and a play called Bliss. I have a sewing studio in my home where I build costumes, dye, distress, do alterations, etc. I work at several schools and theatres consistently around town, teach sewing lessons and have an Etsy shop where I sell silk scarves and various other items I make by hand.
Great, so let's dig a little deeper into the story – has it been an easy path overall and if not, what were the challenges you've had to overcome?
It has been an interesting and semi bumpy road, since moving to LA where I had no contacts or understanding of how the industry works, I've learned a lot, met a lot of people and am still learning how to navigate it better.
Costume Designing is not for the faint of heart. Every day I work on multiple shows, put in 10-16 hours of work, and juggle a lot of tasks- shopping for looks for shows, repairing pieces in a show that is running, doing fittings with the cast and with the understudies, attending meetings and doing paperwork.
Not only do I need to hunt down the perfect fitting/looking/colored/patterned item of clothing for a character in each scene, I have to stay on budget, know the history of fashion historically and currently, know the actor's body and what will fit them well, and find somewhere to eat and park as I wander through town.
Costume Designers literally wear many hats, we are artists, makers, treasure hunters, history buffs, decision makers, stitchers, dyers, milliners, makeup and hair stylists and sharp object wielding crazy people.
I work with every single person involved in a production-producers, directors, designers, actors, managers, everyone affects my job- for me as an introvert it's a lot of emotional labor to put into each show, I put a lot of myself into each choice I make, and I make hundreds of tiny decisions each day.
Every hem is a choice, the specific shade of pink blouse I choose is important to me, watches and earrings and rings have meaning. Nothing an actor is wearing is an accident or was chosen at random, each garment is telling the story- I think people don't realize how much goes into each thing they see onstage.
It's physical and emotional work, each show I do I learn lessons, I make mistakes, I have successes and failures. And then you're on to the next show! It can be really exhausting, but when you do a really fantastic design and see it come to life, it makes a lot of the struggles worth it.
We'd love to hear more about what you do.
I am my business I guess, I generally work alone- I design/draw each costume, then shop or build it for the show- I do a lot of making of costumes because it's important to me that the show is unique and specific and that my costumes are supporting the story and characters. I would rather build something for a show that is exactly what is in my head than buy something that isn't quite perfect.
I want the costumes to be simultaneously fun and unique but also almost unnoticed because they are so exactly what the audience sees the character wearing that it just feels right. It depends on the show if it's more subtle or crazy over the top things- I seem to have fallen into designing more funky, less subtle shows because people know I can make weird things for them…
I recently got reviewed and compared to the designs for "Pee-wee's Playhouse" which made me happy. The LA Times gave me my favorite review line ever: Allison Dillard's sumptuously tacky costumes, so garish they will have you reaching for your sunglasses in a darkened theatre, are particular standouts.
So, campy and crazy things seem to work well for me, but I find joy in designing a range of styles of shows- modern dress is great because you can be so specific and subtle and its all about the color scheme and little changes that no one will really even notice, but I do, and the actor does, and that's fun.
Big beautiful period costumes are so satisfying because of all the research and history, and weird giant mermaids or drag queens are always fun because there is almost no limit to what you can do… maybe the budget… but the dollar store is a wonderful place.
What moment in your career do you look back most fondly on?
Winning the Ovation Award in January was a really big deal for me. I won for designing Priscilla Queen of the Desert which is a gigantic musical, and we did it in a tiny theatre with a not giant budget. I built a ton of costumes from scratch, and it very nearly broke me- it broke my favorite sewing machine, which was a little traumatizing. I have never been so tired and stressed, but then all of a sudden the costumes were done, and it was open.
I was there fixing a costume nearly every day for four months but I was really proud of the design, we had some really cool ideas come out of design meetings that came to life onstage, and I am still getting great feedback from audience members of how fun they thought the costumes were. They were cool costumes!
There were giant footed jumpsuits, a flip flop dress (nod to the film), a pineapple dress, dresses made of neckties, a full Australian themed finale with a kangaroo, Shrimp on the Barbie, the Sydney Opera house and the Great Barrier Reef, all in clothes. It was nuts.
It was a wonderful validation of all that work to win that award while surrounded by hundreds of friends within the theatre community and to hear them supporting me as a designer. I'm still in shock from it, I can't believe it really happened.
Contact Info:
Image Credit:
Matthew Brian Denman, Barry Weiss, Craig Schwartz
Getting in touch: VoyageLA is built on recommendations from the community; it's how we uncover hidden gems, so if you know someone who deserves recognition please let us know here.