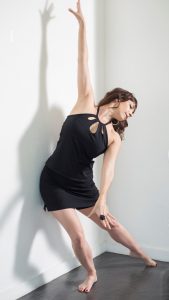 Today we'd like to introduce you to Allison Bibicoff.
Allison, can you briefly walk us through your story – how you started and how you got to where you are today.
When my parents sent five year old me to dance class, they didn't realize what they were setting in motion. In high school, I was on scholarship at a dance studio in Northridge. All I did after school was dance for 3-6 hours, and homework. I then studied theatre at UCLA, while continuing my dance training outside of college.
After graduation, I had some great gigs dancing and acting, while I also waited tables, performed at kids' parties (I can boast about appearing as Catwoman at Warren Beatty and Annette Benning's kid's birthday party!), and assisted a few top magicians at The Magic Castle and Wizards at Universal Citywalk. I got into swing dancing on a whim, picked it up quickly, and was soon dancing at The Derby most nights. That led to a full-on career dancing and teaching swing and salsa at The Derby, The Conga Room, The Rumba Room, and Merv Griffin's Coconut Club. Highlights include swing dancing at The Hollywood Bowl with Big Bad Voodoo Daddy, dancing in a USO tour of Bosnia and Kosovo, and performing in the national tour of the Broadway musical SWING! I am grateful for the many adventures.
I eventually discovered a greater interest in shaping the overall production, and I transitioned from dancing and acting, into choreographing and directing. I started with community theatre productions and assisting more established directors. I was excited that John Raitt executive produced the second show I ever directed – THE PAJAMA GAME. (Mr. Riatt had starred in both the Broadway production and the film.) My work has taken me all over the U.S. (every state except for Alaska), including serving as the assistant choreographer for the Broadway production of XANADU, which was nominated for four Tony Awards, including Best Choreography. I also executive produced two TV movies for Hallmark: "The Case for Christmas," starring Dean Cain, and "Mistletoe Over Manhattan," starring Tricia Helfer.
About two years ago, I heard about the very new and very quickly growing field of Intimacy Direction/Coordination. Just like how a Fight Choreographer is hired when there's any physical violence or danger, an Intimacy Coordinator (film/TV) or Intimacy Director (theatre) is now engaged when there's any kind of nudity, sexual content or intimate touching. (To learn more, read this article that I wrote about Intimacy Direction: https://thisstage.la/2019/09/intimacy-direction/.) I was intrigued. Whenever I spoke to someone about it, the initial response was almost always, "Yes, of course. Why didn't we have this specialty sooner? We need it." I immersed myself in the field and learned everything I could. I traveled to Baltimore, Raleigh, and Toronto to study with several different training companies. I became Mental Health First Aid Certified , and even traveled to London to take an advanced, intensive course with Ita O'Brien. I'm now proud to add Intimacy Director/Intimacy Coordinator to my resume, and I'm so excited to share this work with theatre, film and TV artists.
Overall, has it been relatively smooth? If not, what were some of the struggles along the way?
It's rarely a smooth or straight road, right? I don't think that's a bad thing, because it makes me appreciate things more – and has led me to places I never thought I'd go. While I have performed internationally, and my directing and choreography work has been seen across the U.S., there is a too-common misconception that theatre professionals in N.Y. are more gifted than those in L.A., simply based on their zip code. That can be quite frustrating.
There's also the circular issue that many other artists have that someone needs to see your work in order to hire you, but if you don't have a show in their area, or if they're working on a show when yours is running, or if their kid has the flu the weekend they plan to come…It's the old tell-me-when-you-have-something-in-town-but-then-they-can't-make-it-when-it's-running conundrum that's inherent when working in live theatre. Yet, I can't say that I completely don't understand. I see 60-80 show a year, and I still don't get to all that I should! On the whole, though, I know that I'm an extremely fortunate person, and I specifically appreciate that fact often.
We'd love to hear more about your work and what you are currently focused on. What else should we know?
I'm a Director, Choreographer and Intimacy Director/Intimacy Coordinator for theatre, film and television. In theatre, I direct both plays and musicals, and I am particularly attracted to new work – both readings and full productions. I am known for big, fun musicals, but I also love directing smaller plays (non-musicals), too. I lean towards more current playwrights versus Shakespeare or classic work. I was Intimacy Directing a promising new play, before the "stay at home" order unfortunately cut that short. I'm currently attached to several new projects that I'm pitching. There are a few things that come to mind that set me apart: My dance training gives me a strong eye for the visual. I enjoy telling a story, and revealing character, on many different levels – finding visuals and details that artistically and cleverly support the writer's vision. My intimacy training has fine-tuned my approach to working with artists to ensure that all are excited to do the work. The fact that I see over 60 plays a year hones my instincts about what makes new work sing (pun intended).
When faced with a bump in the road, I often remind myself of something I once heard Rob Ashford say — that when we are faced with a challenge, often the solution is better than if we had never had the challenge to begin with. I'm most proud of how my people skills have evolved over the years. I've always been quite direct, but I've learned how to temper that honesty to phrase it in a helpful and useful way. I'm somewhat grateful that I sometimes had to learn this the hard way, because I think my people skills are now far better than they would have been otherwise – just like Rob Ashford said!
Is our city a good place to do what you do?
Absolutely! Los Angeles is an excellent place for an Intimacy Coordinator (IC). It's a relatively new field, but demand is growing quickly (HBO now requires an IC on all of their sets that have any nudity or intimacy) and right now there are very few of us who are legitimately trained in the field. L.A. is also an awesome theatre town. Yes, the Ahmanson and Pantages offer great touring productions, but there are also so many quality, smaller venues all over town. I encourage people to check out a few of their local venues. I think they'll be very pleasantly surprised.
If a person is starting out as a director or choreographer, L.A. is a great place to get your feet wet. Build your resume. It is, however, a challenging place to make a living as a theatre artist. I think that there is something the city can do to improve this: If a theatre company receives any financial support from the city, it should be required to hire a certain percentage of artists from Los Angeles. It is upsetting to see some mid-sized and larger theatres fly in actors, directors, and others from New York when there are many, extremely talented artists in Los Angeles who could fill those positions. It's even more upsetting to know that my tax dollars are helping them hire those artists from out of town. It would be helpful to everyone in Los Angeles if our tax dollars were kept in the city, and helped keep L.A. based artists working. (I'd like to credit theatre artist Peter Kuo with coming up with that smart suggestion.)
What is "success" or "successful" for you?
Wow. This is a tough one. Well, when working on a show, I always say that I have two goals: First, to make the best darn production that I possibly can. I want to have a clear, creative vision for the project and to fulfill its potential. Second, to make it an enjoyable experience for those involved. Theatre artists in particular aren't paid a lot, so they'd better enjoy the process! And in film and television, because the pay is usually pretty great, there are a lot of people who want your job – so why would they put up with someone who isn't excellent at their job AND great to be around?! Success is getting asked back by the producer, as that likely means I achieved both goals. (I'm excited that my next gig is the third time this producer has hired me!)
Success in life? Well, that's a deep question! It starts with good friends with whom you can have interesting and challenging conversations. Having work to do that interests you and allows you to not worry about food and shelter, and to travel a bit. And the ability to freely pursue your next goal. I have those things, but I it doesn't strike me as being successful as much as being fortunate.
Contact Info:
Image Credit:
Cristen Keller, Aaron Rumley, Jaime Becker
Suggest a story: VoyageLA is built on recommendations from the community; it's how we uncover hidden gems, so if you or someone you know deserves recognition please let us know here.