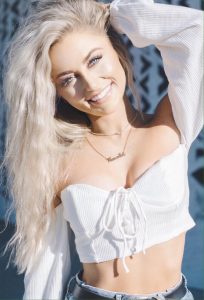 Today we'd like to introduce you to Allie Ninfo.
Allie, can you briefly walk us through your story – how you started and how you got to where you are today.
From a young age, I found myself knowing what was going to happen before it did, being able to communicating with my and other people's loved ones who have passed and crossed over, and being obsessed with personal growth and finding my authenticity. All that being said, as I got older I ran the complete other way from the intuitive and psychic medium tendencies that I embodied.
I was so embarrassed of who I was. I tried so hard to ignore it. I had a lot of friends because I was easily able to match other people's energy so I felt I could be liked by everyone. I was so far from who I truly was. Although I had the ability to get along with anyone, I never really felt like I fit in or I was understood because I felt so incredibly weird and embarrassed of who I truly was. I trained in dance since five years old and I went pro when I was 18. I was dancing in NYC for eight months before it took me to LA when I was 19. I got on an agency within six months of being out here and had the opportunity to be on some amazing dance jobs. Ironically what I thought was going to make me feel fulfilled in the dance world didn't. I found myself looking at the clock, not wanting to be at auditions, and not wanting to be at the jobs I booked. I realized at one job how incredibly unfulfilled I was and how I was using dance as external validation to make me feel like I was doing something "cool".
At that dance job, I told myself, "I am giving myself a year off to really connect with who I am outside of this external thing and embrace myself and if I want to go back to dancing after I connect with my true authentic self and purpose then I will." I never went back. I completely tapped back into my intuitive and psychic gifts (which I believe we all have) and I used those to heal myself, intuitively build my business, and help others heal mentally, emotionally, and physically while helping them to connect to their soul's purpose in this lifetime. Three years later at 24 years old, I have created my own business that generates a six plus figure income where I use my intuition that I have spent years honing in on and perfecting to show clients and students how to access a life full of fulfillment, purpose, and success. I have created online courses, workshops, intensives, drop in classes, mentorship programs, and 1:1 sessions to give a personalized blueprint to students on how to find their purpose, completely embrace it, connect and perfect their own intuition, and monetize their authenticity and purpose. I feel so incredibly fulfilled that I get to help people with something I ran so far from for so long. I am truly forever grateful.
Has it been a smooth road?
It was absolutely not a smooth road in the beginning. When I decided I was leaving pro dancing to find myself and what truly fulfilled me I had to face everyone in my life being so confused and disappointed in me. Everyone back home, my family, some friends, my boyfriend at the time. It all seemed so sudden to everyone. When to me I felt a weight lifted off of my shoulders because it had been on my mind for a long time. I had a complete identity shift. I completely shed off the fake identity that I created the illusion of and was finally connecting with who I truly was and that confused people. I literally received some very angry voicemails and texts from people telling me I was making a huge mistake leaving pro dance to start my own business. As much as I almost believed them, my intuition told me to keep going and trust myself. I followed that. And I am SO glad I did.
My boyfriend at the time and I ended up breaking up because being an intuitive and medium, it is important that the people in my close circle understand me and believe in intuition, spirit, and energy. This is what I do everyday all day and what my business is so it is a high value of mine that the people closest to me in my life support this 100%. Everyone is on their own spiritual journey and he and I grew apart because I was truly connecting to my authenticity and because we grew into not fully understanding each other, we ended up not being the best match for each other and that was one of the hardest things I've ever had to go through. I was so confused and I blamed myself for all of it for a long long time after I made the choice to walk away. To this day it was the hardest thing I've ever had to do. But I had to do it for everyone's highest good involved. I had to do it for myself in order to feel safe in fully expressing what I do and how I do it.
There were also some major financial struggles. I got fired from every job that I did to make money while I was still in the early stages of building my business. I am not a good employee. I never was. So I spent a solid two years with literally no money searching for quarters in my car to buy my daily coffee. The most important thing to do is push through all of that. I am now on the other side of the confusion from people, pain, and being broke. And it feels so good. All of those times were so worth it because it all led me to where I am today and the knowledge, lessons, growth, and strength I have gained from all of it. My family completely now understands and supports my business and I have the most supportive and unconditionally loving friends I have ever had. DO NOT ever give up. Keep going. It is so worth it.
We'd love to hear more about your business.
I have been channeling information for people since I've been five years old. Knowing things were going to happen before they did. And seeing the ways and small shifts people could make in their lives to massively serve them & make big shifts in their lives. I decided to take my natural born psychic gifts and hone in on them to a point of mastery. Through many years of mastering my intuition, I am able to pinpoint exactly where a person is blocked in their life and see exactly how it is to help them get out of it. Whether that is with their health, career, finances, relationships or whatever is being blocked for them, I can see vividly a blueprint of their soul's purpose in this lifetime and get them from where they are now to the most fulfilled and successful version of themselves extremely quickly.
Simply by identifying what is holding them back and helping them to shift out of the blocks mental, physical, emotional, and energetic blocks and into freedom and abundance of all kinds. I specialize in teaching people how to tap into and master their own intuition, connecting people to their life's purpose by intuitively tapping into what their soul is here to do and helping them monetize their purpose by turning it into a profitable business. I am the most proud of my company because I make intuition, energy, metaphysics, and spiritual growth extremely relatable and "cool". I teach it in a way that you can apply to your everyday life to literally just make your life better and leave you feeling good and fulfilled. I now am booked out at least four weeks in advance with 1:1 sessions, have online courses, workshops, and live online drop in classes.
Is our city a good place to do what you do?
Absolutely. LA is one of the highest frequency places in the world. People are drawn here from all over the world because of their open minds, creative abilities, and willingness to succeed. Many lightworkers are drawn to LA which I've seen kickstart so many of their spiritual awakenings. Everything I do is online so it can access everyone anywhere at anytime. But, I first started my business by taking 1:1 in person clients in LA and the word of mouth is what really spread the word about my business which then allowed me to take it fully into the online space.
Pricing:
1:1 Intuitive Read and Energetic 1 hour 15 min healing Session $350
1:1 Intuitive Read 30 min session $80
Online 8 week courses $500
Drop in classes $33
3 week workshops / intensives vary from $75 – $350
Contact Info:

Image Credit:
Cynthia Alex – Photographer
Suggest a story: VoyageLA is built on recommendations from the community; it's how we uncover hidden gems, so if you or someone you know deserves recognition please let us know here.