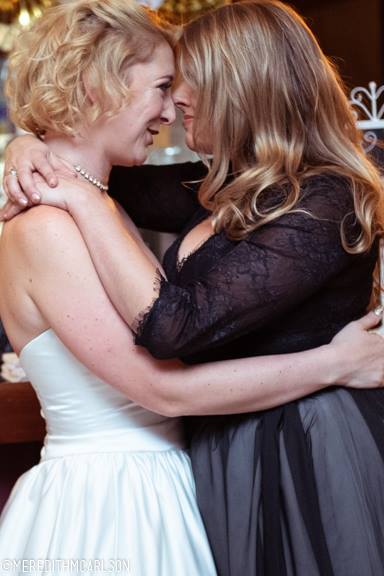 Today we'd like to introduce you to Alli Miller-Fisher and Sarah Haworth-Hodges.
We went to college together, a couple of years apart in Muncie Indiana…Ball State University! (Everything You Need! as the jingle stated) and to be honest, for our futures, we found each other and our very first show there, so for Cherry Poppins, Ball State did give us everything we needed?! When Sarah was graduating and heading off for La La Land, the school needed a fundraiser for the LA showcase that Sarah was in and Alli was an assistant helping to run.
So the two girls knocked their heads against the wall until they came up with the incredibly original "Sexy Cabaret"…I know…we were very clever…lol. They decided to take it one set further than just a cabaret with a list of sexy songs, and they wrote a little story along with it. Honestly to this day, we cannot remember that story or that script, but WE KNOW THERE WAS ONE…and it was a HUGE success! Well, it was a success and it was fun!
Fast forward several years, Alli has now graduated and moved out to LA LA LAND herself and the two girls are reunited and closer friends than ever! Alli is competing in a singing competition in North Hollywood, which she somehow wins (having been told many times that she was NOT a singer) and as part of her prize the runners of the competition agree to produce a show for her. Now this competition was probably supposed to have singer-songwriter win so that they could produce a new artist showcase….however Alli, not a songwriter, not even aware that she was a writer yet, so sitting over drinks with Sarah trying to figure out what the hell she was gonna do for this "show" they laughingly said they should bring back the "Sexy Cabaret".
This obviously did not happen, Alli did a cabaret about trying to find the right man and how that was never going to happen for her, because who doesn't want to see that show again?! BUT the idea didn't leave the girls' brains. They started talking, imagining a show about a comedic whorehouse that burned down and now the Papa and his Girls were on tour trying to raise money to build a new whorehouse by putting on a cabaret. This they would call, "The Knock Shop"…with dreams that one day they would own their own bar that would have a false front door where you would have to pick the right "knocker" to get into the seedy cabaret/burlyq lounge downstairs. This still hasn't happened, but it MIGHT! So copywriting that idea!
Sarah is credited with the name Cherry Poppins, though we don't remember exactly where it came from, just trying to show that we were burlesque adjacent but actually a fully scripted musical theatre show, so the Cherry Poppins was a play on Mary Poppins if the show was dirty instead of full of spoons of sugar. We also swore we invented the term CABURLESQUE as a way to describe how we were different….we didn't. Word definitely already existed. But still it described us!
We put our first show on at The Dragonfly in Hollywood on November 7th of 2012 and proceeded to do monthly shows at The Archway downtown, Skinny's in Noho, and Bar Lubitsch in Hollywood every month for almost two years. Every show was a new take on the original KNOCK SHOP story. It would be a different theme at the same burnt down whorehouse with the same characters getting themselves into silly situations. (i.e., Christmas at the knock shop, the knock shop goes Disney, etc.)
In the beginning of 2015, we decided to start from scratch. Take everything we had done, pick the best of the best, have auditions, grow the Knock Shop family, and put our show in the Hollywood Fringe Festival at Three Clubs in Hollywood. (A venue we had originally tried to get into in 2013) The Hollywood Fringe Festival was a huge success, and ultimately we owe so much of who we are now to that festival. We found a community that understood and celebrated us, we found our home at Three Clubs, and we found our place in this community.
After that festival ended we stayed weekly at Three Clubs for the next three and a half years.
In 2016 we deviated from our Knock Shop format and started writing our more popularly known parody style shows. We started with "A Whole New World" which was a mash up retelling of Disney characters caught in a very adult world and decided this was a better move for us. Also, it allowed us so much more creativity.
We both miss The Knock Shop, and she will return (hopefully as an original musical) but for now we are attached to our parody and parody mash up shows!
Last summer we started also doing shows at The Rockwell in Los Feliz and now have a residency partnering with the Rockwell Parodies Production and are there weekly.
Great, so let's dig a little deeper into the story – has it been an easy path overall and if not, what were the challenges you've had to overcome?
We have lost some of our cast members along the way and that's always sad because in a company like this we are a family. We RARELY hold auditions because we already have so many talented Cherries we hardly ever need to bring in new people. So when one member of the flock has to fly away, we understand but of course we miss them and it's always an adjustment.
Leaving venues is also hard. Our shows are way too big for some of our original venues now, but I'll always miss some of those tiny 20 person rooms and the feeling of intimacy a place like that can give you.
Please tell us about Cherry Poppins Productions.
We work together without argument, and that is rare. Two women who are very headstrong and of course sometimes don't agree, but this has NEVER been a problem in our business. Most of the time we can just finish each other's sentences, but when we can't we are very good at just working it out. Always. From what we hear that is rare.
I think we are most proud of the family we have created. There is so much damn love, and that is what Cherry Poppins is all about. Empowering each other. Not just women, not just men, not just dogs, we want every damn person to feel as sexy as they can. Half our company doesn't even do burlesque, most of them don't do it outside of our shows, it is something special that we share together.
Is there a characteristic or quality that you feel is essential to success?
Support. For each other. For others. For the arts. For the business. For everyone.
Contact Info:
Website: www.cherrypoppinsproductions.com
Phone: 213-359-4593
Email: caburlesque@gmail.com
Instagram: cherrypoppinsla
Facebook: cherrypoppinsproductions
Twitter: cherrypoppinsyo

Image Credit:
Meredith M Carlson
Suggest a story: VoyageLA is built on recommendations from the community; it's how we uncover hidden gems, so if you or someone you know deserves recognition please let us know here.