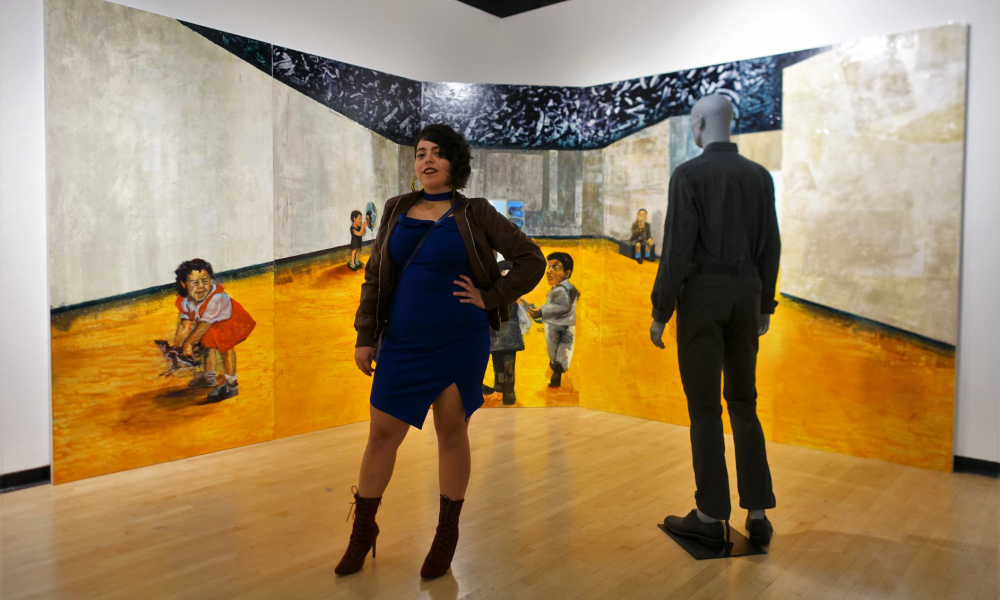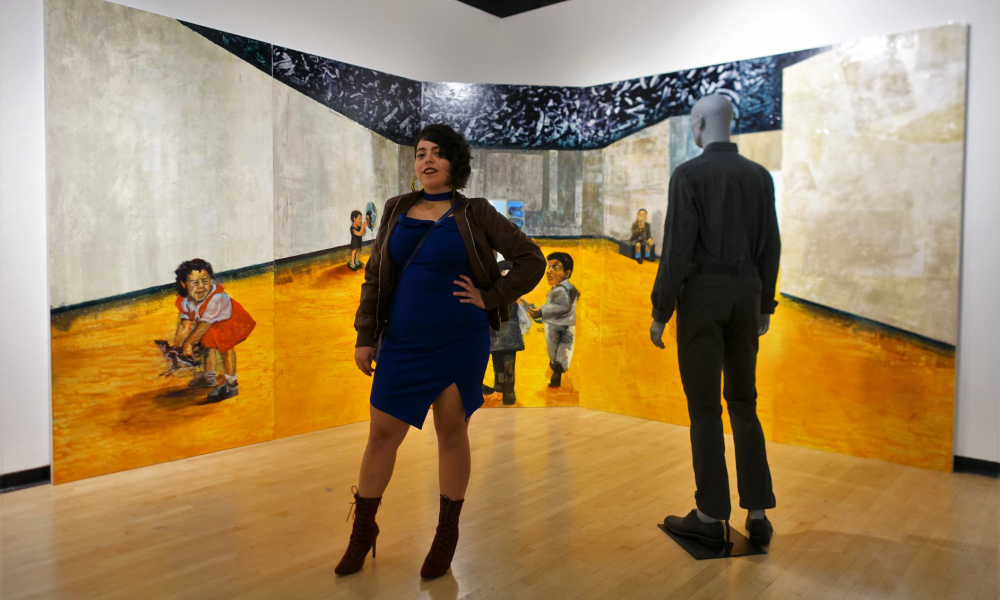 Today we'd like to introduce you to Aliza Bejarano.
Aliza, please share your story with us. How did you get to where you are today?
I am part of the old adage — an artist that began drawing from an early age. Making my art was always a way for me to articulate myself when I didn't have the words to explain or the pain of the story was too overwhelming to speak.
As a child, I was sexually and physically abused. I would draw, build, or write things as a way to organize my experience. Not just in its narrative but its feeling, of which would often be too heavy to carry. In the reality that we live in on a daily basis, I was a prisoner. In the one that I made for myself, I was free.
From this early time in my life, I learned to cope through my art. I found that the pain I nestled within the colors and lines was a universal truth — an inner turmoil and message of a journey that even the strongest human had. In 2014, I was drugged at a bar and left on the driveway of my home.
Sleep paralysis — I forced myself to ask for an ambulance, but the paramedics refused to take me to the hospital. I felt so used and betrayed — again. I became paralyzed by fear. I couldn't go out to my driveway or even leave the house. I decided to take my life back. Every day I painted one new piece. Whether it took all 24 hours of the day or ten minutes, I painted one new thing every day.
Halfway through this process, I went back to school and finished my Associate's degree with a class on networking and marketing yourself as an artist. Once I had completed 100 pieces, I was ready. I started with one gallery, maybe the occasional local Art Walk.
Calling a friend to reassure me throughout the drive there. I pushed myself to talk, make acquaintances, and live my life for me. I needed to prove to myself that I wasn't a prisoner of this event. Nothing would ever keep me caged again.
Eventually, I found myself surrounded by Art Family; a community of people that rooted me on. I began working in LA and went on to get my Bachelor degree, which I recently graduated with – a Bachelor of Fine Art in Drawing and Painting from California State University Long Beach.
I have forgiveness in my heart for the darkness of my childhood, because I know that as a species of creature we are all on some level broken. If not because someone broke us, then because all who taught us were also broken.
Has it been a smooth road?
When is any journey worth having, on a smooth road? — Never! I wish that I could say I've always had a positive attitude and a sunny disposition and that's how I've gotten through so much. But it might be 65% true.
The reality is that however cheery your disposition is if you don't have a strong constitution then you're in for a hell of a bumpy ride. My positive attitude didn't save me from trauma. I tried my best to hold on to all of the idealism I had especially after reality hit in 2016.
I was on the beach on Bastille Day in Nice, France for a study abroad class in Impressionism. My friends and I ran for our lives from gunfire — 100 people died that night. I realized that nothing about who I was would ever be the same because the "why" of what had happened would never leave me. It made everything else seem so insignificant.
My idealism had told me that if you hold a positive nature, think positive things, and wish positivity for other people then that was what you attracted. But I wound up in the middle of a terrorist attack. I survived, and no one from my group was hurt, but my sense of reality had shifted forever. Sometimes shit happens, and there's absolutely nothing you can do about it.
Embracing the truth of each situation as it unfolds keeps you present and able to respond reasonably. When you can't accept the truth of what is, that's when you really lose your mind. This metamorphosis of reality is what I explain in my work. Nothing is as it seems.
This reality shift made things difficult because I could no longer hide behind the fantasy I had built. I had lost patience for anything that disturbed my peace, or that even attempted to diminish my sense of self-worth. I had been trained for so long to smile, laugh it off, and keep moving despite everything. I realized I had to retreat in order to find myself again the same way I did in 2014.
Good vibes and online advocacy alone won't bring the change you want to see in the world. While envisioning that better world, you have to take action and fight for that vision as if there is no other alternative. Otherwise, you're just waiting for reality to strike you.
"Retain faith that you will prevail in the end, regardless of the difficulties, and at the same time confront the most brutal facts of your current reality, whatever they might be." James Stockdale.
We'd love to hear more about what you do.
Much of my work is born from the idea that Adults are the children they always were, just buried underneath. Some call it the "inner child," that child you were when all things about the world became imprinted on your psyche.
All the things you learned were true, but may not be fact. That inner child continues on in the Adult; a being filled with insecurities and temperaments of their past, buried beneath a façade of what is socially acceptable. Each piece I create is with a unique layering technique that I've invented: a combination of oil paint and various mediums, which gives the appearance and sheen of resin. It is a physical, full body process.
With each layer of application, I actively strategize and constantly move to compete with the varying drying speeds of the mediums and paint. These variations activate against each other to produce an acidic disintegration, in much the same way old film does.
Because they react quickly, I have to respond at the moment with my next move, next color, next layer. We breathe together, dance together, I try my best not to worry too much about making a mess, or a mistake. I also create with an understanding that the end result of this method will, for the most part, be out of my hands. I just keep building on and improvising with what I have in front of me.
Until the piece seems to make evident that there could be another world away from this one. Listening carefully for any advice on what the future for us holds. This "Mock Resin" substance lends itself to the essence of the work in its unpredictable nature, covered in something familiar and elegant yet still somehow otherworldly.
I also enjoy creating the installation, immersing the viewer physically into the world that I've painted. It provokes the viewer's mind to understand that their immediate surrounding is now foreign terrain. One that they feel compelled to identify. The paintings then become a landmark of something recognizable; a strange reprieve.
Although trauma is what my art blossomed from, I make it now as a sort of paradox. I create a place where people could potentially go to escape, but that also somehow awakens them to the reality that we sit in now. For those it doesn't spark curiosity in, at least it makes for something strange to look at.
Where do you see your industry going over the next 5-10 years?  Any big shifts, changes, trends, etc?
Over the next 5-10 years, I believe the next movement and revolution in art that everyone's been feeling and waiting for is going to happen. It's still and has been going through an enormous transition brought on by the internet and social media. When Facebook was in its beta phase, it was making artists famous.
Now you have a plethora of various online avenues that artists are taking and making money from (or not). The industry as a whole is not a stable entity. You have to be ready to ride out the lows and the highs and be prepared for both. In all sectors, as a gallery or an artist, you just have to be able to move with the market whatever way you can without compromising on your principles.
Having said that, I do believe the way the industry functions is going to change drastically. With the cost of living how it is and the hustle of an artist from every aspect being just as costly, people are getting tired. And when people are tired they start to make their own way. It may be a resurgence of the past, but it will be a change.
Contact Info:
Image Credit:
Francisco Alvarado, Corey Stead, J Michael Walker, Marlene Picard Photo, Abel Alejandre
Getting in touch: VoyageLA is built on recommendations from the community; it's how we uncover hidden gems, so if you know someone who deserves recognition please let us know here.