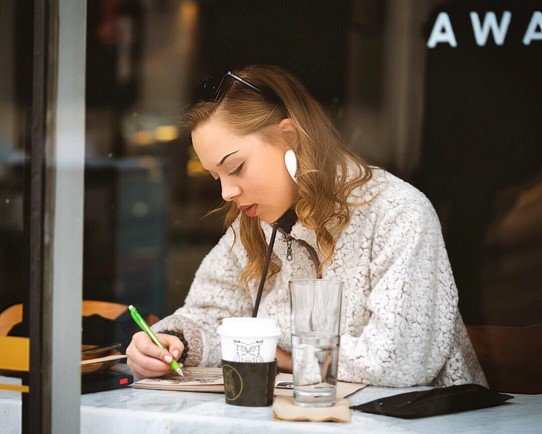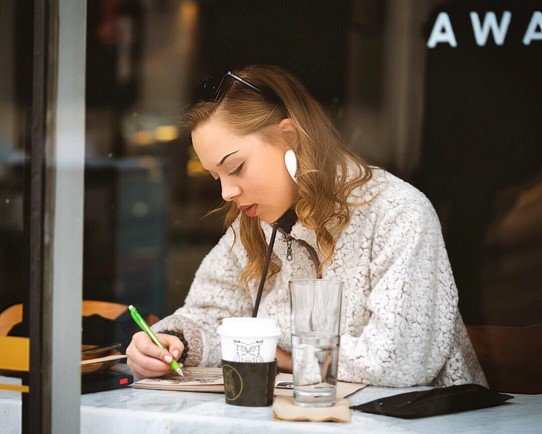 Today we'd like to introduce you to Alina Bobyr.
Alina, can you briefly walk us through your story – how you started and how you got to where you are today.
I was born in Ukraine in the '90s. Both of my parents are architects, so art was running thru my blood since I was a kid. They were always doodling something, sketching and creating things with almost inexhaustible enthusiasm. A bunch of canvases, paint, and brushes were scattered everywhere, filling up every little corner of our small apartment.
To keep their little child occupied mom and dad were always encouraging me to grab a pencil, piece of paper and do whatever I want with it. So I did. When I was 11 as an experiment, I started to play around with polymer clay, and I absolutely fell in love with it! I was so lucky to discover a perfect way for myself to express feelings, thoughts, and emotions at a young age.
Within the time I added some more materials to the collection – plastic, glass, epoxy, fur and whatever weird stuff I could get my hands on, trying to combine them in different ways, using various technics to create something unusual. My parents always made sure I work hard to get things I wanted, they raised me to be grateful for everything I have, and never stop on the way of achieving something greater.
At the age of 19, I moved to the US trying to get away from the war in Ukraine, searching for a better life – young, alone, with pockets full of ambitions and 300 dollars in my wallet. It was the hardest times of my life, and during long periods of depression, art was the only thing that kept me on the float.
My first creature was born on the dark winter day, and I was so happy with the way he came out – weird little monster, with a face made of clay and soft furry body. Ever since then I create more and more and I love them!
Has it been a smooth road?
At the beginning I didn`t have any intentions to distribute my creations, the point was kinda just to let them live. Bring them out to this world! They were supposed to just live with me in my tiny room, sitting on a shelve and look happy.
But during the times of difficulties with employment and whole document situation I didn`t have any money to buy materials (and even just food sometimes), so all my monsters were trapped there – in the vault of my imagination waiting to be set free. And that awaiting was breaking my heart.
Slowly, as I`m fighting for my happiness and working hard things are getting better, and I spend every extra penny towards buying another box of clay or a piece of fabric so my little monster babies can be born.
At some point, when my whole room was filled with my creations I finally decided to show them to my friends to see maybe somebody will like them and they will find a new home, the only criteria was to sincerely like one, and you can take him with you.I didn`t expect anybody to see them in the same light as I see them. They are like kids to me – every single one is precious and unique.
But surprisingly most of them were taken in a heartbeat. I was shocked, I decided to share my creations with the world, so people know that it`s ok to be weird, It`s ok to express yourself in any possible way your mind tells you to, It`s ok to care about something nobody else cares about and it`s definitely ok to be outside of the social cliche as long as you`re true to yourself that what my monsters represent..
So let's switch gears a bit and go into the Wicked Monster Workshop story. Tell us more about the business.
At Wicked Monster Workshop, I create all kinds of creatures, some of there were born in my mind, some are inspired by amazing movies, shows, books, etc.
All creatures are displayed physically at the store – never sold online. I want people to meet them in real life, be able to touch them and feel the vibe in person before they can take one home.
Local art shop is perfect for that purpose. It`s their temporary home, where they live side by side with hundreds of other art pieces from different artist of California.
How do you think the industry will change over the next decade?
Art industry always evolves – every day something innovative comes up new tools, techichs, instruments, materials.
Thousands of new artist appear all with different visions, mindsets, perspectives and that is the beauty of it! We all inspire each other, changing the world every second with our creations, making people feel indescribable emotions, letting everybody
Contact Info:
Address: 3118, 502 University Ave, San Diego, CA 92103
Phone: 843 997 4828
Email: soulartcreatures@gmail.com
Instagram: @wickedmonsterworkshop
Getting in touch: SDVoyager is built on recommendations from the community; it's how we uncover hidden gems, so if you know someone who deserves recognition please let us know here.