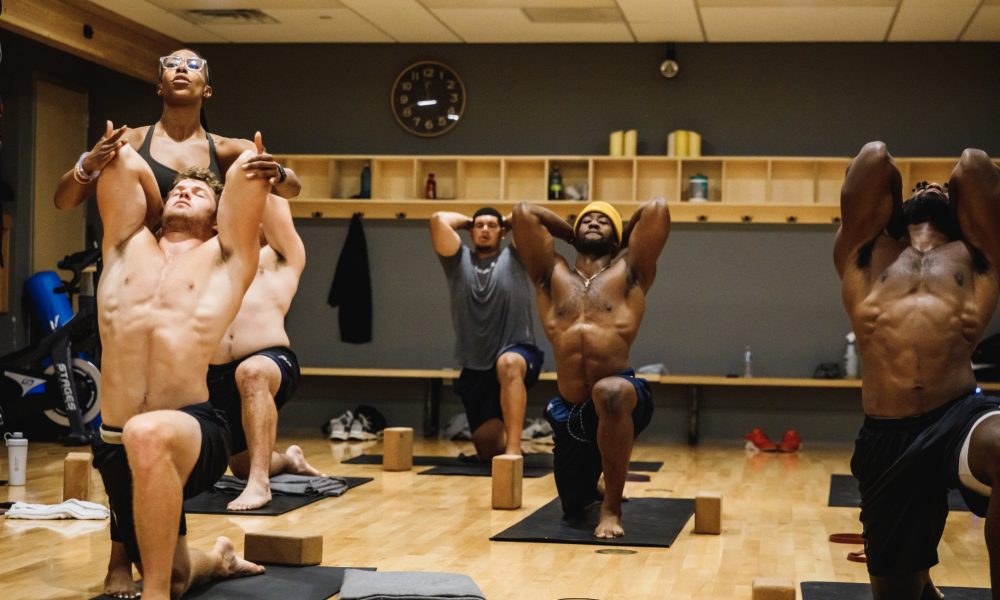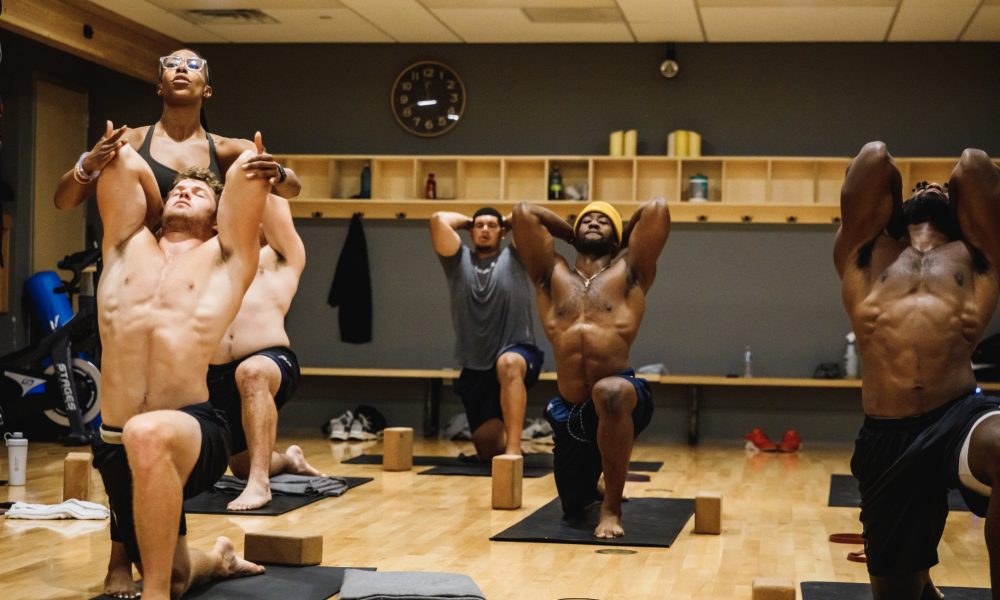 Today we'd like to introduce you to Alicia Tillman.
Alicia, can you briefly walk us through your story – how you started and how you got to where you are today.
Born and raised in Houston, TX. I started in Yoga after a knee injury and hated it! The experience was extremely uncomfortable and unrelatable. It was taught by a skinny blonde lady who kept talking about the sun and the earth. I come from an athletic and team sports background, so the stereotypes of yoga turned out to be true in this class. I didn't return to a public yoga class for about six months. Once I built up the courage to come back, I explored a "Power Vinyasa" Class.
This was a more athletic, faster-paced, and sweaty experience. I LOVED IT! This time in my life was a very transitional stage, and yoga really helped me physically and mentally. I noticed the changes in my body and mind. I really focused on mindfulness and letting the "you have to" mentality that plagued me for years. I became me. I cut off my hair, valued my time and personal growth, all while removing toxic relationships.
I slowly started bringing my friends to yoga, especially my friends that were still playing sports in college or professionally. I brought some friends to my favorite class. The back row held soaked mats with about eight huge basketball and football players struggling through the class. I was whispering the modifications and translating the instructions into terms they can relate. After the class, I thought "This maybe what I should do". I shortly signed up for Yoga Teacher Training.
Started with small classes and athletes. I fell in love with teaching people how strong they really are and developing their yoga practice. I've learned that the athlete and yoga worlds want to collide but the lack of understanding of each other, bridging the gap is harder. For example, a "Football player" is a generic term but contains multiple positions with very different body types and movements. For a coach to think their athletes "Need yoga" is a great thing. Just as little as they know about yoga, the generic yoga teacher they may find may not know anything about football. When creating yoga programs for athletes, I took a sports-specific approach. This program design has led to success with my client's flexibility, mobility, and strength.
My public classes were a different story. I struggled at first to find confidence in my teaching. With athletes, I was able to relate and speak normally and play whatever music the clients or I liked. But with public classes, I lacked in the self-confidence. I was never the most flexible. I have past injuries in both knees. I also don't have the "Yoga" body type, meaning I have curves or as my friends say "thicker than a snicker". So, how can I teach the girl in the front row that is in a pretzel?
At this time, I was teaching yoga classes in a set format or style, which led to little creativity. The students were much older then me so I had to dim down my personality. If I played any type of rap or hip-hop, I'd get an email about my offensive content in my class. The turning point was when Austin Based studio "Black Swan" came to open their first studio in Houston. I was hired as one of their opening instructors. There was no format, just a couple guidelines but mostly freedom to teach how you like.
For a couple of months, I was stuck in my format and style that I was accustomed to. One day my yoga playlist wasn't working, so I played my home practice playlist. This playlist housed some of my favorite songs of the moment with some explicit and unedited content. I played it and it was extremely well received. This was the beginning of me finding my vibe. Turned out there were many more people like me than I could have ever imagined. For most of my students, the music they loved served as their white noise and made the experience relatable. Speaking in my normal voice, every now in then dropping an "F-bomb", and not listening to "whale music" worked for me.
Having my body type and showing people how a "real person" can accomplish some of these poses really connected with people. This is the first time I honestly felt accepted as who I am and what I am passionate about. Instagram has showcased the "yogi" as a skinny long hair girl on a mountain or beach with a personal photographer and has managed to wear all white on a beach and not get a single spot on it. While I can't stay clean from my house on the way to the studio. (Which is 4 minutes in the car)
Fast forward to a year and a half later, I was teaching sold-out classes. People were getting turned away from class and I wanted to create an experience that everyone could come to. Thus "Trap Yoga and Tacos" was born. I have been deep in my trap music playlist and have a strong love for Tacos, but honestly who doesn't? With the help of my friends, the "TYT Team" we planned the first event, expecting maybe 100 people. Since I have been involved in community service projects and organizations all of my life, I decided to donate a portion of the profit to a Non-Profit, Hive Society. Hive Society is a community service Non- profit which was actually started by my friends and I at the University of Houston.
Trap Yoga and Tacos, "TYT", was hosted a "The Space" downtown with 315 attendees and more than 80 people couldn't get in. The attendees ranged from my class regulars, friends, but mainly people I didn't know. I was amazed at the variety of ethnicities, ages, and backgrounds in one class. As a black woman, I am usually a token or 1 of less than 3 in a yoga class. To have that many black women in one class and most experiencing yoga for the first time was truly amazing. We flowed then we ate delicious gourmet tacos from Tout Suite.
With the success of the first TYT, we planned the next one about a month and a half later at Warehouse Live. But during the planning stages, Hurricane Harvey hit Houston. We all know how that turned out. So in between our relief efforts, we continued planning a decision to have the proceeds go to Hurricane Harvey Relief. Now filled with Houston Strong pride, we decided to make this Volume "Chopped Not Slopped" which is a nod to Houston's own "Screwed and chopped" music. We had our friends DJ Candlestick and OG Ron C of the Chopstars to provide the authentic soundtrack to our flow.
Warehouse Live has housed some of the best concerts we have experienced and to host an event in that venue meant the world to us. TYT Vol. 2 at Warehouse Live was attended by over 420 people during a thunderstorm followed by taco trucks. Now with the City watching, we decided last minute to create the last event of the year.
Trap Yoga and Tacos Vol. 3: "The Trap Gives back" partnered with the Salvation army collecting toys for displaced Hurricane Harvey Families. This volume was hosted at Silver Street Studios with local vendors and over 750 yogis flowing to the sounds of DJ Rich Nasty. Looking in the crowd into a sea of diversity which was what I have always felt that represented Houston. This was a great ending for the year and an even better bookmark for the TYT brand.
After the new year, I found myself in a weird position. I was known to many as the "Trap Yoga Girl" or I only teach "Trap Yoga". I felt that I had trapped myself in this identity. As an anatomy-based teacher with numerous Continuing education credits and a 300hr certification from Pralaya, a prominent yoga studio in Houston led by the "OG" Robert Boustany. I felt like people didn't take me seriously as a teacher. For weeks I was in a funk. Honestly thinking about ending the brand and getting back to "real yoga".
Ready to throw in the towel, I ran into Yoga One Creator Roger Rippy at a gathering. I've always looked up to him and what he has created, and even researched Yoga One for my first business plan. He said, "I am in awe in what you have created. To be able to share the gift of yoga with so many in your authentic way is amazing. All those that you have exposed to yoga is why we do what we do." This meant the world to me and opened my eyes. Removing my ego from the situation and seeing what my team and I have accomplished is really astonishing, and I should be proud of that. This is what I needed to get back focused.
Throughout the planning of all three TYT events, I was working on creating Empower Fitness Lab. My partners and I developed a tri-studio concept, Empower Fitness Lab. This concept was based on H.I.I.T with the addition of both a Full Yoga and Cycle Studio. My role was to create and develop the Yoga and Cycle program. Developing and managing these programs as well as the full studio was one of the most challenging experiences I have faced, all while teaching yoga for athletes in the off-hours.
Empower became a powerhouse! My team and community were amazing. For almost three years, we became the only tri-concept studio in Houston with multiple locations. But everything changed in March of 2020. COVID-19 changed the fitness boutique landscape forever. Being a "capacity-based" business model was not ideal for a "social distancing" way of life. Unfortunately, I was faced with the hardest decision ever. I had to let go of all my amazing staff. My business partners and I came to an agreement to close the first location and the second will be used as a rental space in the off-hours. But even that was hard to make ends meet with all of the COVID restrictions, closing gyms for over two months. In the downtime, I decided I needed a change.
The reason why I became a yoga teacher was to create a space for athletes and my goal was to become a strength and conditioning coach to understand how athletes train and how mobility and flexibility can help them. Somehow I lost sight of that. While in quarantine working with 2 of my athletes, Joshua Kalu of the Titans and Obo Okoronkwo of the Rams, they presented the idea to come to LA and visit Sports Academy (formally Mamba Sports Academy). So I hopped on a plane to the west coast to check it out.
Even in quarantine, LA had the vibe I needed and Sports Academy was the place I needed to be. After staying for a little over a week all while the Black Lives Matter protest and Riots were filling the streets of LA, I decided it's time for a big change. Sports Academy has a seasonal internship that happened to start two weeks from when I first visited. I inquired about it and was accepted. So I packed up the car with a U-Haul trailer and drove 23 hours from Houston to LA with my life in tow.
Now a 32-year-old intern, beginning a new life across the country, I am living my purpose and really able to do what I do best. Now it's time to bring the southern flavor to the west coast!
Upon my arrival, I began teaching numerous Football players and other athletes. The internship program
Has it been a smooth road?
We all have our baggage. Mine is self-confidence and acceptance. Like most, I want to be liked and included. But sometimes you are not meant to fit in, you're meant to stand out, I struggled with this most of my life. I'd straighten my hair because no one had a curly afro, which is how my hair naturally grows. Now I don't give a damn how my hair looks. lol
I look for validation and approval from external sources and will completely derail from my goals or plan. I experienced a low time where I second guess everything physically and professionally. I experienced misogynistic leadership which for the first time made me extremely on my appearance. This challenged my newly found self and what I worked so hard to achieve. Some of the leadership I was under taught me how not to lead. But I am grateful for each experience because it has formed my consciousness now and how I lead my current team.
Yoga forced me to face myself. Really deal with my issues. Removing myself from relationships and situations was extremely hard. But with all the self-development, I was able to have a relationship with my Father and family that without it, wouldn't exist.
In Houston and most cities, the strength and conditioning field is male-dominated. Being a black woman in this filed was extremely rare, so most never took me seriously. But I never focused on people. I did the work! But getting people to give you a chance is hard, especially when all they see is Yoga. But I am much more than that.
We'd love to hear more about your work and what you are currently focused on. What else should we know?
Awkward Yoga Girl is my brand. I am a Yoga Teacher and a performance coach. I teach people how to believe in themselves. I specialize in numerous styles of Yoga but specifically Yoga for Athletes. I'm known for my Vinyasa classes and my yoga event series "Trap Yoga and Tacos". I'm known for being able to bring yoga and hip-hop together while challenging peak pose yoga flow for athletes and yogis alike.
The flow challenges students mentally and physically. It's my goal in every class to have every person to leave learning something about themselves. But I am ultimately proud of the diversity that fills the classes I teach. I meet so many people from different walks of life but all in the same yoga class. My classes allow people to take down their guard and just be. The soundtracks can range anywhere from Kanye to U.G.K fueling an anatomy-based flow.
The experience. You will grow, in some way shape, or form. Whether it's believing in yourself enough to step out of your comfort zone or finding a connection in movement and music. Bringing that energy to the court, field, or everyday life.
Is our city a good place to do what you do?
I believe if you can make it in LA, you can make it anywhere. There is so much challenge in that statement but I am up for it. There is so much diversity here, so the opportunities are endless. You just have to be true to yourself and have a strong head on your shoulders. This city can swallow you whole and spit you out if you let it. It can also be the gateway to your goals. It is up to you to decide.
Pricing:
Private Sessions $75
Semi Private $60
Small Groups & Classes $15-$20 per person
Contact Info:

Image Credit:
@theodiwams
Suggest a story: VoyageLA is built on recommendations from the community; it's how we uncover hidden gems, so if you or someone you know deserves recognition please let us know here.