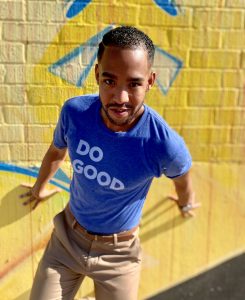 Today we'd like to introduce you to Alex Sewell.
Thanks for sharing your story with us Alex. So, let's start at the beginning and we can move on from there.
31. Southside Chicago native. Graduated for Roosevelt University in Chicago in Political Science. I started my career in government and politics by interning on Capitol Hill with the Congressional Black Caucus and then with Leader Nancy Pelosi's office. Soon after, I landed my first job as a Presidential Appointee in the Obama Administration with the Department of Energy. I spent close to a year in the office of the Secretary and then decided to head back to Capitol Hill.
I interviewed for a position that I thought I had a very slim chance of getting – working for U.S. Senator Mary Landrieu, a third term US Senator, centrist Democrat from Louisiana. She was the first woman elected statewide and a strong presence in the Senate. The opportunity was to be the Senator's Executive Assistant during her tough re-election fight. I had no connection to Louisiana and had never been an assistant before. Boom! Surprise! I got the job. So now I had to figure out how the hell to do it. After some hard knocks, I learned the ropes and then really stepped into the Role. I started leaning into the political aspect of the work. I started to see my role as an Executive Assistant, as a "Chief Relationship Manager". I focused on making more connections, my follow through and follow up, prioritization, relationship building – both internally within my office and Senator's extensive network. I've always been pretty good with people so I just honed that. I did a lot of grunt work – event planning, administrative stuff, filing, too. But then, things really opened up for me when I started to explore political communications and stakeholder outreach. I sat in many meetings with the Senator – soaking in strategy, policy and political conversations. And then, I actually started to contribute to the conversation and to the strategy. That was a huge break through for me. The most important step was earning the Senator's confidence and trust. I was reliable, caring – yep that matters, and on top of things and "together" to the best of my ability. I managed a high volume of the Senator's priorities but internalizing them as my own. To make a long and adventurous story short, I joined the Senator's reelection campaign – aided with political communications, black and young voter outreach strategy and I even taught the Senator how to do "the Wobble" – a crazy moment that actually went viral. Sadly, we lost the race because of the national headwinds against President Obama and the Democrats that year. It was sad day. I packed up my things and headed back to DC.
Once I made it back to DC, I landed a short-lived job at Facebook. Then, eventually jumped back into government with the Export Import Bank, the US export credit agency. I traveled around the US and internationally with the Chairman – promoting the Bank's mission: expanding markets for US exports. Then, I decided, you know what, I'm not happy in government anymore and I wanted to move to Los Angeles to pursue another passion: acting and filmmaking. Yep, just like that! Boom. I wanted to explore acting mostly. I also wanted to find a way to leverage my experience in politics into a role in the entertainment industry. I was still unclear how exactly…
So I relocated to Los Angeles and I figured I would land a job immediately. But I didn't. I had to grind for a long while. Throughout my grind and all the interviews, I learned more about the intersection between entertainment, philanthropy and social change which is really what social impact is about. I had to quickly learn about the work: cause marketing, issue advocacy and about some entertainment figures and companies involved in philanthropy, politics and advocacy. I identified the key players and then I sat for more informational interviews. And then boom, a dear friend hits me up to tell me about an opportunity with a social impact consulting firm, Propper Daley. I interviewed, landed the job and started on a short-term role there. In this experience, I learned about client-based social impact work, strategy planning and most importantly, the tremendous opportunity out that exists leveraging entertainment, cause marketing and issue-based advocacy to create awareness and affect change through media.
So I was clear about my lane… I started putting more feelers out there to find opportunities in what felt like an elusive and fledging lane. Now my conversations were more intentional about what I wanted to do next. Soon after, by the grace of God, I was referred for and landed an opportunity with Will & Jada Smith Family Foundation. I started as an Executive Assistant and my responsibilities grew significantly there. I worked on the Foundation's diversity inclusion program called Careers in Entertainment. I supported an Executive's office. I worked on another partnership program with AFI which brought young girls from South LA to AFI's campus to learn about filmmaking. I helped to execute a cool fundraising campaign with Will featured on the Omaze platform. I learned a lot, became a better professional: more versatile and well rounded, developed new skills and now I'm moving into a whole new chapter in my career. And I have some great opportunities in store. I'm now exploring another passion which is sketch comedy writing and podcasting. I'm developing a political podcast with the mission of making politics more culturally accessible for my people: "Obama generation" – young, black millennials – people of color, LGBT folks specifically – of color. My co-host and I are going to educate and entertain with wit, satire, critical commentary and with the help of Black Twitter and I think my political background could come in handy as well. This is just the beginning…
Has it been a smooth road?
My journey certainly hasn't been completely smooth. But it's been beautiful. I'm a kid from the Southside of Chicago. I never thought I could make it in DC or Los Angeles. Nor did I think I could work for and with the people who have come into my life. There have been plenty of tough days like when I used to go from my unpaid internship straight into my job as a part-time waiter in order to cover my monthly expenses. There were definitely hard times – growing up in Chicago, in college and then learning the ways of Washington DC, on campaign trail in Louisiana and definitely when I got to Los Angeles. The most important challenges that I've faced have been challenges in building and maintaining confidence personally and professionally. I've struggled with finding and keeping my passion, my voice and my creativity going. But, I would not change a single lesson that I've learned. My experiences were made for me and shaped who I am personally and professional. I've gained so much on the rocky road. I found a lot of friends and colleagues out there navigating the challenging path. Looking back with what I know now, I would only hope to do it a little more grace, confidence and mercy on myself. I'd also lean on, love on and learn from the people in my life more.
Tell us more about your work.
On the creative side: I'm an improv actor and political sketch comedy writer. I'm launching a sketch comedy podcast for millennials covering topics in politics and culture shared through a queer black lens. I also advise and consult organizations on social impact campaigns and inclusion programming.
How do you think the industry will change over the next decade?
I predict that the social impact arena will grow significantly in 5-10 years. The entertainment industry is discovering its untapped power and its tremendous influence shifting and shaping cultural narratives and social policy. In the diversity and inclusion space, there's a lot of work being done (and a lot more to do!) to change the entertainment industry by sharing more diverse stories and uplifting storytellers of color, like myself and so many others I know. There's even more work to be done to add more diverse voices to our political and civic leadership and our national conversation. There has been a great shift with the increase of women and people of color running for office in 2018 and pretty much since the 2016 election. There is a great opportunity to great change in media and thus our political conversation. We're seeing more diverse faces and perspectives on television and in digital spaces. I love it! I'm going to do my part to ensure that it is not just a trend, but also has a lasting impact as well.
Contact Info:
Email: codenoir@icloud.com
Instagram: @alexcsewell
Twitter: @xandercasanova
Suggest a story: VoyageLA is built on recommendations from the community; it's how we uncover hidden gems, so if you or someone you know deserves recognition please let us know here.