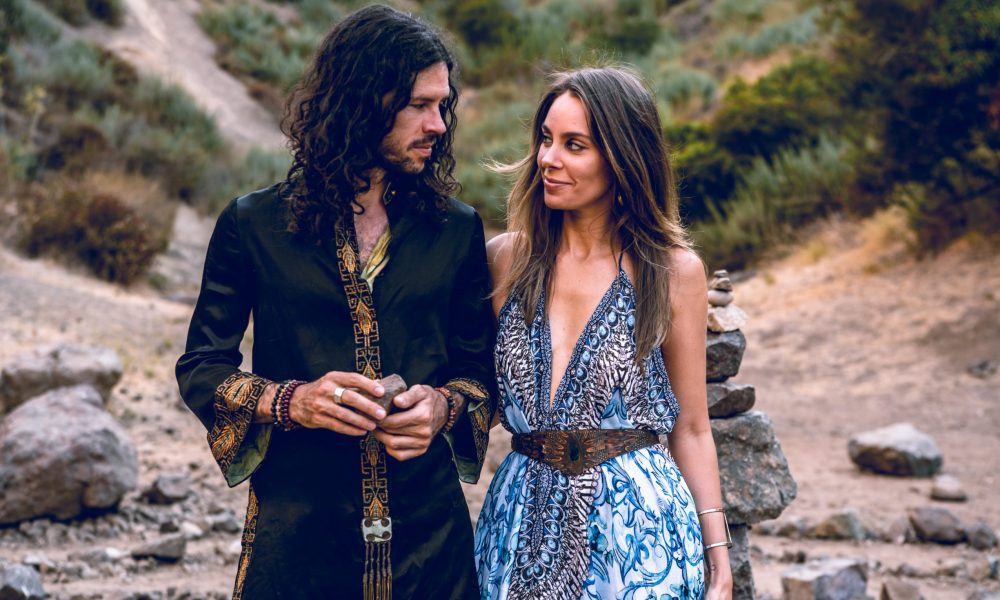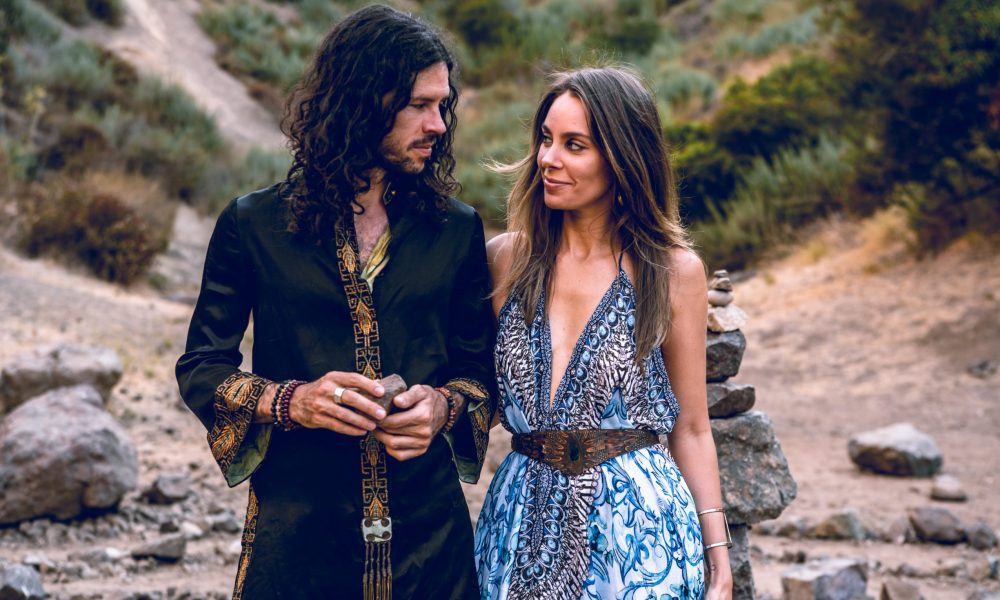 Today we'd like to introduce you to Aila Rose and Jonathan David.
Thanks for sharing your story with us Aila and Jonathan. So, let's start at the beginning and we can move on from there.
From the moment we met, we knew our relationship was going to be different. Our conversations, our interests, our goals, everything seemed to be perfectly aligned – that is, except for our sex. Jonathan was completely sober which meant it was one pure conscious moment leading into another. There was no letting my guard down over a glass of wine — something I wasn't even aware that I needed at the time, and it made it difficult to transition into sex and fully open up in those moments.
For once in my life, I felt like I couldn't hide. I found myself reluctant and uncomfortable. He immediately picked up on this and we began talking about it. I'd never been so open and communicative about these things before, but we knew that no matter how perfect everything else was, the relationship was doomed if we didn't connect in this department. After all, how you show up in sex says a lot about how you're showing up to the rest of your life. There was something big I was hiding from and we needed to get to the bottom of it.
Both of us had done spiritual work, therapy, and other healing modalities before, but we knew that this was something deeper and we simply couldn't remain "stuck" anymore. We started hunting for answers and eventually came across the teachings of Tantra and Taoist sexuality. It was as if a light was switched on. Our entire sex life turned upside down. We became more intimate and connected, experiencing timeless lovemaking and a deepening divine bond. We learned about our bodies and what they were trying to tell us when our energy wasn't flowing. We learned about the trauma that had been stuck in my body and learned to move past it. For the first time in our lives, we were experiencing a healthy, respectful, and radically honest relationship.
We found ourselves drifting away from our acting and music careers and searching for something more fulfilling. Our growing knowledge of nurturing a healthy relationship, coping skills, communication techniques, and connection exercises was becoming priceless and we knew we had to share our secrets with everyone who would listen. It was around this time that we started developing our own healing method, what we now call Bridging™.
Most of what we discovered in the area of trauma and trapped energy was done through our sexual relationship. Our revelations were changing our lives and catapulting us into a happier healthier life than ever before. But how could we share this? We obviously couldn't have sex with our clients, so we worked backward from where we were to figure out how to get there in a way that was accessible to everyone. We had to help others experience the connection and liberation we were experiencing. Through some trial and error, we figured out that with a curated environment, deep breathing, guided conversation, and a little bit of fairy dust, people could have breakthrough experiences, as we did. And it worked! Bridging was born™.
Now, we help people identify and work through their personal traumas and core wounds that are affecting their everyday life. We create a bridge between the body and the mind, the subconscious and the conscious, to get them to start communicating with each other. We are showing others how to move from surviving to thriving. The response has been humbling. We couldn't have dreamed of the amount of growth we would see in the coming months. We began to get phone calls from our client's friends and friends of those friends. Now, our calendar stays booked and we couldn't be happier.
Watching people finally let go of the baggage that has been holding them down for so long is truly a reward in itself. We see the best of people, the divine being that deep down we all are. And then, we watch them go back into their lives and start affecting their community in the same way we affected them. It's the most beautiful and fulfilling work we have ever done.
At the end of the day, we are simply sharing what has worked for us. We offer our presence and guidance. We offer our love. We remind each of our clients how amazing they truly are. Sometimes, it helps to have someone who sees us for who we are underneath it all and walks alongside us through our darkness. Someone who loves and accepts us regardless. We help them find unconditional love for themselves and others so they can love the life they are living. Imagine what could happen if we all felt that.
We're always bombarded by how great it is to pursue your passion, etc. – but we've spoken with enough people to know that it's not always easy. Overall, would you say things have been easy for you?
We started this business from nothing. Day and night, we worked to create our website, our content, do research, read the books, create our healing method Bridging™. Through it, somehow learned how to market ourselves and put everything into practice. We invested the little money we had saved knowing that what we learned was too valuable to wait until all our finances were in line to start putting the word out. At times, we even put our rent on our credit cards and were scraping to get by, but we knew we were on the right path — it was written on the faces of everyone who came in for the healings, everyone seemed lighter and happier and genuinely grateful.
We were forced to learn the meaning of blind faith, trusting that somehow everything was going to work out. It was scary, at times, because it felt like we were walking off the edge, but just as our foot was coming down that's when the ground would show up beneath it. We are so grateful that it happened the way it did because we learned so much about energy and manifestation. And that when the driving force is to serve others, the rest works itself out, and the feeling in your heart is the reward in itself.
We'd love to hear more about your business.
We teach a series of Tantric sexuality workshops, but our main focus is our Bridging™ sessions, where we trigger the reptilian brain through a series of techniques that bring the body back into it's deepest traumas while providing a safe and relaxing space to open up and fully feel the experience. When trapped emotional trauma or core wounding is released, the body gets closer to its natural state of homeostasis, or balance. This allows the body's natural healing energies to work at full capacity, ridding itself of any unwanted disease or negative conditions. Once this connection is made, the stored trauma is processed through the body, released, and new neural pathways are created that rewire your brain.
Similar to a shamanic experience, we guide you through the pain while moving it through your body to the most powerful part of the brain, the pre-frontal cortex (the thinking/logic/awareness part of the brain). This creates new neural pathways that allow for ongoing healing and catharsis. Bridging™ is a combination of holistic healing techniques similar to Reiki, light work, sound clearing, chakra clearing, spiritual guidance, psychotherapy exercises, and guidance. It is a perfect blend of science and spirituality.
Sessions typically last 2 1/2 – 3 hours. This is very deep work and your body can only take so much at a time. We have found that the body naturally begins to signal that it's ready to process what it's learned and moves back into resting state.
Through a series of sessions, a person can release all of their stored/subconscious emotional body trauma. The amount of sessions varies depending on the amount of trauma a person has and how willing they are to let it go. Many of our clients have experienced amazing transformation in one session.
Imagine being as open, curious, and free as a child but with the knowledge and experience of an adult. We transmute the emotional pain into wisdom, allowing a person to sink deeper into the experience of life.
Our clients say they feel lighter and freer after their first session – energized with an electric feeling flowing through their body. Moving forward, they become conscious of their patterns and we guide them through integrating this newfound awareness into their lives.
We consider our Tantric workshops as the followup to the healing sessions. Once you have experienced this newfound level of awareness and connectedness, you want to share it with another. And relationships are an amazing opportunity to evolve and expand our consciousness. So, we teach people perspectives, exercises, and techniques to deepen connection, intimacy, and sexual satisfaction. There is a women's workshop and a men's workshop. The women's is more focused on healing and opening up into the fullness of their bodies, and the men's workshop is focused on changing their view on sex, teaching non-ejaculation techniques, and building energy for a vital and healthy life.
We teach what has worked for us and the reception has been inspiring. Lots of people are enjoying their lives and their bodies in ways they never knew they could.
What were you like growing up?
Aila was born in a very small town in Cuba called Niquero. She grew up by the water and was always intuitively tapped into the land, running around with the other kids in town, playing in the rain, out by the ocean watching lightning storms over the water, and climbing trees. There were not many toys so imagination was very important. She was always involved in the town theater – acting, singing, and pretty much anything that had to do with entertaining. She loved the magic of the movies and aspired to be an actor when she grew up — which is what originally brought her to Los Angeles.
Jonathan grew up in a tiny town outside of Nashville, Tennessee. Every day was an adventure, exploring through the woods, riding his bike as far as it would take him, and enjoying nature. It was a simple life. He grew up with the same people from elementary through high school. They all knew each other's families. There was a certain charm to the country life that he still carries with him today.
Pricing:
Bridging™ $500 (private 2 1/2-3 hour session, with a 45 minute follow up video call)
The Goddess 1 & 2 (women) / The Multi-Orgasmic Lover (men) – Group tantric workshops $65
Contact Info:
Image Credit:
Linda Pianigiani – @lindapianigianiphoto (Her photos are the main one and the A&J ones), Vanessa Viola – @vanessaviolaphotos (Her photos are the other ones)
Suggest a story: VoyageLA is built on recommendations from the community; it's how we uncover hidden gems, so if you or someone you know deserves recognition please let us know here.