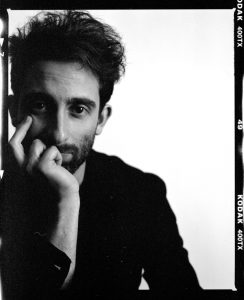 Today we'd like to introduce you to Aiden Magarian.
So, before we jump into specific questions, why don't you give us some details about you and your story.
My creative journey began when I was seven. I was standing in line at a bookstore with my mother when I overheard the woman in front of me talking about a ceramics studio where her son took classes. At the time, it sounded like a fun idea to mash my hands around in clay, so before we left I made sure we had the name of that studio.
Cut to ten years later – still taking weekly classes at the same studio, and working during the summers as a junior counselor. In my junior year of high school, one of my studio teachers encouraged me to enter a national youth artist contest, and to my surprise I placed in the top 5 in the state and two of my pieces won Gold Key awards. For many years, ceramics was what I wanted to do with my life and I was fully committed to it.
I was also deep into music when I was young. I started piano lessons at four, switched to guitar at ten, and joined a band at twelve. Throughout my time with the band, I took on learning to record and mix our tracks and eventually built a sound booth under the stairs in my home.
When I discovered photography, I moved through another creative transition. In middle school, I got my first taste of photography during a summer program at UC Berkeley. Later in high school, I took three years darkroom photography classes, along with two years of digital photography/computer arts. In my senior year, I was invited to join Yearbook as Design Editor, and I took my first film class. By the end of high school, I was weaving together these different artistic threads, combining arts, design, music and visual storytelling through film making. I submitted my first film to a local film festival and saw my work on the big screen before I left for college.
I found that filmmaking best captured all of my interests, and over the course of four years majoring in Film & Digital Media at UC Santa Cruz, I fell in love with the craft. This marked my third creative transition. I was never the kid who closely studied Scorsese scripts or binged foreign films on the weekends. I was more driven to learn all I could about every stage of filmmaking and spent long nights online or in the library learning about the creative processes of everything from wardrobe design to scoring music. While I didn't have any actual interest in pursuing these myself, I loved immersing myself in understanding how the elements came together to create a unified visual experience.
After graduating, I moved to LA with a few college friends, and things began to move quickly. We spent our first year in LA shooting app commercials and filming self-funded spec projects. I focused on directing along with some camera work and editing on the side. However, something about it made me feel like I wasn't truly in the right place. I wanted to be involved with creative development and building a vision, but as soon as I stepped foot on set, I hated being in the spotlight.
In 2017, I reconnected with an old high school friend, Emmit Fenn, who had just gotten his first record deal. I met with his new management and began focusing on making music videos for him and other artists under his label. After Emmit recorded a song featuring Vic Mensa, he found a new director, Bobby Hanaford, to shoot the music video. I helped build out the project, and Bobby and I made a creative connection. He asked if I would produce his next video and although I had limited producing experience, I said yes. He was still fresh with directing, and I was feeling out of place with what I was doing. This pushed me into my fourth creative transition.
I successfully produced Bobby's next few videos, and we were soon approached by Vic to do his next big video with G-Eazy. Although we were in way over our heads with a budget much larger than anything we'd worked with before, we were able to get the needed help from an outside production company and we created a product that led to three more videos with Vic. During that time, I found my stride as a producer, and it finally felt right. I was working actively with all the aspects of filmmaking I'd spent late college nights studying, and although I didn't have formal training as a producer, I was able to pull together the pieces enough to learn on the job. In the beginning, I was naive and I knew it, but as I grew, so did the jobs and the production companies I was working with.
Over the course of my journey, it's been the moments of transition and learning that have been most memorable, whether it was realizing that it was time to pivot in a new direction or someone taking notice of my work and offering to help me expand. Sometimes I made conscious decisions in the moment and other times, I was pretty far down the road before I realized my new path. I've experienced the most success when I've recognized the transitions and allowed myself to consciously adapt to new opportunities. I always compare this to opening a new book, having no idea where the story will lead, and following the unpredictable twists and turns to an unknown destination. If I can guess what the outcome of the story will be from the start, I become dissatisfied with the predictability of the journey and wonder what other directions the story could have taken. Just as I made my choices to transition from ceramics to music to photography, one day I may move on from film. Not because I don't love it, but because there might be something more fresh and exciting on the other side. And I can't wait.
Overall, has it been relatively smooth? If not, what were some of the struggles along the way?
The biggest struggles for me have been in getting past the initial stages of transitioning into something new. It's like learning a new language, and although it can at moments be exciting, it's never been easy. I've felt like I was starting from scratch and losing the progress that I'd already made, but I've learned to move past that feeling of losing progress and to think in terms of starting a new chapter. When I've been moving along on one path and discovered that I wasn't headed to a desired destination, I haven't continued on that path just because I'd committed time and energy. Instead, I've reconsidered what I wanted and where I would find it and set a new trajectory.
We'd love to hear more about your work and what you are currently focused on. What else should we know?
I've been working as an independent producer for the past two years. I've focused on music videos, along with a few commercials. What I'm most proud of is my diverse creative background and how that enables me to approach projects from the varied perspectives of everyone on the team. I think a lot of producers approach their work primarily from the business and numbers side, and although I appreciate that aspect of the role, I also value my ability to understand the critical creative elements of the process. Being able to see the project from varied perspectives also allows me to better predict and plan for potential challenges and roadblocks, and guides me in developing solutions to meet a variety of department needs. This bridging of mediums and departments, and understanding how they come together to create the whole, is what I love most about producing.
So, what's next? Any big plans?
This is the part that excites me the most, but also may make for my least exciting response. I honestly have no idea where I'll be the future. I have lots of drifting ideas about where I might like to head, and I still hold on to lots of passions from my past – I still keep a camera on me at all times during shoots, and my own photography actually takes up most of my Instagram feed – but I've always preferred to show up and make decisions about new developments when it feels right. I don't plan too far into the future. Life is always presenting new opportunities, and if I try to tightly script my future, I'm likely to miss the unexpected chances to take on something new.
Contact Info:
Image Credit:
Personal portrait image credit: Daniel Prakopcyk
Suggest a story: VoyageLA is built on recommendations from the community; it's how we uncover hidden gems, so if you or someone you know deserves recognition please let us know here.