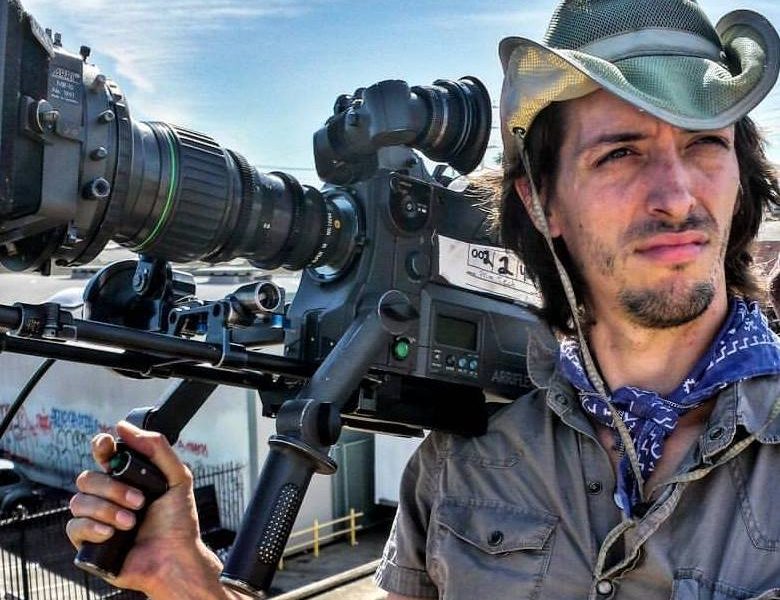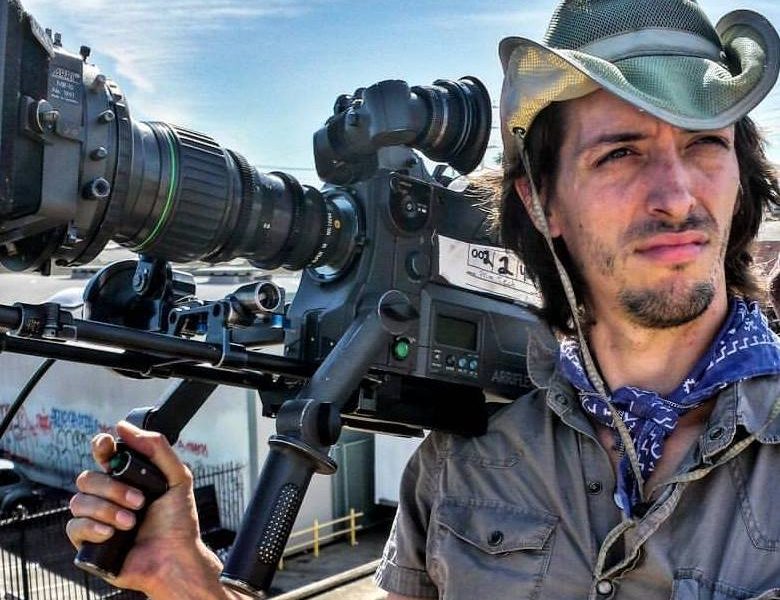 Today we'd like to introduce you to Adrian Sierkowski.
Adrian, can you briefly walk us through your story – how you started and how you got to where you are today.
I suppose I came into film in the most typical way possible; my family. My dad worked in film and video as a lighting camera-man and so, to see him at all when I was young, I had to learn how to be quiet and sit around on set. Originally, it was just something I did. In high school I would work sweeping floors in studios, and occasionally helping to organize gear, and work as a gopher; to and from the truck or cart grabbing this doodad or that gizmo. Eventually, it came time to go to college, and, not really knowing what to major in, I chose film at Temple University in Philadelphia. I had this crazy idea to be a director, which lasted all of about a semester before I realized I hated it. But, what I loved, and what I still love was the cinematography side of things.
Maybe it was because I knew what I was doing, or maybe it was because I had all of three or four lights I had "borrowed" from the studio I was working at, but classmates kept asking me to shoot projects for them, and I was happy to oblige. I wasn't really taking any of it all too seriously until my dad passed away. I remember sitting there, devastated, but with some cash from selling off the "estate," and I figured, well, screw it, I'll buy a camera. So, right when the Red one was coming out, I made the obvious choice and bought an Arri SR3, second hand. I don't think that camera ever made me a cent, but it did help me develop my eye and ability to pre-viz a shot– it made me a better shooter if not a richer one.
I was still working and living in Philadelphia at the time, but I was getting tired of the smaller productions I was doing. And then, rather out of blue, I decided, "ok, time to move to LA." While I love the work here, jury is always out on whether or not it was a brilliant idea or a massive mistake. In any case, I'm here, I'm working, and despite a few grey hairs sneaking out these days, I don't think I'd want to change a thing about how I got here.
Has it been a smooth road?
I don't think any road is or should be smooth. My dad dying was both a giant set back as well as a great kick in the pants Moving to LA, with no real network also was– well, I"m still not sure what it was or is. I've made massive mistakes in my time. Chosen the wrong projects, gotten involved with the wrong people, take one step forward and six steps back. But, that's life I think. There's something I heard once, that anything worth doing isn't easy and anything easy isn't worth doing. I like that though. Often, I think of a line in the film Rocky Balboa, "It doesn't matter how hard you can hit, it matters how hard you can get hit and keep movin' forward." And, in the end, every set back is just a chance to learn something new. Each mistake I've made another moment to say, well, okay, let's not do that again. Most of the time I learn from my mistakes.
Honestly, I think the biggest struggle you have, in film, is falling in with the right type of people with whom you work well and who all are going in the same direction. It was easier in a smaller market, and perhaps it's an East Coast thing, but I feel there was less B.S. and smoke blowing. Here, it's a land of promises, yes, but much like and lottery you have to really look at the fine print. Luckily, slowly, I'm finding those crew and producers and productions who not only trust in me but in whom I can trust. Here's hoping that the jobs keep coming in, and we all get a little closer to whatever that endgame is for us together.
We'd love to hear more about your work and what you are currently focused on. What else should we know?
What sets me apart? That's something I don't really know — aside from that fact that I tend to eschew watching films or tv anymore, much to the surprise of most. I don't honestly know how to answer these things, I've never been big on tooting my own horn. I suppose what sets me to the most apart is that I tend to have a pretty good handle on what I'm doing. I don't tend to ask for things on set I'm not going to need, and I try to be a pragmatist and keep a good attitude. It's just movies after all, so I don't see why so many people get stressed or upset about things on set.
As for my specialization; is flexibility a specialty? I try to be flexible when I shoot, and I don't just mean in terms of working for what's best for the production, but also in my approach. I want to find the ways to get to what we want to accomplish as elegantly as possible. I don't want to impose some kind of hard and fast dogma on what we're doing. By that I mean I like to look at the film as a whole and sit down and say "what's this about?" At the core of ever script there's a one or two-sentence answer to that, be it about love, or rebellion, or bravery, or betrayal– every film has it's core idea.
Now, it's also true that many films have also had the same idea, and I want to be flexible in finding not what worked for some other production made last year or ten years ago, but in what this film in this moment with this team and budget calls for. And once I get my idea, I want to show it to the director and the producer and then mold it with them, and the crew later on of course, into what this film will become. I'm not sure if that counts as a specialization but on the whole it's what I tend to do as best I can.
As for most proud? Ha! Honestly, I never much like the work I do. I always see, even if no one else notices what I should've done better. Truthfully, if I ever really make something I'm fully, 100% proud of, I might as well retire! What would be the point of going further? I think that letdown, depressing as it is when I'm watching what I've shot is what keeps me going and growing, always wanting to make the next one better.
How do you think the industry will change over the next decade?
Honestly, I think my industry is really in a state of crisis. The democratization of media really does cut both ways. On the one hand you have this amazing ease of entry into cinematography these days, and that's brilliant because it does bring out new voices and ideas. But, that same technology which makes things easier, not only to get into but to produce adequate images, also makes us lazy and complacent. Gone, sadly, are the days when you really needed to know how to light and expose a shot because you wouldn't see what you got until days and dollars later. Now, we can all sit in video village and wax poetic over whether it's this or that enough. That's dulling, I think, on the mind.
Beyond that, the industry on the whole is growing, yes, but its growth is far outpaced by the constant influx of new young people which just leads us all to lower wages and more competition. Now, this wouldn't really be a bad thing, but honestly, it does allow crew, of which there are many, to not only get a bit too ruthless with each other but also makes it easier and more likely for us to get taken advantage of. This isn't to say that that's a foregone conclusion, but it seems to have been the way the industry has trended for the past few years.
Beyond that, I still think there is a bit of confusion on where the cinematographer fits into post, especially in color correction, as we are living LOG and RAW days where all your hard work and visual ideas can be changed by a key-stroke in post. Granted, I think we can all be a bit too precious with our work– even calling it our work when in reality it's work for the producers– but still, it's much unlike the old days when shooters had a type of shamanistic knowledge of the photo-chemical process and printer lights and bleach bypassing. I wish I had solutions to these issues, but I don't. I do have a plea, though, that we stop trying to undercut each other to get the job, that we all spend less time at the monitor and more time knowing in our mind how it looks, and that we keep in good contact with our producers and the with us in goodwill, not only for our livelihood but also to make the best images possible for our productions.
Contact Info:
Suggest a story: VoyageLA is built on recommendations from the community; it's how we uncover hidden gems, so if you or someone you know deserves recognition please let us know here.