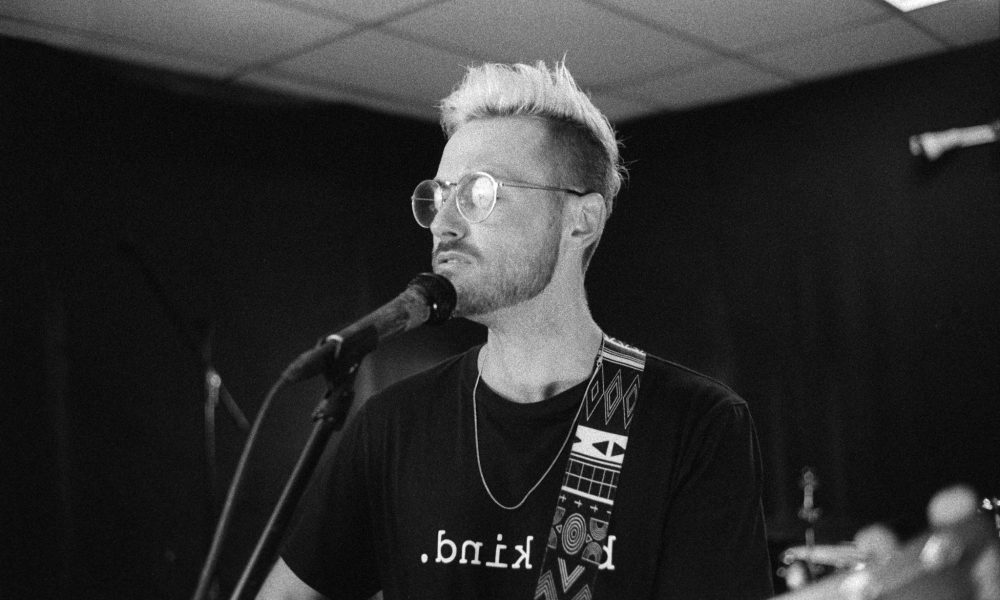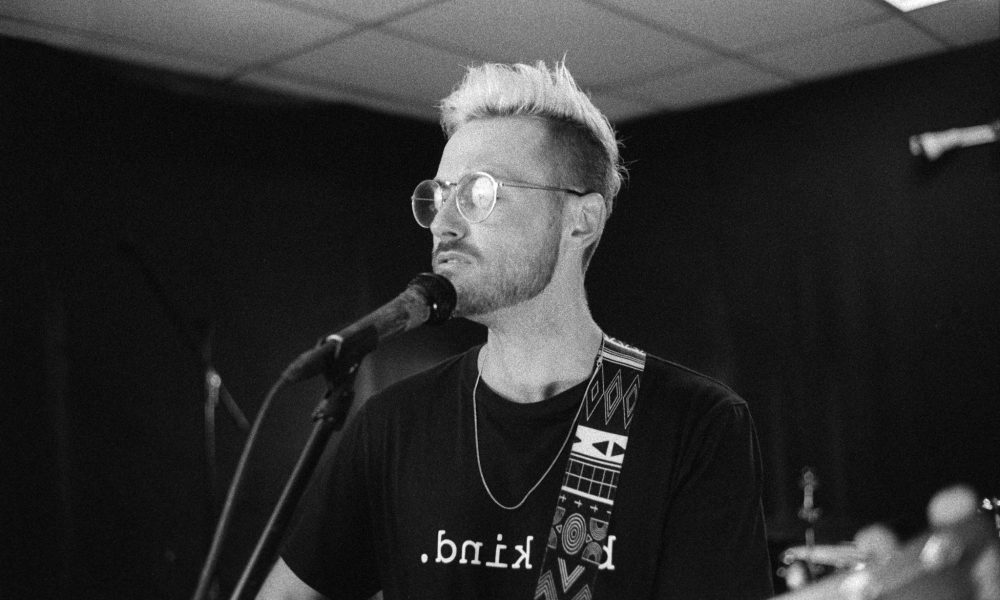 Today we'd like to introduce you to Aaron Kellim.
Aaron, please share your story with us. How did you get to where you are today?
I was born in St. Louis, MO, and grew up in Bethalto, IL. My early years found me regularly in church and at a Christian school, so singing has had a presence in my life since my pre-school days. My first encounter with an instrument was around the age of seven or so when my family was gifted an upright piano. I was able to play melodies that I heard, so my parents quickly put me in lessons. I hated the lessons since the instructor wouldn't let me play by ear, so I quickly made my way out of studying with an instructor. I didn't do too much playing after that. I got my first guitar in 8th grade after our school received a grant to have guitars in the classroom for the first time in the school's history. I had a friend in my class who could play Stairway to Heaven, which I thought seemed like a pretty cool thing to do. I also wanted to learn how to play Limp Bizkit's version of "Faith" and "Last Resort" by Papa Roach, so I asked my parents for a guitar for that year's combined birthday/Christmas present. The old faithful Fender Squire is where it all began. In high school, I was in pop-punk bands and also singing and playing at my church pretty regularly.
Looking back, it was really the foundation of building my craft. We were writing so much music and playing in any basement or VFW hall that we were allowed in. Whether it was quality or not, I learned so much about the stage and building a fan base. It's important to know some of the band names because it tells the story of where I was musically at the time; they include Told Twice, Stuck on Third, For the Taking, and Leaving Lincoln. That should paint the picture. Towards the end of high school and into college, I started a group called Bear Hug Jersey with some of the guys from my previous bands. This was the first group where I was the lead singer. It was also the first group that I was in that I felt had a chance to do something in the indie/punk scene. We were touring the Midwest, growing a pretty large fanbase, and having songs featured on MTV's "The Hills". At the same time, I was helping out another band called One Lone Car, playing electric guitar and singing harmonies. One Lone Car was pretty established in St. Louis and had also just recorded an album with Robin Wilson, the singer from the Gin Blossoms, who was also taking the band out to open for them on an East Coast tour. Two weeks before the tour started, the singer of One Lone Car decided to pack up and move to Florida. He sent us a message on Myspace to let us know he was gone.
So instead of canceling the tour, we decided to proceed with myself as the singer. It was also at this time that Bear Hug Jersey began to fizzle out (which had a little to do with uncertainty of the future but probably had more to do with me being in OLC than anything else). After a year of touring and opening for bands like Gin Blossoms, One Republic, Train, Switchfoot, and Chuck Berry, I called it quits. At the time, I thought it was because I needed a "real" job that made actual money to survive on, but it really had more to do with how hard it is to co-exist with five other guys full time on the road. Nothing really prepares you for that. No love for music, no stage size can outweigh the value of relationships. I was still in college at the time, studying Music Education, not sure if I'd ever write again, or perform again. A classmate knew I was a songwriter and asked me if she could show me some songs she had written. I still remember the first song she showed me. I was blown away. Her voice was stunning, and her songwriting was really solid. We eventually formed the duo, Audri and Aaron, and had quick success. We won a national songwriting competition that allowed us to open for the Bangles at SXSW and also allowed us to fly to LA to record the song and shoot the music video for it.
At that time, we decided that the next step in our career would be moving to a location which offered more opportunities for musicians like ourselves. In 2013 we moved to Los Angeles. We were writing a ton and playing small shows here and there, but again, life started to outweigh the music. We were in different places; I was married, feeling the pressure of supporting my family, and she was still figuring out things in life being young and single. We stopped writing and performing not too long after moving to LA. I was back at the intersection of not knowing if I'd write and perform again. I was leading worship full time, which was satisfying the musical element, but in 2017, I got the songwriting itch again. I decided to begin releasing music as a solo artist for the first time. I didn't really have a plan of action, I just wanted to get the songs into the world. I started working with a producer and dear friend named Wil Pearce. He was such a crucial part of my sound as a solo artist. I was also playing shows around LA, but it all felt sporadic like I was trying to re-learn the industry.
In 2019 I released a song called Hold You, which breathed a new life into my songwriting, and the idea of writing and performing for a living. I was also playing with and writing for other artists in LA, such as Titus Makin and Melia Salas while leading worship at various churches in Southern California. In March of 2020, I joined Endure Studios as an artist and producer, alongside owner Jay Denton. Jay is a songwriter, producer, and artist himself, and has a passion to use music to unite people, which is my heartbeat as well. I'm currently releasing a song a month on all streaming platforms, and writing numerous songs each month to be pitched for licensing. Once safe, I'll be back to performing the new music live and looking into tour dates. I also run a clothing line called "Be Kind", which began as merch to sell at shows but turned into something much larger than my music.
Has it been a smooth road?
That's a tough one to answer because relative to other people's musical journeys, I feel like mine has been pretty smooth. It has definitely been a long and challenging journey, though. Even just thinking about the endurance of it all. I've been writing and performing for almost 20 years. Most people would consider that crazy, and I guess I might as well. It's also been a challenge to navigate a growing industry. What worked back in 2004 is so much different that what works now, so not only do I have to be good at my craft and always growing it, I also have to be a great business man as well. There's a journey of self-confidence that I don't think get's talked about much in our industry, too. It's easy to hear someone's song or production and think that they are masters at what they do, but what we don't see is all the insecurity that had to be overcome to even release that song. It's taken a lot of years to really trust myself and my art.
Can you give our readers some background on your music?
My music business is Aaron Kellim Music, and I'd say I'm most known for my songwriting and my live shows. I'm most proud that I've stuck to my guns about putting people first over my product. I'm always thinking about other people when writing, and especially when it comes to my live shows. I always want people to leave feeling better than what they walked in. I always have a clothing brand called "Be Kind". It's known for being different in the fact that the words are printed backward so that it can only be read in the mirror. The whole concept is that kindness has to start with the person wearing the shirt, so it's a reminder to them every time they look in the mirror or take a selfie.
Is our city a good place to do what you do?
This city is amazing for anyone creative. If someone was just starting out, I don't know that I'd say move to LA just because it's a tough town to survive in financially. I've seen it break a lot of artists just because they couldn't afford to live here. It'd be great to have a location where creatives could find cheap housing.
Pricing:
Contact Info:

Image Credit:
Johnny Delamora
Suggest a story: VoyageLA is built on recommendations from the community; it's how we uncover hidden gems, so if you or someone you know deserves recognition please let us know here.