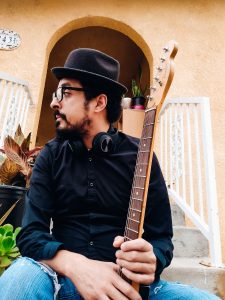 Today we'd like to introduce you to Aaron Cruz.
Aaron, we appreciate you taking the time to share your story with us today. Where does your story begin?
I was born in Hollywood in 1981 at the Queen of Angels Hospital (Now the Hollywood Presbyterian). My Grandmother Judy was my only parent, and we moved around to different apartments in Hollywood quite a bit. The 80's Sunset Strip Scene was in full swing at this time, and I was enthralled (and possibly a bit frightened!) by the mix of Glam rockers and Punks that ran the street. We lived on Gower between Santa Monica and Melrose, right across the street from Paramount Pictures for a couple of years. When we found ourselves out when the sun began to go down, the bands seemed to play on almost every block, and it always interested me, to the point that I would try to postpone our trips to the Grocery store as much as possible so I could sneak a good peek at whoever was playing as we walked home! Grandma Loved Rock N Roll, but not Hard Rock, She was big into Elvis, Jerry Lee Lewis, Fats Domino, Check Berry & Ricky Nelson to name a few, and we would spend our days listening to her Record Collection. Around that time, The Highwaymen were also becoming a big deal, and we must have listened to 'Highwayman' most every night in its entirety! Grandma was possibly my first musical influence. She played the acoustic guitar and sang a bit. I would try to bargain with her to let me play her guitar, and she would not give in for a couple of years after this time, probably because she didn't want my Doritos stained hands on her fingerboard !!
Towards the end of the '80s, we moved to Glendale, It was a bit pricier, and so my Aunts were kind enough to help us out as grandma was collecting Social Security as her only source of income by this time (I had no idea we were living in poverty). Once the '90s rolled around she gave in and I took ownership of the guitar! I was big into the bands all the kids liked at that time (Gun's N Roses, Nirvana, Metallica, Nine Inch Nails, Pearl Jam, etc..). It was around that time I knew that being a guitar player was in the cards for me. There was never any second-guessing it from that point on. Fortunately, Grandma was beyond supportive of my choice to pursue music as a career, and she was in my corner for all the years she had left on the earth. We moved to a nice part of Glendale by the time I was in High School, and yet again luck was on our side. My Highschool music teacher (Mr. Craig Kupka) was amazing and had just transferred from LACHSA (Los Angeles County High School for the Arts) to my School (Hoover High). He won teacher of the year for the entire decade if my memory serves me correctly. He was by far the best teacher I had in all of my grade school years. We would record with the high school jazz band every year at his home studio in Pasadena, and by the time my senior year finished I was developing the beginnings of my studio guitarist skills.
Once I graduated Highschool, I began my studies at Musicians Institute (It was back to Hollywood for me!). Again, I was blessed enough to have great Instructors like Ed Finn, Keth Wyatt, and David Oakes & Scott Henderson. I stopped halfway through my studies to attend the LA Recording Workshop (Now the Los Angeles Recording School, when I was a student it was located in North Hollywood off Weddington, near NRG studios). Once I learned the Basics of Music production, I landed an internship at the now-defunct Backroom Studios in Glendale, where I would intern for a few of the house engineer's sessions with Brian Mcknight /Jodeci /Run DMC and a few other big names while picking up food and answering phones! Once I wrapped that up, I completed my G.I.T. certificate at MI and began grinding. I spent a couple of years teaching private lessons and would eventually land a gig playing with Ringling Brothers, Barnum & Bailey Circus (Blue Unit) for a small period of time. I was about 22 or 23 and was way over my head, so I did not last long, but It was a fun experience that I learned a lot about touring from.
I continued to grind another ten years or so and played in about 100 local bands all across SoCal. In 2016 (two weeks after David Bowie passed, Rest In Peace!) The Hollywood Jam Scene began to come back, and It seemed like Most every iconic venue/Club was hosting a weekly jam. I immediately submerged myself into the scene and met a lot of like-minded musicians who have now become some of my best friends and musical partners. It seemed as though almost every evening was spent at The Rainbow Bar & Grill, The Viper Room, or the Whisky a Go-Go.
Shortly after this period of time, I landed a gig playing in the new lineup of The Nymphs (Late 80's/Early 90's Geffen records alternative rock band), but that too was short-lived, as the band went through several line up changes and took another hiatus around 2017 I believe.
After Grinding a few more years, I had begun playing around town a bit more, but unfortunately, 2020 saw the rise of Covid 19, and most all of the Gigs in LA dried up, so I had a few new obstacles in my way. So I began Film Scoring and Composing and just wrapped up the score for a stop motion short with Jeremy Mowery (Who was also featured in Voyage LA two weeks ago!) and SockDolly Productions entitled 'Bert & Greg'. During the pandemic, I also began Studying Digital Media at Los Angeles Trade-Tech, and took a serious liking to Video Editing, and have landed a few freelance gigs in the field, and one of them turned into a lovely gig on a monthly retainer with financial wellness/planning company United Agency (under the supervision of Chris Mouzon) editing their short-form social media content.
I have just recently Launched Aaron Cruz Music & Multimedia, my new production company that primarily caters to live Music and Music for Film /TV & Web Content. Please stop by our social media platforms and Subscribe/Like and Follow! I have just rebranded the pages this week, so they are brand new, and the website is only a temporary one. Please follow the FB/IG pages for updates!
Can you talk to us a bit about the challenges and lessons you've learned along the way. Looking back would you say it's been easy or smooth in retrospect?
It has most certainly been a bumpy ride for me. My grandmother was already finished raising kids when I came around, she was 59 when I was born and was ready to enjoy her golden years. It must have been difficult the take on another child by yourself at that age while receiving a few hundred dollars a month from Social Security. I am grateful to my Aunts and Uncles who were there to help us along the way.
I am reluctant to share my biggest struggle, as I shy away from the story unless it can help other people. I wrestled with my dependency on drugs and alcohol for about 15 years or so, and it would eventually consume me to the point of homelessness and in 2005-2006 would return to the same area of Hollywood that I was born in. There is a small section on Franklin between Highland and Sycamore that has a special place in my heart, as I spent two years there sleeping both at the steps of the Hollywood United Methodist Church and on the benches of the Dorothy & Benjamin Smith Park. It was not until my Good friend Russell Mackay took me in that I was able to hold a job at that time, and I would commute from his home in Lincoln heights to my work at Ralphs Grocery Store in Glendale until I was able to get back on my feet. I would eventually clean up in 2013.
I only share this to offer some hope to anyone who is in the storm, I was able to make it through, and so can you.
Appreciate you sharing that. What else should we know about what you do?
Primarily I am a Guitarist and Songwriter / Composer. As a guitarist, I try to serve the song and client as my priority. I play a bit of most contemporary styles including hard Rock/Pop/Jazz/Blues but also enjoy Shoegaze/Darkwave and Industrial guitar when the opportunity presents itself. I enjoy technical pieces as much as I enjoy noisy feedback, 3 Powerchords, and a fuzz pedal, and do not have a preference for what the gig calls for.
As a Composer/ Songwriter, I enjoy dark, post-apocalyptic soundscapes a great deal, but I enjoy Jazz progressions as well. For this reason, I would probably consider Angelo Badalamenti one of my top inspirations, as his dark and moody David Lynch scores are among my favorites (With Twin Peaks and Lost Highway as my absolute favorites). Lost Highway is possibly my favorite Soundtrack as well, with contributions from another one of my favorite composers, Trent Reznor (His Recent work with Atticus Ross- 'Soul' and 'The Watchmen' have influenced my work significantly). Danny Elfman's work is also a big influence, among which 'The Nightmare before Christmas' and 'Edward Scissorhands' scores come to mind. Finally, the Modern Horror genius of Joseph Bishara is another influence of mine. His work in the Conjuring franchise and Insidious is probably the darkest and most sinister scores I have ever heard.
What would you say have been one of the most important lessons you've learned?
Be kind, patient, tolerant, and caring with others & practice the art of listening.
Contact Info:

Image Credits:
Adam Kennedy
Suggest a Story:
 VoyageLA is built on recommendations from the community; it's how we uncover hidden gems, so if you or someone you know deserves recognition please let us know 
here.