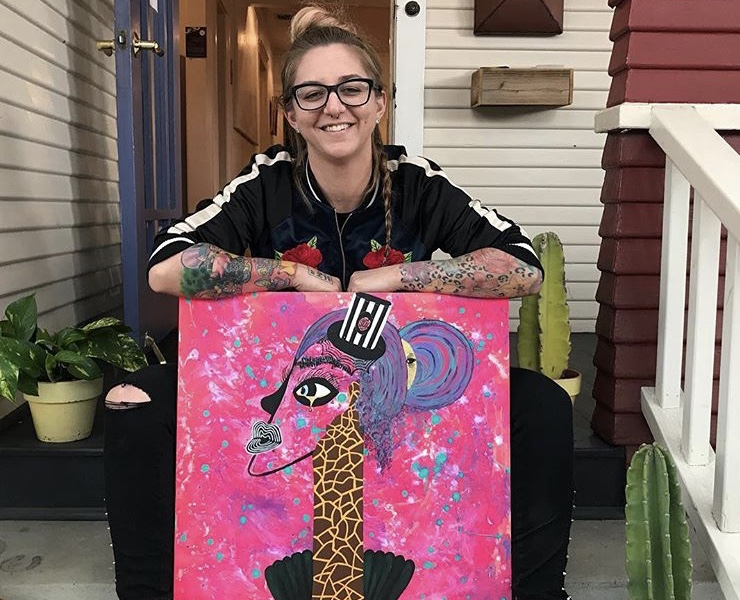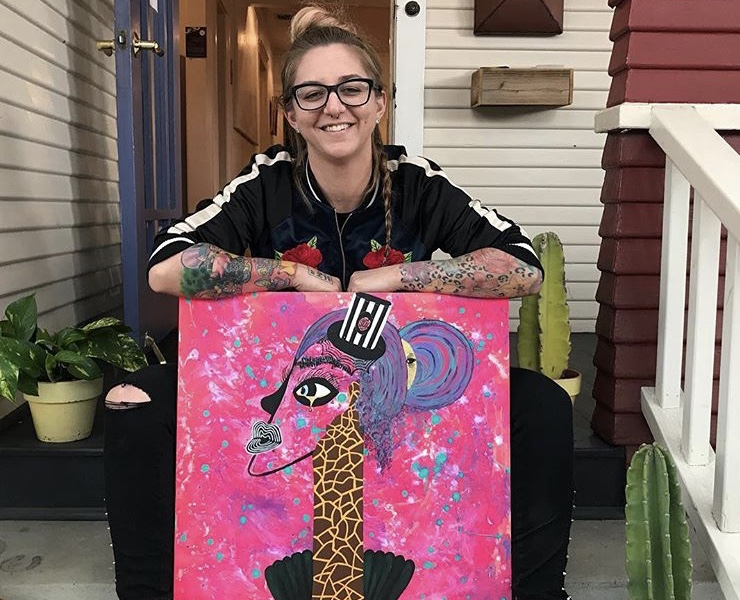 Today we'd like to introduce you to A. Huggard.
Every artist has a unique story. Can you briefly walk us through yours?
I was born in New Brunswick, New Jersey and moved to LA when I was 2 years old. We moved all over Los Angeles- by the time I hit high school we moved 8 times and I went to 5 different schools. We ended up in West LA when I was 13 and I spent my teen and young 20's running around Venice. When I was 22 years old I started dating my now husband and best friend whom I had known for many years previously and whom I married in December 2013. In my youngest years, I watched my dad and his brother make art and weld sculptures in their backyard. My dad is also an Interior Designer. My dad has always inspired me and encouraged me to work on my art. He's my biggest fan!. I went to the Art Institute of California- Los Angeles and graduated with a BS in Interior Design.
After I graduated I worked with my dad in his Interior Design business for a time- William Davidson Interiors- that has been operating for almost 30 years now. I decided to follow my dreams and go down the path of being an artist. I used to sit in the back of a dark cafe on Sundays and sculpt clay flowers while people read their poetry. I noticed one day space next to the cafe, which was previously an art gallery. was empty. I asked about the space and within a week I took a leap of faith and decided to open my own Art Gallery called Launch Gallery! I had a huge Opening and many successful shows! I ended up having to have throat surgery which forced me to close my doors after only 6 months. I met so many wonderful artists and made many connections. After about a year of trying to get back onto my feet, I started my curation journey.
This last year has been my biggest growth as a curator as I was given a wonderful opportunity to curate 4 shows (Toxic & Tainted, Poison & Prophecy, Visual Dessert, Dames & Butterflies) back to back at SugarMynt Gallery in South Pasadena and was honored when Hive Gallery in Downtown LA asked me to help curate Zombie Circus. I have found that I love to curate shows at other peoples galleries. The process of naming a show, contacting artists, and hanging the work is so rewarding. I have a group of almost 50 artists, about half of which showed at my gallery, that I love showing their work! My greatest joy is watching deserving artists show their work and become successful! There's nothing like watching a timid artist who doesn't realize how talented they are blossom!
Please tell us about your art.
I consider myself to be a part of the New Contemporary & Lowbrow art movement, specifically in the pop surrealism, surrealism genres, My signature is the sculpted flowers I add to all my artwork. They add a 3d element to otherwise 2d images. I also pour epoxy resin on all my pieces. To me, the resin takes my work to the next level. Putting resin on my work is a HUGE risk because if the resin isn't mixed exactly correct it will never dry on the work and it is ruined forever. But because I take that risk I have found huge reward in it! I don't have "one thing" or "one image" I paint. I paint whatever comes to me, whatever feels good. I refuse to pigeonhole myself with one specific image or thing I paint… I consider myself a nomade in the art world, free of restraints and expectations.
Do you have any advice for other artists? Any lessons you wished you learned earlier?
Just don't give up! Reach out to galleries you think your work will fit in to be in shows and constantly go to show openings to make connections with others! You never know who you will talk to that will get you where you need to go. Human connection is everything in the art world. Do yourself a favor and have business cards too. That's a huge thing! Most people can't remember what they ate for breakfast but they will always remember a good business card! Always make time for your artwork even if you are working long hours and stressed out. I'm pretty sure most artists have had one constant in their lives and that's their art. Don't ever let that slip away.
How or where can people see your work? How can people support your work?
The best way to see my work is on my Instagram. I am constantly showing works in progress and finished pieces. I someone is interested in my work they can just DM me. I'm good at getting back to people.
Contact Info:
Email: ahuggardcurator@gmail.com
Instagram: @a.huggard_

Image Credit:
Bianca Olson @biancaolsonart; Opal Unicorn @opal_unicorn
Getting in touch: VoyageLA is built on recommendations from the community; it's how we uncover hidden gems, so if you know someone who deserves recognition please let us know here.