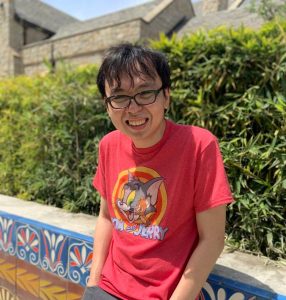 Today we'd like to introduce you to Ye Aung.
Hi Ye, thanks for joining us today. We'd love for you to start by introducing yourself.
I was born and raised in Yangon, Myanmar. I graduated from high school there without any real aspirations in the beginning. The high school education system in Myanmar was composed of six common subjects and did not really give me a chance to explore my interests. My graduation scores were not great like my siblings, so I could not get into Medical School. Instead, my parents sent me to WYTU (West Yangon Technology University) to major in Civil Engineering. During my freshman year, I discovered my love for drawing through watching cartoons and anime. Inspired by other artists' work online, I started drawing fan art and even wrote some silly fanfictions. I got into a lot of arguments with my folks regarding my future. My apathy towards civil engineering, along with my growing passion for art & animation resulted in me failing my first year of university. By stroke of luck, I was granted a Diversity Visa through a lottery system to live in the United States around this time. I was eighteen when I moved out to the United States. The experience of moving to a whole new country was an absolute culture shock. I could read English but couldn't speak it properly. I learned to improve my speech by watching Disney's sitcoms like Hannah Montana and Suite Life of Zack and Cody. During this time, I had made some friends who helped me break out of my shell and helped me discover personal aspects, qualities, and strengths about myself.
I attended Mount San Antonio College for a couple of years before finally transferring to Laguna College of Art and Design. This is where I honed my skills and met some of my most talented friends, who I keep in touch with to this day. I graduated from LCAD in December 2016 and relocated to Los Angeles in hopes of finding animation work.
I remember sending emails to dozens of studios hoping to get a response! I finally got my first interview for an opportunity to work on Mary Poppins at Duncan Studio as an inbetweener. Sadly I was not selected. That was the first rejection I ever had. However, I did manage to land a small freelance gig as an animator for a mobile game by Mattel, Barbie You Can Be Anything. Shortly after that, I landed my first full-time job at the age of learning, working on Adventure Academy as a concept illustrator.
After being laid off from the age of learning, I got my first television animation gig at Six Point Harness. From that point on, I have been studio hopping between different animation studios, which ultimately led me to my current animation job at Warner Brothers.
Even though I had some disputes with my family over my career & lifestyle choices, I would not have been able to make it this far without their love and support. I am most grateful to them.
Can you talk to us a bit about the challenges and lessons you've learned along the way. Looking back would you say it's been easy or smooth in retrospect?
My pathway to becoming a professional animator was littered with roadblocks and challenges, especially when I first landed in California as a Burmese immigrant who barely spoke English. High school did not prepare me to survive in the real world, let alone in a whole new country. My naïveté got me into some trouble, including having an identity crisis and getting scammed numerous times. I learned from these experiences and luckily made some friends along the way who understood my situation and taught me more about life and culture. Nothing teaches you better about life than throwing yourself at it, am I right?
As an emerging new artist, I was very lucky to break through into the industry as quickly as I did, to be quite honest. It is very tough for new grads to get jobs in the current US Market Studios demand experienced workers and artists. To make matters more tricky, most studios ship out their tv animation work to studios overseas. Making it even more challenging for American animators to get into the industry. There are much more aspiring artists than there are jobs, making the industry super competitive.
Another scary aspect of the animation industry is most of the jobs are project-based, meaning you will always be looking for a new project after your current one ends, and you will be competing with other experienced animators for every job.
All careers have their fair share of mental challenges, and being an animator is no exception. I have the tendency to belittle my own work. I struggle with the self-imposed idea that I am not doing good enough and constantly compare myself to others. It's hard to find a proper work/life balance and staying motivated without experiencing some burnout here and there. A personal mental obstacle I am experiencing right now is that my home country of Myanmar is currently in a crisis. I am always stressed, worrying about my family and friends across the sea.
Despite all of this, I try to see things from a positive angle and have confidence that things will turn out okay. I have been going on walks and hikes, exploring places (while following the CDC guidelines) as a therapeutic outlet for myself. I have also been trying out all sorts of new foods! It is very important for everyone to have an outlet for stress relief.
Thanks – so what else should our readers know about your work and what you're currently focused on?
I am currently an internal 2D animator at Warner Brother Studios. I do mostly rough animation on multiple unannounced projects. In some instances, Warner Bros will send my rough animation work overseas for cleanup and color; however, sometimes I'll do it myself. I excel at animating the old traditional way, either on paper or in software. I can also adapt to animating with rigs and puppetry when needed. My work ranges from Adult Animation Show like "Momma Named Me Sheriff" to childrens' educational games like "Adventure Academy" by the age of Learning.
I am most known for animation on Hair Love, which is a 2020 Oscar-winning short by Matthew A. Cherry. It is a very cute emotional short that empowers young African Americans to love their natural hair. I was very stoked when I was contacted by Six Point Harness to do a rough animation test in early 2019 which also led to animating on the actual short itself.
During the pandemic last year, I also started my own weekly webcomic series, Dave the Raptor: webcomics about a positive and lovable dinosaur barista. I am happy that I can bring a little bit of joy to people's weeks especially during these tough times.
I would like to think that what sets me apart from others is the ability to just keep going and trying my best to do what I love most.
Any advice for finding a mentor or networking in general?
I had people that I looked up to. But if I am being honest, I think all my friends and peers are my mentors. I find myself always learning something new from everyone I worked and interacted with over the course of multiple productions: in skill sets and life lessons. Working together and socializing always helps me become a better person, building up my communication skills, confidence and becoming open-minded. In the animation industry, those attributes are very important since a lot of time, I will be working with far more experienced artists than myself. There is always that intimidation and awkwardness when I am interacting with someone who has been in the industry for a long time. Remembering that they are my peers and potential friends really helps me build that connection with them.
The most important thing about networking in general is that I must present the best version of myself to the people and treat them like the way I want to be treated, with respect. Although I meet new people with every production I have been on, the animation industry is still rather small, so a lot of times I run into my old co-workers from my previous jobs. And that's why the artists in the industry almost become like a community which helps me both in my career and lifestyle-wise.
Contact Info:
Suggest a Story:
 VoyageLA is built on recommendations from the community; it's how we uncover hidden gems, so if you or someone you know deserves recognition please let us know 
here.