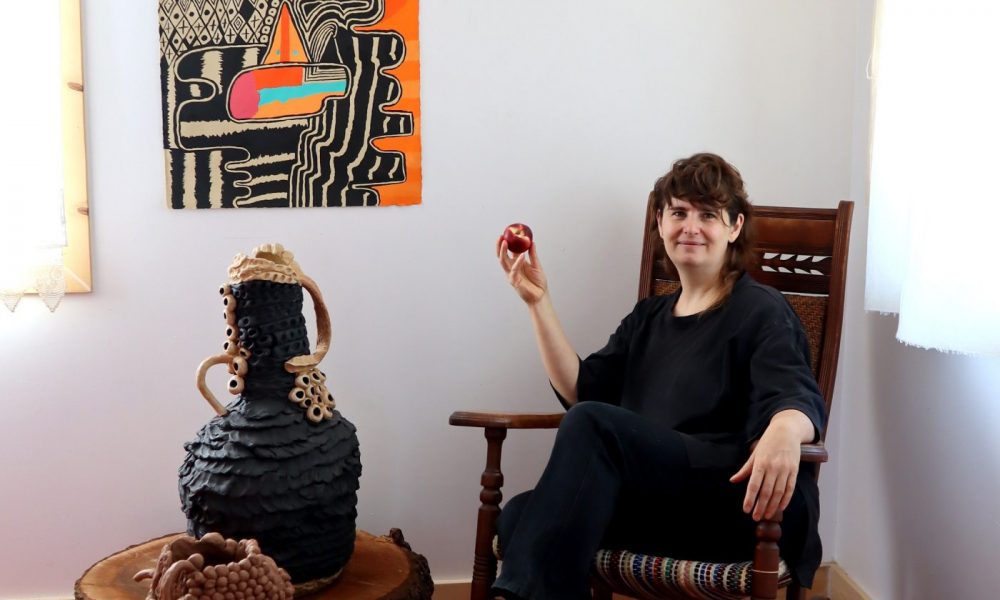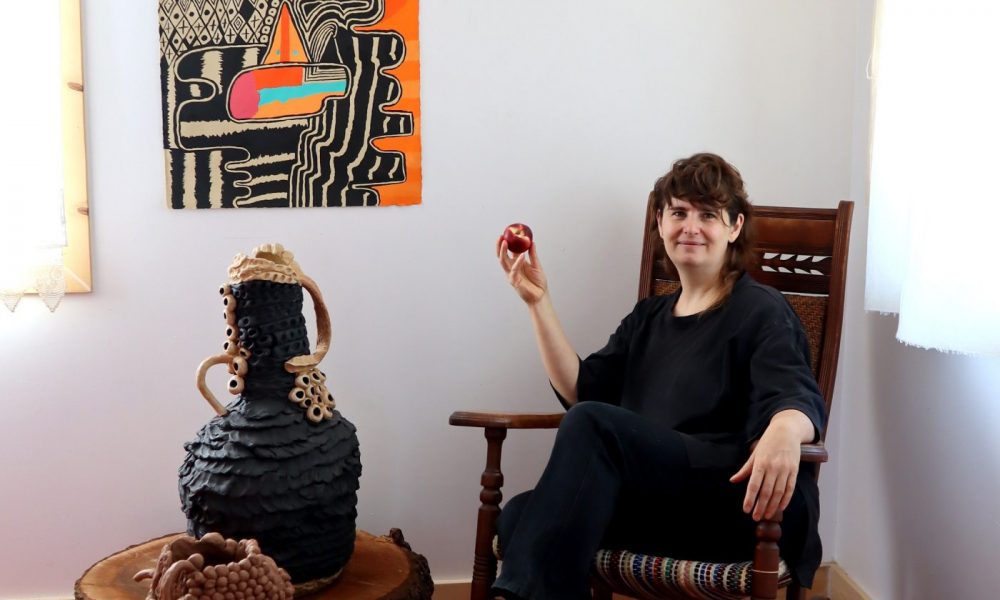 Today we'd like to introduce you to Niki Ford.
Hi Niki, so excited to have you on the platform. So before we get into questions about your work-life, maybe you can bring our readers up to speed on your story and how you got to where you are today?
When I was five, I visited my Great Uncle Jack at the Massachusetts College of Art. He was the president then and gave me a personal tour of some work and exhibition spaces. I vividly recall standing beneath a massive orange sculpture. The audacity of that piece made such an impression on me that I shouted out, in its shadow, that I would go to school there one day.
I earned a BFA in Printmaking from Mass Art in 1997 but by the time I graduated, my interest had shifted to solo and collaborative performance art. Back then, I could not imagine making a living as an artist. I took many administrative jobs to support myself and made my work part-time.
I moved to San Francisco at the age of 27. While touring with a performance art project, I fell in love with the experimental spirit I sensed in the art, music and queer community I encountered, something that felt wild and energizing in contrast to the bookish culture of New England.
I remained in the Bay Area for almost two decades. The early years were marked by the dot com bust, 9/11 and the US invasion of Afghanistan. I relied on my meditation and yoga practice to make sense of the world and it inspired me to leave my corporate job. Even as an interloper–who often napped under my desk with the blinds drawn—I longed to do something that felt genuinely useful. I envisioned working in the kitchen of a retreat center but went to culinary school instead.
And with that, cooking became my primary creative practice. It felt vital to work with my hands and I was enamored with the principles of sustainable agriculture. I cooked for six and a half years at the legendary Chez Panisse. Much of my time in the Bay Area was devoted to this sort of rigorous, conscientious cooking and the salon-like communities it supported—even after I left the restaurant, I continued to work in this vein. My deepest personal highlight on this career path was cooking for President Obama.
I found that I kept rolling toward the places food and art intersect: I did multiple stints at the Rome Sustainable Food Project at the American Academy in Rome, was the 2012 Montalvo Arts Center Culinary Fellow, the opening chef for the "modern grange" called Healdsburg SHED, worked on food-related projects at the experimental art commune, Salmon Creek Farm, wrote magazine articles, developed recipes and began to food style for magazines and ad campaigns.
Eventually, the circumstances of my life led me to roll past food all together and I found myself firmly and purposefully rooted in art (which we will cover in the struggles portion of this exam). Phew!
(To be perfectly honest, I still work as a food stylist sometimes; all that remains of my former life. I enjoy the work because it allows me to make use of my extensive culinary knowledge and artist eye, though I'm more interested in the storytelling aspects versus making pretty food. The most exciting project I worked on recently was an edgy campaign for Daring Foods Plant Chicken featuring Kourtney Kardashian and Travis Barker, photographed by the illustrious Ellen Von Unwerth. Did I mention that it was shot in the penthouse at Chateau Marmont? I'm always open to strangely wonderful work like this.)
Would you say it's been a smooth road, and if not what are some of the biggest challenges you've faced along the way?
I moved to LA in January of 2018. I focused on building my food styling career, but jobs came sporadically, and I often found myself stress-walking around Echo Park Lake praying for work and money. If I knew how much effort it would take to establish myself, I mightn't have moved. I'm grateful for that naïveté because I truly love Los Angeles.
I discovered that I needed to work a multi-pronged hustle to pay the bills. I networked like crazy, developed recipes, food styled, private cheffed, catered and wrote articles for culinary publications. Even in that blur, I began to desire a more prominent art practice but lacked the bandwidth to formulate, let alone execute any sort of plan. I was so prone to overwork that I didn't know I was suffering from depression, buried grief and extreme burnout. I hired an art coach to help me navigate new possibilities but concluded that I might be better served by group therapy, which reinforced a soul-centering path.
I also returned to deep, individual therapeutic work. I cannot imagine my life without it or my therapist, whom I trust and adore emphatically. During the lockdown, I made the decision to stop cooking entirely and to make my living through art. I took up a daily drawing practice and demanded that I produce a finished drawing I felt happy enough with each day for the first five months (which kept me up many a night). It was exhilarating and life-sustaining in the uncertainty of that time (and I also sold many of these works through social media), but I was also re-creating the conditions for burnout. Luckily, the love I felt for art helped me to learn more supportive work practices. I also came to understand that I was non-binary during this time and adopted they them pronouns.
After spending a large portion of my life in service to the concepts and voices of others and rather marvelously butting heads with other strongly opinionated people, I began to honor my deepest desire: to work honestly, curiously and without censorship. Within that first six months, I was exhibiting work, had my first artist residency and a show in Palm Springs on the horizon.
Appreciate you sharing that. What else should we know about what you do?
I live part-time in Beachwood Canyon in a replica of Stratford-Upon-Avon that MGM once built for a film. Bette Davis lived in my unit as a young starlet—so LA! The spirit and energy of this strange home inform my work. Surrounded by magical period details, bougainvillea and other meandering plants, I dreamt my live/work studio to be a monastery for one, a hermitage of sorts—which turned out to be a foundational concept in my creative practice.
I also spend part of the year in a one-room cabin in the Mojave Desert. I like to say that I "live in the sky" because I'm infatuated with the changing light, wind, electric colors, cloud formations and glittering night sky. The intense heat and other dangers associated with desert life command my respectful attention (and I like it!). The beauty and brutality of this place inspire me to no end.
I work obsessively with line, texture, liminality, vibration, repetition/pattern, deviation from repetition/pattern, sympathetic gesture and repair. I have dubbed this process "psychedelic brutalism" as it combines spirit work and process-driven aesthetics.
I channel otherworldly narratives through drawing/painting and ceramic sculpture. My work is to create the conditions for the work to flow through me, which means that I acknowledge and tend to inner visions that support and energize external expression. I can tell that something is done when it feels separate from me and has a certain fullness or animated quality. A given piece might journey through bodies, water, plants, landforms, poetry/prayer, feelings, histories/time and vortexes of every kind. Pieces retrieved from a particular evolution of personal growth reveal their cohesion with time.
I had my first real solo exhibition with The Lodge gallery in East Hollywood in the spring. With 'Kneeling At The Mouth', I was able to give a definite shape and feeling-tone to my world—one that simultaneously called in the corporeal, intuition/inspiration, devotion, the liminality of queerness and gender non-conformity (as I am queer & non-binary), fantasy, emotion and healing.
Last year I self-published GOOD GRIEF! Something You Can Color. It was a collaboration with my inner teenager. The teenager surfaced prominently in my therapeutic grief work, so I assigned them with the project of illustrating this oversized art book/psychedelic coloring book. It was a way for us both to celebrate grieving and remember that there is always help. Healing around my personal history proves to be a powerful catalyst for so much of my drawing and sculpture. For this reason, many a feeler gravitates towards my work and, if I am lucky, it gives them something much needed.
If we knew you growing up, how would we have described you?
As a child, I was obsessed with magical worlds. I think my love for art stemmed from my love of cartoons. One favorite was the French show Barbapapa, about a family of colorful shapeshifters that lived funnily anxious yet creative lives and another was Battle of the Planets, in which a crew of fabulously costumed young people protected Earth from outer space attacks. My child's mind was also nourished by the movie Yellow Submarine and the Muppet Show in equal measure.
I read a lot of books. The Lion the Witch and the Wardrobe series was probably my favorite, with the Wizard of Oz series a close second. I often tried to walk through my closet to Narnia, fly around the house or bend spoons with my mind.
I was also a teenage psychonaut (surprise!) and dabbled in many kinds of ingestible escape. I loved heavy metal, the Grateful Dead and alternative music at different times, but also read Camus and Viktor Frankl—all things I think inspired me to this day.
I lived to draw and made ceramics in high school, too. I often pictured returning to clay in old age, a long white braid running down my back.
Contact Info: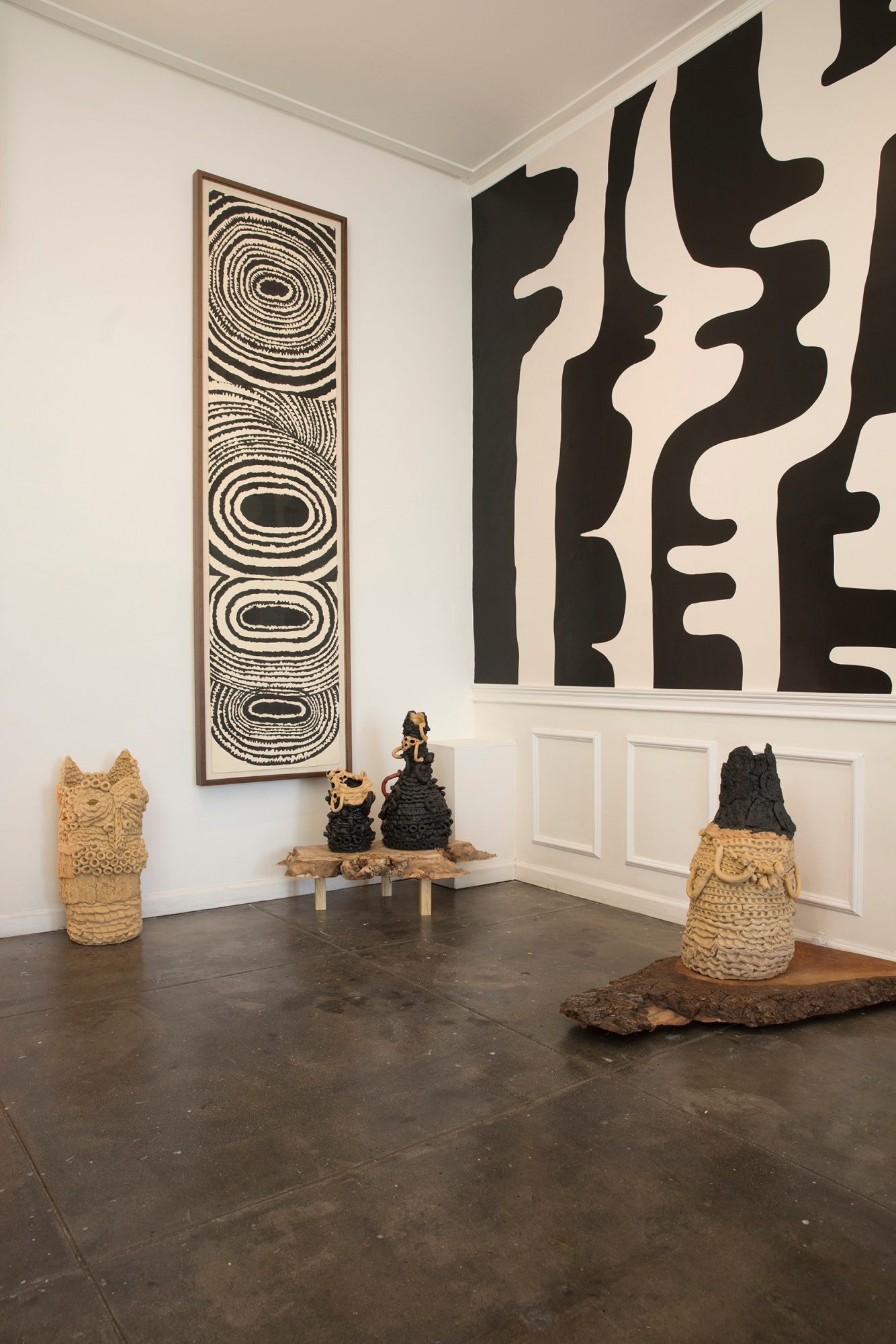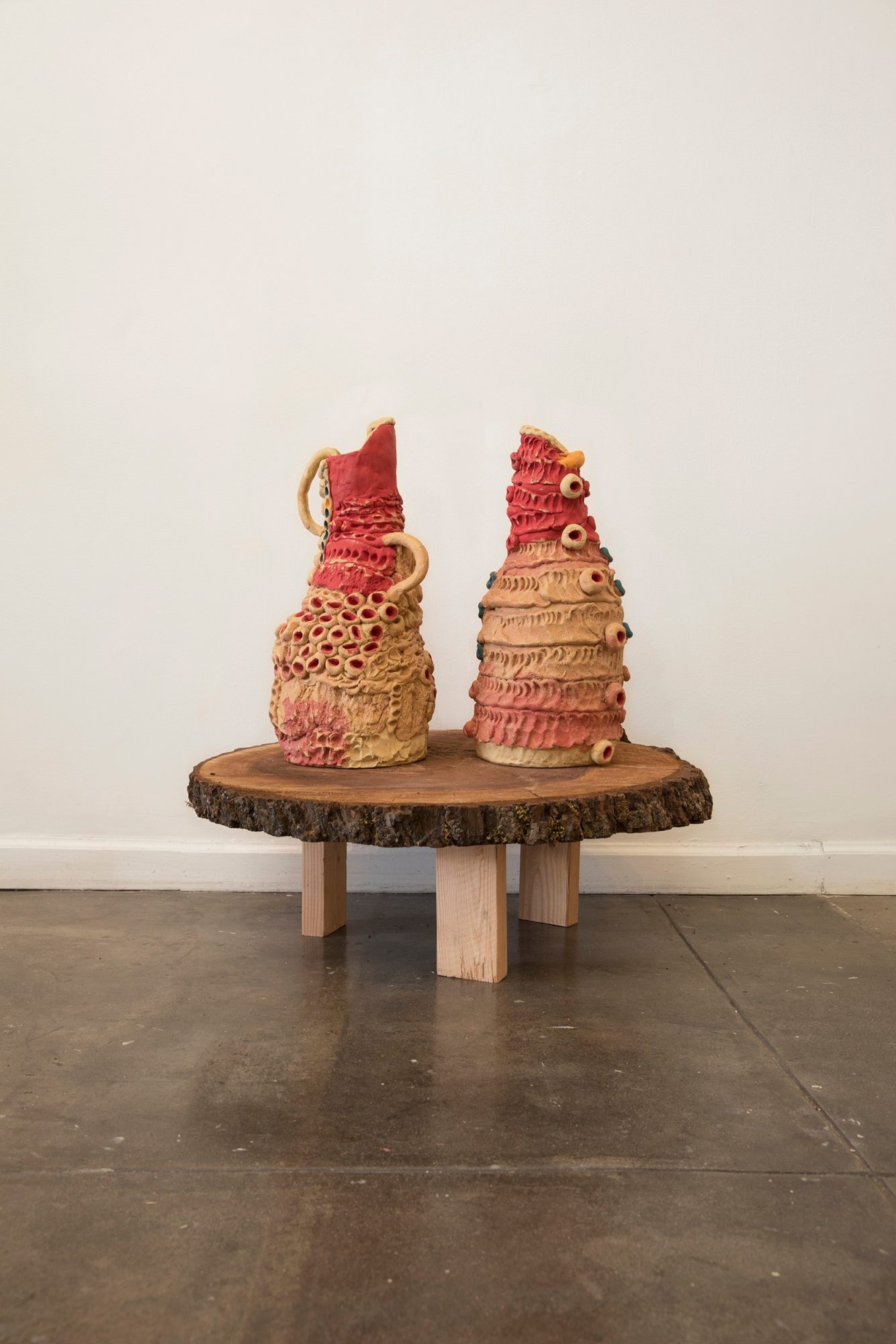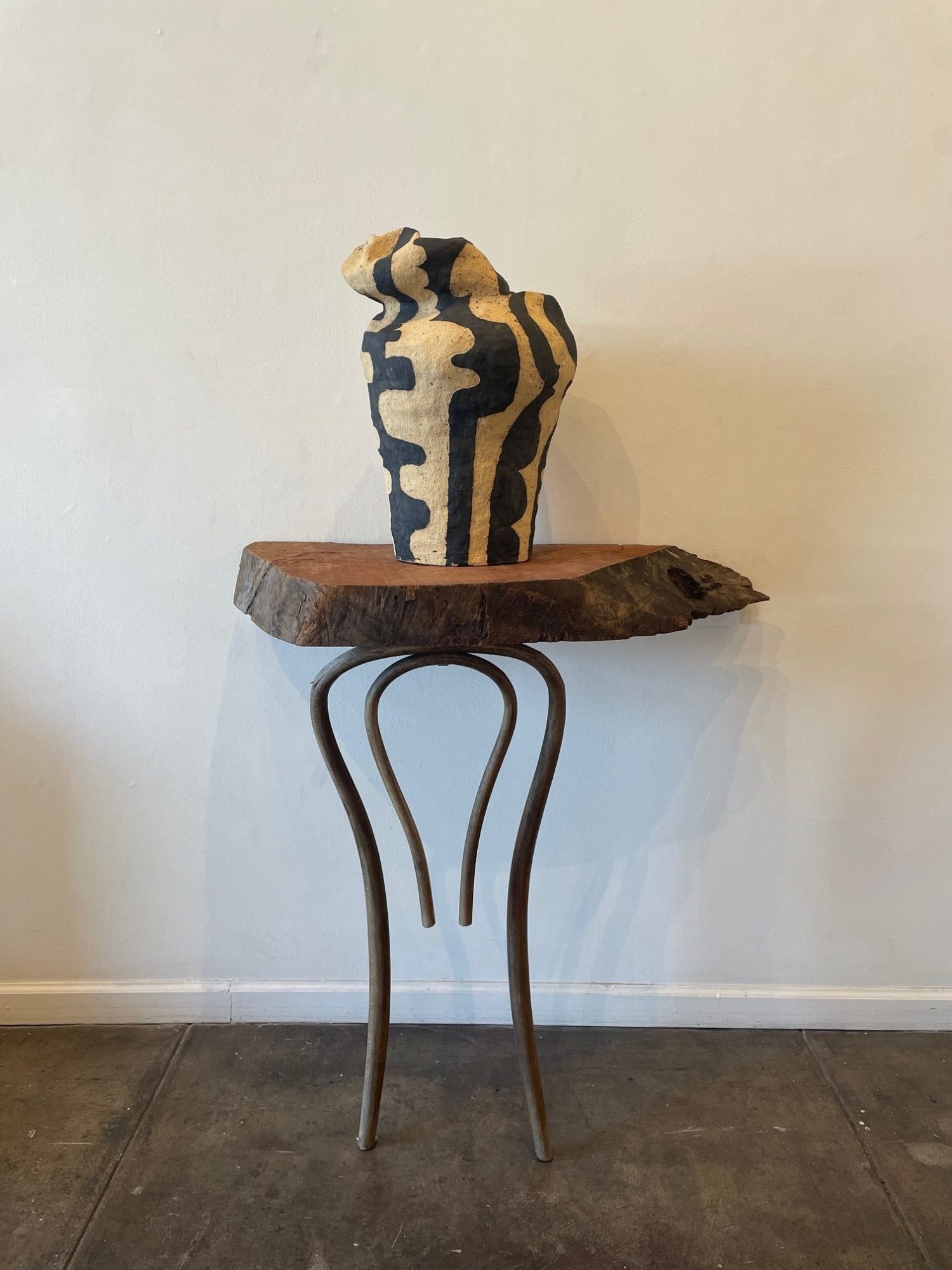 Image Credits
Portrait photo credit Ayin Es gallery photos courtesy of The Lodge
Suggest a Story:
 VoyageLA is built on recommendations from the community; it's how we uncover hidden gems, so if you or someone you know deserves recognition please let us know 
here.