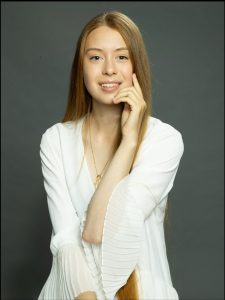 Today we'd like to introduce you to Mariia Kachynska.
Hi Mariia, thanks for sharing your story with us. To start, maybe you can tell our readers some of your backstory. 
I was born and raised in the beautiful capital of the Ukraine, Kyiv. Three years ago I came to the States to study and pursue acting as a career. I have recently graduated from the New York Film Academy with a Bachelor in Fine Arts. It was a long journey with its ups and downs, all this eventually brought me to a place where hopefully I was meant to be. Everything started when my parents enrolled me in rhythmic gymnastics at the age of five. A couple of years later, I had to stop the trainings to concentrate more seriously on my education at school. When you commit to something at a young age as I was when my parents got me into sports, you develop a strong feeling of dedication and perseverance. I needed to dedicate myself to something that would go along with my school schedule. My parents signed me for dancing classes, introducing me to life on a stage. Looking back at my years at dance school, I can see that I was interested in more than dancing. I was inspired to create a story. For a shy kid like myself, body language was a way to express everything I couldn't say with words. My journey is similar to a journey of a film that started silent and eventually moved to talkies. I remember creating stories inside my head, building a character that was inspired by the movements of choreography and rhythms of the music. This gave me the courage to step onto the stage, as well as creating meaning behind every movement. At that time I didn't know that I was building a background for my acting career.
 Then, in my last year of high school I injured my back. I was going through a recovery, but doctors were advising me to stop dancing. As everyone, who is on the finishing line of something that was a big part of your life, I was under pressure. Since I wasn't able to pursue dancing on a level I initially planned to, I had to reconsider my choices in terms of future career. Every performer knows once you step on a stage, it's hard to step away. The applauses of the audience, blinding stage lights, that's what feeds a performer.Given different options to consider in terms of career, I would always go back to performing on stage at the end of the day. I knew that nothing would make me as accomplished as this. At that time I already knew about the New York Film Academy, and by lucky coincidence they were coming to my hometown that year to audition potential students. I decided to give it a shot without any expectations of getting in. I signed for the audition and prepared two monologues to perform. I got in! A couple of months later, I moved to New York City for a One Year Conservatory program in Acting for Film. I knew there was no way back. I threw myself into studying the craft of acting. I came to the New York Film Academy with no knowledge about this art form. Yes, I loved movies, I admired certain actors and filmmakers. But everything that was happening on the screen was so unknown to me, that I couldn't believe I was given a chance to pull a curtain and look inside the magic of filmmaking. By the end of the year, I realised that it wasn't enough. It felt like I've had a quick sneak peek, and there is so much more to learn. The year changed me in a way I couldn't possibly imagine. I stepped into the shoes of characters and tried to go as far as I possibly could to understand who they are. No matter how delusional, unpredictable and complicated they were, I ended up falling in love with them. They showed me roads the life could take you on and they showed me ways you could behave. Eventually, I applied for a Bachelor's program at the New York Film Academy in Los Angeles. Three years proved to me, that acting is as complex as life itself.
Can you talk to us a bit about the challenges and lessons you've learned along the way?
Looking back would you say it's been easy or smooth in retrospect? It was a beautiful journey, but not the easiest one. Especially for someone who comes from a different culture. I came to the United States when I was 17 years old. All by myself. I wanted to become independent as fast I could. There was a fear of not being accepted, but it faded away, when I came to know a little bit more about American culture, finding people who shared same interests and beliefs as I did.  I met many people who were supportive of me. On my way to where I am today. Apart from my family, who always were there for me, I received a great amount of support from my teachers at the New York Film Academy. They helped me take my first steps in acting, seeing me fall and always reaching out their hand to pick me back up.
There was also a language barrier in the beginning. I was getting self-conscious, being afraid to freely express myself and found it difficult to keep up with native speakers. I worked on my English every day, driven by determination to see where the knowledge of the language will take me, and what opportunities it would open.
Appreciate you sharing that. What else should we know about what you do? 
I am an actor and a writer. My latest project, a short film that will be submitted to film festivals in the U.S. and Europe, explores the freedom of artistic expression in all forms and languages. The film shows that when faced with injustice, only those who stand their ground, regardless of the consequences, can be said to be truly alive. This project helped me to find my voice as an artist. I came to realise that my deepest hope in life is to make art that matters. I come from a beautiful culture that raised incredibly talented and unique people whose stories are worth telling. Since we share the same blood, I see it as my responsibility to bring back to life stories that were kept untold. Even before I went to study acting, I knew that it has the power to move people. My deepest hope is to reach the hearts of those who would see my works and stir compassion within them. If art is not for making this world a better place, then what is it for?
What would you say have been one of the most important lessons you've learned?
The most important lesson I've learned along my journey is to stay true to who you are. By that I mean, dig deeper. Learn where you come from and learn who your ancestors are. I came to realise that I stand on the shoulders of those who lived before me. My ancestors resemble a foundation on which I currently built the person I want to become. Acting classes taught me how powerful blood memory is. It helps with your artistic expression, where there is nothing more genuine and powerful than something that comes from your heart. You relate to it on a level that can't be expressed in words or taught in a classroom. And when you find that connection, it's when the magic happens. You can call this magic an epiphany, awakening, or inspiration. Call it what you want, but I believe it's a path back home. Everything that we are looking for is already inside of us, we just need to know how to listen.
Contact Info:
Suggest a Story:
 VoyageLA is built on recommendations from the community; it's how we uncover hidden gems, so if you or someone you know deserves recognition please let us know 
here.