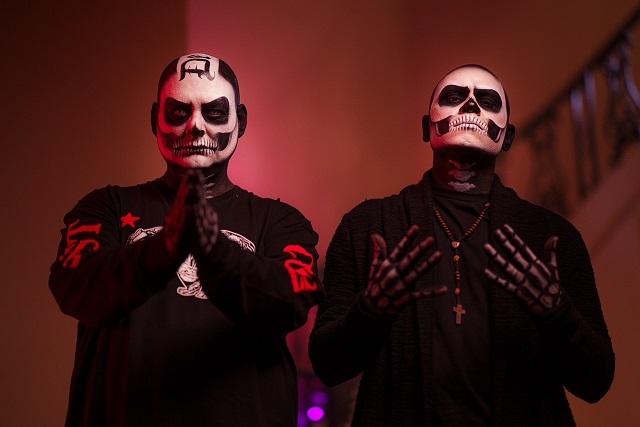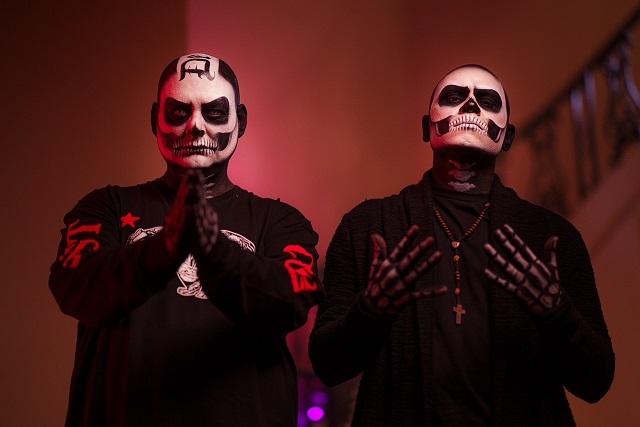 Today we'd like to introduce you to Los Muertos DeCalifornia.
Alright, so thank you so much for sharing your story and insight with our readers. To kick things off, can you tell us a bit about how you got started?
That's a loaded question…how we started forces me to at least share some context. Krooked "El Chueko" was born in South Central LA to Immigrant parents, Mistah B was born in Mexico (Sinaloa) and brought to the U.S (smuggled into country) when he was very young, two or three years old. They met at Edison Jr. High, Mistah living in Compton and El Chueko in Sur Centro, they quickly developed a brotherly love that exists today, brothers from another mother as we say! That relationship got stronger in High School where we both attended Fremont High. By 10th grade, we were separated, Mistah B was expelled for initiating a race riot, along with my little brother. They maintained homies due to El Chueko driving since he was 12 years old so driving to CPT to chill or vic-versa him taking the bus to SC was an everyday affair for years until College separated us.
El Chueko somehow got accepted to a University so he left the hood while Mistah B stayed behind, but he also decided to elevate his playing field and he went to Iron Worker school and soon thereafter graduated and began his career as an Ironworker. El Chueko on the other hand was living life in College, experiencing things he never experienced before; like being a TA and a lifeguard, which coincidentally led to our music careers.
As he describes it, he was bored one day watching a few kids swimming in the pool on the shallow end so a thought came to mind in the form of a rhyme. That led to him pulling out his pad and writing, rhyming for the first time a verse. That sparked the curiosity which led to the formation of a Hip-Hop group called the Enhanced Visions Project and at first, it was El Chueko and a few of his College buddies but once Mistah B heard he was rapping, they quickly connected and he joined the crew. Then Filthy another homie of ours that was a sick rapper joined the crew, next thing you knew, we were a crew of College buddies and ghetto homies coming together to make music, something different as we saw it, a bunch of Latinos and 1 White Boy was different at that time but the crew as it quickly got started, it quickly died out, everyone simply had different priorities and only a few were really focused on making it stick so in essence the College buddies fell off and the Enhanced Visions Project turned simply into the EVP…Tha Project, featuring El Chueko, Mistah B & Filthy, basically the hood homies!
We did our thang for several years, dropped an all Engish Hip-Hop album titled "Relic the Lyric", we were hardcore to the core which is probably why we didn't make any noise, besides our few performances we paid to play in (sold tickets). Remember, at that time in 2002 when we dropped this album, there was no social media like it exists today, I think only myspace was being talked about but mostly to steal music, and napster but nothing like IG or FB existed in 2002.
Filthy because of his drug addiction, moved out of State to CO and by 2007 or thereabout because the music thing wasn't really moving, El Chueko as a College Grad. was focusing on that more so than music and Mistah B was moving up as an Ironworker so our day to day jobs were looking more appealing than our music so we took a break. I think it was 6-7 years where we didn't touch music, no writing, it just all ended due to now babies being in the picture and families starting, the music thing was merely a cost, not bringing any money in, whatsoever, just taking it so priorities shifted.
Like I said, now I'm speaking as me, El Chueko; it was years later when a thought came to my mind and it was a basic thought. We had music that we messed around with, what some may consider Banda Rap, we simply were experimenting at that time using live instruments instead of a keyboard or pad. Anyhow, a thought came to mind that told me, why don't you create a mini sampler CD of the music that's in your laptop that no one has heard, practically. The thought was, if I can get $1 dollar for a download, that's better than zero ($0) which is what we're getting now. So I called up B and told him, B, I'm doing a simple sampler CD and including the Banda tracks we never released properly and if we get a buck for them, f*ck it, it's more than what we're getting now and he agreed, so I created a sampler CD with six tracks that I uploaded onto some social platforms like FB and IG that existed now, that didn't exist then,
From that sampler CD, I titled "6 Heaters", that led to what you see now as Los Muertos DeCalifornia! From people asking who we were and wanting to hear more, that led to B and I saying let's do one album with Banda tracks since that's what people are asking us for. That thought of doing one album because "6 Heaters" created such a buzz within social media has led to five more albums since then, I can't count how many EP's and countless of single's & collaborations we have embarked on since having the thought of getting $1 dollar is more than what we're getting now by having these tracks only exist in my laptop!
I'm sure you wouldn't say it's been obstacle free, but so far would you say the journey have been a fairly smooth road?
No, it's been years in the making, lots of money invested, I'm talking about over $100,000 and that's only since our comeback! Radio does not play us, TV doesn't feature us, our only platforms to promote ourselves and make $ is social media and touring and because of that dynamic, Labels are becoming extinct. Yes, it's a challenge because it's now even hard to get noticed because everyone and their momma is a rapper but the ability to believe in yourself, fund yourself, promote yourself and keep all the earnings for yourself is a struggle we've overcome but we're glad we went through it, how we learned to never sign with any label, why pay someone to do what you can do for yourself and keep 100% of the rewards so it's still a struggle but since money is coming in, it's a much smoother road.
As you know, we're big fans of you and your work. For our readers who might not be as familiar what can you tell them about what you do?
You only have to watch our videos to understand what sets us apart. You only need to listen to our music to understand what makes us different by rapping in both English and Spanish and developing a new language we call Spanglish. Lastly, if you were to ask our fans why they follow us, 99% will tell you that they love how we go hard for Raza how we represent our Mexican culture to the fullest with no regrets or apologies. We practically wear that pride in our face, literally, in essence that is why we paint our faces to showcase our pride of our culture, in everything we do!
We specialize in making Hip=Hop music using live instruments like the Tuba, Trumpet, Charchetta, Trombone, etc. We don't release any track these days without some live component, that is our trademark. If you listen to our music, it not only sounds different because of the live elements but then you introduce the high & low voices of Krooked (El Chueko) and Mistah B into the equation and what you get is a sound coming from LA Mexicans that you have never before, an aggression with beauty that you haven't seen before and most importantly what makes us stand out above all, is our painted faces which we embrace as our love for Dia de Los Muertos, a tradition we embrace daily not just once a year.
Where do you see things going in the next 5-10 years?
Yes, I see a massive "movimiento" (movement) starting here in LA! LA has always set trends, our culture stems and reaches global audiences, there are Japanese and Russian's dressing like Chicanos from L.A! We love that…we expect that love for our culture to grow and with it this movement of sounds and fresh sounding Hip-Hop music that unlike Trap, actually has a message and something to say. Rap is the biggest music growing in Mexico because of what was started here in LA by Psycho Realm, Big Frost and other pioneers but that movement only getting bigger in Mexico will soon hit the States and when someone from the States takes it to that next level, forget about it, it all started here so let a West Coast artist shine and that spot-light will gleam on others starting the movimiento!
Contact Info: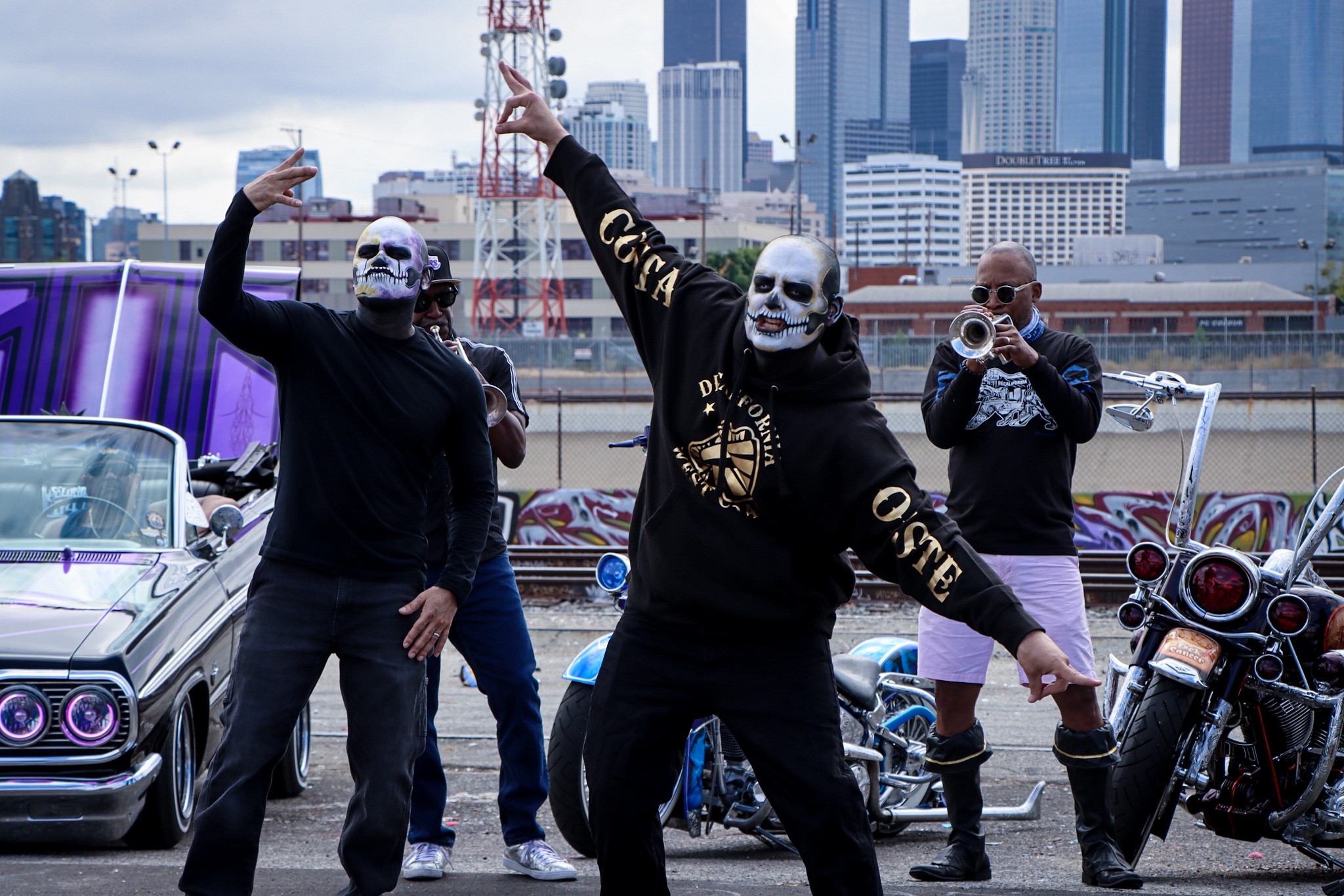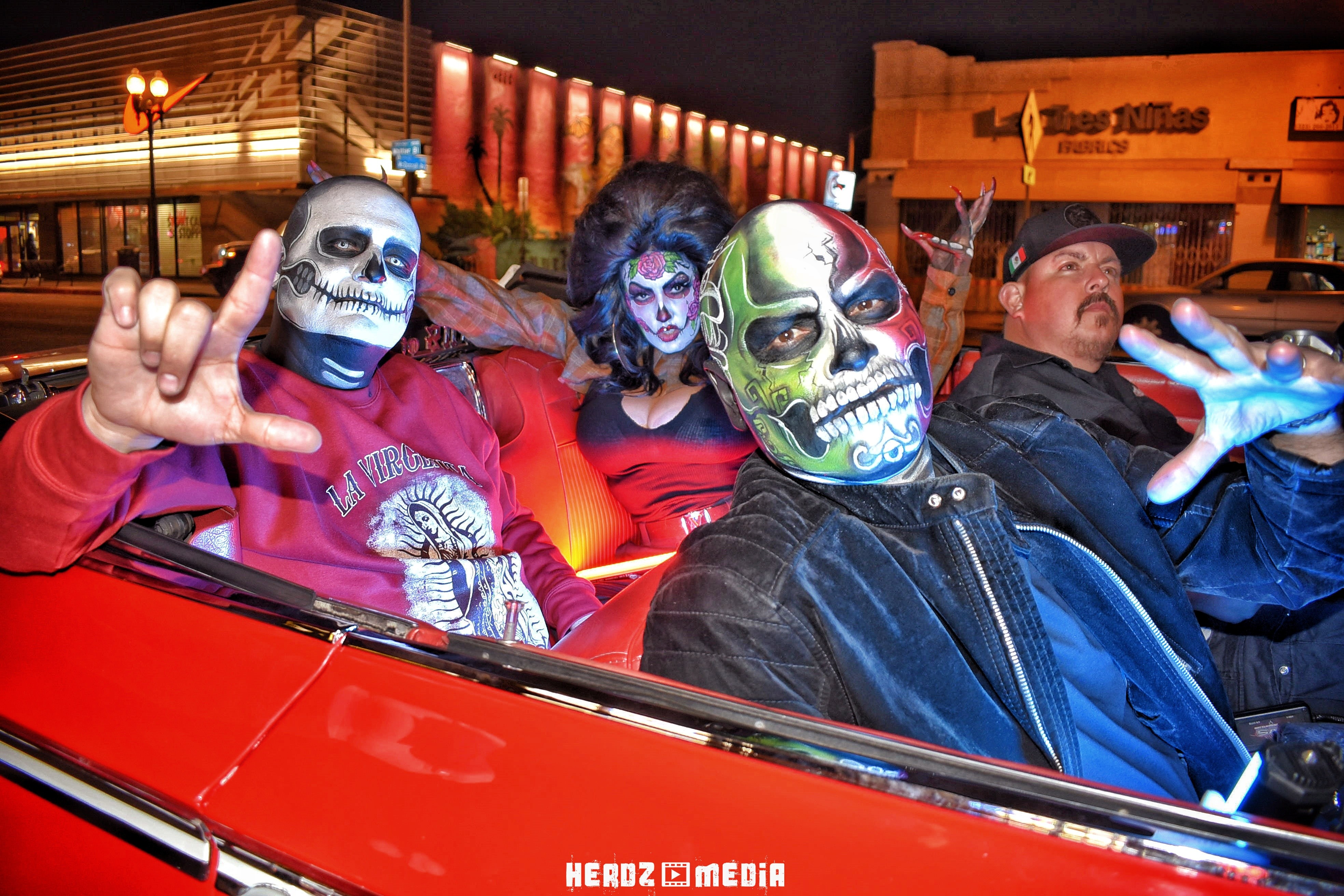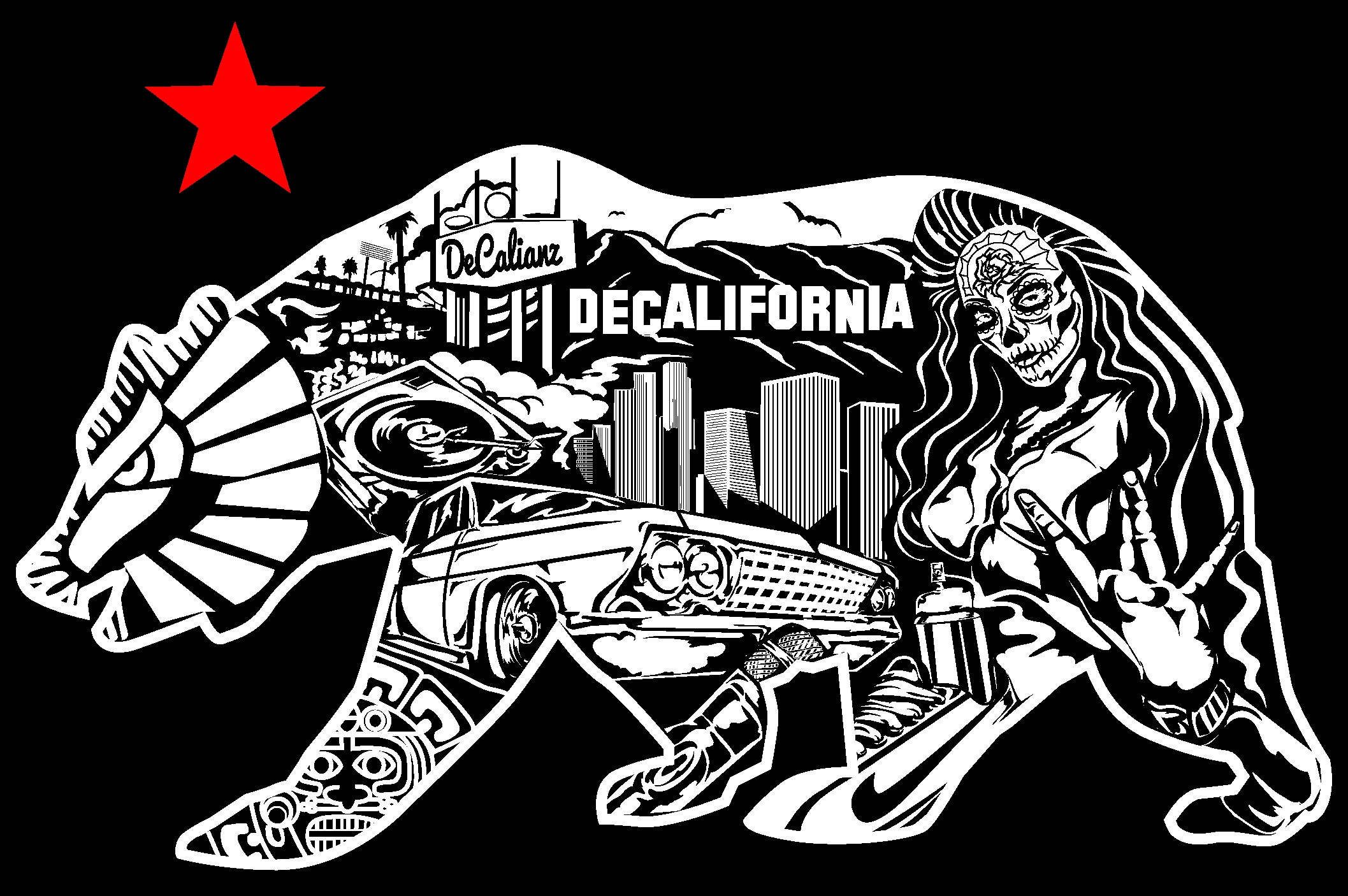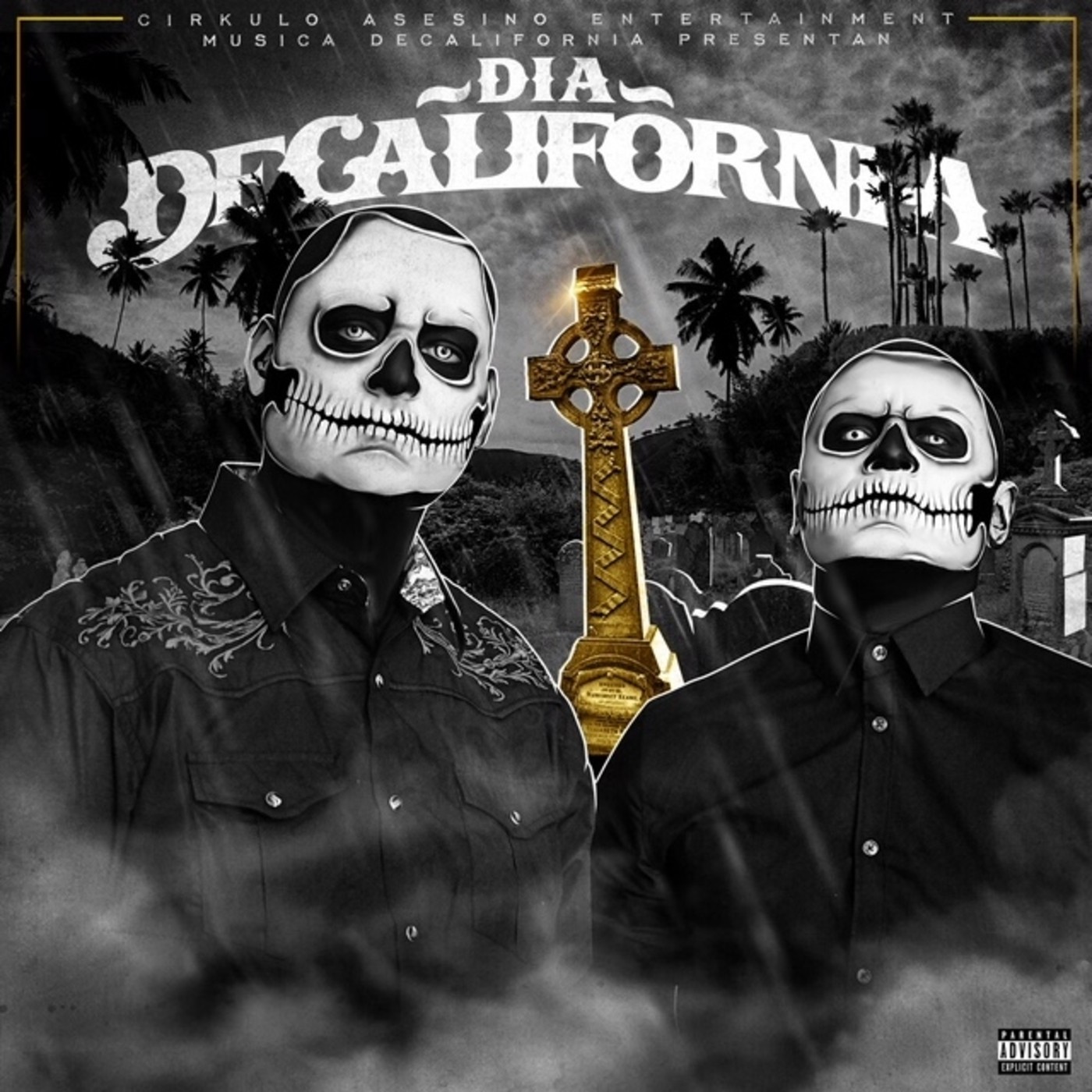 Image Credits:
All images are owned by DeCalifornia, please credit DeCalifornia.
Suggest a Story:
 VoyageLA is built on recommendations from the community; it's how we uncover hidden gems, so if you or someone you know deserves recognition please let us know 
here.