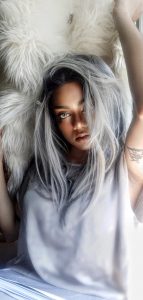 Today we'd like to introduce you to Lily Dhanpaul.
Hi Lily, please kick things off for us with an introduction to yourself and your story.
My story is one that's really just beginning yet always feels like it's repeating itself. Though in a sense it is, it's not the particular success that we're interested in, it's the how. All in all, it started with a small inkling of hopeful desire. Hope for something better, something that could whisk me from the toxicity of family, the obligations of conformity and social norms, the critique and judgment of a world I was made to remember as a harsh, cold, heartless place by the name of reality. A chokehold slowly syphoning the raw creative breadth of my soul leaving a rather hollowed-out husk of a being delicately, unconsciously pre-designed; destined to be set amongst our society's standard of complacent consumption within a sea of information or misinformation cleverly disguised. Built on the hardly unintentional custom-created scarcity-based mindset. For curiosity killed the cat and wouldn't hesitate to systematically … iron fist and velvet glove and all that. Moment of silence for those. Anyways on. Grappling with the last remaining wits of my self I read a ton of literature, balanced relationships and social circles, university and extracurriculars, and let's not forget the countless stream of jobs and family "stuff". Adulthood found me early, yet intuitive persistence of the whole pursuit of happiness, the murmurings of spirits really, led me to recurring rediscovery of the multifaceted dimensions of wholeness; perfection. Fulfillment from within retrograded into my subconscious every so often still with a tangible taste of existentialist dread. Shadowwork– commonly coined in some circles as the healing of one's deep-rooted, resilient intergenerational traumas, insecurities, intense turbulent emotions. Alchemizing, transforming, transmuting these into healthy, compassionate forces of nature.
I had been doing so much, burning myself out, running around trying to fill my cup in all the fountains, the most pleasant, ostentatious, desirous fountains, while deconstructing the illusions until all that was left was my actions, thoughts, my opinions, my judgments. My foundation. My fountain. I had yet to thoroughly pay tribute to the dynamic, vibrant personality that consecrated my nuanced idiosyncrasies. So I traveled, experiencing a bit of some culture shock after being exposed to eco-communities, villages, and my first taste of Mama Africa's way of life & love & culture. I quit my first real bad gyal job back in NYC, experienced the resounding, rippling impressions of death and above all, I contemplated. Four of Swords energy. I knew what I had to do, but I needed a strategy. I had been underpaid and overworked and held a varied knowledge on the operations and maintenance of small businesses in the city. I would figure it out. Reinvesting into myself– all the time and money and effort I had given to employers or systems– I'd begin to learn of all the crafts I'd ever thought to indulge upon, experimenting and shifting mindsets, shifting vibrations. Vaguely, I'd remember that I had forgotten how to read the stars and clouds, and the soil and the moon and the signs of animals and nature and other things that also seemed so important—and yet? There was so much I didn't know, even though society had technically branded me a certified adult on occasions typically most inconvenient to my behalf, while simultaneously managing to infantilize my credibility as a "minor" and as a fully-functioning human.
Suffice to say, I'll hope to endlessly be learning and relearning, envisioning a better reality than the one we live in. This inner forceful yearning towards a more sustainable, eco-friendly, humane and compassionate global village has moved me to start Divinitea Apothecary, an ambitious wellness and holistic lifestyle platform dedicated towards healing that starts from within. Self-empowerment is the seed of fulfillment, of revolutionary self-care. It is a passionate, spirited, seemingly rebellious internal love. I aspire to inspire, to help you lovingly reconnect to the divine bodies, the sacred spaces of nature and Her elements, and openly embrace the interconnectedness and unity inherent within life, humanity. My movement through this world is one I create with a sense of agency, divergent from idle complacence, intentionally guided by a fierce love of authenticity. I am a fashion designer, model, stylist, and actress. I am an herbalist, artist, intuitive healer, and energetic practitioner of sacred spirituality. I am a writer, reader, storyteller, astrologer, DeFi enthusiast, philosopher, and I am and will be much else, but above all other titles, names, labels, and classifications I am a woman, a full, divine sensual expression of the interconnected lively dynamic of it all.
Alright, so let's switch gears a bit and talk business. What should we know about your work?
I love to live in a way that embodies who I am. As within, so without. I truly cherish my day to day interactions and embrace every moment with gratitude. This allows me to focus and check in with myself because it's in my best interest to heal before presenting to others and divulging in the rapid, ever-flowing plenitude of others' energies. My intuition, as sacred as is authentic, stems the restless underlying current that expresses itself unanimously through art. Fashion designing, sketching and painting have always come naturally to me, and I am currently working on an upcycled, sustainable, eco-conscious fashion line. I hope to bring more awareness, understanding, and accountability into the fashion industry and the mainstream so we may tastefully reclaim fashion as an artistic expression rather than a heinous mass-manufactured exploitation of labor, resources, and animal and human rights.
The industry of capitalism also deserves a systemic makeover, especially in the personality department so it gives me great pleasure to work with like-minded individuals and corporations that align with the values of transparency, natural rights, and social justice advocacy. Divinitea Apothecary is my new wellness and holistic lifestyle platform. I mindfully craft potent herbal oils, teas, tinctures, and other botanical-related products to heal and reconnect one to their highest, most optimal functioning selves. I am currently working on the framework of the company, developing the website, branding/marketing and online presence, educating myself, and connecting with other amazing inspirational people and small businesses focally aligned with similar fair trade practices and sustainability efforts. The driving force within my work is nothing less than the universe striving at perfection, the perfection I aim to channel while poignantly failing to fathom. As that which you run towards runs from you in equal proportion. Divinitea Apothecary would like to provide an open source discussion for communities –and any and all interested in the holistic and interdimensional path of healing– to create, collaborate, educate, innovate and facilitate discussions especially of a socio-cultural revolution grounded within the natural cycles of abundance and healing.
Have you learned any interesting or important lessons due to the Covid-19 Crisis?
COVID-19 gave me a chance to pause and remember some very core values of life. It allowed me the proper space and time needed to reassess, reevaluate, and realign. To appreciate divine timing and to also appreciate myself. I've gotten the chance to reconnect into old habits like reading literature and becoming more involved within social justice advocacy. I've dedicated time towards learning new skills and polishing old ones, and sustainably enhancing my long-term mindset and communication skills, My family and friends have always been a constant source of strength to draw on, and COVID-19 has been no exception. I feel as though everyone has transformed a little and is more mindful of the constant shifting cycles of life. It has been an empowering, unifying experience that I believe has directed the attention of the collective consciousness to a need for innovation and restructuring and redistribution of authoritative power to a more focused hands-on, community-based level. I must acknowledge there has been such tremendous solidarity and compassion within my circles of creators, revolutionaries, herbalists, astrologers, models, dancers, independent artists, students, healers, and so many other kindred spirits, that it uplifts and inspires me to continue my passions in times of unsteady flux.
Contact Info:
Email: diviniteaapothecary@gmail.com
Instagram: @lilxgoddess

Image Credits:
Peter Rosario
Suggest a Story:
 VoyageLA is built on recommendations from the community; it's how we uncover hidden gems, so if you or someone you know deserves recognition please let us know 
here.