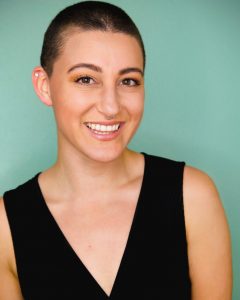 Today we'd like to introduce you to Jenisa de Castro.
Hi Jenisa, thanks for joining us today. We'd love for you to start by introducing yourself.
Currently, I am a performer and entrepreneur with a business called JdC Voice. I provide Holistic Vocal Training for Singers and Speakers alike, which includes vocal technique work in combination with exercises in mental health and energy work. This is extremely important to me because of where I've come from in the past, and because of the massive performance anxiety I've witnessed in other performers in the entertainment industry and beyond.
I have been singing since I was 6 years old, working as a professional Polynesian dancer since the age of 10, and performing in Musical Theatre and Acting since the age of 12, so the stage was something I definitely grew up with… but it wasn't always something I loved. I struggled for most of my life/career with not only imposter syndrome, but with the feelings that I wasn't good enough no matter how hard I worked on my voice or performance, and no matter how much praise I received from family, friends and even strangers. It came to a point where my perfectionism of my craft clouded the vision I had for my future: to be a true, working entertainer.
So, after graduating from NYU Tisch School of the Arts with a BFA in Drama, I stopped auditioning. I stopped performing. And I started realizing that if I had continued with my entertainment career in the current state that I was in, I would likely have ended up in a really dark place. I realized that with all of the amazing training I had on all of my skills… there was no focus on mental health in the industry.
So I studied brain science and energy even deeper and created my own form of vocal training that DOES include mental health. That DOES include our energetic bodies. Because without inclusion of our ENTIRE beings in our work, it can become miserable, tedious and redundant. We lose our sense of self and focus solely on technique and on being the best. And while I still always strive to be the best at what I do, I now have the tools to stay on track.
I have mental health tools I can use to harness my anxious nerves and calm down my nervous system. And now I give those tools to all of my clients and have helped singers and speakers of all ages to conquer their fear of letting their voices be heard, singing in front of others, and speaking freely from their heart. Ultimately, I imbue a holistic process into their vocal work, allowing them to find their most authentic and fulfilled voices. And that's how I came to develop this incredibly life changing business!
Would you say it's been a smooth road, and if not what are some of the biggest challenges you've faced along the way?
While the growth I've seen in myself and others has been incredibly rewarding, it has been a bumpy and difficult road mentally in order for me to build this business because my first step was working on myself! Which is the hardest!
Prior to developing my techniques, I would literally bawl at the end of EVERY voice lesson because I couldn't do certain things, I would CONSTANTLY compare myself to others and blow out my voice trying to reach that version of myself, and until the time I started auditioning for colleges, my stage fright was so severe that ANY TIME I would go to an audition or have a performance… I would literally get physically ill and congested to the point where I wouldn't be able to sing at my fullest potential. The things I loved to do most in the world were causing me great inner turmoil. I was even sick through my college auditions… However, I was still fortunate enough to get into the Acting program at NYU Tisch, with a concentration in Film and Stage Acting and 2 years later, I was able to transfer into Musical Theatre and graduate with Honors.
But even through that training, I still struggled with my feelings of lack. There would be days where I wouldn't even show up to my Vocal Performance class because my main focus in my technique classes was to be good enough for Broadway, not to be good enough for myself.
So you can imagine, coming from that state of desperation, it was difficult climbing out of that hole. But once I realized that using your voice can go hand in hand with wellness, everything changed. I was able to find more freedom, bliss and strength in my voice when I was able to connect it with the purest form of myself. It took so much courage and patience to move away from the negative and allow myself to be mindful and vulnerable in my vocal work in order to fully allow for the healing to begin.
However, once I was able to experience it I was then able to guide my clients to experience it as well. I continued my training so that I could master what I wanted to share with others. So that I can be their guide towards using their voice with ease. And that drive allows me to continue to be kind to myself, so overall it's a win/win for everyone!
Thanks – so what else should our readers know about your work and what you're currently focused on?
In my teachings, I specialize in vocal coordination, mental health and energy practices. I serve singers and speakers who deal with performance anxiety, feel that their voices are being stifled, or those that have a fear of using their voices in general. I allow them to find their voices by discovering and exploring so that we begin to understand that our voices, including our singing voices, are an inherent part of ourselves. They are the means in which we communicate our deepest truths.
I believe that each person's voice is unique and necessary and I am extremely proud that my clients are able to go through a lifestyle, mindset and vocal transformation when they study with me. Because to me, the voice is holistic! We must be mindful of what our minds, bodies and energies are doing when we go through vocal technique work so that we can reach those moments of bliss, freedom and ease.
I am also actively performing! Singing as a lead singer in multiple bands, performing professionally as a Polynesian dancer and auditioning and taking acting and theatre jobs. All of which keep me active in the entertainment and performance world.
Networking and finding a mentor can have such a positive impact on one's life and career. Any advice?
Throughout my training and still to this day I am working with coaches and mentors in all aspects of my life, including my business! I think continued learning is the best way to grow and expand. For those looking for guidance, I think the most important thing is finding an expert who shares your values and resonates with you in a personal way. A human being that has some sort of story or experience that has brought them to where they are today and someone who is willing to learn from their clients as well. Someone you trust and someone that cares about YOU. There are many ways to connect personally with coaches over Facebook or Instagram, and you can engage with their teaching styles and personal mentality this way as well.
Contact Info:

Image Credits:
Duke de Castro Photography (Headshot)
Suggest a Story:
 VoyageLA is built on recommendations from the community; it's how we uncover hidden gems, so if you or someone you know deserves recognition please let us know 
here.