Today we'd like to introduce you to Gia Lopez.
Hi Gia, we'd love for you to start by introducing yourself.
I have been a recruiter for the last seven years. In the beginning of my career, I was fortunate to travel a LOT for both work and fun, traveling around the world for months at a time. In that time, I explored food, culture, and of course, coffee. Unfortunately, I hit a rough patch when the company I was working for laid my entire department off. I had to drive for Uber & Lyft to make ends meet in the meantime while going on a LOT of interviews. I finally landed a job just one week before Covid's "work from home" hit, just my luck. During that time, I started to really miss traveling, like a LOT. So I decided to travel in my own way. I've always loved coffee and even worked for Starbucks years ago, which helped build my passion for it. I would scroll through my travel photos in my free time and reminisce on the "good times". I happened to land on a photo of a specific coffee I once had while visiting Madrid & immediately thought to recreate it. I went straight to Target and bought myself a home DeLonghi espresso machine, picked up some coffee, condensed milk, and syrups from Smart & Final, along with a few additional coffee bar accessories. When I got home, I did my best to try it out. I tested that out a few times and was not disappointed. A few days went by and I woke up craving a horchata latte. I personally love the horchata latte from Tierra Mia, but I didn't want to drive all the way to downtown for it. I settled for the next best site at Horchateria, but unfortunately, it was closed that day. Well, not so unfortunate for me because I was forced to make it myself. I went straight to the store, picked up some horchata, came home and threw my espresso in it and the rest was history!
I didn't stop there, I kept trying out different variations of coffee in my free time. I started making samples for friends and family to try it out, I wanted their feedback and most importantly, their honest opinions. I'd always thought about having my own coffee business but never thought it was achievable to be honest. I thought it was a far off dream that would truly stay in my dreams. I recall having a discussion with my mom one night, she asked me what I really wanted to do. I told her about my far off dream that I'd always hoped for but never thought achievable. We sat in my car where she came up with the idea that I should put my two passions together. She said, "why don't you create a worldly coffee bar where you can express yourself through coffee". It was brilliant! Everything that I'd been missing while stuck at home, unable to travel, but being able to bring who I am to life through coffee, I felt complete, everything made sense to me!
Soon after that conversation, I went through another lay-off with my job due to Covid. That very next day, I actually felt a sense of excitement. After all of the feedback I'd received from so many people and the chat I had with my mom, I decided it was time to bring this to life. So I went directly to work, researching business, the basics, the important aspects, and learning how to make this happen.
Every day was something new. Well, I ended up accepting a new job a week later, recruiting for Aerospace & Avionics. I was at a crossroads, do I further my career or my dream? I decided to move forward with my career, maintain that security. I put my dream off but never gave up on it. I still worked on recipes off the clock, still sampled, talked with people who were out in the world and building their small businesses, I even had my boss rooting for me, encouraging me to live out my dream on the weekends while working with him. But I was scared of letting go of my job security. Sometime later, my contract ended, and it was time for me to look for a job again. To be honest, I was thrilled. I didn't feel complete in the corporate world, I wanted out. After speaking with a variety of individuals who owned their own small businesses, I was encouraged by a friend who had a breakfast burrito set up to sell with him. I was so nervous put some thought together and decided to try it out. That first day I made about 20 Mason Jar Horchata lattes, put them in an ice chest, and set up a tent next to my friend who encouraged me to go out and sell with him. I sold out that very first day. I was in shock! I went out a few more times after that, promoted a ton on Instagram, and sold my butt off.
I made connections wherever I could. I was contacted by a mutual friend up north in Turlock, CA, who gave me a whirl of information and really guided me in this new world I was entering. He connected me with a plethora of small businesses out in his direction who I completely admired, so much so that I packed up everything I owned and drove to Turlock to be a part of a pop-up! I was new to this, I didn't know anything at the time, it was a learning experience for sure. I made zero money lol, but it was an adventure for sure! When I came back, I was contacted by a mutual friend to be a part of my first LA Pop-Up. I put together a menu, put some marketing together as best as I could, and set up shop. It was an evening market, which I recruited a friend to help me out at. We sold out! It was such a thrill! I remember feeling this high because we had such an amazing turnout. That was only the beginning- from that event, I was recruited by both an amazing group of creatives: Cre8, for an art gallery and a women's market: the Goddess Mercado. I didn't know where this would lead me, but I am excited to announce that I have been with them ever since, providing a taste of culture at each event!
As for my events, I've done a variety of events since my first including: Art Galleries, High-End Fashion Shows, Fundraisers, Birthday Parties, Cultural Events, Storefronts, and more! Most recently, I had the honor of catering my first event sponsored by Disney!
I don't know where this path will lead me, but it has been one heck of a ride so far and I'm not ready to stop!
I'm sure you wouldn't say it's been obstacle free, but so far would you say the journey have been a fairly smooth road?
It most certainly has not been a smooth road. I have built La Escala from the ground up. I guess my first struggle is that I'm not a morning person, lol ironic, I know, but I hate waking up early haha. That being said, that is probably the easiest part. Being mobile comes with its challenges: packing, making sure you don't forget anything that can cost your entire day, making sure nothing breaks before an event, making sure you provide all marketing, finding the right help and more. Every event has been both a test and a challenge because no event is the same. I'm still learning every day. But the biggest struggle of all has been running this business as a one-woman show. While I now have more help, I still run all the front and behind-the-scenes operations, mostly alone. It gets lonely at times, but I remind myself that I've built an awesome brand loved by so many incredible people that I've met, I did that. It's a great feeling!
Appreciate you sharing that. What else should we know about what you do?
Recruiter by day, Barista/Business woman in every crevis of time in & outside of that. My current specialty is bringing unique coffee flavors to life that you can't find at most other coffee shops. Where else can you find a Vietnamese Horchata? I promise it's popular for a reason. I bring a traveling experience to those who visit La Escala, along with a wow factor in visuals. My brand is me and my heart. I'm most proud of overcoming all the obstacles that have been put in my way, but also not letting all the hardships get to me. I get up and keep going. If I need to take time for self-care, I absolutely take it. But giving up has not been an option.
How do you define success?
I think our culture defines success as having a steady and secure career, buying expensive cars and houses, providing the vanities that life has to offer. But I recall a conversation I once had with an uncle of mine after returning from a trip to Disney World, my aunt was asking when I was going to get married, and if I was dating. That was furthest from my mind at the time. My uncle turned to me and looked me in the eyes and said "Mija, are you happy?", I looked back and said "yeh, I really am happy, I'm probably the happiest I've been". He turned back and said, "then that's all that matters". I took that with me and made it my goal to focus on forever doing everything that makes me happy from that day forward. I am not judging anyone who buys expensive cars or has the latest technology etc., everyone sees things differently. I personally define success by happiness, traveling the world, feeling free, creating new memories, and now building a business I never thought achievable. Despite all of the hardships that come with the travels and building of a business, I never imagined I'd travel the world, and it happened, I can't wait to feel that final bit of success. But I'm still taking my small "success wins" with me in the meantime.
Contact Info: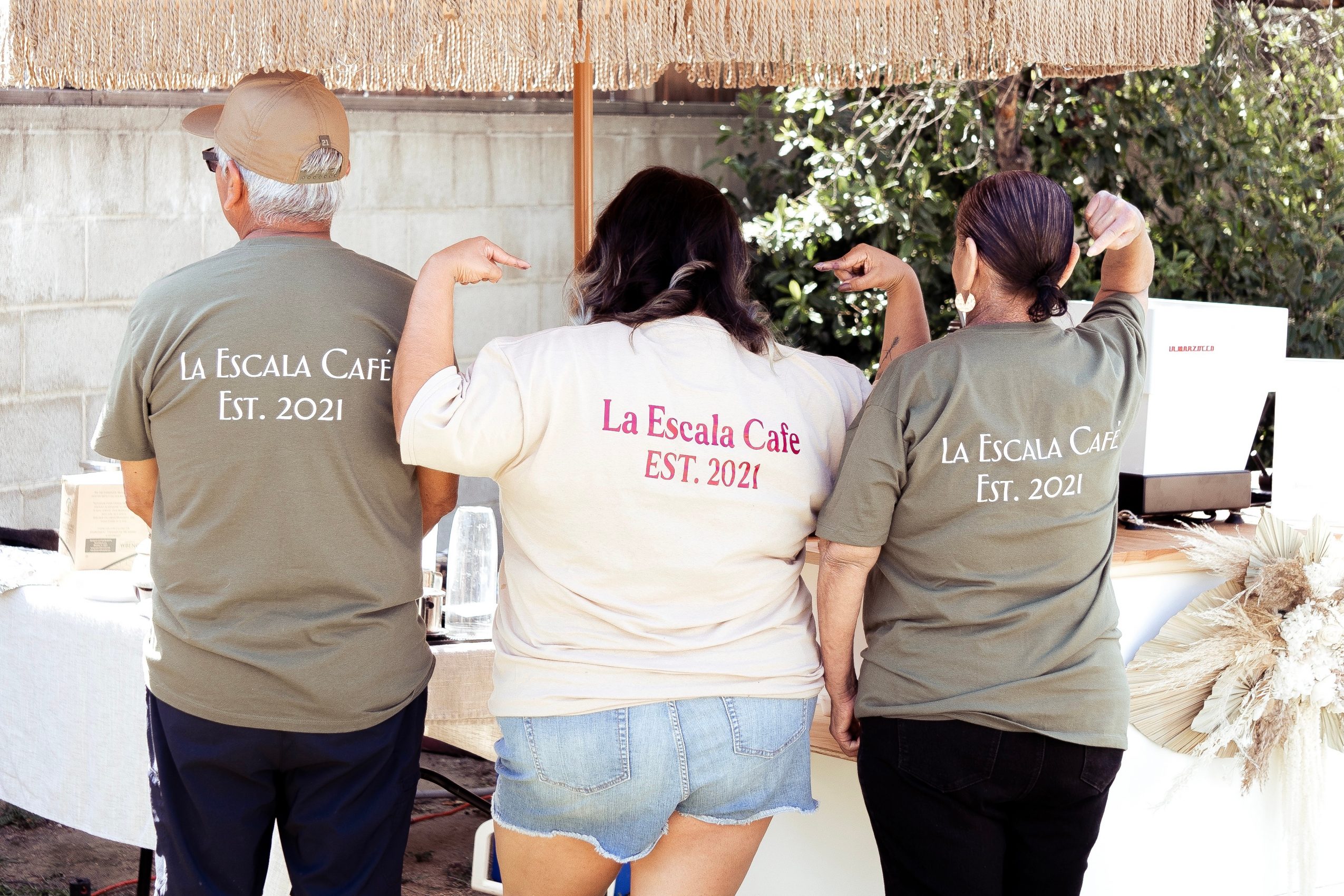 Image Credits
Kalynne Schoelen @photosbykalynne
Suggest a Story:
 VoyageLA is built on recommendations from the community; it's how we uncover hidden gems, so if you or someone you know deserves recognition please let us know 
here.