Today we'd like to introduce you to Barbara Balossi.
Hi Barbara, thanks for joining us today. We'd love for you to start by introducing yourself. How did you get started in real estate?
Well, I bought my first home in 1997. I was 22 years old at the time. In full disclosure, I'd inherited money, and I was able to pay cash for a small home. My friends were finishing college, traveling, and getting their first jobs. And I was house-hunting.
I'd recently returned from an adventure as an au pair in Switzerland. While overseas, I met a special someone and I became pregnant. This someone was not interested in being a father. I understood raising the baby would be my exclusive responsibility. Without resentment, I expected nothing from this person. I felt strong, calm, alert, and centered. I accepted this unplanned gift of a baby with a full heart. I returned to my hometown, and I set to work to prepare for motherhood.
My singular priority was to provide 'home' for myself and my baby. Like a Mama Bear in the fall before a long winter's nap, I hunted for a space to create my den. I was so focused that it didn't even occur to me that there was a professional who could help me. I drove around neighborhoods. Looked for signs. Read the ads in the back of the newspaper. I found a 2-bedroom, 1-bath home near a large park with big trees, a baseball field, tennis courts, and a playground. Done. The house fits like a favorite pair of jeans. We were home.
Years passed. My little one and I filled the space with sweet memories. While I was anything but a damsel in distress, a knight in shining armor came on the scene. My knight was a kind, handsome high school English teacher named Matt. In 2003, we married. My husband embraced both marriage and fatherhood, and he adopted my son as his own. My family of two became three with the promise of more littles to come soon.
While I loved our home, we were ready for a new chapter and more space for our growing family. Just like the first time around, I was involved in every detail of our move. I found the house and found an agent to help us write the offer. I also connected with the buyer for our first home and helped our listing agent coordinate that contract, too. At the time, I was an elementary school teacher. Not long after this second move, I started thinking about a career in real estate. It confused me actually. I'd never identified with the real estate agent image. Yet, my friends and family were already asking me for advice. I shared my experience and ideas for how to buy and sell. I saw an opportunity to help people and to make a difference.
Real estate was (and is) sacred to me. It is business, of course. And to offer value as a realtor demands business skills like market savvy, a sharp intellect, and negotiation skills. It's also the business of home. And home is a basic, fundamental human need. The business of home requires honor, reverence, depth, and sincere care.
My clients have called me a marketing maven. Their home doula. The velvet hammer. The contract ninja. All of these hats fit. And I recently added one more to my toolkit and became a certified transformational coach.
My original quest for home was to provide for myself and for my baby. Then my quest was to help my growing family move up to more space for our children and into a neighborhood we loved. And since then, for seventeen years, I've guided and supported hundreds of families so they can do the same.
Would you say it's been a smooth road, and if not what are some of the biggest challenges you've faced along the way?
The biggest challenge for me has been starting over. My career began in St. Louis, MO where my husband and I had grown up. I was licensed in 2006. Over the next 10 years, I grew my business and became a go-to agent in St. Louis. I established a team and systems to support my clients, and I sold close to 100 homes/year.
We moved to Orange County for my husband's career in 2016, and I knew exactly zero people in town. Not only this, but the escrow process for selling a home is entirely different in California.
For me, confidence comes from skill and know-how. I'm not one to learn on the fly. I ask questions. I need to understand all sides of things. I spent years studying the California process and contracts and learning the area before offering my services as an agent here.
It was hard. I felt like I was spinning my wheels. I knew what I'm capable of, but I was back at square 1. This was as much a mindset challenge as it was an intellectual one. And – I'm doing it. I'm building momentum. My client base is growing. The Instagram DMs and calls are coming in from people I've never met asking to work with me. This is the best feeling ever.
Thanks – so what else should our readers know about your work and what you're currently focused on?
I'm a real estate agent. I help busy families move up in Orange County's coastal communities with my "Hello!-Goodbye." plan.
When you buy and sell a home, there are challenges. It's a complex process. And it's especially challenging when you're working and managing kids at home. And then the pets, too! You gotta remember to take care of the furbabies, too!
This inspired me to write my "Hello!-Goodbye." plan to help people see the map between where they are now and where they want to go. I looked at the areas that are most challenging for my clients.
For example, many people avoid looking at their money. Or they don't want to talk to a lender or their banker because they really just don't want to talk about money. They're so busy working and taking care of the family they can hardly spare the time to find out how much they can invest in a new home. They figure they'll do it later when they see a house they want to buy.
Step 2 of my "Hello!-Goodbye." process is to EAT THE MONEY FROG.
Mark Twain wrote, "If it's your job to eat a frog, it's best to do it first thing in the morning. And if it's your job to eat two frogs, it's best to eat the biggest one first."
When moving, "eating the frog" means doing the grunt work nobody likes to do upfront. I partner with amazing lenders and banks. And I help my clients eat the money frog! Then, they can enjoy home shopping knowing they're prepared.
Every family's situation is unique. We tailor the five steps of my plan to work best for you. We also put our best foot forward and intend to have fun. Moving – it can be fun, you know!
Do you have any memories from childhood that you can share with us?
Oh gosh, I remember the smell of the piece of paper. It was a home flyer. It smelled something between the scent of a fresh dollar bill and regular old paper. Xerox copies had a burnt ink smell back then.⁠ My parents showed my siblings and me the listing sheet with a small black and white photo of the front of the house and they described our new future.⁠ ⁠
My body was abuzz with excitement. I found the whole idea to be wildly unusual. The mystery of new beginnings!⁠⁠ It must have been 1987. I was in 6th grade.⁠
I poured over every feature described on the flyer. Year built. Floor-type. Rooms. Their dimensions. I concentrated to translate odd abbreviations and property details.⁠⁠ I also remember the experience of going to our empty new home before we moved in. We raked a big backyard of new-to-us crispy, brown fall leaves.⁠
I remember locking up and leaving the house empty again to go back home with plans to return soon with our stuff.⁠ That in-between time is odd. It's an odd experience at any age! Right?⁠
I remember why my parents said we were moving. They wanted more space and a bigger backyard. The commute to my dad's office was taking too long, and they wanted to be closer to our schools.⁠
It's funny how life unfolds. The questions my parents wrestled with back then are the same questions I help my clients solve today. I still love honing in on the details of a home and helping my clients read and understand those details, too. I love the search and the process of moving.
I love writing the story about a home and target marketing to cast the net just right so that it brings the best buyer forward. And I love making sure i's are dotted and t's are crossed. I love witnessing the transformation from one chapter of life to the next.
And it all goes back to the smell of that piece of paper I'll never forget!
Contact Info: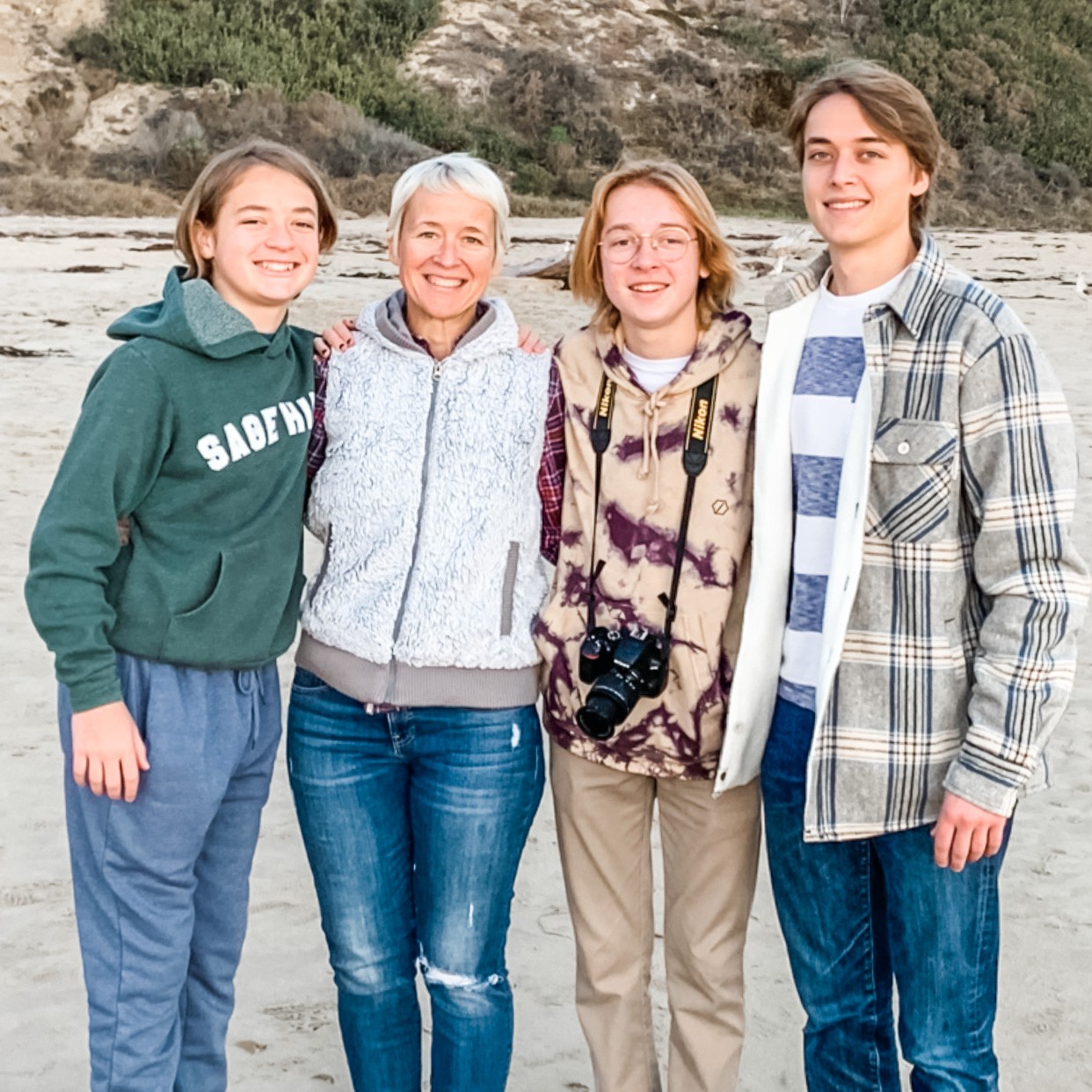 Suggest a Story:
 VoyageLA is built on recommendations from the community; it's how we uncover hidden gems, so if you or someone you know deserves recognition please let us know 
here.