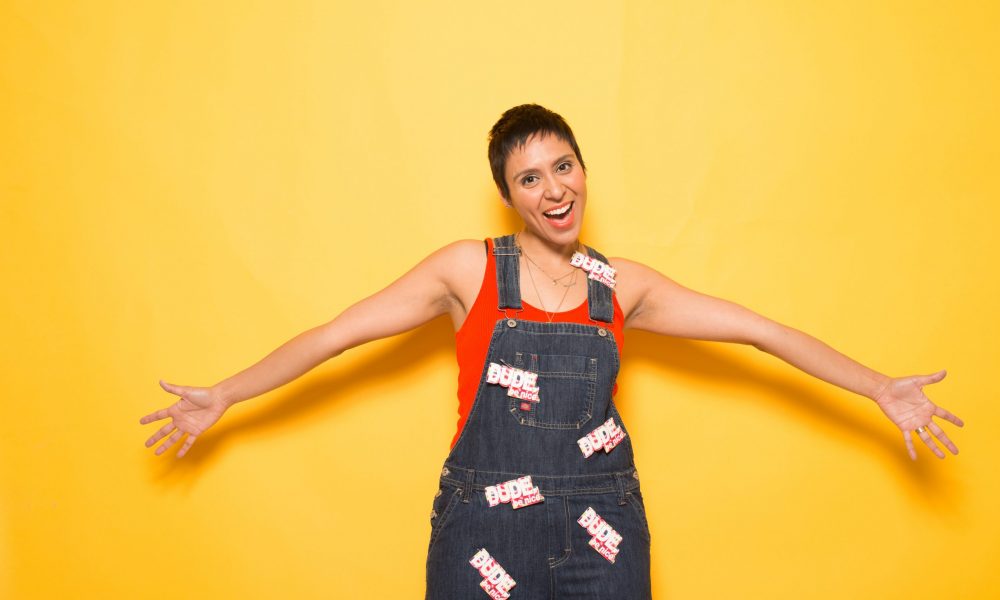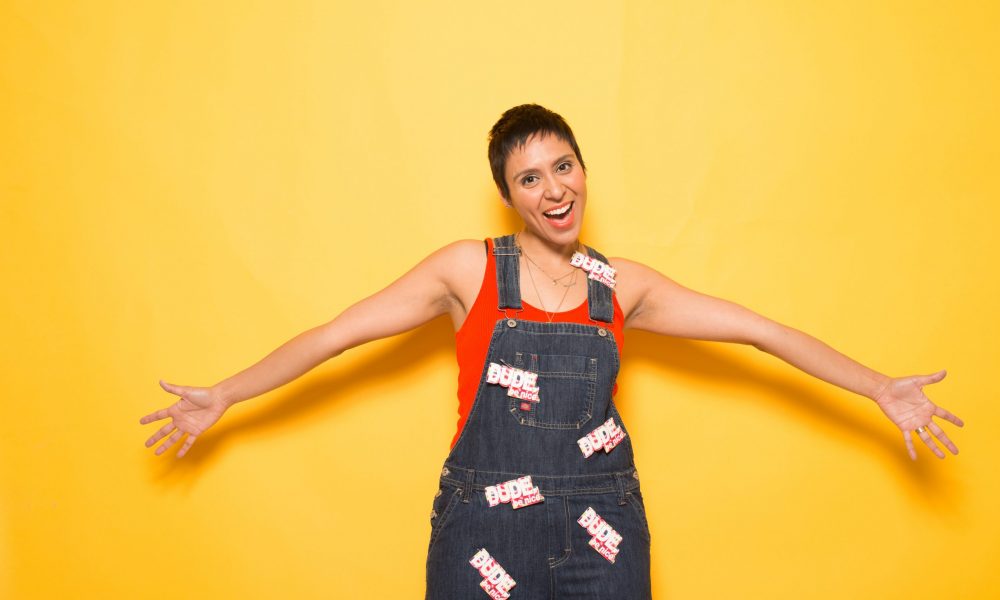 Today we'd like to introduce you to Veronica Tolentino.
Veronica, can you briefly walk us through your story – how you started and how you got to where you are today.
After graduating college from Whittier College in 2006, I immediately went into the non-profit sector. I thought my career would remain in the non-profit industry. I've always been someone who cares deeply about the community and affecting positive social change. After almost ten years doing fundraising for several different organizations serving a variety of populations, I changed careers. From a young age, I have been fascinated by self-expression through personal style. I had just turned 30, got married and I felt it was no or never for a big change. I quit my job and started over in fashion. I took an internship with a sustainable women's line making a fraction of my old salary working alongside current and recent college grads. When my internship ended, I jumped around a bit within the industry taking positions in both retail and at the corp office of a major retailer. At the time, an old friend of mine (who I went to HS with) had just started dude. be nice, a company focused on inspiring people to treat themselves and others better. We chatted about how I might be able to help with the company. At the time, it was heavily apparel focused, so I spent lots of time consulting on creative direction.
Shortly after, I was brought on as Marketing Director. In a short time, I was given equity in the business and promoted to President. We began creating thoughtful media to bring our brand to life in a new way. The media transformed our brand in incredible ways. We have since shifted fully into digital media and identify as a digital media company inspiring a more conscious culture. I have been the force behind our branding + consciousness for nearly four years. Leading (and pushing) the team toward inclusion + representation in every aspect of their business. People can join the movement by watching our social-minded video content, wearing our ethically made apparel merchandise and downloading our free transformative tools to inspire action in your communities. $1 from every apparel merch sale is donated to Active Minds, a national non-profit organization changing the conversation around mental health for students across the country. My father was raised in the projects in East LA and has always been a hustler, go-getter and community oriented. My mother came to the US with her family from Mexico at a young age.
I've always been inspired by my parent's ambition and their belief that hard work, confidence in your abilities and humility are a magical combination. It's no surprise that four years into building dude. Be nice, I've begun building another small business in my free time (what free time?). I am building a personal and professional network called Loud for female-identifying folks that has a strong emphasis on inclusion. Womxn from different cultural backgrounds but also socio-economic and education levels. I'd like to help give women the tools they need to succeed and also offer education that will allow us to lift each other up. I just celebrated my five year wedding anniversary and my husband and I have a two-year-old. We live in my hometown of Whittier, CA. Life is wild and imperfect. It's a dream to build businesses that serve our communities in different yet impactful ways.
Overall, has it been relatively smooth? If not, what were some of the struggles along the way?
The journey to this point has been very difficult at times. There are new challenges around every corner. The greatest lesson I've learned in my adulthood is that none of us really knows what we're doing. I grew up with three brothers, I was the only girl. I had to have thick skin in my household. I've always been sensitive but very strong-willed. A year into college, I was in a relationship with a partner who was emotionally and physically abusive. It was a dark time. I survived. The darkest times in my life have transformed me in profound ways. I don't want to glorify scary moments, it's just that we aren't always aware of what we're capable of until we're tested. And sometimes, those tests are terrifying and unexpected. I've experienced people expecting less of me because I'm a brown woman. I've at times felt as though I've had to prove I belong and am worthy of people's respect. I have felt lost and unsure of myself. I've learned that working on myself is the key to unlocking my greatest potential. How can I be better if I don't know truly understand how I'm first holding myself back? I lean on time alone with myself, good friends, supportive family, and an awesome therapist. Only advice I can give to young women is to spend time learning about you. Self-reflection is very, very important. We hold the power in our hands when often we're looking outside of ourselves for that validation or joy. Read (a lot!), talk to other women, learn about people who come from different backgrounds. Find passion for empathy. The other unnecessary things will fall away and make the nastier stuff just a drop easier to navigate.
Please tell us about dude. be nice and Loud.
dude. be nice is a digital media company inspiring a more conscious culture. We are proud of promoting kindness and open-mindedness in the content we create. Folks all over the country have made dude. be nice a permanent part of their culture. People can join the movement by watching our social-minded video content, wearing our ethically made products and downloading our free transformative tools to inspire action in your communities. Our apparel merchandise is produced in an ethical and fair wage factory in South LA. $1 from every apparel product sale is donated to Active Minds, a national non-profit organization changing the conversation around mental health for students across the country. What has always set us apart is that we're highlighting people in our video content that might not otherwise be recognized. That is special.
Loud is very new and launching Winter 2018. It's exciting to start a new project while simultaneously building dude. be nice. I hope Loud will fill a void for women in the professional networking industry. I'd like to revolutionize it in some way by creating a space that is inclusive and offers tools and education to improve women's personal and professional lives. I'd like it to be focused on real-life interactions in safe, comfortable and welcoming spaces. There aren't many women of color founded networks like this. This effort is about more than me, it's much larger than me and it's a lot of responsibility. I want to talk to and learn from as many women as I can so that I can build a business that truly serves them.
There's a wealth of academic research that suggests that lack of mentors and networking opportunities for women has materially affected the number of women in leadership roles. Smart organizations and industry leaders are working to change this, but in the meantime, do you have any advice for finding a mentor and building a network?
Mentorship can come from the most unexpected places. It may not always be a person who is an older, experienced professional from your specific industry. If we can be open to unconventional mentorships, we can find them a bit easier. Sometimes, our life experiences give us wisdom beyond our years. It does take getting out of our comfort zone and attending events and looking for opportunities to connect. Which is why I'm so excited to build Loud. I'm looking forward to being a connector and supporting women in finding opportunities. Networking is sometimes exhausting or awkward even for me! If you're really hungry for opportunity, make it a point to participate in at least one event a month or find a networking group you feel good about! There are several groups who exist mostly online which is nice for someone who isn't able to attend events due to schedule or childcare limitations. If there is a person you look up to, send them a kind message or email. If they can help you answer a specific question, ask them to coffee and let them know how they might be able to help you. Most people are generally happy to help, schedule permitting. I've been of the mindset that the worst someone can tell you is "no." Then, you keep it moving. On to the next one. It doesn't hurt to ask, especially if you're asking from a thoughtful place. A kind and genuine approach are important.
Contact Info:
Image Credit:
Sami Drasin
Getting in touch: VoyageLA is built on recommendations from the community; it's how we uncover hidden gems, so if you know someone who deserves recognition please let us know here.