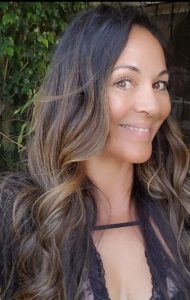 Today we'd like to introduce you to Tamarah Angelique Logan.
Tamarah Angelique, can you briefly walk us through your story – how you started and how you got to where you are today.
I started out wanting to be a model and actress. By the time I was 19, I was on my own going to college working three jobs taking acting classes and booking modeling/acting jobs when I could.
I met the love of my life a fellow actor at 23 and got married. We each had our careers dreams and goals that we were pursuing our life was great and our future looked bright.
But life has a way of shaking things up no matter how prepared or how much planning is done.
I shot my last commercial at 26. I was frustrated with my modeling and acting career so I decided to pursue a career in fine dining.
I had worked in restaurants part time for almost ten years when I decided to go full time and pursue a career in management. I became a manager at one of Giorgio Armani's restaurants Armani cafe in Beverly Hills. I worked there for almost 6 years. Until they decided to close and reorganize the restaurant for a year.
I found out we were pregnant during that year off. Which for most couples would be great but for us, it wasn't. We had planned not to have a family so to be eight years into our marriage and be totally surprised was a shocker!
I had just gone through a cervical cancer scare so when we found out we were now pregnant, we didn't know what to think. We were grateful I was cancer free but were also completely blindsided by the news we were pregnant!
We embraced the new path that was unfolding for us totally scared and clueless. Little did we know, my husband would be faced with back to back industry strikes and not work for almost 18 months right after we had our first child. Little did we know, we would have a second surprise pregnancy eight years after our first and now be a family of four. Little did we know, I would go through two more career changes and then finally decide to be a stay at home mom after our second child was born and live on just one income. Little did we know, we would become entrepreneurs working for ourselves. Little did we know…
I've learned a lot through the years and have had plenty of ups and downs and life lessons to share. That's where my journey began to where I am now. A writer and personal lifestyle blogger. I am a mindful self-care, self-love advocate. My mission is to create a community rooted in Conscious Positive Living.
When I chose to stay home and give up my income, it wasn't easy! It was challenging for us learning to live the entrepreneurial life at first. There were times I didn't recognize myself or my life. This wasn't my plan. I thought to myself how did I get here and why?
I've spent the last 12 years as a stay at home mom and entrepreneur. At first, I fumbled. I was lost not knowing what to do, who was I without regular work or an actual career?
I slowly went back to my roots of whole mind body soul care. I started to journal again exercise regularly again meditate again and slowly, little by little, I found myself. Through lots of self-love and tons of self-care, I found my happiness again. I had never really lost it I had just forgotten how to be happy. I gave myself permission to be happy with my imperfect life and I hope to inspire others to do the same.
Great, so let's dig a little deeper into the story – has it been an easy path overall and if not, what were the challenges you've had to overcome?
My life has definitely not been smooth. I really don't think anyone's life is always smooth. I think we have moments of smooth and moments of rocky. One of my favorite life quotes is a mindful quote…
"Mindfulness is simply being aware of what is happening right now without wishing it were different enjoying the pleasant without holding on when it changes (which it will) being with the unpleasant without fearing it will always be this way (which it won't)."
~ James Baraz
I started my life out with one plan and learned that there may need to be more than one plan maybe two plans or three or however many it takes.
I've had health scares career changes and I lost my dad way too early.
I've learned that I will be ok and that it's ok to go through tough times its part of life.
I've learned to never lose hope or faith in the good in life.
I've learned that it's ok to be a happy positive person.
I've learned it's ok to be different.
I've learned the value in staying true to myself and being authentically me.
The advice I give my 21-year-old daughter is to live! Work smart and hard. Follow your bliss. Pursue your dreams. Know that life is not perfect you are not perfect and that is perfectly ok. Life is amazing life is challenging life does not always go the way you want it to and that is ok. Love yourself all of you. Even the parts of you-you want to hate. Love all of you. Love your life and if for some reason, you don't change the things you can and let go of the things you can't change. Focus on the good in life and the good in your life. There will always be bad in life and sometimes there will be bad in your life. Move through it as best you can. Don't focus on it and don't let it define you. Everyone makes mistakes it's how you choose to deal with the mistakes that matter. It's not always how you start but how you finish. Finish happy.
Please tell us about your work.
I'm a writer and personal lifestyle blogger. I'm a positive happy person and I live a simple mindful lifestyle I'm a:
Wife
Mom of two
Fitfoodie⠀⠀⠀⠀⠀⠀⠀⠀⠀
Health Nut⠀⠀⠀⠀⠀⠀⠀⠀⠀
Homeschooler⠀⠀⠀⠀⠀⠀⠀⠀⠀
Mompreneur⠀⠀⠀⠀⠀⠀⠀⠀⠀
Student⠀⠀⠀⠀⠀⠀⠀⠀⠀
Lover of life⠀⠀⠀⠀⠀⠀⠀⠀⠀⠀
I share daily fitness and health tips self-care tools family recipes fun food dining out mom life wife life family life mompreneur life and everything in between with undertones of Conscious Positive Living which is basically what my blog 4LOGANSRUN is all about.
My most recent blog "Actor's Wife Actor's Life" – is a 3 part story spanning the soon to be 30 years of my marriage.
Part I – How We Met and the first 10 years.
Part II – The Strikes and Surviving the Aftermath + My 3rd Career change & Baby #2
Are both up on my site now.
Part III – Learning to Master Life on One Income and Owning the Alternative Entrepreneurial lifestyle
… will be on the blog soon.
It's my story on living with and being married to an actor and the lifestyle we live. I share about our soon to be 30 years of marriage life, the changes, challenges, successes, failures, love, and loss. All the while building a life we love and a life I'm grateful for.
Often it feels as if the media, by and large, is only focused on the obstacles faced by women, but we feel it's important to also look for the opportunities. In your view, are there opportunities that you see that women are particularly well positioned for?
As a middle-aged woman, I've experienced a lot of challenges throughout my life. As a model and actress as a female restauranteur as a realtor as a mom and as an entrepreneur. I've been objectified, I've been paid less just for being a woman, I've been told no just because I'm a woman, and I've been told I can't more times than I can remember.
There are always going to be challenges for women for that matter for anyone.
Are we dealing with and facing the same challenges women did say 50 years ago or 100 years ago yes and no.
We've gained a lot of independence respect and success through the years as women. And to me, that's where the problem is when we segregate and say "like women."
If a person shows up does the job and gets paid differently just because one is a man and one is a woman is a major problem. It's been that way and it may very well continue to be that way. Until women and men are treated equally, really until all humans are treated equally, until then this mentality may never change.
That said, women have more opportunity now than ever before.
We are uniting more than ever. And women are empowering women more than ever.
We are taking over in many areas of the workforce and excelling in our careers like never before.
We are embracing our womanhood we are no longer trying to prove ourselves or say sorry for being who we are. We are creating our space carving out our paths and we are doing so without the fear and worry of are we "good enough" anymore. We are good enough. We are worthy. We are women. Strong smart and beautiful.
Contact Info:

Image Credit:
4LOGANSRUN
Getting in touch: VoyageLA is built on recommendations from the community; it's how we uncover hidden gems, so if you know someone who deserves recognition please let us know here.