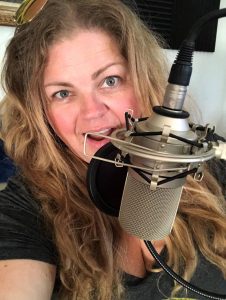 Today we'd like to introduce you to Raven Krogstad.
Raven, can you briefly walk us through your story – how you started and how you got to where you are today.
I have always been interested in the arts as I grew up traveling all over the country selling art my parents and I made for a living. I think I was born with a paintbrush in my hand. I jumped into acting and singing at the very young age of four. I would perform in plays and musicals at my church and school. When my mom fell dangerously ill, I got a "real job" working at Universal Studios in Orlando, FL which I absolutely loved! I got into a car accident and then was afraid to drive so, I started my own business with my ex-husband and didn't do much in a creative way for years. I then craved the art life again. I responded to an ad on Craigslist for an Art Directors assistant, by the time I left that project, I was an Associate Producer and had my hand in every aspect of the film. I worked in every department from crafty (set catering for our small crew), to camera, sound and even learned how to edit. I am very grateful for that experience as it gave me the realization I knew I needed to be a Director of a film. Eventually, that evolved into acting, writing and producing as well. We moved to a couple of different states with the ultimate goal of moving to Los Angeles. Which finally came to fruition in 2014. I have made some amazing connections, networked and worked my butt off to make some great things happen.
Now, I have started my own production company (mainly on paper) and would like to create my own content. I am currently making small projects and writing some feature-length very odd concept films. I am very excited about the future for myself and my team. We all contribute to make this work, and I couldn't do this without any of them.
I hope within the next year to be in the production of my first feature film. (either written or directed by me.) Every time I question if I want to keep going, I think about the day I came out here to pursue a dream, and my mom was not in the best health, but she was stable. She passed away in March of 2015, two weeks after I went to visit her in the hospital. I cannot leave until I achieve what I came here to do. So overcoming the trials and traps of the film industry has been a great learning experience and I have no regrets. I will continue to move forward.
Please tell us about Watersign Entertainment.
I am a director, writer, actress, producer and I started as a production designer. I have many other talents as well, but I use them as needed. I can only do so much at once. But, I hate to always use "I." The team in which I work with has been the backbone of the work we have been able to accomplish.
The production company I started is called Watersign Entertainment (WE) "Together "WE" can accomplish anything." I always want to mentor those that truly wish to learn more about the industry, and they have to be serious. Time is a valuable commodity we never get back, so I do have to be selective of those that wish to learn more. If a reader sees this and wishes to reach out to me, I welcome it, but, they better be serious. I have created an IG character/influencer that has built up the following in one year from 100 followers to 18.1k followers and growing. I encourage body positivity as I a not a thin gal. We are all beautiful, and I believe we just have to believe it ourselves, and that's really all that matters. The world will see the confidence and act accordingly. I am a case in point. I am building this character Natasha Kradnikov online as I am also writing a film revolving around the character. I am over halfway through the script and hope to be in production on that film within the next year or two.
Overall, has it been relatively smooth? If not, what were some of the struggles along the way?
Taking on a role in an industry that has been predominantly dominated by men has had its challenges, but I am here to stay. It takes a lot of persistence, tenacity, and guts to do what I do. You have to be innovative, unique and sometimes, friends or even family will leave because they think you aren't going to make it. But, that's when you go harder and stronger. I am not here to prove any one of my abilities. They will prove themselves. I am here to make a difference and to make changes I would like to see in the industry. So as I have told some of my haters, if you don't know my business plan, stay out of it.
If you are just starting in this industry, find some people you trust and stick with them. Follow your gut and intuition. In most cases, you can rely on that more than anything else. Don't back down, but also don't be cocky. Constantly learn and hone your craft. You will never be a master, but you can come pretty damn close, and if you always keep your learning hat on, you will only become more of a superpower that no one can deny.
Are there any apps, books, podcasts or other resources that you've benefited from using?
I have not been to college to do what I do. There are so many schools, and colleges have popped up in production, and I am thankful I got to learn hands on. That is the best way for me personally. Plus, I did not incur any debt. My advice for those that wish to go to college for a film is basically do what is best for you, but I would suggest considering a degree in business or marketing both of which are extremely important in this industry. Probably more so than the technical part. The technical part you can learn from workshops, internships, youtube, etc. There are no limits here. Also, I recommend taking a cinema history course. It has helped me hone my skills of storytelling a lot. Networking is another must. You can make a movie by yourself but, it will look like crap. Most of my best friends work in some aspect of the film. The ones that don't are either fascinated by it or bored. So most of the time I'm working on multiple projects constantly. I rarely take a break.
Contact Info:
Image Credit:
Raven Krogstad
Getting in touch: VoyageLA is built on recommendations from the community; it's how we uncover hidden gems, so if you know someone who deserves recognition please let us know here.