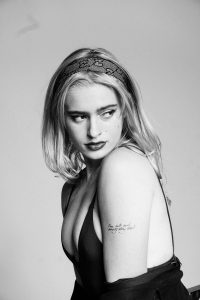 Today we'd like to introduce you to Phia Blomquist.
Hi Phia, it's an honor to have you on the platform. Thanks for taking the time to share your story with us – to start maybe you can share some of your backstory with our readers?
I moved back to LA to after growing up in Chicago to pursue directing under the wing of my film mentor, David Wagner. This led to interning at Mathew Cullen and Guillermo del Toro's film production company, Mirada Studios, which led to a paid permalance creative position there.
At the same time, modeling and acting in music videos and campaigns started to pop off for me which led to a now four years long partnership with a celebrity colorist, Jafra Bryant. Then I sliced my cornea when an ice chip from struggling with a frozen shut tupperware flew into my eye so I had wear an eyepatch, which caught the eye of photographer Damon Loble, connected to Arsenic Magazine, ultimately leading to a partnership with them as well. While I wasn't at film school, at my film production job, modeling, or acting, I was getting commissioned to paint canvases, which led to getting commissioned to paint shoes, bags, skateboards, and even a keyboard. Like every other artist in LA, you could also find me running food, serving, and hosting at a couple of restaurants in Santa Monica and the Hollywood Roosevelt Hotel, as well as working retail at Louis Vuitton. Then I got accepted into Loyola Marymount University's film school for their screenwriting program. Then COVID hit and campus closed so I picked up bikini bodybuilding, started getting more serious about recording music, and picked up tattooing. Now here I am 5 1/2 years after my move back to LA making money modeling, acting, painting, tattooing, and treatment writing with vocal features on three tracks and three gold medals from my first bodybuilding competition.
Would you say it's been a smooth road, and if not what are some of the biggest challenges you've faced along the way?
I don't think there's any smooth road to being an artist. There's no formula to follow. There's no assurance of financial gain. There's no guarantee of respect. There's a lot of passion though. That's for sure, however, passion goes both ways. There's nothing that can prepare you for what it's like to befriend or love an artist, much less be an artist, as an adult. It's not the same as when we were kids. All of that passion that brews in artistic kids which was once contained by parents now spills over freely. That free passion is a lot to handle. It can be so beautiful, but it can be equally painful. Nobody prepares you for what life is like when you feel so hard. I've been an overthinker my whole life. It was really overwhelming as a kid so I adopted this persona that didn't care, didn't cry and was overall emotionally detached. Once I moved here and started immersing myself in LA's artistic world, I faced the worst part of befriending artists- losing them. I'd never had someone so successful and so talented slip through my fingers without any warning. I didn't understand how someone could shine so bright and put out their own flame. It broke me. The persona I'd lived my whole life in shattered.

All of a sudden, I felt everything in the greatest intensity I could imagine. It felt like a lifetime of tears broke through my floodgates. I thought they'd stop over time, but they never did. I've been different ever since. The same person who never bothered to speak to anyone in any of my college classes was now staying late after every class to let my classmates, whose names I had never even bothered to learn before, vent and cry to me. At the time, I was beyond frustrated. I couldn't control the way my body reacted like I'd always done. I hated it. But then after some time, I experienced something absolutely intoxicating- what love felt like as this intensely feeling new being. It was the first time I'd been in love since I lost control of my emotions. Not only did I fall in love, but I fell in love with an artist. He reached me in a way no one ever had before and he did what I believed was impossible- teaching me to love myself again. I felt braver and more adventurous than I ever had. Had I not met him, I don't know that I would've tried several of the trades I now identify with. What we've introduced to each other has turned into getting paid to collaborate on paintings and tattoos, as well as getting booked for modeling and acting jobs together. I never would have dreamed of getting to be a part of such a team. If there's a smooth perspective of my road to becoming the artist I am today, he is the reason for it. Whatever this road is, I'm just so grateful to finally feel it.
Thanks – so what else should our readers know about your work and what you're currently focused on?
I'm a model, actor, tattoo artist, treatment writer, bodybuilder, singer, commissioned painter specializing in canvases, custom shoes, bags, skateboards, and even a keyboard. I've got to admit- this is the first time I've identified as all of these things at once. I've had mixed feelings about claiming all of these titles. It sounds weird even writing it. I didn't want to not be taken seriously, but I guess that's imposter syndrome for you. I've recently come to accept that while I'm not a master of any of my million trades, I am a master trier! I believe that's what sets me apart from others. I'm fortunate enough to have an incredibly supportive mother, father, brother, and boyfriend who would probably excommunicate me if I limited myself to something practical. I've certainly taken advantage of that, as can be seen in the eight hair colors I have experimented with in the past few years (thank you, Jafra!) I don't know what MY thing is yet, maybe I never will, but I do know that I'm happy and discovering the vastness of my identity much faster than I ever would have anticipated. I get to watch my trades bleed into each other and work with insanely talented up and coming individuals in unique ways because I'm not limited to one art form. I might start my day at with a 3 hour training session at 4am with my bodybuilding coach, then rush back to finish painting a commission before my shoot starts, then squeeze a few tattoo appointments in before recording a song with my boyfriend, and then the next day go to school and go to work- and that's okay! I've been more successful than I ever would have hoped for this early on in each of the trades I've picked up and there's something to be proud of in that. This is just the beginning for me and I don't want to control what could lie ahead. I just want to do whatever will make it possible for me to never have to give up exploring.
Have you learned any interesting or important lessons due to the Covid-19 Crisis?
The Covid-19 Crisis had me incomeless for seven months until I finally received my unemployment money. Thankfully my boyfriend covered me during that time but had it not been for him and my family, I don't know what I would've done. It really humbled me. While I struggled due to losing my job and my school shutting down campus, the isolation started to separate me from the fear of societal and self-judgment that I'd become so accustomed to. I've tried to be skinny and fight off my naturally muscular build for as long as I can remember. However, thanks to an amazing coach, Nick Stellate, who convinced me by telling me that seeing as we're in the middle of a lockdown and no one was going to be seeing me for a long time anyway so I might as well try, I picked up bikini bodybuilding. I ended up winning three gold medals in all three categories I competed in for my first show, the 2020 Natural Bodybuilding Muscle Beach Competition.
I used to say I wanted to be a tattoo artist as a little girl, but I never tried to move forward with it. Now in less than a month, I'm more than 30 tattoos in and have started making money doing something 12 years old me would geek over. I don't think I ever even got the courage to tell one person I wanted to be a singer although I sang my heart out every day in my room. I'd lie and say I wanted to be a chef because I was so scared of someone telling me that I would never be singer. Thanks to only being surrounded by my boyfriend for a while, I momentarily forgot about what other people might think and started to give what he'd been pushing for so long a shot. Now we've got three songs almost completed together and I could not be more excited to finally share them. Maybe I won't even avoid all possible eye contact when it plays- who knows! Covid-19 muted a lot of judgment that I'd never made the effort to silence on my own before. For that, I am grateful.
Contact Info:
Email: phibloms@gmail.com
Instagram: @phibloms

Image Credits:
Andrew Quesada Shootwithx
Suggest a Story:
 VoyageLA is built on recommendations from the community; it's how we uncover hidden gems, so if you or someone you know deserves recognition please let us know 
here.