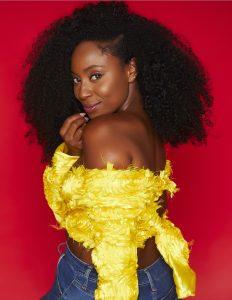 Today we'd like to introduce you to Norelle Simpson-Johnson.
Norelle, let's start with your story. We'd love to hear how you got started and how the journey has been so far.
Born and raised in Cleveland, Ohio, I grew up already knowing how to sing. lol My mother recalls stories, and I remember some very vividly, being around five years old, singing the likes of Sade's Smooth Operator. I had a very wide range of musical inspiration due to the music my mom listened to at home, from Sade to Arrested Development, to Alex Buugon. I didnt grow up in church or have much church influence. I just knew I had a natural gift and ability to sing, although growing up in high school, it wasn't necessarily my passion to pursue it.
I was inspired in the 9th grade by my softball coach Mr. Lindsey, to get into a choir and stay active in extracurricular activities (because I was having a challenging time in my adolescent years). So I obliged to stay out of trouble lol and that is when I started to take it (semi) seriously! From there, I would participate in local talent shows and showcases in the city, which is where I cultivated my gift, really. I would write and record records with some friends in here and there, one of which moved to Atlanta to pursue music. While there, he connected to some people and played the music we'd been working on, and one of the producers took a liking my voice! He was on tour with Blackstreet at the time and they had a stop in Cleveland, and he wanted to meet me! Thats kind of where it all started to come together.
My parents took me to the show, we met and I also met another bandmate of his, who I would keep in touch with, and who would be super instrumental in my journey!!! I had dreams of becoming an artist but no real tangible way to manifest it, so I continued with my studies, majoring in sociology at John Carroll University. During my senior year of college, I got an opportunity from the friend I'd kept in touch with, who was now the Musical Director for John Legend (Eugene "Man- Man Roberts). John Legend was having auditions for a background vocalist and he wanted me to come!!! Now how to get to NY, was the question! This is where the story gets really good lol. I was singing background for an artist from Cleveland by the name of Conya Doss.
Conya literally JUST so happened to have a gig in DC that same weekend, and JUST so happened to have plans to drive to NY after the gig! Alignment!!!! Lol Long story short, I rode to NY with Conya, stayed with a friend who was living in Brooklyn at the time, went to the audition, and got the gig!!!! I've been singing background every since! Lol So singing Background with John Legend was my first major gig, and from there through relationships built with other, more specifically Adam Blackstone and Rickey Minor, I've been blessed to have the opportunity to sing with Rihanna, Pharrell, Demi Lovato, Meghan Trainor, Alicia Keys, The Four on Fox, Masked Singer, The Grammys, The AMA's, American Idol, and more! I've also released projects of my own, and have collaborated and been featured on the Grammy Award Winning album "Ventura" by Anderson. Paak, and "Coloring Book" by Chance The Rapper.
Overall, has it been relatively smooth? If not, what were some of the struggles along the way?
Ahhhh smooth?!?!?! What is THAT!?!?! Lol! Short answer, NO! It wasn't an easy road at all, but to be honest, most of the trials came from my personal immaturity, not knowing myself fully or even going into these situations with a clear and concise goal! I was just going with the flow of it all, with no clear direction. I had many opportunities literally just placed in my lap that I could have taken advantage of, but with no clear direction, I took advantage of them and the fact that they came so easily to me. I won't say that I regret them because I needed to experience the personal disappointment and personal heartbreak that came from many of my own decisions.
If I had any advice to give young women starting their journey, I would strongly advise SELF LOVE, SELF ACCOUNTABILITY, SELF PERSEVERANCE, SELF RESPECT, and GRACE! It's so important to be intuned with yourself in all areas so that you have pure intentions when moving throughout your journey. Holding yourself accountable so that you can learn and grow and become the best version of yourself. When you love yourself and respect yourself, there are just some situations you won't engage in. Honoring yourself and your boundaries will be in the forefront of your mind, helping you to stay focused. Of course, none of us are without fault, that is where grace comes in. For yourself mostly and then for others. Allowing the ebbs and flows of life to push and encourage you to be great!!!!
Can you give our readers some background on your music?
I am singer/songwriter by profession for the past ten years, and will always have the passion for performing and singing, and may still do it (we'll see how Corona goes lol) but am in the process of starting graduate school to complete my studies in psychology to become a therapist/counselor. I have a heart for people, especially in areas where they are having trouble, and I want to be able to help those in need. Mental health is not something addressed in the black community, and I want to change that! So, that is the new journey I am embarking on! So I am not licensed yet, but all of my friends tell me I should be a life coach lol.
So I do consider that a specialty of mine, but as of NOW, I am known for my contribution to many of your favorite artists' live shows tours and albums! Continuously rising above trails and tribulations, I think, sets me apart from others!! Many people have come to me to tell me how inspired they are to go after their dreams and aspirations after seeing me consistently defeat all odds that may rise against me, coming out on top every time! So I think that is what sets me apart, and what I'm most proud of! Resilience!!!
Were there people and/or experiences you had in your childhood that you feel laid the foundation for your success?
Yes, I was always expected by my mother to exceed and to be the best in anything that I did, especially in school/ academics, and just over in life in general. So I've maintained that spirit of excellence in everything I do.
Contact Info:

Image Credit:
Okwa Andrews of Raw Image Solutions
Wesley Klain
Suggest a story: VoyageATL is built on recommendations from the community; it's how we uncover hidden gems, so if you or someone you know deserves recognition please let us know here.