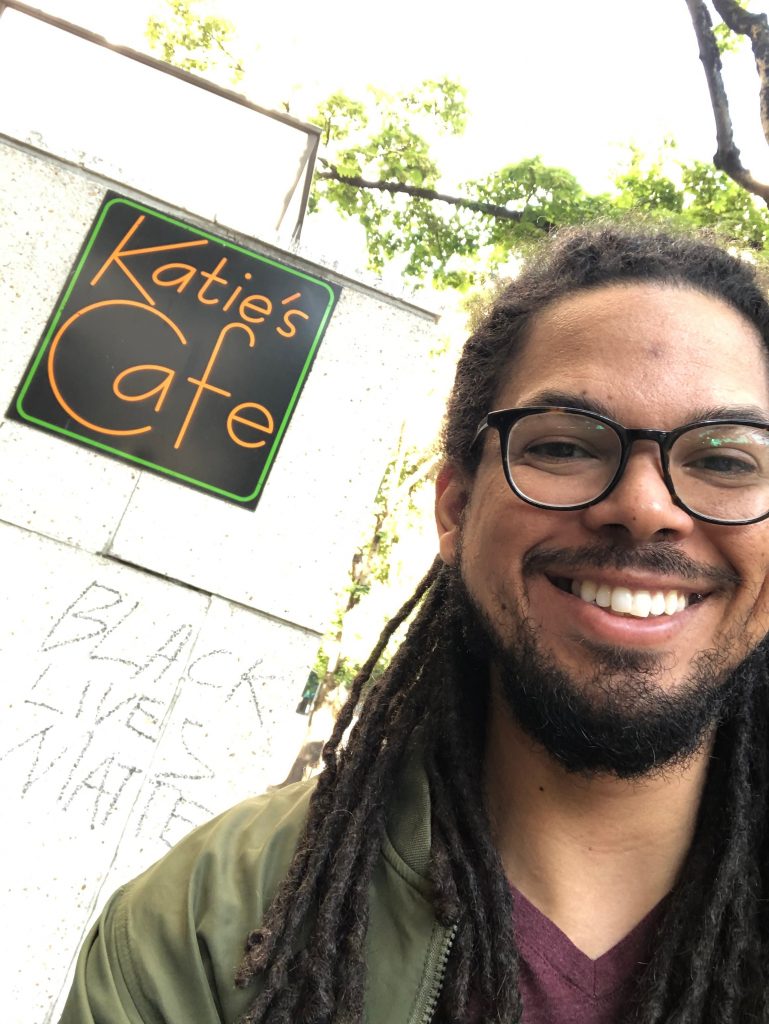 Today we'd like to introduce you to Noah Palacios.
Hi Noah, we're thrilled to have a chance to learn your story today. So, before we get into specifics, maybe you can briefly walk us through how you got to where you are today?
As a kid growing up in Fresno, I loved athletics. I was tried as many sports as possible until sports started to mimic my own life. Torn between the love of soccer, running the pitch, and throwing a nasty pitch to end the inning the two sports timelines started to collide. The time with my Mom was getting reduced each year as the demands of recreational sports became more demanding.

Ultimately, I was placed in what felt like a lose-lose as long as I tried to do both. So, at 14 years old I decided to go all-in on baseball, a game that would break jubilation, humbling heartbreak, and the opportunity to grow through the hate. As I grew my desire to attend the finest university on planet earth also grew. I recall being a 15-year-old freshman in the dead of winter at the Standford baseball camp. My hands I could barely feel, but every time the ball was hit I was ready. I made play after play with ease. I had enough confidence and skill to garner the attention of the lead recruiter at Standford. He said, "I'll be in contact." I left that camp with all the hope a budding baseball star could muster. I'd love to tell you that it lasted and I made it, but the trials were just beginning. In order to achieve my goal, I understood two things, 1. I needed to develop every aspect of my game as a ballplayer and 2. I needed straight A's. Standford is no joke!! I continued to excel both on the field and in the classroom, however, like the night to my day my community created animosity to match my progress. Away from my community, I was seen as a legitimate pro prospect while my community viewed me as someone who should give up the game altogether.
Looking back, it is easy to wonder what could have been had I developed my mental capacity to handle setbacks the same way I developed my physical capacity. The strange thing is as the messages jumbled around in my brain it was as if everything was placed on permanent halt. I stalled in my development, I did not have the language to convey my experience to anyone so I bore it alone. As a sophomore in high school, I received hate mail sent directly to my home. At the time I tried to pretend it did not matter, however, I isolated myself. I was unsure where to go, so I stuck with the vision of making it to Standford until I earned my first B+. In a single year, it seemed like what was possible was now improbable. The following year, the head recruiter had kept good on his word and appeared at a game to see me play. By then, the war for my mind was at an all-time high. I was in contact with 45 division one universities, yet my own coach thought I was not skilled enough to be on the field the day Stanford arrived. Although it was a bummer at the time, limited playing time was the least of my worries. The hate mail evolved into a full onslaught of hate crimes. The isolation became so intense I had no clue where to turn. I showed up, ran, worked on my game, gave my team max effort, and went home. I tried to become invisible. Sweatpants and a black hoody became my fashion statement.
When the tipping point of blatant hatred tilted to scales, I screamed with all my might. Someone heard the call. My sister, born to my mother while she was still in high school, called and made me an offer. She invited me to move in with her and her family. For the next year, I learned that people can be wonderful. I left behind an old school and made a temporary home at a new one. I was able to begin to recapture my promise. In my senior year, I earned All-American, student-athlete of the year, friends, and a scholarship to a small division II school. It was not Stanford, but I had been able to continue your journey in baseball. Unfortunately, my mental blocks were deep-set and held me back from really impacting the college ranks. I felt I had let my coach and team down by stagnating and decided to not play. As news spread, I was contacted and invited to continue to play with a community college. I accepted the invitation and began to make my way back into baseball progress. Like before, as I started to put it back together, the universe taught me the lesson of reaping and sowing. My ex-girlfriend contacted me one night to share with me that she was pregnant. At 21 years old, I walked away from baseball and into understanding my role.
After a stressful ordeal, my daughter defied the odds and was born a rock-solid survivor at 23-weeks gestation. She entered the world 1lb 5oz, but she was ready to reorder every single thing that I thought I understood. I thought I knew fear, but I met it the first time when a death sentence was placed on a life I had yet to meet. I thought I knew gentle, but I had yet to understand it until I refused to so much as take a photograph of my child in fear that the exposure could cause harm to her skin. I thought I understood family, yet it took a room full of people waiting for days for her to arrive for me to understand what being there is like. This was merely the beginning. I decided to be a dad first. I took a break from work and school to be fully present until the need to graduate and provide became imperative. I returned to school a full-time dad first. I would book all my classes on my partner's day off and at night when I could receive help. I started to learn that people are your team, not the ones you want to hide from. I earned my degree in English from the same school I had previously accepted my scholarship. I had yet to realize what I was doing but I was forming the very basis of my role as a teacher. Each day I spent with my daughter was a day I was preparing for a career as an educator. I was creating the patience and the grit required to connect. I was developing the presence and ability to communicate, I had to wait to understand what took and what just needed more time. There was never a hurry for her to learn something, rather the understanding that she could as long as I shared it with her. For four years, she was one of my only students until I came across my first class.
In the absence of baseball, I found the magic of Latin dancing. I went from the world's worst dancer to a very capable dancer. This time, my community saw the greatness that I could not. I was asked to teach a Bachata class. I agreed and excitedly delivered my first formal class. The level of elation from the experience can not really be explained, yet it unlocked a place of purpose that I had been missing. In an attempt to capture the progress, I began writing with a small group while learning and teaching bachata. My daughter was now five and ready for kindergarten. On the day I went to enroll her a series of universal coincidences occurred. The first thing that appeared on the radio after enrolling my child in school was a commercial for a teacher credential program. Later that day a person I had not heard from in some time sent a text message asking if I had started teaching. Just to be sure I did not miss the call, I opened my email to see an invitation to Pepperdine University's MA-ED program. In a foggy awareness, I clicked to attend. A few weeks later, I created an application to Pepperdine that defied the rational sense by submitting a poem. I felt that a poem, an integral part of my expression, was the best way to share how I could integrate into the Pepperdine community. On the day of my first role as groomsmen, I received an email that confirmed my life was changing.
Just as quickly as I had applied, I made the terrifying decision to leave everything that I had known, including my child, to become a full-time student. Just as before, I became a part to a whole. All of the people around me not conspired to assist me in achieving my dream, yes a Master's Degree from Pepperdine had literally been added to my dream board months before receiving the email and application confirmation. In the most trying year of my existence, I went from a full-time dad to the master and coach of my very own classroom. I had found my way to the place I needed to be. As I began my first year of teaching, I had visions of retirement. I felt that I had found my forever home and that I would never struggle again. As you can imagine, my lessons for life mastery have yet to be complete the results were trials that I never anticipated would occur. It was almost uncanny how many firsts I would have in my first year of teaching. I was now the infant being bombarded with lesson after lesson from the universe, the only difference was now when I created a mess I was responsible for creating the clean-up too. I can not express to you how much clean-up was necessary.
Somehow I survived that first year of teaching, although my role with my forever home did not. It is a bizarre place to be unemployed after finally venturing away from the nest. The humility of independence quickly teetered on the fear of I just gotta make it. In the process of just trying to make it, I relied heavily on my curiosity and desire to learn. I did not know it at the time, but it saved me in the end. I few short weeks after my first job concluded, I was attending every interview within a 150-mile radius of Orange. I ventured to places I did not know existed in efforts to continue working as a teacher. All of those wild interviews helped prepare me for an interview I created by raising my hand to attend a conference during the summer. At the conference, we were asked to present ideas created by a group. What felt like a million groups later my group was asked to present. My team members all looked at me as if to say, " If you do not speak, no one for this group is speaking." I recall looking at them and saying, "I can not do what these other groups are doing." "That's fine," they said. So I stood up and began to freestyle rap. The energy in the room that had become lifeless blasted with energy for just a few moments.
As quickly as it had begun it also died with the next group, however, after lunch on my desk was a business card and invitation to apply to a school for the next school year. The next school year came early after I had a job offer rescinded and began to shift my focus to substitute teaching. The same business card I had been given at this voluntary summer program was the same person I contacted about a long-term sub position. A position I was later awarded and became my second opportunity for a long-term interview. By now, I had learned to bring my whole self to my class. So I did. In the process, I was able to develop relationships with students as well as teachers on campus, and by the time my long-term sub position had ended, I was going to be missed. What sounds like it should be a happy ending and go happily ever after is not entirely the case. The growth process of developing as an individual and developing as the leader and coach of my classroom is an infinite game. I still look for opportunities to reflect grow and develop. I still bring anything and everything that I learn, question, or connect with to my students and invite them to question, consider, to grow, and to act.
Would you say it's been a smooth road, and if not what are some of the biggest challenges you've faced along the way?
It has not been a smooth road. As a child, I felt trapped in the middle of two worlds. I am my mom's third child, but my dad's first. My brother and I lived with my dad and the older I became the more I felt twisted by two alternative universes. I have learned that both of these wonderful people did everything they possibly could to love and support me every step of the way, however, It was certainly filled with strange twists and turns. The decision to be a full-time parent began with the horrifying statistics of a micro-preemie, that said, all the other twists and turns are learning to be a parent at a young age. Learning how to love someone without conditions. Learning how to lead me and to drop the expectations of what a free being should be. Learning to co-parent without the ties of a committed partnership. Learning to navigate being young, employed, attractive, and a single dad in an app-based dating world. Learning to forgive and to make decisions for the collective and not just myself. I have dealt with covert racism and blatant racism. I have learned lessons the hard way and the easy way. I have tried to do things all alone and found myself struggling and I have also learned to ask for help.
As you know, we're big fans of you and your work. For our readers who might not be as familiar what can you tell them about what you do?
The rest of the world would probably refer to me as a teacher, however, I am a Coach, a coach in the classroom. The medium in which I interact with my creators is English. I hold simple beliefs such as everyone can learn. We are unique. We all have a story to tell. I remind my students that they have the ability to write their own story, but if they decide not to pick up the pen a create their story, then someone is waiting in the wings ready to write it for them. I invite my students to create. I invite my students to question everything, especially me. I invite my students to think and to grow. I am often thrilled to hear when a student gets it. When they look back at what they just created and marvel at their own words. When I can create a space for them to look in the mirror to see a genius starring back at them that they forgot existed.
We all have a different way of looking at and defining success. How do you define success?
One definition of success is to have the confidence and conviction to be exactly who you are regardless of the situation or circumstance. Another form of success is to move from the uncomfortable stages of uncertainty to the confidence of certainty. For example, a baby is trying to learn to walk, but they stumble and fall. A few short years later, they have the certainty they can walk through all sorts of terrains without falling. Furthermore, success is the ability to craft your own vision and to walk in the direction of your vision daily. To have the patience to keep walking. To have the awareness to appreciate the process. To have the strength to endure setbacks. To have the humility to say thank you and to start again.
Contact Info:
Email: npalacios@samueliacademy.org
Suggest a Story:
 VoyageLA is built on recommendations from the community; it's how we uncover hidden gems, so if you or someone you know deserves recognition please let us know 
here.