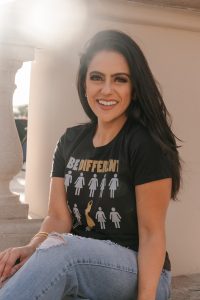 Today we'd like to introduce you to Marina Josiff.
Hi Marina, it's an honor to have you on the platform. Thanks for taking the time to share your story with us – to start maybe you can share some of your backstory with our readers?
Everyone calls me Mar. I am a 28 years old Egyptian American woman, born and raised in the South Bay area. I wasn't always a belly dancing instructor/health and fitness coach; however, belly dancing is in my blood. And the desire to help people with their health and fitness goals came at a later time in my life. I have been belly dancing since I was a little girl, never formally taught or professional trained. I can thank my aunts for teaching me everything I know. I went to college to get my Master's in Social Work, graduated in 2017 and I am currently a full-time Children's Social Worker; however, teaching belly dancing was always a passion of mine. I first started teaching choreography during High School at Narbonne for the Multi-cultural show. After I graduated HS, I went back for a couple of years for the same production, but then life got busy. During undergrad, I started to teach a belly dancing class on campus at Cal State Los Angeles and then shortly after was hired to teach a class at a private gym. But those classes were nothing like the ones I have now. Once again, because life was life, I stopped.
In 2018, I kept thinking about creating a belly dancing class. So I posted a poll on Instagram in May of 2018 asking my friends if they would be interested. People answered and showed interest, but I never followed through. I allowed my fear and doubt to get in the way of execution. Something kept pulling me to the idea so I knew I had to go for it. For the life of me, I was not able to shake the thought. I started to look into studios and the first studio I looked into, South Bay Dance Center, had the day and time I wanted to teach my class. I knew in that moment because it happened so effortlessly, it was meant to be. I posted a flyer on social media and on the day of my very first "Belly Dancing with Mar" class, August 3, 2018, I had five people show up. It was one of the happiest moments of my life. As time went by, my class grew. Now, I teach at Precision Dance Company on Saturday mornings at 10:30am. When I created BDWM, I had every intention on providing a fun class for people; never did I imagine that it would be what it is today.
I wanted to do something different and expose the beautiful Egyptian culture. But let me tell you, God had bigger plans for me and this class. He has truly used me as a vessel and opened so many doors for me. I went from teaching a belly dancing workout class and fun choreography classes to being hired to teach private parties (birthdays and bachelorette parties) and hired to create choreography for a competition team – Alma Latina in Lynwood. But it is deeper than all of that. I started to work on providing a safe space for women where they can release their stress freely; a space that challenges them; and a space that empowers and uplifts them. I am the instructor that will push your limits, help you believe in yourself, inspire you to become a better version of yourself and guide you to your greatest potential. I also help women transform their bodies and guide them during their weight loss journeys. My motto is "Me vs. Me" (I even got it on masks). It is a movement and a mindset and I remind my students of this every time I see them. I want them to live their lives and embark on their journeys without comparing themselves to other people and try their very best even when times get hard. My every intention, at this moment, is to change the lives of those who take my class.
As I always say, it is deeper than belly dancing and this is bigger than me. I know when people see the words "Belly Dancing with Mar," they assume that they need experience to take my class. Wrong! My class is designed for all ages and there is no experience required. All I ask is that my students come to class ready to have fun and get a good sweat in. I do not teach a typical belly dancing class. It is a full-body workout class with a twist of belly dancing, HIIT and cardio, with a great selection of Arabic music. We burn anywhere between 400-700 calories in the hour. And at the end of the class, I facilitate a grounding to recharge and regroup because I believe that mental health is so important. I do not believe I would have made it this far without being very clear about my purpose and being clear about the environment I wanted to create for those who sign up for my class. I wanted people to leave my class better than how they came in. This growth did not happen overnight. This took consistency, hard work and belief. I practice what I preach during my class and that is to believe in yourself and your ability to do whatever your heart desires. And that is what I did; I believed in myself and my ability. I never gave up and trusted the process. I am grateful that my class is loved and referred. And I cannot imagine my life without this.
I'm sure you wouldn't say it's been obstacle free, but so far would you say the journey have been a fairly smooth road?
As mentioned, finding a studio to teach at and creating a fun class was the easy part. Enhancing the intensity of the workout, creating a better playlist, etc., was also so easy and happened effortlessly. However, something in the beginning that I struggled with was not having a huge clientele, which was expected to a certain degree. It was family and friends who supported at first and on some days, it would only be one of them. I am going to be transparent here, the reason why that was a struggle was because I felt discouraged on those days, but I still showed up for that one person like I would show up for 25. The most recent struggle last year was the pandemic. The studio was shut down, but I could not stop conducting my classes. I did not want people to forget about BDWM. Although I did not want to teach online, I went for it anyway. There were so many technical difficulties at first, tried Facebook live, Instagram live, a group on Facebook, even an Instagram group. Then I finally jumped on zoom. At some point, the numbers decreased because people were over zoom, but even when that happened, I still kept going. The pandemic was not going to stop my momentum. Honestly, the only thing that made my journey not so smooth was my own fears and negative thoughts. The hard part was dealing with the negative self-talk and self-doubt, which held me back. I allowed my fear of thinking "this will never be successful," "no one is going to like this class" and "I cannot do this like other instructors" to stop me from even starting. Even when I started, I kept having those thoughts. I had to battle myself more days than not. Eventually, I had to get out of my own way and go for it. I had to remind myself that it was Me vs. Me.
Thanks for sharing that. So, maybe next you can tell us a bit more about your work?
My belly dancing business is not my full-time gig. I am a full-time Children's Social Worker and I specialize in child welfare. I fell in love with social work during undergrad and I loved it so much that I went back for my Master's degree. I was the first generation to go to college and obtain 2 degrees. My parents migrated from Cairo, Egypt to provide my siblings and I with better opportunities and I took advantage of that. I am so grateful for the path I took and the journey I am on now. When I was in college getting my MSW, I was proud of being my parent's first child to get a degree. I was proud of breaking barriers and following my dreams. But if you ask me today, what I am most proud of, I would tell you that I am proud of myself for never giving up when life got hard. Like many people, I have been through a lot of trials and tribulations, but none of which broke me down because I knew that when I woke up in the morning, I had to continue going and fulfilling my purpose. I set the standard for myself and went for it because WHY NOT?! I work full time and run two businesses on the side. I get off of work from my 9 to 5 and then put on my entrepreneur hat. I work about 14-16 hours a day, but luckily it does not always feel like work.
I also workout 4-5 times a week and still have a social life. Not to mention, I also have a fiancé. And I bring that up to say that it is so possible to have it all. I am proud that I am exceeding my own expectations, breaking generational curses and being my own kind of great. I am proud of my hard work and dedication to provide myself and my family with a life we never thought to imagine because we thought small. What sets me apart from others is my passion and my desire to change lives. I move with love and my intentions are pure. When an opportunity presents itself, I give it my all and I do not give up on me or it when things hit the fan. I have learned that life is what you make it, so I truly work hard on creating the life I know I deserve. I never used to think like this. As a matter of fact, I was a negative Nancy. But when I realized that I was the one in control of my own life, I truly took control. What also sets me apart is that everything I learn that has helped me grow and become successful, I am teaching others. I want everyone to win. I believe that my light will still shine even if I shine some on someone else.
We'd love to hear about how you think about risk taking?
You have to take risks. You have to get out of your comfort zone and do things that do not feel or look familiar to you in order to grow and get to different levels. I am not a big fan of taking risks because it is scary, but I know that taking them is necessary. I would not be here today if I did not do things that brought butterflies to my stomach. I know that anxiety is not a good feeling, but it is absolutely worth it when you go for it and something so magical happens. I look at it like this, if you do not go for it, you miss out on the opportunity of being and doing something great. When you do not take that risk, you are actually taking the risk of living in regret. You take the risk of not being successful, happy or at peace (or whatever your end goal is). So if you are willing to take the risk knowing that the outcome is negative, why would you not take the risk to having an amazing outcome? Creating BDWM was me taking a risk, a huge one at that because I did not know what I was doing. I knew nothing about building a business, growing a clientele or marketing. Even so, I still did it and look where I am today. Taking risks is 1000% worth it. What is the worst thing that can happen? You try it and it does not work out? That is fine because you can try again.
Pricing:
$11-15 dollars for in person classes (depending on the type of class).
$8-10 for zoom classes.
$25 for 21 Day Transformation Challenges
Contact Info:

Image Credits:
My photographer for professional shots is Elise Young. Instagram is @Elise.mak
Suggest a Story:
 VoyageLA is built on recommendations from the community; it's how we uncover hidden gems, so if you or someone you know deserves recognition please let us know 
here.