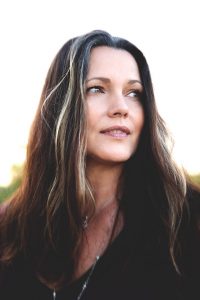 Today we'd like to introduce you to Kristen Eykel.
Hi Kristen, we're thrilled to have a chance to learn your story today. So, before we get into specifics, maybe you can briefly walk us through how you got to where you are today?
When I was a little girl, I dreamed of becoming a veterinarian, but to pay for college, I had to work. By 12 years old, I was a beauty queen, so as a teen, modeling was the greatest opportunity available to pay my way. It turned out that modeling took me much further than school ever could have. Over 60 countries later, the world we share has inspired understanding through the diversity of spirituality & honed my deep fascination for the healing ceremonies and practices of remarkable, ancient cultures. My media career evolved into becoming a top TV Commercial actress and Television host for decades, but my inner world was centered in North & South American Shamanism, Holy Fire Reiki, Hypnotherapy and Kundalini Yoga. Having my own lifestyle show on the Oprah Winfrey Network was like a dream come true, and yet when it ended, the desire to finally put into practice the deep knowledge and wisdom I had gleaned was too powerful to ignore. In 2012, I founded Sacred Circle Teachings to offer Mentorship, Coaching and Trainings to other people courageous enough to no longer follow the status quo – people ready to move beyond the surface of Insta-beauty and into the real heart of what makes life worth living. As well, numerous in-person certifications & online courses offer students around the globe more ways to awaken within a dedicated community who understands. My practice has offered me the opportunity to create six yoga DVDs, including the award-winning Yoga Journal best-seller, "Yoga for Your Pregnancy". My love for communication and writing led me to author "Yoga for Transformation- Beyond Asana into Awareness", and to contribute to numerous blogs, articles and magazines- from Yoga Journal, to Fit Pregnancy to Shape. I was awarded "Best of LA" by LA Weekly and loved to speak at conferences and teach at retreats worldwide. Most years find me sharing at events such as the Sedona Yoga Festival, Imagine Yoga/ Music Festival, Yoga Expo LA, Sat Nam Fest and the Science and NonDuality Conference in San Jose & Italy.
Interestingly, when Covid-19 hit, the urge to be online 100% had already been growing, and more of the Sacred Circle community than ever before was meeting there. This time of rapid evolution was like a great awakener. Not an easy taskmaster, nor one we may have imagined inviting, but the shift is actually occurring now faster than ever before. There is never going "back", we can only move ahead, and the online courses at Sacred Circle are designed to support this momentum. My journey led me to sit at the feet of wise teachers, and each has taught me that the greatest teacher of all actually lives within our heart. There is no Master higher than our own soul's essence. We are co-creating with Source in every single moment. To imagine otherwise is to live life from incessant challenge. Yet, we each have within us the equal opportunity to live with more grace. It is a privilege and an honor to hold space for so many who are desiring to dig deeper, shine brighter and share more readily. These are the qualities that our communities most need. Dignity, grace and joy are inherent when we arrest our beliefs of separation and embrace new tools for connection from the source of what truly matters. There's no greater calling in my mind than that of those who decide to hold space for others and teach.
We all face challenges, but looking back would you describe it as a relatively smooth road?
The greatest obstacles always seem to be the ones that are holdovers from the past! All of the "Will I fail?", "Am I good enough?" and "Will they like me?" scenarios are like cement dragging us down. I had to override my concerns about transitioning from the career of glamor in front of the camera to one where the heart and soul were made bare. Before vulnerability becomes strength., it can hurt like hell. The feeling of being lost and small is palpable in our culture and is crucial to overcome in order for change to take root. When my marriage ended and I left television, felt like I had lost everything in my life that I could count on. It was 100% up to me to re-invent what I wanted for my life. .It was crazy hard….but without that challenge, I could never have found the immense freedom of self-expression that was possible on the other side. As a Model, Actress and TV Host, my image and the needs of the studio was my all-encompassing focus. As a Spiritual Teacher, all of that had to evolve in order for me to find where my power truly resided.
Alright, so let's switch gears a bit and talk business. What should we know about your work?
Since the pandemic, there have obviously been many changes in all of our lives. One of the most profound has been the coming together of folks from all over the world to share support, insights and community via digital windows online. When we are all in the same boat, greater compassion and understanding opens us up, and those in my community who have joined in the practices we cultivate and share here at Sacred Circle felt not only less alone but even MORE connected in ways that they had not felt before we all went inside. As well, the Hypnotherapy and Meditation work, called Alternate Timeline Therapy that I have developed and share, has evolved as my students have evolved. More people are awakening to their gifts and intuition. More people are finding it difficult to suppress the aspects of themselves that they felt were outside of the mainstream before. When you feel inhibited in being who you are, you might start to make excuses and begin to hide your uniqueness in ways that begin to accumulate as stress, fears, phobias and crippling anxiety.
Through my unique techniques developed over the past 30 years, people discover an opportunity see themselves from a 35,000 ft view. This new perspective reveals remarkable awareness almost instantaneously. It's like the veil covering who you are begins to melt away like magic, revealing your purpose and a new sense of profound internal freedom. For example, through the Holy Fire lll Reiki training we hold (from Level 1 all the way to Master Teacher and Karuna Master Teacher), there have been remarkable upticks in the emergence of psychic gifts in my community. For example – Clairvoyance (seeing with inner sight) Clairaudience (hearing with inner listening), Clairsence (sensation of scents that are not present). Remarkably, more clients than ever before are also remembering, for example, that they could see the spirits of those who had passed on. Or that they knew things about the health and wellbeing of others, even at a distance. It seems as if the fears from other people they have been empathetically absorbing for years had caused them to block their natural gifts. However, once we gently remove these blockages, more and more amazing things are opening up much more rapidly now. It is very exciting to witness and mentor people through this process!
Prophetic dreams or flashes of "knowing" have also been noticeably on the rise, and I attribute this to several factors. When we are asked to arrest the busy-ness behaviours that had been keeping us distracted, we have more resources to listen in to our inner wisdom more deftly. There has been a deep change in the energetic pattern of consciousness worldwide that we can no longer ignore. Autopilot of "Business as usual' has ended. We have seen this on the social levels playing out via worldwide marches for justice, humanity, climate change, and equity… But, we are all a part of the fabric of human society, no matter what country we call home. This shift is also playing out on the personal levels too. We can no longer avoid the changes we each must make in our lives. Toxic relationships must be resolved, damaging thought forms must be up-leveled, limiting beliefs can no longer remain. Having to sit with them, up close and in our faces for a year may not have been all that comfortable to deal with, but like all Shamanic Initiations, it has been the crucible to elicit incredible healing. This is most important to recognize – those that have been facing these necessary changes head-on and with community support have been reaping incredible and surprising benefits. Those who have been resisting the changes are kicking and screaming to avoid growth, but there can never be hanging back, there is only going through. As a result, as we slowly make our way back out into the world, things may appear the "same" on some level, but in actuality, everything is changing. I think this is a most excellent opportunity for us all to reflect and redress what can no longer linger. This is why the courses, practices, mentorship, and one on one coaching at Sacred Circle is sacred. It is the work we are doing for Self, in service to the All. 🙏🏽
Networking and finding a mentor can have such a positive impact on one's life and career. Any advice?
My first yoga teacher was a book. I have it still on my altar and it remains a source of wisdom. The axiom that you can never enter the same river twice is true. You are not the same one who enters any stream, and the water inevitably keeps flowing. The same book or teacher may rest unheeded for years, yet one day, it's time, and the wisdom feels custom-made for where you are in that moment. I believe this is true. Not all teachers are appropriate at every stage. When we graduate elementary school, we say goodbye to the ones who brought us to this point. We then receive the next step in our evolution and grow incrementally smarter, stronger, wiser and hopefully, with greater good humor! (Beware of bad tempered teachers – this is an indicator of an imbalanced Ego!) Not only does the teacher appear when the student is ready, the student appears when the teacher is too. So trust when the teacher appears, no matter how much you may not like the lesson. When you can see the Mentor in your Tormentor, you will know gratitude, 🙏🏽 My students are my greatest teachers and serving them is a deep pleasure and a true service to myself. As one of my teachers said, "If you cannot see God in all, then you cannot see God at all."
Pricing:
One on One private sessions $175
Monthly Mentorship $555
Weekly Satsang Meditation $25/ session, or $50/ month
Free Friday Reiki Share for all attuned Reikis
Kundalini & Pregnancy Yoga classes – $12/ weekly via Zoom
Contact Info:

Image Credits
TOVE FRANK
Suggest a Story:
 VoyageLA is built on recommendations from the community; it's how we uncover hidden gems, so if you or someone you know deserves recognition please let us know 
here.