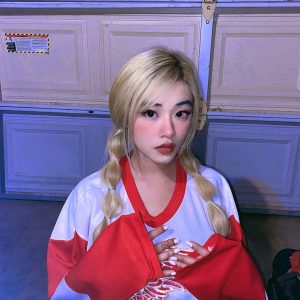 Today we'd like to introduce you to Joiisuh.
Hi Joiisuh, thanks for sharing your story with us. To start, maybe you can tell our readers some of your backstory.
Throughout my entire life, I have felt like the odd one out for wanting to explore a creative lifestyle. Everyone around me wanted to be a scientist or a doctor but I never felt like I belonged at a desk. I loved having the freedom to do things that felt fun and were in my control. When I was little, I would express myself through writing, dancing, singing, acting, sports, you name it. In 2009, I created my first YouTube channel where I posted short films to express these weird fictional stories I'd imagine in my head. I had so much fun learning how to use a camera and an editing software. In fact, I'd beg my teachers to let me do video projects instead of bringing in posters. I also began posting singing videos on YouTube. My first ever cover was of Bruno Mars' "Grenade." I grew a bit of traction on YouTube which caused my friends, classmates, and family to discover my videos. This terrified me because I wanted to keep that part of my life private. I stepped away from YouTube for a bit and began writing my own original songs without any instrumentals, which was a terrible idea because I would forget the melody the second I closed my notebook. From there, I saved up money my mom would give me for lunch and self-taught myself the ukulele, which again, was a bad idea because I failed at that miserably. It was not until high school when I decided I really wanted to pursue a creative work path. I absolutely hated school and the only outlet where I truly felt like myself was in music and content creation. I was lucky enough to find a group of friends with the same passion for creating. I no longer felt alone in talking about crazy project ideas.
Fast forward into university, I was able to afford my own laptop and camera equipment from working at retail jobs (which again…I hated.) I released my first song on SoundCloud which…I will keep the name private because it was definitely not the best. But the point is, it was finally the start of something. A lot of people say you can only focus on one thing in order to succeed but, I do not believe in that at all! I'm someone who loves having a lot on my plate. And although I do get overwhelmed very easily, I'm doing something I love and I also love being my own boss. I have taken a hiatus from music many times but at the end of the day, I still find myself falling back into my love for creating music. My relationship with music is always super complicated. My song "Starlight" holds a very special place in my heart because I released it even though I did not have the confidence to have it be heard. To my surprise, it became my biggest song out. I go back and listen to Starlight whenever I doubt myself because it reminds me to just freakin' do it. Though this is only the beginning of my story, I hope this encourages anyone who reads this that not everyone has a plan and knows what they're doing. I have done jobs I hated in order to save money and I would force myself to go to class even if I would cry for hours after because I hated it. All the resentment to those things only helped affirm how bad I want to live my life as a musical artist and a content creator. I am so excited to release my upcoming project in Summer 2021. I plan to make this one the biggest song yet. I am even more excited to become someone that young Asian women can look at and know that they have the ability to chase the same dream as me. I am going to be the idol that my younger self wish she had.
Would you say it's been a smooth road, and if not what are some of the biggest challenges you've faced along the way?
It hasn't always been easy learning how to love myself and validate my accomplishments. Every project I've directed, every video I've edited, every song I create—I still struggle thinking whether or not what I create is enough to be labeled as good. I am also not the best person to myself. I doubt myself, criticize myself, blame myself for a lot of things that have stopped me from achieving my goals. Though this is an ongoing battle with my own mind, I am still discovering where I fit in this world full of creatives/artists. It is not my goal to fit in but to create my own unique path unlike any other. My biggest insecurity growing up was being Asian American. I did not grow up seeing people who looked like me on TV or heard on the radio. Around middle school, I discovered K-Pop and for the first time in my life, I felt like what I looked like was no longer an obstacle. Seeing Asian women in music with similar physical features and similar body builds made me feel confident that I too, can be somebody.
As you know, we're big fans of you and your work. For our readers who might not be as familiar what can you tell them about what you do?
I am a musical artist and a content creator based in Los Angeles. My name is Joyce but I go by my artist name JOIISUH (joii-suh). Right now, I am focusing on releasing music I have been working on very very soon. Aside from music, I help film, edit, and direct music video projects for my friends. I work closely with an upcoming artist, Doctor Yizzle, and have filmed and edited numerous of his hit music videos (my favorite one being 98 to Infinity). I have also directed and edited my own music videos on my main YouTube page, JOIISUH. My own music can be found on my Spotify and Apple Music and many of my other projects can be found on my SoundCloud all under my artist name "JOIISUH." One of the best parts of being a musician is the fact that you can express yourself in so many unique ways. Whether it's telling a story or completely creating a fictional storyline, producing a beat that expresses your feeling through tonality and the endless ways you can arrange a track. It's really like painting a blank canvas except you can hear everything. I find making music so thrilling because it challenges me to continue making my next song better than the last. My music is heavily inspired by R&B artists like Sabrina Claudio, Alina Baraz, Yuna and Jhene Aiko. As well as many Korean artists like BTS, DEAN, TWICE, HEIZE, and so many more. My artist name originates from the Korean pronunciation of my name and was actually inspired by the League of Legends Champion "Yasuo."
What I am most proud of is the unique ways I arrange my compositions. I don't rely on the typical structure of most songs, I really just do whatever sounds good to me. I think what sets me apart from most artists is the way I deliver my stories. I have taken a very long hiatus recently with my music but I am so excited to showcase how much I have grown and the new stories I am going to share with the world. Music is one of the most challenging things in my life because there is no end goal, I am constantly trying to be better than yesterday. One of my ultimate goals in music is to one day be nominated for a musical award and to stand on stage/perform on stage in front of all the amazing artists who have made me who I am today. Aside from music, I am also a content creator on TikTok. I first created my TikTok in September 2020 and have now gained over 200k supporters through the app. On my profile, I share anime recommendations, my own music, short vlogs and much more. People can say whatever they want about this app but personally, the amount of supporters I have gained from just being myself has changed my life. For the first time, there are people who are willing to support my every move, it's insane.
Can you talk to us a bit about happiness and what makes you happy?
I think what brings me the most happiness is feeling at peace with who I am and where I am in the current moment. I often get caught up feeling anxious about how I'm going to achieve my goals instead of feeling grateful that I get to have dreams this big. I forget that the only thing I can control is myself. What helps me feel most at peace is feeling confident that all my goals will fall into place and that I will achieve anything I believe in. When I was at my lowest, nothing else helped heal me more than finding balance with my own internal energy. Music was a huge part of this as well. I spent a lot of time learning about my own spirituality and the power I have to control my own life. Learning the amount of energy music holds and the power of the frequencies music has was a complete game-changer to me. Though I am not close to having eternal peace, I do practice meditating and manifesting amazing opportunities into my life. I would not be where I am if music did not exist. If I am being honest, I'd probably be dead. Without a passion in life, you might as well just be dead.
Contact Info:
Suggest a Story:
 VoyageLA is built on recommendations from the community; it's how we uncover hidden gems, so if you or someone you know deserves recognition please let us know 
here.