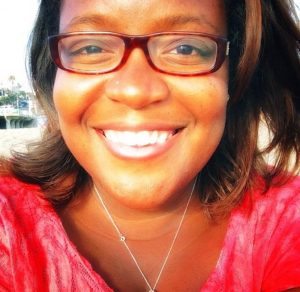 Hi Jessica, we'd love for you to start by introducing yourself.
Sure! Since I was a toddler I wanted to be a doctor. All throughout my life I've felt called to help people find healing. I've always taken joy in edifying and reflecting the good that I see in people. So once I got to college I became a pre-med/biology major- but I ended up switching my major to kinelosiological sciences (the study of movement) with a minor in African American studies instead. And as I progressed through my education, I got involved in different clubs on campus. I decided to integrate social justice into my life goals and that's when everything evolved.
In grad school I studied social entrepreneurship and change- it was all about how to create businesses that better the lives of our communities and make positive changes for people and the planet.
So how all of this related to my business ties into my childhood and the stories my grandmother shared growing up. I've always loved when she shared about her childhood- growing up in rural Alabama and using the land to glean every resource our family needed. I come from a long lineage of women that created with passion, ingenuity and intuition – plant-based poultices for healing, fresh organic fruits, veggies and proteins for sustenance, dolls and clothing made from corn stalks, the best, most potent homemade moonshine and currency from the fruit of their hard labor.
I feel like a lot of urban dwellers are finding ourselves yearning for the connection to the earth and to nature that our ancestors had. My tribe (customers) and I share similar stories and family histories centered around our elders working on farms (their own or otherwise), living more holistic lifestyles and experiencing a sense of community that is often lacking in our current digital age. There's a collective return to cultural traditions and practices happening; and it brings me so much joy to present a modernized way for all of us to reconnect with the energy, peace and beauty of nature for the fortifying of the mind, body and spirit.
We all face challenges, but looking back would you describe it as relatively smooth road?
There have been peaks and valleys in my life, just like with everyone else! And when bringing a vision into fruition there are always struggles that arise. Holding onto my inner truth has helped keep me balanced through the stormy times. What I know for sure is this – the universe conspires to bring peace, Love and favor to my life. And when tough times arise, I have faith that the answers I need will reveal themselves. We all have the ability to tap into the deeper meaning of things because we are part of a universal consciousness – the same energy force that created the world as we know it.
Thanks for sharing that. So, maybe next you can tell us a bit more about your work?
Of course! Heritage Apothecary is all about deepening your connection to yourself and your community through nature.
Through Heritage, I present ways for my tribe to connect more deeply with themselves by creating daily rituals around time-honored practices like smoke cleansing, breathwork, meditation and seeking out daily moments of pleasure. One thing that sets Heritage apart from other spiritual wellness brands is sourcing. It's of the utmost importance that our products are sourced ethically and with respect to the land. Our sage and other herbs are sourced from First Nations Natives in Baja, California – they've been creating smudge sticks for over 300 years.
Our Palo Santo is sourced from a family-owned business in Ecuador that replants new Palo trees every year. They only harvest Palo Santo from the fallen branches of mature trees (these are the most fragrant and potent). There is an amazing family woodworking business in India that has been in business for generations – they
create the gorgeous hand-carved keepsake boxes that house our plant medicine kits.
Our incense is made from pure resins, and we'll be releasing a self-care body rituals line soon (including plant-based massage oil candles). I could go on and on! It brings me so much joy to be able to positively impact the wellness of my customers while simultaneously contributing to the economic stability of beautifully deserving families and communities.
Heritage serves as a reminder that it's not just about using exorbitantly priced beauty/wellness trends to feel valuable or validated. It's really about living a grounded, authentic life- that's what unleashes your true beauty and magnetism.
What matters most to you? Why?
My family, community, and creating a legacy are what matter most. I believe that leadership and service go hand in hand. It's important to me that I'm constantly considering how the actions I take now will affect the future. How can I be an ally for someone else in need? What are the little things I can do each day to make a positive impact on the world around me? How can I integrate pleasure into my daily rituals? One of the most important questions for all of us to consider is what type of ancestors will we be? If we can consider these things on a daily basis, I know that we can create meaningful experiences for ourselves and others- we will be living our lives in rich abundance.
Contact Info:
Suggest a Story:
 VoyageLA is built on recommendations from the community; it's how we uncover hidden gems, so if you or someone you know deserves recognition please let us know 
here.