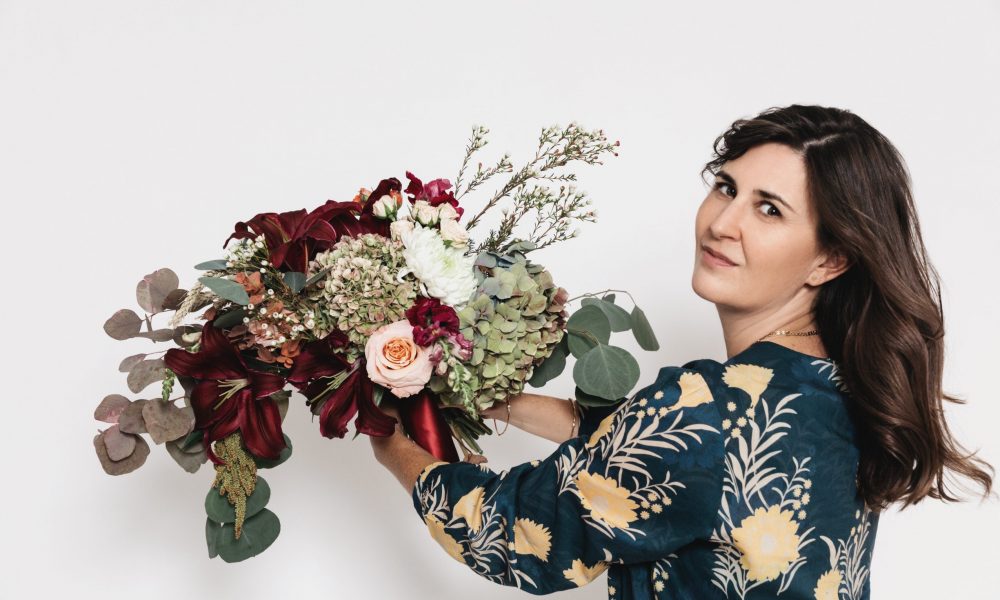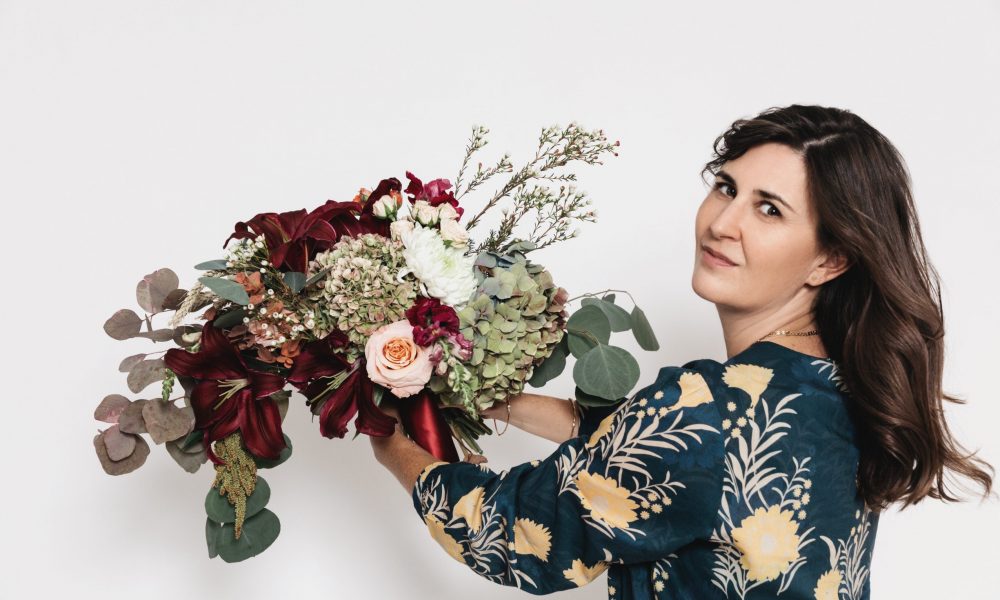 Today we'd like to introduce you to Jess Begum.
Jess, can you briefly walk us through your story – how you started and how you got to where you are today.
I guess I'm just an artist at heart. My mom is a landscape artist and a florist, and when I was a kid, she owned a small business called the Garden Gallery, which combined the two. I'm not sure if I inherited my creative nature from her, or if I just learned along the way. Either way, I grew up surrounded by flowers and art. We even had a "flower room" in our home that was full of all kinds of dried flowers, wreaths, grasses and weeds. It was heaven.
Floristry was always my "fall back job" when I was in high school, college and even beyond. I've worked in soooo many flower shops, sweeping the floors, processing flowers, helping customers, delivering arrangements, all work I still do today in my own business.
When I graduated from college and moved from Utah to Los Angeles, I started my own floral business for the first time. Let's just say it didn't go so well. I was a naive girl in a big city and quite honestly, very intimidated by the industry. But, I learned how to take the 10fwy east, exit Maple, drive through what I thought were the bowels of the city and make my way to the Los Angeles Flower Market. I made some contacts, learned how to hustle in the early morning hours, how to place a flower order, and how flowers DO NOT hold up in a hot apartment, no they do not. Geez, those early days were hard! I switched careers to teach fine art. I pretty much crashed and burned in the flower biz. #Fail.
I taught fine art for a decade. I did flowers along the way, sometimes for weddings, sometimes just for fun. I always loved designing and it was something that just came naturally to me. Then, I got married, had a family, turned to the craft world for a while as a professional crafter (yes! It's a thing, and yes! I got paid) but I always made my way back to flowers. I started working for boutique designers on the Westside as a freelance designer thinking it would be fun to scratch my itch to design and make a little extra money along the way. What I learned working with other designers was, as amazing as they were, I actually knew more then they did about the flower biz. It was a huge wake-up call. One of those moments where you think, if they can do it, I sure can too.
I launched Fireweed Florals in October of 2018. We are a little over one year old and we are cruising right along.
Overall, has it been relatively smooth? If not, what were some of the struggles along the way?
If you look at my flower career as a whole, from the start of my first business to where I am today, the answer no, it has not been a smooth ride. Not at all. But, my first year in business as Fireweed, has actually been pretty darn great. Yes, I've made mistakes, and yes, I've had struggles, like the time rats got into my studio and ate all my flowers (yeah, gross!) but, everything has been manageable and here's why.
First, I've done this before, and what felt like total failures back when I was 23 are now my most prized assets. My previous struggle taught me how to file for a business license, pay taxes, set up payroll, place a flower order, all the things a new flower business needs to get started I already knew how to do.
Second, because of my failures, I didn't go into business without a solid plan. Starting a business on the whim I was a good designer wasn't enough. Been there, done that! Instead, I made a deal with myself that I wouldn't take a paycheck for two years. Instead of a salary, I invested in a business course, invested in marketing, I read business books, I read design books, I set goals for myself and I work hard to achieve them. In the offseason when I'm not designing, I am working on my design templates, on my website, curating and perfecting my customer service and building my brand. No, I am still not getting paid, but my business is growing! I'm a year in and to me, that's a huge accomplishment.
Third, I set boundaries, and I stick to them For example, I am an event designer I don't do daily deliveries or subscriptions. This allows me to choose when I want to work, and exactly how many clients I take on. I also don't take on clients that ask me to change my design ascetic. If the request doesn't fit my brand, then I turn it down. There are many great florists out there that might be a better match than I am for certain jobs, and I am fine passing along work to others who might be a better fit. I also do my very best to stay as sustainable in my practice as possible. I refuse jobs that ask me to use excessive plastics like decorating giant balloon installations, and I am conscious about my own waste in my business. I'm not perfect, but I am trying.
Finally, I am no longer trying to be someone else. I used to study others' design and try to mimic them, and I would fail. I used to be jealous of other's careers and now I am inspired. I know I can't compare my one-year-old business to someone else's 10-year business. I'll get there! If you are constantly looking to others to define your style, then you simply cannot succeed. I don't know if this realization comes with age or if it just comes with confidence, but I can tell you, it is by far the most helpful quality I have now that I didn't have when I was 23.
Please tell us about Fireweed Florals.
I am a boutique floral designer specializing in event design. I also do styling and some decorating. I LOVE doing floral installations, and I am ready and willing to take those on anytime someone wants to hire me! I am most proud of my company's ethics which are based on hospitality and sustainability. As far as hospitality goes, I give my customers my full attention and thought when I am designing for them. This may present itself as brand research, visiting site locations more than once, custom made visual proposals and reworking designs until we have them right. It's a collaborative process with the client, and we very much work together.
It's not easy to run a sustainably conscious business, but I do my best. The event industry is full of waste. I try to cut down on mine by reusing vessels, refusing single-use plastics (even down to lunch. Burritos anyone?) and sourcing locally grown foliage and flowers when I can. I'm not perfect, but it's a conscious effort I make, every day.
Often it feels as if the media, by and large, is only focused on the obstacles faced by women, but we feel it's important to also look for the opportunities. In your view, are there opportunities that you see that women are particularly well-positioned for?
In the past several years, we've seen the rise of the artisan product. Going (hopefully!) are the days when everyone was looking for a discount on cheaply made products. Large trendy clothing companies come to mind. Businesses focusing on a particular craft like candle making, floral arranging, ceramics, organic and locally sourced foods, ethically sourced textiles and home goods are back on the business scene, and not surprisingly run by guess who, women! Yes, many men as well and there is room for men too, but the industry as a whole presents itself as one big opportunity for a woman. And the opportunities in the artisan industry are not just for the artist. These smaller companies still need bookkeepers, accountants, business gurus, social media agents and writers. It takes a team.
I think what is different about today's business world, especially focusing on the artisan craft industry, is there is a huge devotion to community. When I got the courage to start my own company, I was worried I would have to do everything on my own. I quickly found that there was a built-in support system in place to help me navigate my business decisions and help me build my brand. Through social media, I connected with so many industry leaders and many of them are willing to share their formulas for success by offering online courses, workshops and even answering questions through direct message. There are also so many "prefab" affordable business packages that offer accounting, invoicing, proposal templates and design help. It's honestly made my business grow so much faster than if I was doing everything on my own.
Pricing:
Installations start at $1,000
Wedding Minimum Budget $3,000
Flower Cart Service $1,500
Contact Info:
Image Credit:
Diana Ragland
Suggest a story: VoyageLA is built on recommendations from the community; it's how we uncover hidden gems, so if you or someone you know deserves recognition please let us know here.