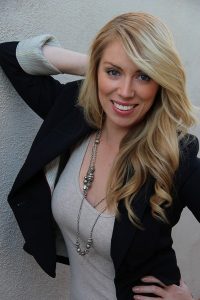 Today we'd like to introduce you to Emma Green.
Emma, we appreciate you taking the time to share your story with us today. Where does your story begin?
I'll start by saying my story isn't one of hijinks, hilarity or huge success. It's a slow and steady ebb and flow before finally landing on the shores of Sunny California and making sure that I had my finger on the pulse for any place that would let me intern and proving that I deserved to be a paid employee. That was the plan at least! I grew up enamored with Hollywood, I would wake up at 4am to catch live from the USA episodes of General Hospital, I lusted after all the young up and coming actors and had posters of them from the pages of Teen Beat and BB Magazines plastered all over my walls….this was my tween years. As I got older and the idea of working in Hollywood seemed like a pipe dream, I focused my energy on going after a far less artistic goal…law school. I loved the Law, on a daily basis, I was intrigued with how little I had known in life thus far and everyday I was learning more and more….still the lure of Hollywood niggled at me….so I took a trip to LA to check out acting schools, I was hooked on the vibe, the creative 'anything can happen' feel that you got no matter where you went in LA. Upon returning to Australia, I put feelers out for any intern opportunities and was lucky enough that Tom McSweeney agreed to have me come and see how it was all done. I loved being in the room, I loved watching back the tapes of actors and seeing the choices they made and ultimately who got the role. It was a crash course in acting, what not to do and what got some people across the line and in front of the camera. I was intrigued with Casting but my options for on the job experience were limited in Australia.
So I focused on the best route to get me to the states, Acting. I attended classes and workshops and went on lots of crappy auditions – a handful of good ones, but that was about it. I struggled with acting, it felt inorganic to me. Then at the recommendation of a good friend and producer, Zach Green I went to a hosting boot camp…I was in my element, branding, talking to an audience, sharing information it felt like I was honing my skills as not only someone in front of the camera but as a professional with something to say. Marki Costello was the hosting queen – she minced no words and held nothing back, but it all came from a place of wanting to make everyone get outside of their heads and into the game. Andrew Crasny was my ongoing teacher there and he really created a safe space to learn and improve and kick any bad on camera habits. It was the highlight of my time hosting to be in Times Square shooting for Whole Foods Market and to turn around and see Andrew serendipitously there watching me do my thing IRL. Such a cool moment….that said, hosting was fast becoming an 'expert or influencers' domain and while I could have pushed on and forced my way in there, I genuinely felt that my place was behind the camera and in fact behind the decisions on who gets on camera in the first place. I was lucky enough to start an internship with Roz Taylor Jordan – Casting Director and Jason Shuler – Casting Producer who were working in development and on America's Got Talent/Spellmageddon at Fremantle Media.
The work was fun, investigative and like searching for a needle in a haystack sometimes, but it was rewarding when you got to see talent you cast get up on stage and onto TV screens across America. I did development casting there too and to tell you how much work goes into casting and development that never makes the light of day, you would be shocked. There is so much great content out there that people put blood, sweat, tears and years of work into and only a small percentage makes it to our screens. That said, I found my way over to Temple Street Productions, a Canadian based company famed for their Emmy Award-Winning Series who were setting up their first LA base to focus on Factual content under the lead of Gerry McKean (Recipe To Riches, Million Dollar Critic, Nanny 911, Paris Hiltons' BFF), this was my first steps into corporate content casting and development. Coming up with show ideas and seeing them through casting, acquisition, format development, sizzle production and pitching was my new world and it was always a fun and creative workspace where new show ideas were floating around left right and center until we would all decide on one that would stick and then go after it until we had a proof of concept to show for it to the pitch. When someone says they have an idea for a show…the hairs on the back of my neck stand up….there really aren't too many totally original ideas out there, more like adaptations and mutations of existing content…When that branch of TSP closed, I decided I couldn't do the full time, 3 hour daily commute anymore – so instead of looking for a lineal move to another production company or studio, I went out on my own, to the scary world of Freelance Casting…it's almost a dirty word, but it's really how most casting is done unless you are in-house with a studio.
Flashback to when I went home in 2009 to await visas to return to the states, I decided to dip my feet in with the acting scene back in Australia. This is where I picked up with my friendship with Casting Director Ben Parkinson – who is a prominent CD in Queensland, hearing of my experience in the US, we quickly figured I might be of help with casting key talent for Australian Productions or US films shooting in Australia. So we worked on many films and tv shows over the past few years – Jungle, starring Daniel Radcliffe, Lunatics for Netflix, Swimming For Gold, starring Peyton List, Great White, starring Katrina Bowden and Monsters of Man, directed by Mark Toia to name a few, it's been such a remarkable relationship, one that I am forever grateful to Ben for, together we found this niche for International Casting and it's such a fun space to explore, not to mention a vital one especially with Covid now pushing a lot of US productions to Covid safe parts of the world like Australia. For me, casting is a really special part of the tv/film process, it's the part that can take months to come up with the right person for a particular role or in some cases like in commercials you may have mere days, it's time-intensive regardless of your deadline, but it's in that time and attention to detail that you can find amazing people to bring stories to life and characters to full fruition. I like that I go between scripted and unscripted content, commercial and features, it keeps the variety in my workload.
Can you talk to us a bit about the challenges and lessons you've learned along the way. Looking back would you say it's been easy or smooth in retrospect?
There is no degree in being a casting director. You can't just take a course and get your diploma and start casting. It takes knocking on doors, offering your time for free A LOT to get to work with the right people, to find your strengths and your niche. Also visas….you can't just up and start living and working in another country….all in to get me to final permanent resident status it took $50k and seven years of back and forth and different visas, not to mention the stress that goes with that. You REALLY REALLY REALLY want something bad enough to work that hard for it. As irony would have it, I finally got lucky with the DV Lottery after seven attempts at it while awaiting my O1 to come through…but I still worked my butt off and dropped a lot of cash to get here.
Thanks for sharing that. So, maybe next you can tell us a bit more about your work?
I am a Casting Director and Development Producer. In 2021 that I reached a career highlight joining an esteemed group of fellow Casting Directors by becoming a member of the Casting Society of America. On the Casting side, I work on US and Australian content mostly, everything from commercials to television series and feature films. I have a particular focus on bringing key talent into international productions. On the Development and Producing side, I work with writers, directors and other producers to help acquire talent, connect with showrunners, writers and key creative team members to bring Feature Films and Television series to pitch-ready status and then onto production once greenlit. I currently have five features and two television series in active development. One is "3010 the Series" that is the brainchild of two talented Australian creators that we are working with well-known Canadian key creatives to bring it to fruition – stay tuned.
Networking and finding a mentor can have such a positive impact on one's life and career. Any advice?
If you want to get into casting or producing, you have to get into the offices of people you like or companies that make the shows or films that excite you the most. Offer ideas when you can without being a know it all, but if you act like you know it all, you better have the work ethic to back it up on all fronts. It seems everyone in Hollywood has the next best idea….you need something else to set yourself apart from people fighting for those positions, just having ideas really isn't actually helpful in the overall scheme of things.
Contact Info:
Suggest a Story:
 VoyageLA is built on recommendations from the community; it's how we uncover hidden gems, so if you or someone you know deserves recognition please let us know 
here.