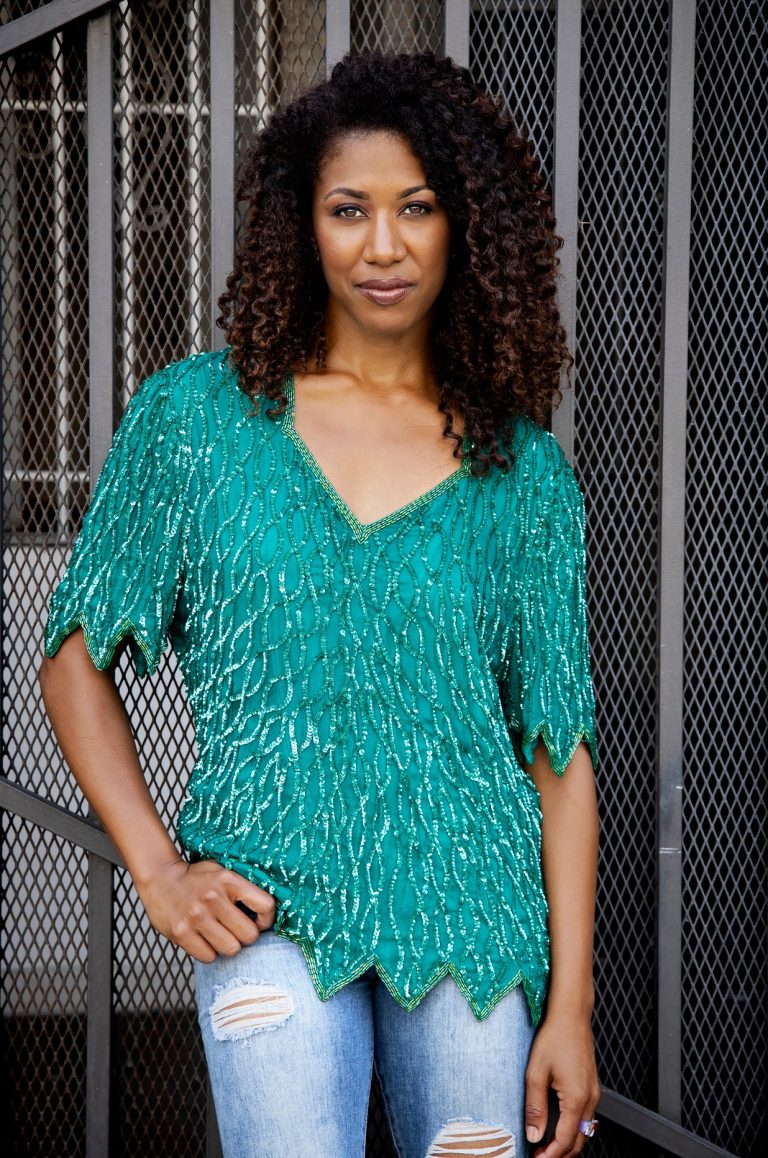 Today we'd like to introduce you to Eboni Adams.
Hi Eboni, thanks for joining us today. We'd love for you to start by introducing yourself.
Dance is my love language. Even though acting and filmmaking are my main focus these days, I don't remember life without dance. Whether I was on stage performing in front of 4000 people in Celine Dion's Las Vegas show, "A New Day…" or on set filming a commercial or simply dancing in the living room as a child, dance has been present every step of the way.
My love for dance has allowed me to travel the world, work with some incredible artists which eventually lead me into acting and filmmaking. As a kid, I hopped around from one army base to another. Once my dad retired from the army, we landed in a suburb north of Austin, Texas. This move once again put me in a new school. This time it was high school. One of the first things that I noticed at the new school was the dance/drill team. I remember running home to my mom excited to tell her that I wanted to audition for the team. I had no formal dance training but my mother being the loving, encouraging person that she is said go for it. My dad on the other hand hadn't noticed the dance team at the school but rather the ROTC program.
For those unfamiliar with ROTC which stands for "reserve officers' training corps," it's a military training program offered in some high schools. Being a part of the high school ROTC program would automatically give me a higher ranking if I decided to join the army. My dad didn't see dance as an actual profession but more of a hobby. However, I knew that it was possible to make a living as a dancer. I remember being younger and seeing people that looked like me on tv. How else would you explain Ms. Lydia Grant or Leroy from the TV show Fame? Or better yet, the world-renowned black dance company, Alvin Ailey Dance Theater. I saw myself in them. For my dad, the military seemed like a reasonable option. It offered free education, job security, and stability. It represented a type of security that my dad didn't think was possible through dance. As an adult, I now completely understand his rationale.
As a kid, not so much. The school had a rule in place that required you to be a sophomore to join the dance team. So as a freshman guess where I ended up? Yep, you guessed it…in ROTC. Every Friday, we had to wear our camouflage uniform, learning military operations and tactics as well as performing one of my favorite activities, drill commands. "Attention, right-face, left-face, about-face, forward march…", now this felt like a dance. I was content for the time being. I found dance in the unlikeliest place. So I completed the first year of training. Now it was time for me to audition for the dance team. I don't know how it happened one could say it was the endless encouragement from my mom, she too wanted to be a dancer but unfortunately didn't get the support from her parents to pursue it or you could say that the very thought of me having to take another semester of ROTC made me laser-focused on dreams of being a dancer but, how it happened is neither here nor there now because I made the team. Little old military brat me made the team that year with no formal dance training, just my usual living room dance sessions with my mom and my dream.
After being on the high school dance team for three years (even getting promoted to Lieutenant Colonel of the team… yes, the dance team had a ranking system. The irony of it all!) I decided to attend college. I attended Sam Houston State University in Huntsville, Texas, where I received most of my formal dance training and obtained my BFA in dance. After graduating there was no stopping me. I was off to Chicago, New York, Europe, Las Vegas and finally settling in LA. Moving to Los Angeles presented a whole new set of possibilities for me, acting. Could I follow in the footsteps of the multi-hyphenated trailblazer Debbie Allen (aka Ms. Grant)? She too started her career as a dancer and now she does it all in front and behind the camera. Well, I'm not quite at her level yet but every day I do mean kickball change in the direction of one day becoming as epic as she is. I like to consider myself a dancer, choreographer, actress, filmmaker but most importantly an action figure. I keep it moving! I've had some great wins in my career and of course some losses. All in all, I'm excited to continue to explore my voice in the industry and tell stories that inspire.
Alright, so let's dig a little deeper into the story – has it been an easy path overall and if not, what were the challenges you've had to overcome?
If you would've asked me a couple of years ago what obstacles and/or challenges I've faced in my career, I would've expressed how difficult it has been to actively pursue my dreams to then only be met with rejection on most occasions. I would've elaborated with some explanation about how I've continued to push through all of the 'NO's' in my life because I don't have a plan B. However, these days not making the cut or not receiving a callback for a project doesn't seem like such a big deal. Let's get real we're in a freaking pandemic! That's been the biggest challenge. In February of last year, I was working as an associate choreographer for the Atlanta Opera production of Porgy and Bess. I had two other choreography job offers set to start in the summer. To top it off, I was finally getting auditions for network tv. I'll never forget thinking to myself, "Wow, this is going to be my year!". I flew back to Los Angeles on March 8th, 2020.
Needless, to say days later we all know what happened next. The challenge for me has been learning how to stay motivated and inspired during the pandemic. I've spent a good portion of my career working and collaborating with creatives teams. To have all of what you know go away in an instant is emotionally jarring. It hasn't been easy to bounce back creatively speaking. We're all working from home with sometimes little to no human interaction. Because of the pandemic, most things are virtual now. There are no rehearsals, no big stages, no opening night jitters. I miss working with groups of people. I realized that I needed to give myself some time to mourn the loss of the way things used to be. 2020 put everything into perspective. I'm grateful for every day. The challenges and obstacles I thought I had have now become so minute. Like everyone else, I'm trying to figure out how to balance what I love to do while working remotely. What brings me solace is to return to the basics of my youth. So from time to time I'll play some music and have a whole dance session in my living room. It's the simple things in life that are bringing me the most joy right now.
Thanks for sharing that. So, maybe next you can tell us a bit more about your work?
Although work has been a little slow during this time, I was able to produce a short dance film. Inspired by all of the protests during summer I felt moved to create a dance short called "Black in America". Which can be view on my youtube channel. The work that I'm most proud of is my short film, Grace. The film asks a very poignant question, " Who will take care of your parents as they age?". I've been fortunate enough to screen my short in several film festivals, winning some awards along the way.
Over the summer, Grace even aired on some local tv stations in several cities across the nation. I've been overwhelmed by the response to the film and am currently developing it into a feature. Lastly, I'm an actor and co-producer of a web series called Consequences. The show follows a unique group of con artists that have good intentions. We're known for being "con men with a conscience". I play the role of Iminathi, she's known as the "chameleon" of the group. I had an opportunity to direct an episode in the upcoming season which is now in post-production. In the meantime, you can catch season one of Consequences on Amazon Prime.
We'd be interested to hear your thoughts on luck and what role, if any, you feel it's played for you?
Luck. I know it may seem cliché to say but I truly do believe that luck is when the opportunity is met with preparation. It's fascinating to look back on my childhood and realize that I was always dancing, choreographing little routines, and recruiting my siblings to be a part of some skit I'd just come up with. I've spent my entire life preparing for the work that I do today. So in that regard, I do feel lucky.
Contact Info:

Image Credits:
*The photos of just me were shot by Marselle Washington of Marco Imagery All other photos are my own personal pictures. (poster, behind the scenes)
Suggest a Story:
 VoyageLA is built on recommendations from the community; it's how we uncover hidden gems, so if you or someone you know deserves recognition please let us know 
here.