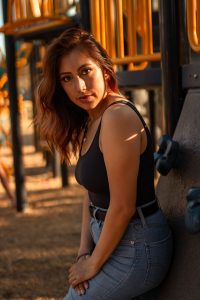 Today we'd like to introduce you to Chelsea Ramirez.
Chelsea, we appreciate you taking the time to share your story with us today. Where does your story begin?
I'd like to give my parents the shout out they deserve: my story begins with theirs. They were young parents who — despite poverty, their youth, lack of education, and the doubt others cast on them — fought for their family. They immigrated to Los Angeles and planted our family in the U.S. with a dream — that we (their children) would go to college, become professionals, and achieve success beyond the scope of their wildest dreams. They had inexplicable faith and encouraged my siblings and I to dream big. They taught us to work hard, prepare, and have faith, believing that the doors would open when we were ready. That warrior mentality is transcendent and has led me through thick and thin. I was born in Los Angeles and raised throughout the Inland Empire (Rancho Cucamonga and Fontana mostly).
I've always been creative and, funny enough, a while ago my mom found a paper I wrote in the fourth grade saying that I wanted to be an artist when I grew up! Granted, I had no idea what that meant then (I probably thought it meant I would get to paint all day) but I had always loved writing, singing, taking random pictures, holding impromptu shows in my house (I would even charge my parents 10 cents to watch — you can't say I wasn't an entrepreneur), and things like that. I actually spent 12 years of my life playing basketball, graduated from high school, went on to very briefly walk-on to the Track and Field team at my university, but then I really began to flounder with my grades. My parents made me drop from the track team so I could better my grades. My first year was an uphill battle from then on, but again, I think God does everything for good. In that season of feeling like a failure, I had my advisor (who is still a dear mentor and friend of mine), Bella Merlin, ask me to video archive her acting Symposium on Stanislavsky acting method. I agreed and while on the job for this event, I fell in love with cameras, stories, and acting. I'll never forget that event and I am endlessly thankful to Bella for opening that opportunity to me — it helped changed my life! From there, I threw myself into everything production related. Cinematography, editing, color-grading, sound, gaffing — you name it. I bugged (aka politely inquired) my professors constantly for their wisdom, experiences, insights, and for opportunities. The more involved I was on set, the more comfortable I eventually got with the idea of acting and directing. I eventually began auditioning as well as directing my own projects.

From there, I was able to act in music videos, short films, but my first industry job was working with the amazing director and my mentor, Aurora Guerrero, on the show Little America on AppleTV+. I continue to act and am also interested in creating projects and opportunities for other creators. My UCR family (including the faculty, staff, students, and so many more) holds the dearest of places in my heart as they gave me every opportunity to practice and excel in my craft. I graduated from UCR in spring (pandemic class of 2020, woot woot!) and am now pursuing my MFA in Film and Television Production at USC as a Lucas scholar and Hearst scholar. I am beyond grateful for all the support I've gotten from donors, mentors, and my colleges that have allowed me the opportunity to continue my education and keep developing my voice/imagination/skills to push the boundaries of our industry and create new stories. I love acting and I hope to continue my career in film, TV, and theatre. Now, I am a student, director, actress, and teaching assistant with USC's Business of Cinematic Arts program. It has been rigorous but all of it has been so fruitful; I am definitely not the same creator or person I was a year ago, and that is the best thing to me.
Can you talk to us a bit about the challenges and lessons you've learned along the way. Looking back would you say it's been easy or smooth in retrospect?
My family did come from low-economic means. My parents grew up in extreme poverty, so the life they were able to give me in the states was and continues to be an extreme luxury in comparison. Still, in my generation we have faced the remnants of the cyclic poverty and social immobility that often follows over from decades of struggle in Latin America. However, my family and I have prayed to God and chosen to be free of these shackles. We wanted a different life and continue to fight for this limitless future for the generations to come, bearing in mind our past but never letting it determine who we are and what we can achieve. My parents never made my siblings and I feel like we were stuck to this financial fate. I worked six different jobs while I was in undergrad — up to four at a time — to cushion costs, pay for books and living fees, and minimize the amount of loans I had to take out. I think this is something many children of immigrants experience, not wanting to be a financial burden to parents/older siblings we know would move planets for us to succeed.
I remember praying to God to give me the strength and means to find ways to make money, pay for school, allow my parents to not worry about me, and so I wouldn't be indebted deeply to the systemic loan system higher education adopts. On top of this was practicing my art "for free" and partaking in school and outside productions to continue to develop my craft (which were jobs all on their own). I was also a commuter between my last two years, so factoring in a 30-45 min (sometimes an hour based on traffic) two to three ways was a feat I do not aim to replicate. In my sophomore year of college, my family was evicted from the house I had grown up in for more than half of my life. Ten years of our lives wiped out and left behind. It all happened so suddenly and we all processed it in different ways. We ended up living in a one-room two-bed hotel room — six adults and what we were able to take from the house crammed into this one space. My sister and I actually slept on the floor on a thin mattress because we couldn't fit on the beds. My sister and I still went to college, my brothers went to work, my mom and dad would go out to try and find a better place to live.
This was a really special time in our lives and I'm grateful to have gone through it with my family because they didn't view the situation as defeat. I remember my Dad telling us all that if this was a low-point, we could only go up from here. We accepted that energy and moved forward with that mentality. We eventually found a home and lived there for a while but that eviction, because I was older and saw more of the cards at play, taught me so much about the resilience that flows through my blood and that I want to keep sharing with the world. It is interesting to look back and see how far we've come. My parents were still in their twenties when they had four children buzzing around them who were totally dependent on their care while renting a small apartment in LA and dealing with their own growing identities — I think it's a miracle and inspiration to have their strength and determination in my life. So many people used to pity my parents and talk down on them, saying there was no way they would be able to succeed and achieve the huge goals they had set for our family. We are very much proof in spite of the obstacles and doubt that there is a way and that dreaming big, followed with passionate pursuit and faith, can change lives. I know my family and I wish to keep sharing that message with others and encouraging them to shoot for the star!
Thanks for sharing that. So, maybe next you can tell us a bit more about your work?
I am an actress, director, producer, writer/screenwriter, singer, performer, comedian, and educator — to sum it all up. It's too long for the Instagram bio (or any bio for that matter) so it starts to look like, "Hey, pick a side, lady!" But I can't, I love it all and want to do it all! To make matters concise, I go with Actress/Artist/Filmmaker for the elevator pitches. I am an actress/performer and filmmaker predominately. I work to keep expanding empathy in our communities and sharing love with anyone who sees my work/stories. My films and acting have fallen in line with fiction, nonfiction, dramedy (dramatic comedy) and sci-fi. I've helped tell stories about the immigrant, female, Latinx, and undocumented experience and I continue forward holding these values and narratives so deeply in my heart. Working on the show Little America was a dream come true. There, I met Jearnest Corchado who is so authentic, talented and has since become an amazing inspiration to me. It was after a conversation with Aurora and Jearnest at a vegetarian Mexican restaurant in New Jersey (so random) that they helped solidify in me the belief that our art is powerful, reminding me that people from all walks of life deserve to feel seen, heard, and represented.

Little America is just that — an anthology series that goes to the heart of the American story and honors its deep, fruitful roots in immigration. I was honored to be chosen and trusted by Aurora and the production to help tell such a powerful story alongside talented Latinx stars. As a New American, I don't think enough stories like this have been told. With the recent administration throwing around hate speech towards immigrants/New Americans/undocumented people, threatening this community, and blatantly disregarding its integral importance to the American society, more stories like this need to be raised, voiced, and heard! I could not stand behind a series like Little America more. It is heart-warming, bold, so amazingly rich, and based on true stories! You can watch the series Little America now on AppleTV+, and check out Episode 3 – The Jaguar, to catch me co-starring alongside Jearnest, who plays Marisol, a young undocumented girl whose dream is to play squash and, with the help of a mentor and her family, battles her way to her dreams. I have been able to work on short films like We Were Kids, which was produced by Jearnest Corchado and directed by the amazing and generous Matias Muñoz. Recently I've worked more in voice over and I'll be appearing in a short called Keeping Magic, directed by the wonderful, talented Christian Arguelles.
I have self-represented myself up to this point so I am hoping to be able to find a manager or agent who has the same values as me and keep building towards working more feature films from there. I've worked in theatre as well, I've done musicals, classical pieces; I just haven't been active in theatre these days given the pandemic but I do plan to continue my efforts and shimmy my way onto Broadway, God willing. I've also been directing pieces and my own films! I'm really excited to start and eventually share next directing, which is a short story about a girl from an immigrant family who dreams about being a reggaeton singer — so stay tuned for that! My belief is that through my directing/performance, I can speak up for the voiceless and enact a protest/revolution of my own with the tools, talents, and platforms I have been allowed. I am really inspired by the directing works and styles of Alma Harel, Patricia Cardoso, Aurora Guerrero, and Taika Watiti. My acting muses are Natalie Portman, Saoirse Ronan, Eugenio Derbez, and Jennifer Lopez. I really want to be able to combine my acting/performing, filmmaking skills to build the future of the Film, Television, and Theatre industries, especially in combination with new interactive technologies. I want to direct and act in TV, Film, and Broadway/Theatre but I also want to help elevate these crafts to the next level of technology and storytelling much like Avatar set the stage for live action bodysuits and virtual applications!
What sets me apart, I believe, is the emphasis I make in moving through love and sharing love in every aspect of my life/work/career/existence. I have been made with love, been shown love by God and my community, and I continue moving with love to share it in the world around me. It is easy to hate and much harder to love; hate is a learned behavior and love is a natural response. There are definitely subjects that test this principle I hold so close to my heart but everyday, I choose to lead with love and that's where the real change starts. Living with a compass towards love is radical and I think that's a central to my mission in life: to be a vessel of love, promoter of joy, and a channel for empathy. All of these go hand in hand — the presence or absence thereof — and help me understand people more, to be more patient, to work towards forgiveness, to let go of my ego, to show mercy, and to take a stand when the time calls. Ultimately, this leads me towards building the kind of community I want to see for generations to come. One that seeks justice for the oppressed and marginalized, bridges opportunity gaps, that values collective success, and that enables our generations to be the builders, healers, and leaders of a better future.
We love surprises, fun facts and unexpected stories. Is there something you can share that might surprise us?
Kobe Bryant is a HUGE role model and hero of mine, as well as Vanessa Bryant and the Bryant family. I played basketball for 12-14 years, I would wear his number-8 jersey to school on game nights, named my dog after him, we've got posters and everything! My family cheered when he shot game-winning buzzer-beaters, when he dunked on Celtic opposition, even though his last opening night at the Staples Center (which I had the EXTREME honor to watch in person. It was like watching a really tall unicorn work their magic on the court). Watching Kobe do his thing, lead the Lakers to five championships, and become an Oscar-winning storyteller… what an honored to have witnessed his legacy and light in this lifetime. He was my hero and the work ethic and humility he exuded over the course of his life inspired a nation (and a small, 5'2″ Guatemalan girl from the valley like me) to have the Mamba Mentality — which for me means giving your hustle and heart on the court every day of your life. He also blazed a path in advancing women's athletics and giving young athletes (especially girls) more opportunity and access to development/resources. It means a lot to me that he made it a specific agenda of his after his NBA career to help the women and youth of our community, which is what I also hope to help in.
He was a writer, a filmmaker, father to a beautiful family, and man… I could go on. This is a testament to the strength of power in him, his family, and his wife, Vanessa Bryant. I am a hugeee Vanessa Bryant fan! I read books on their story, watched interviews, all of it (it sounds creepy but it's not! I'm just fascinated by how strong and supportive she is. I had a lot to learn from her example). For a long time, my dream role has honestly been to play Vanessa Bryant in the biopic on Kobe Bryant and the Bryant legacy. I never met Kobe or Vanessa face to face, but I dream to be on the team to help honor this family's legacy and Kobe who for me, was a constant source of inspiration and motivation in my life — like a coach to me honestly. My favorite quote of his (which I reference as a life mantra often) is, "the most important thing is to try and inspire people so that they can be great in whatever they want to do." I still grieve the loss of this titan, I send so much love and condolences to the Bryant family, and even though I never met Kobe, I do hope to keep honoring his memory and all he did for Laker nation with my own work ethic and hustle — my own Chelsea Mentality, if you will.
Contact Info:

Image Credits:
"BTS Keeping Magic," by Daniel Solano(2020) "BTS It's Not For You" By Irais Cardenas (2018) Headshots by Irais Cardenas (2019) Headshots by Rosemarie Kwong (2020)
Suggest a Story:
 VoyageLA is built on recommendations from the community; it's how we uncover hidden gems, so if you or someone you know deserves recognition please let us know 
here.