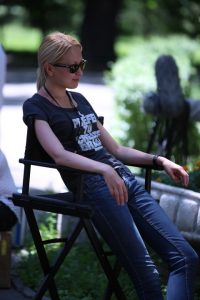 Today we'd like to introduce you to Anila Nugmanova.
Hi Anila, thanks for joining us today. We'd love for you to start by introducing yourself.
I am a film producer originally from Kazakhstan. I should probably mention that some of my projects received prestigious awards, which is great, because I have not been in this business for that long. I had the privilege to work with some truly talented filmmakers that  helped me gain invaluable experience and inspired me to pursue my dreams even more.
Years ago, despite my childhood dream to work in movies, I studied Finance and after graduating from a university I worked in Kazakhstan for some time in the business industry. Even though I had a great career growth perspective, I thought a lot about if I am in the right place.
This thought was visiting me a lot and I remember one day I made a decision to change my life. I quitted my job and a couple of months later, I am in New York on my first day in New York Film Academy (NYFA) at my filmmaking workshop. It was the best decision I've ever made. I felt that I am on the right path, on my path. During my study I not only made a lot of new friends but also some good connections with whom I even collaborated later on different projects. When the workshop finished and I came back home, I knew it won't be easy to get into the film industry in my country. First of all, because it wasn't as big as in Hollywood and second, I didn't know anyone, I had no friends or relatives in the film industry who could refer me. But I had strong determination and passion for films. In about half a year of hunting for a gig in a film, I received a call from a director who read my application that I submitted online. He was about to start his first feature film and was looking for an assistant. He interviewed me and hired me. That was the first project I worked on and during the production, I felt so inspired that I started my own blog about this movie. Unexpectedly for me, it became very popular and got into top blogs on the extremely popular at that time website. So, it became part of the marketing campaign for that movie and filmmakers really enjoyed how I was writing so that I started getting invitations to work with other filmmakers. During the same time period I was offered to take part in a project that was written and directed by my friend, whom I met in New York when I was studying in New York Film Academy.
Afterwards, the most successful director in our country contacted me and invited me to work on his first international movie project. It was shot in Canada, Kazakhstan, Hong Kong and Thailand. I was beyond happy! We got along so well with that director, we went through so many obstacles on set everywhere that when we came back he started calling me to all his projects. I worked on one of the movies and then I felt like moving forward. I got an invitation to work on another Canadian movie. That movie we shot in Laos and Thailand. I really love South-Eastern Asia and it was a blessing for me to be able to come back there. I've met great filmmakers there, in fact we agreed that soon enough we will shoot a movie there. I worked on a couple more projects that gave me a better understanding of how the film industry works in Hollywood. It's not so different, just more opportunities and bigger film budgets. I started writing my story that is very important for me which I soon want to produce. In 2018 I got a text from one of the filmmakers I worked with that his company is looking for additional team members. I was curious and agreed to an interview.
When I just started, we were on the stage where we were just developing projects in a new on-screen format called Screenlife. The movie that our company made a breakthrough, it was "Searching". We even have a manual called Screenlife Bible, where we explain the language on computer and mobile screen. It's very interesting because through the simple typing of texts, you can understand emotions. We are developing a lot of really great movies right now. I wish I could share it with you, but can't. Hopefully, soon you will watch them. One of the projects our company recently produced is "R#J". Really beautiful interpretation of Romeo and Juliette love story in a modern generation Z tik tok language. I am very happy to be part of this innovative Screenlife team. It gives me so much inspiration. Aside from producing projects with the Screenlife team, I also produce my own projects. I did a couple of great short films, one of them still participating in different film festivals.
Alright, so let's dig a little deeper into the story – has it been an easy path overall and if not, what were the challenges you've had to overcome?
No, there were many struggles, especially personal. Earlier I mentioned that it took me half a year before I landed my first job in film. These six months were quite challenging for me. Firstly, because I didn't have anyone who could refer me to get a job, so I had to convince them why I was worth their time and why they should hire me. Sometimes people were smiling, but sometimes they were rude and mean. Sometimes I didn't pay attention, but there were days when I took it so personal that I was very close to giving up. On top of that, my parents didn't really support me in choosing filmmaking as my profession. So I was getting into fights every other day. But I always remembered how it felt when I was in New York and just got introduced to filmmaking. I felt alive and I knew that challenges are given to me only for the reason of becoming a stronger and better person, only to test how much I want to be a filmmaker.
When I came to LA and started studying, I remember that everyone was telling me that it's going to be hard and there is a huge competition and I have slight chances to make it here. It's the industry where you have to know people to be able to get somewhere. So, yes, there were days when I didn't care about it, not because I think they are wrong. In fact, I think they are right, there is a huge competition, it's not going to be easy and yes, it's always better if you know someone who knows someone. But because I think it drives me even more, being in LA among so many passionate filmmakers as I am, competing with them, collaborating with them and not knowing what life will bring you tomorrow. Isn't it exciting?! Yes, of course, there were days when you just felt like you were ready to give up. But then again, no matter how dark the night was, the sun rises in the morning. When you come from another country with a different culture and mentality, that by itself becomes a struggle. It took time and I am still assimilating. Trying to adapt without losing my beliefs, values and dreams.
Thanks for sharing that. So, maybe next you can tell us a bit more about your work?
I produce films and TV shows. Sometimes when my friends or relatives ask me what exactly a producer does? Because they are not working in that industry, I give them a simple comparison: I am a mother and film is my baby, I am carrying it and then giving a birth to it and then take care of it, cherishing and making sure that it grows up a great decent human that I am so proud of. I am constantly in the search of a good idea that I can develop into a great story and then script. Sometimes ideas can come from an article or some discussion forum on Reddit, it can also come from a book or magazine or even a stranger who you met somewhere in a subway. Sometimes I am crossing ideas to make one great story, it can also be a personal story, yours or your friends, or maybe some historical events that influenced society. Ideas can really come from anywhere it's just important to be open and in need of it. So, finding and developing an idea into story/script is one of the fundamental works that I do. After I finally find an idea and develop a script, I start looking for crew, people who will make a movie from the story. At this point, I usually have an understanding of what the movie should look like. It doesn't mean it should be only the way I see it, no, I just again have an idea of it and based on that I am looking for a director who usually has his ideas how the movie should look like and be felt like.
Then goes cinematographer, we do casting, hire the rest of the crew. So the team is ready to make a movie. I am constantly on set making sure everything goes by plan. After it, every day I am in the post-production process, also making sure the movie comes out the way we planned it. Then the pitching process of finding distributors and doing a proper marketing. I should know that too. When finally a movie comes out and we get great feedback on, I can freely exhale
From my recent works are web series "Dead of Night" (Season 1, 2) on Snapchat. It became the most watched show on Snapchat. Another work is Documentary web series "1968.digital" – it is a collaboration with a famous Russian journalist/writer, Mikhail Zygar. This show narrates about the events back in 1968 as if they had social networks and cell phones. We've done that show in three languages: Russian, English and French. Also, a movie "Paris Song" a collaboration with Kazakhfilm studio that got several awards and 1st Born where I had a privilege to work with Val Kilmer. To me, he was the only true Batman I knew. I can't describe the feeling when I met him and understood I will be working with him, the Batman from my childhood. I am honestly proud of every project I worked on, each one of them is so special to me. Every project brought me great experiences and memories, great people that I got to know. And I am proud of myself for being brave and taking a leap into the unknown world of filmmaking. I believe in myself strongly and it helps me with achieving my goals successfully. I also believe that any dream can come true if you believe in it.
Any advice for finding a mentor or networking in general?
Yes, be genuinely nice to people, be open-minded, be curious, be yourself and be empathic. When you are truly interested in a person, he will get interested in you too and this connection can bring better results. When you need someone's help, you should ask about it directly. So far, it worked for me and keeps working in present days as well. As for finding a mentor, I honestly have no advice except when you are ready your mentor will find you. That's how it happened to me

Image Credits:
Ramona Diaconescu (photo in yellow vest), Timur Junussov (cover picture, picture from set, picture on the sunrise), Indira Ikhsan (picture with director in the field) and photographer unknown for pictures with director in video village and in sunglasses looking into the camera.
Suggest a Story:
 VoyageLA is built on recommendations from the community; it's how we uncover hidden gems, so if you or someone you know deserves recognition please let us know 
here.