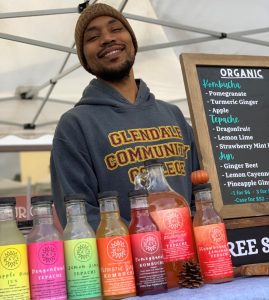 Today we'd like to introduce you to Waren Vaughn.
Hi Waren, thanks for sharing your story with us. To start, maybe you can tell our readers some of your backstory.
Food has always been an important part of my life. Growing up, my parents really instilled an importance in the quality of food that you eat and physical activity. I grew up going to the farmer's markets with my dad and buying directly from local farmers and artisans.
In 2019 I was working for a friend of mine who had a farmers market business working with fermented foods. During this time, I was also going to school for nutritional science because I was interested specifically in gut health and how our gut directly relates to our overall health. My friend who I was working for decided she did not want to continue with the business and wanted to pursue other ventures. She decided her last market would be in the end of June. At this point, I was going to be out of work and I was considering starting my own business that focused on gut health.
I started by setting up a testing ground for recipes and product line in my parent's kitchen. I wanted to create a delicious, organic, nutrient dense, and affordable products. I researched what herbs and ingredients would enhance each other and what ingredients had the most impact on our bodies. I wanted a high-quality product that was accessible. I narrowed down a focus on Kombucha, Jun and Fermented Veggies. For me, it was a marriage of nutritional science and functional foods.
I put months of work into the recipes, paperwork, branding, finding all the equipment I needed and finding a facility to work out of. Through all of this, it was overwhelming, stressful and sometimes seemingly impossible. Thankfully I had a community to push me. I was still working the markets under my friend's company until she shut down in June and I shared with a few customers that I was thinking of starting my own business. The customers showed me so much overwhelming support, confidence and excitement. Along with my girlfriend and my family's support, I was able to push through the obstacles and get my business off the ground.
I worked the first day at the Calabasas market on July 6th, 2019 under my own company, Wava. Starting out, we worked four markets. Staffed by myself and wonderful employees. The first six months were the hardest. I navigated finding a balance of being an owner of a one man run business and also being a full-time student.
Today Wava is at six farmers markets along with some stores and a chiropractic office. I have over nine fermented drinks between Kombucha, Jun and Tepache. I produce six kinds of fermented veggies and three flavors of bone broth. I feel nothing but gratitude for the expansion and success of my business. Customers continue to fuel me today. It's amazing to hear the testimonies of how my product helped people whether it was how it made the person feel or if it helped a specific health issue. It has connected me to people in a way that I never experienced before. A sense of responsibility to continue to uphold my quality standards and impact people one gut at a time.
Would you say it's been a smooth road, and if not what are some of the biggest challenges you've faced along the way?
It was a struggle finding a permitted kitchen to make our product out of. I only had about three months to find one. I finally found one that offered a price I could afford and was fully permitted. The downside to this kitchen is that the only days I was able to work in the kitchen was Thursday night, Friday night, Saturday and Sunday. While being a full-time student and also working markets Saturday and Sunday, I had to work most nights from 7pm – 3am. I had to ensure to get the hours in so I would be prepared for the markets but as a result, it was a lot of late nights and lack of sleep. In February of 2020, we acquired a full space kitchen. The rent was high but with the way the markets were going and success, we had already seen it was beyond exciting and a great opportunity.
Unfortunately, the next month the pandemic hit and the markets we were attending were not allowing any vendors unless they were farmers. The steady income that I relied on was no longer there and I still had to pay the rent each month for my kitchen space. Thankfully I had contact information for some customers who would order through me and I made drop offs. The farmers market organization allowed us to promote our product there and to let the customers know we could make deliveries to them. After about two months, we were allowed to start back at our markets but we were unable to sample and were under new rules and regulations from the health department. Sampling is a huge part of why Wava is successful. When you hear Kombucha most people think of a vinegar like drink that is good for you but does not taste good. I began to offer a money back guarantee. If a customer did not enjoy the taste of my product after trying it, they could return it with a full refund. The challenges in 2020 were unpredictable and something that as a business owner made me realize how important community is. Wava would not have survived without loyal customers supporting my business.
Thanks – so what else should our readers know about Wava?
My goal with Wava is to offer superior quality foods that re-establish and diversify your gut microbiome for optimal immune and gut health. One thing I want to instill in people is to trust your gut. Food can help cure or alleviate symptoms of sickness and diseases. Wava strives to continue to work with that ideal in mind. I believe food is medicine. We are still understanding the complexity of our microbiome and have learned that what we eat greatly impacts our gut health which is connected to brain health, mood, immune system and overall health.
The products that Wava makes are all created with health in mind. We start by using the freshest, organic and locally sourced ingredients. Most of our ingredients are sourced from same markets where we sell our products. Food science research went into each ingredient that is added into my products. Not only did I look at the benefit of that ingredient but I also researched what ingredients pair together to create a greater benefit. For example, the pairing of turmeric and cracked black pepper enhances the benefits. Turmeric on its own is an anti-inflammatory because of its active ingredient curcumin. The amount of curcumin in turmeric is only about 3%. When combining it with black pepper the pepper slows your liver from metabolizing the curcumin rapidly and allows more of it stay in your bloodstream longer. This allows the anti-inflammatory properties to take effect for longer. This is just one example but every product I sell strives to positively impact your overall health. I want to make a difference in your life. I want my customers to be pain-free, energized and healthy.
Who else deserves credit in your story?
My family was huge supporters of Wava and what I wanted it to be. From my parents offering financial help and continual resources and support. My sisters promoting Wava every chance they had as well as even working the booth for me when I did not have staff. All of my employees have been friends of my sisters or of my family. I would not have been able to staff my markets without them.
My girlfriend then and fiancé now Aurora has been there with me every step of the way from the idea forming to the first day at the market. She helped with paperwork, branding, and organizing the structure of the business. When Wava became more than I could handle on my own she started working with me in the kitchen. She has been by my side everyday through every problem and every success.
My fiancés family also supported me. William my soon to be father in law helped me navigate how to run my own business. What steps to take when and provided me with resources and know how. When obtaining my own kitchen, he came in and installed any equipment we needed and anything we needed fixed. They have helped me hands on with making sure I could keep up with demands of the business.
California Certified Farmers Markets, Burbank Farmers Market, and Farmer Mark Farmers Markets all helped with my start at the markets and supported me as one of their vendors. I am very aware of how hard their on site managers, office staff and coordinators worked to ensure the markets were kept open and ensured that business like mine had a place to make a living. I am beyond thankful for their teams who kept us in business during the pandemic.
My customers have never faltered to make this business worthwhile. The constant support and consistency of my customers has made Wava possible. I run this business because of the positive impact I can make on my community but the community has simultaneously made a life-changing impact on me. I am beyond thankful.
Pricing:
Fermented Drinks – $6 (Deals on multiple)
Fermented Veggies – $12 (Deals on multiple)
Bone Broth – $8 – $12 (Deals on multiple)
Contact Info:
Suggest a Story:
 VoyageLA is built on recommendations from the community; it's how we uncover hidden gems, so if you or someone you know deserves recognition please let us know 
here.