Today we'd like to introduce you to Rossana Jeran.
Hi Rossana, it's an honor to have you on the platform. Thanks for taking the time to share your story with us – to start maybe you can share some of your backstory with our readers?
I am a Social Entrepreneur, Media Artist and Certified Meditation teacher. I have a diverse background from social work and arts management to philanthropy, private equity, the tech industry and Hollywood. But now, my disparate past is a blend of all my passions.
It all began in Kansas. Actually, it all began in Montevideo, Uruguay where I was born. My parents immigrated to the United States when I was three years old, settled in Overland Park, KS and I've been an American girl ever since. Growing up in Kansas was great, but not so great if you wanted to be an actress…one of my first aspirations.
In my 20s, after being cast in a student film for Kansas City Art Institute filmmaker Brendon Phillips, I knew I had to find my way to Hollywood, but little did I know that I would fall in love being behind the camera as well.
One fateful day on the set of his film, his producer walked out leaving nothing but the production notebook behind. Brendon came to me and said, "Hey, do you know how to produce a film?" I didn't and he said if I didn't help him produce the film, there would be no film for me to act in. So, I helped him and the rest is (part of the) history.
Even though I still wanted to be an actress, I began working in the film/video industry in Kansas City and learned the ins and outs of production. I was lucky to have been taken under the wings of several producers and really got a taste for the industry wearing a multitude of hats on set.
Secretly, I was hoping someone would discover me and although I had a talent agent at the time, there weren't many parts for a brown girl in the Midwest. I always got cast as the shoplifter or a person in a nightmare in the few industrial films I was selected for and there weren't any meaty roles around.
I wanted to broaden my range, so I decided, with my newfound love of being behind the camera and not yet ready to make the move to Hollywood, that I would begin making my own movies and cast myself in them. But, I wasn't interested in making commercially viable narrative stories, I wanted to explore thematic content that delved deep into the psyche of the viewer, using subtext, allegory and metaphor to convey the message and 'story'. I studied Communications and Psychology at the University of Missouri, Kansas City, but it was the production experience and the films of the Brothers Quay, Maya Deren, Jean Cocteau, and Salvador Dali that fueled my vision.
In 1992, I wrote, directed and produced my first short film, "One for Dinner" and I was hooked. After a few years of making experimental shorts working under the name Gothic Productions, I adopted the moniker, Blurgirl and over the years, became an award-winning Writer, Director and Producer.
My work has screened across the United States and abroad and been featured at the Independent Feature Film Market, Newfilmmakers/NYC, Gen Art, Deep Ellum, LA Freewaves, Chicago Art Institute, Gatecrasher UK, Independent Exposure, The Kansas City Filmmakers Jubilee, the 11th Annual Experimental Film Festival in Sydney, Australia, DJ Central: a global EDM program and the Sagamore Hotel in Miami Beach to name a few.
As a filmmaker, collaboration is not only essential, but something I love to do with fellow artists of any medium, but especially photographers. Photography is a great way to storyboard ideas in their early stages.
To support my film habit, I worked as a C-level Assistant and created visual poetry by night, eventually making two micro-budget features, Godhead and Triptych both available on Amazon.
I finally made it to the City of Angels in 2001 and began working for music industry legend Freddy DeMann; former Manager of Madonna, Michael Jackson, Billy Idol, Perry Farrell and Shakira. From a Hallmark heiress to Freddy DeMann and many other bosses and sectors in between, I got a taste of different industries and decided that what I really wanted was to be in business for myself.
Would you say it's been a smooth road, and if not what are some of the biggest challenges you've faced along the way?
As a creative creature, I've always felt deeply into my feelings, my soul and myself. I had experienced depression and anxiety in my 20s and 30s and although it wasn't debilitating, it did rob me of my energy and joy at times. I also didn't know what type of business I wanted to launch, but as a spiritual person, I had always been interested in yoga, meditation and all the Eastern philosophies.
After adopting some of these practices into my life, my spiritual journey of self-discovery began and I found that these new tools were actually pivotal to my self-care. Exercise, too! In fact, after a few rounds of antidepressants and wanting off, I found that I could actually shift my mental state using meditation and exercise TOGETHER and that I didn't need big pharma to keep me happy.
This really inspired me to help others who were also looking for similar solutions, so in 2010, I launched Fit Conscious Happy, a lifestyle coaching practice that guides people to reach their highest potential using fitness and Meditation for complete mind/body wellness. I became a Personal Trainer and got certified as a Mindfulness Meditation Teacher and began having group classes on the beach and seeing clients for individual, one on one coaching. Boom, a wellness business was born!
As you know, we're big fans of Hello Computer, Inc. For our readers who might not be as familiar what can you tell them about the brand?
In 2011, I met singer/songwriter Christopher Taylor who would become one of my most influential collaborators to date. After a year of creating the brand, business and content for Fit Conscious Happy, he came along and reignited my passion for art, specifically the moving image, with a music video project he wanted for his song, "White Hot Sun".
We went on to create other projects, including a TV/web series called "Coffee is for Closers" starring screen legend Karen Black set right here in a Hollywood telemarketing room full of wanna be actors.
This gave way to more commercial pursuits and in 2018, we co-founded digital media agency, JTGC Media, a full-service content creator, mobile App developer, and branding agency. Whether it's a mobile App, photography, video or any other form of digital media, we take whatever is special or unique about a business and create fun and innovative ideas to build online presence, awareness and sales for a product, brand, service or social media.
In 2020, we co-founded Hello Computer, Inc. a social purpose technology company that is passionate about making positive changes to the landscape of education and gaming. As the CEO of Hello Computer, I am passionate about literacy and imagination and our work focuses on creating digital learning tools in mobile app technology as well as intellectually stimulating video games for the Virtual Reality platform.
Our signature Ed Tech mobile app Storytime, for Kindergarten and preschool-age children, is an award-winning story content generator that blurs the lines between education, entertainment, and technology for a rich, imaginative reading experience. The best part is that StoryTime never tells the same story twice…stories are always new and dynamic making it truly unique.
As a social purpose company, Hello Computer, Inc. has a mission to eradicate illiteracy on a global scale and believes that literacy and imagination are human rights. Because of this, we offer free/ad-free licenses of StoryTime to schools, programs, libraries and other educational institutions in developing areas and/or countries that have no access to books or other educational resources. 
Our work has also broken into Virtual Reality because now more than ever, our world needs conscious experiences in the VR gaming industry, games created to ignite imagination, inspiration and promote higher states of consciousness. We are about to release our first game called, "Abby's Garden" for the Oculus this September. Coming soon!
What does success mean to you?
Since its launch in the Spring of 2021, StoryTime has already won two awards! A Go Global, Top Placer Award in the Ed Tech category from the International Trade Council in Washington, DC and a Corporate Vision (UK) Education and Training Award for the "Most Unique Educational Children's Mobile App"! We are partnered with programs and orphanages in Kenya, Columbia and India which inspired us to add translation for 137 languages, as well as a text to speech function to StoryTime so children all over the world can read AND hear stories in their native languages.
Most recently I was certified by the Chopra Institute as a Primordial Sound Meditation Teacher and I look forward to sharing these teachings in person, as digital courses or an immersive, meditative VR experience. I share in Deepak Chopra's mission to have 1 Billion people meditating worldwide. Once this happens, we will see a huge shift in the consciousness of our planet. I am also interested in bringing these Meditation teachings to underserved audiences like corporations or prisons.
I also just launched my digital Meditation courses and offer a simple, yet profound complimentary first class of a Meditation can be used
daily. Come get meditated with me at https://rossana-jeran-s-school.teachable.com/
As a true and well-balanced dichotomy, I balance my life between Los Angeles and Joshua Tree, my entrepreneurial work, my passion for helping people and creating cutting-edge visual and VR experiences. I'm also developing several media projects with LA based production company, Violet Horizon, LLC.
I teach Primordial Sound Meditation at the Joshua Tree Retreat Center every 2nd Saturday of the month and I am searching for a yoga studio or space to teach a monthly class here in LA, as well. Next up, I'll be speaking about Meditation as a tool for self care at the sold out, Los  Angeles County Women's Leadership Conference on September 1st.
In closing, I'll say that my mission is dedicated to creating revolutionary tools and content that evokes and inspires people and children on a global scale to reach their highest potential.
Contact Info: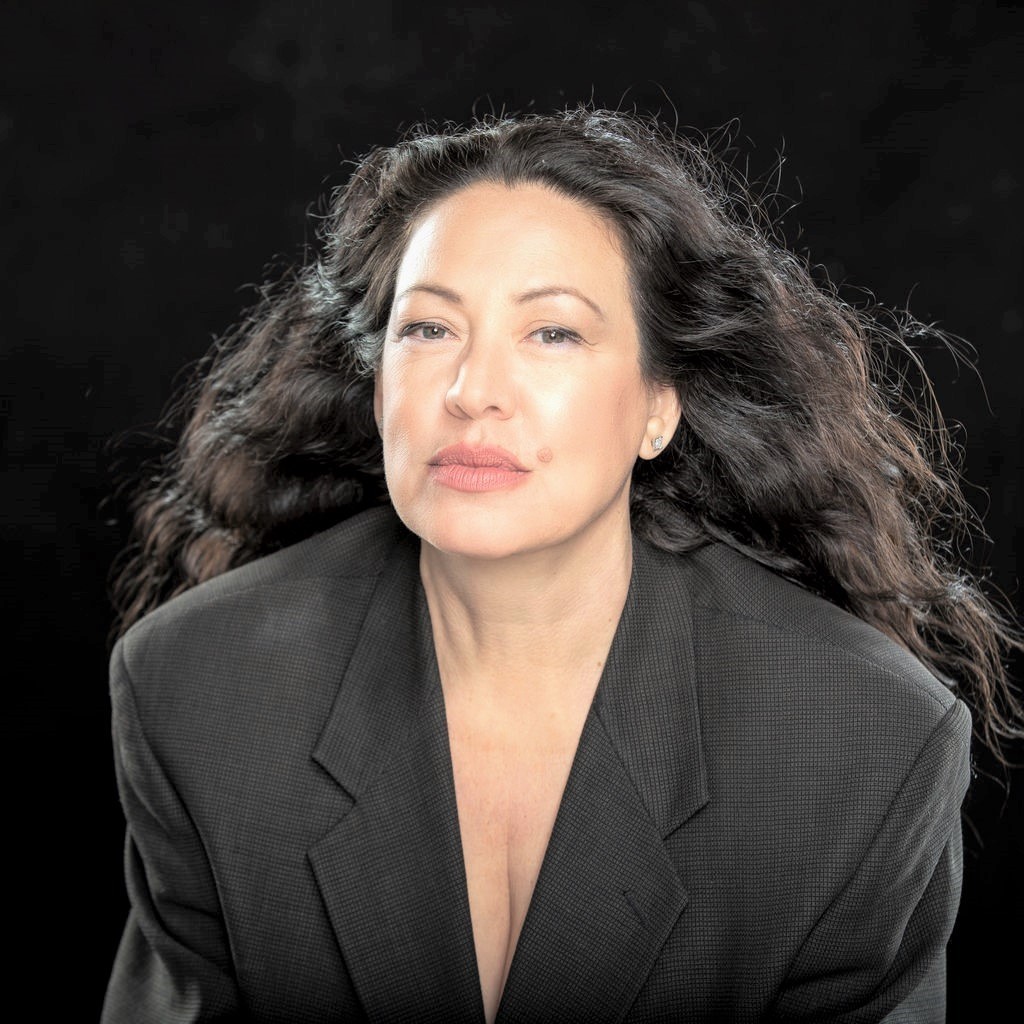 Image Credits
Rossana Jeran – headshot, bio pic and wide shot 2 – Photo Credit Ed Zabel Rossana Jeran and Christopher Taylor pic – Photo Credit Martin Diggs Taking Root Still – Rossana Jeran credit Hello Computer, Inc. logo – Rossana Jeran credit
Suggest a Story:
 VoyageLA is built on recommendations from the community; it's how we uncover hidden gems, so if you or someone you know deserves recognition please let us know 
here.