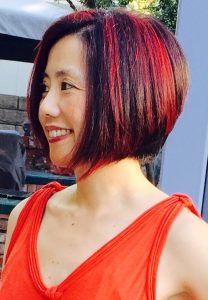 Today we'd like to introduce you to Livia Shi.
Hi Livia, please kick things off for us with an introduction to yourself and your story.
In July of 1976, I emerged from my mother's cozy womb into a bustling life in Southern California. Growing up, I was a sensitive child with an affinity for art & music. From age six until the end of high school, I started learning classical piano and pursued other creative mediums like painting and drawing. After being accepted into Northwestern University's dual degree program in Civil Engineering & Music for college, I decided to take the Bohemian route and ended up choosing to attend UC Berkeley as an undeclared freshman to be closer to home. After an eye-opening first year in college, where I tried to follow my dad's footsteps and pursue an engineering degree, I decided that my life needed to follow a more creative path. During my Berkeley years, I relished my newfound freedom and discovered architectural design as an outlet for my eccentric imagination. Perhaps the tie-dye clad free spirits that lingered on Telegraph Avenue influenced me to push my creative expression to new heights.
After college, I had the privilege of visiting many architectural wonders throughout the world. I was particularly impressed with my visits to St. Peter's Basilica in Rome, the Louvre in Paris, Sagrada Familia in Barcelona and numerous temples that I came across in Asia. From my travels, I realized that creative genius in the form of architectural design could, in fact, elevate the human soul to a higher dimension.
Following graduation, my professional career began with an apprenticeship to famed architect Stanley Saitowitz at his office in San Francisco. Afterwards, I worked at reputable Los Angeles area firms – Steinberg Architects and LHA Architects, Inc. (now GKK Works/Cannon Design). While working at these firms, I gained extensive commercial, educational, and residential design experience. I also gained valuable project management and client interaction experience. While at LHA Architects, I served as project lead on several large-scale retail developments in Northern and Southern California. As project lead, I was involved in the master planning, design, and construction administration of these commercial projects. While at these firms, I also gained extensive experience working with LAUSD on the modernization of various K-12 schools & worked as project leader, with USC, on the retrofitting of several of their high-rise dormitories.
So after nearly a decade of working for others, with my professional skills intact, I decided it was time to branch off on my own. In 2007, I decided to open up my own design practice, Livia Shi, Designer, which focused on the design of custom single-family residences & furniture design. As my own boss, I found a freedom that I didn't have before when I worked for others. I really enjoyed interacting with my clients on a daily basis, listening to their ideas and coming up with a collaborative design without having to worry about office politics or answering to anyone but myself in terms of project decisions.
Eventually, in 2015 my sole proprietorship morphed into Atelier LSM2 Inc., a full-service architecture & furniture design firm based in the San Fernando Valley. Atelier LSM2 Inc. is comprised of a small but skilled staff of experienced architects & designers. As Principal of the firm, I oversee the company's business opportunities & day-to-day operations. As Director of Design of the firm, I generate each project's overall conceptual design and unique vision. Most importantly, I make sure that the design theme is carried through from conception to construction.
Although we do all types of projects, I'm most proud of our residential architecture & furniture design projects which have been featured in magazines like Azure, Inhabitat, Archello, Re-Thinking the Future, Valley Scene Magazine, Interior Design Magazine's Fall Market Tabloid, & Interior Design Magazine's Decade of Design Book. For the record, I was also a founding partner of a bi-coastal architecture & design firm, headquartered in Los Angeles, called Architecture LS3, Inc., from 2011-2015.
We all face challenges, but looking back would you describe it as a relatively smooth road?
If you ask me honestly if it has been a smooth road to my current success, I would definitely say no! When you think of the person that has been challenged by being knocked down constantly and then having to get back up, that is totally me!
From my school days as a college architecture student at UC Berkeley, I was never the 'A' student, but the student who came up with eccentric designs on projects. My projects were never perfectly polished in terms of presentation and being a soft-spoken, quiet person, I admittedly never effectively marketed my projects during school presentations. Therefore, I was often underestimated by my peers and teachers. Yet, I was always strong-willed and confident in my design ability.
In school, your TA (teacher's assistant) or professor is your client, and in order to get an 'A' you needed to please him or her. I never kissed up to my teachers because in school, I believed in creative expression over getting that 'A'. Some teachers were able to put aside their ego and appreciate my design talent, but others were not as mature. Also, surprisingly, the Berkeley architecture program catered to a very conservative design sense, so I was always designing in a radical manner. I had one particular TA where we really butted heads because I didn't cater to his design sense or follow his suggestions. He openly bashed my projects and added some personal insults during one of my presentations while my peers & his fellow teaching staff were in the audience. I was mortified and angry but never considered giving up. Twenty years later, out of all of my architecture friends in college, I am only one of two people in our circle still pursuing the profession.
Later, when I moved into the "real world" and started working professionally, I also encountered numerous obstacles. When I stepped into my first job at a small firm in West LA, I immediately felt unwelcome as I walked into an office where there were two female architecture coworkers that were about a decade older than me. Being a highly sensitive person, I could sense a hostility emanating from them that I was the new, younger woman who was coming to challenge their positions. Neither one of them came to talk to me or invite me to lunch & instead offered each other snacks, walking past me as if I were invisible. Luckily, the Principal who hired me was very enthusiastic & made me feel extremely welcome. However, this first impression with those ladies set the tone for my future as a professional working for others.
I think many people think when you work as an employee at an architecture firm, it's very rewarding. However, the reality is that the pay is not great when you are working for others. Therefore there's a lot competition and the work environment becomes very hostile. Also, although there are more women in the profession now, we are still in the minority, so the competition amongst women in a company is extremely high. For example, I worked briefly at a firm where I was backstabbed by six women on my project team. They fabricated false stories about me because they were jealous that I was hired in a role that was superior to theirs. Ultimately, these women went to great lengths to try to get me removed from the company.
Don't get me wrong. Not all of my experiences in the workforce were entirely bad otherwise I wouldn't have the skill set to be where I am today as a business owner. My experience at LHA Architects, where I worked for six years, really was invaluable. I learned a lot about the architecture profession there and gained my skill set to be a seasoned professional. I met a lot of good people there who mentored me and gave me the opportunity to manage projects from beginning to end.
Needless to say though, the bad experiences really showed me the ugly side of human nature and encouraged me to take the leap of faith to start my own firm. As my own boss, I now have the freedom to choose my clients, so I rarely encounter the negative personal dynamics that I had as an employee. However, I do have new challenges as a business owner. Now, I have to now get my own work and collect paychecks by networking, attending business mixers/ functions, etc. When I first started my own business, it was humbling. I was used to handling large projects like 14 acre retail centers, high-rise dormitories, etc. at work. Suddenly, I had to start from the bottom by taking remodels of homes. I had to market myself by sending flyers door to door & making cold calls to potential clients. Initially, I took jobs for very low pay just to get the experience.
Furthermore, I was always fascinated by cool furniture design too, so I added that into my business. I see furniture design as an extension of architecture that is more accessible to the general population. My first furniture design commissions included designing a custom entertainment center for my cousin and also a coffee table for mom. My first real ground up architecture project was designing a glass gazebo for my parents. The designs for the coffee table and gazebo both ended up getting recognition in numerous online and print magazines. Slowly but surely, I graduated from doing remodels to getting ground up projects. When I got my first custom home, I was thrilled and excited! I love the design detail that you are challenged with when designing a custom home & working with the client to make their agenda come to fruition! Also, I started getting contacts from furniture manufacturers that wanted me to create lines for them. Recently I just finished designing my first apartment building and am currently working on a new retail center in the LA area.
Although I'm excited about each project that my company undertakes, I'm most proud of the projects that have achieved recognition through publications. A modern glass eagle-winged gazebo that I designed in the San Fernando Valley was featured in high-profile magazines like Azure, Inhabitat and also included in Interior Design Magazine's Decade of Design hardback publication. Furthermore, a high-end coffee table that was prototyped in my Defying Gravity furniture line was also recognized in various online publications like Interior Design Magazine's Fall Market Tabloid and Archello. Aside from publications, I was particularly excited about a three-story commercial building that I designed for a project in the Woodland Hills, CA about five years ago. The third story of the building was to house a high-end restaurant, so I designed a very futuristic curved looking structure to house this eatery. A majestic waterfall entrance to the building added a magical touch to the inherently spectacular design. I'm also particularly proud of two recent designs that I did for a new apartment building in the Los Angeles area and also a new custom ocean view home in Ventura.
I think the best advice I would give young people who are starting a business is to never give up! Success may not always come quickly, but if you're persistent and positive, you will eventually find clients and mentors who support you. Most of all, always believe in yourself even when you're surrounded by naysayers! I still run into people who try to put me don't by assuming I only do home remodels as a business owner. Tune out the noise and dream big! One day your dreams will come true!
Thanks for sharing that. So, maybe next you can tell us a bit more about your business?
Atelier LSM2 Inc. is a design-oriented, Los Angeles based architecture & furniture design studio specializing in commercial, residential, institutional, civic and hospitality projects. Our focus is on the conception and delivery of exceptionally designed projects which exceed our client's expectations. At Atelier LSM2, we make sure our client's needs are addressed on every level and we create our designs to adapt to the ever-changing global environment. We believe that good design not only comes from innovation from our staff's design expertise but also collaboration with our client's agenda. Each design is unique and blends in harmoniously with its surrounding environment. Whether the project is for a new building or furniture piece, at Atelier LSM2, Inc., our goal is to provide friendly and quality professional service. We strive to create exciting designs that are cutting edge yet cost-effective, buildable and feasible. The strength of our design work comes from having a good understanding of our client's needs and the unique environment of each project. We make sure that each project is delivered on schedule and budget. Through extensive surveys of existing conditions, we come up with creative solutions that are tailor-made for each particular site. Atelier LSM2 staff also has considerable experience in providing construction management services. The firm utilizes cutting-edge engineering techniques, computer graphics and rigorous quality control standards to ensure the success of every single project. Most of all, we give confidence to our clients that no project is a daunting feat; the only limitation is our infinite imagination and ability to create unique, timeless designs.
At Atelier LSM2 Inc., we are dedicated to serving our client's best interests and strive to create a building that is not only beautiful but safe. We make every effort to apply the latest codes and standards to ensure the best quality design work for our clients. We consider each project to be our best advertisement and every client to be our best potential reference for future work.
Ultimately, producing inspiring, cutting-edge designs is just part of Atelier LSM2 Inc.'s brand & story. The success of our brand and any brand is all contingent on how the journey to the top is handled along the way.
Is there something surprising that you feel even people who know you might not know about?
Outside of work, I'm an avid foodie, bird lover, and classical music aficionado. Whether making a gourmet meal or dining out at the best restaurants in town, you'll find that I'm a true foodie & have a genuine appreciate for all things culinary. During the pandemic, I honed my culinary skills to the point where I can whip up a gourmet meal that will rival your local four star restaurant in presentation and taste. I'm also a long-time pet bird owner. When I adopted my cockatiel, Jesse, a few years ago, the pet shop store workers said I appeared to be a "bird whisperer", as he seemed to immediately take a comfort & liking to me. I think Jesse could sense all of my previous feathered babies' spirits around me – particularly my sweet Sunny who had passed not too long ago. Finally, I think people will be surprised that I'm a classically trained pianist and almost pursued a career in music. At age 11, I performed Beethoven's Piano Concerto in C live with orchestra & was accepted to the Northwestern School of Music's prestigious undergraduate music program.
Contact Info:

Image Credits
1) John Linden for Modern Glass Gazebo 2) Sarah Carmody for Ventura Custom Home
Suggest a Story:
 VoyageLA is built on recommendations from the community; it's how we uncover hidden gems, so if you or someone you know deserves recognition please let us know 
here.