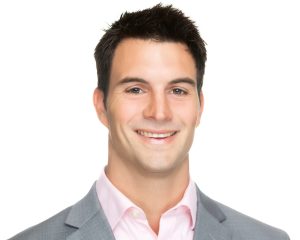 Today we'd like to introduce you to John Shokohi.
Alright, so thank you so much for sharing your story and insight with our readers. To kick things off, can you tell us a bit about how you got started?
While working for a civil engineering firm for the first four years out of college, I learned a lot about the construction stormwater industry in California and gained valuable experience throughout my time working with my colleagues. Having the same role for four years prevented me from learning new skills, and I noticed myself beginning to get complacent. As I worked through the motions day in and day out, I slowly began to notice that there was a problem within the construction stormwater industry: Developers and General Contractors were not happy with the price they had to pay for mandated stormwater services at their construction projects, and they wanted nothing to do with various state and local stormwater requirements. With ideas on how to improve our internal processes, cut costs, and offer a more affordable services to our clients, I began advocating for myself to get more involved with business development and project management. Once I got shut down by upper management and repeatedly told to focus on my current job description & requirements, I started to notice that there was a ceiling over my head. What seemed to be the end of the world at the time ended up being the biggest blessing in my entire life: I got fired in the beginning of 2020.
Now in the midst of a pandemic, I didn't know what direction my life and career was going and had some big decisions to make. Being encouraged by my parents to find another job and having offers from other companies, I was just a step away from jumping back into the employee world and going back to building someone else's asset. It wasn't until reading a book by Robert Kiyosaki called "Business of the 21st Century", I had a paradigm shift and realized that in order to become financially free and truly independent, I needed to become an investor and a business owner. Between beginning to read books again for the first time since graduating college and finding a couple of successful mentors, I learned more about myself and about life than I ever learned throughout school and work. Now it was time to apply that newfound knowledge into my life and create a new path for myself.
In April of 2020, I took the problem I noticed in the construction stormwater industry, sewed my solution into a business plan, and launched Stormwater Pros. It was a leap of faith to say the least, but it's been the greatest leap I've ever taken in my life. Each day presents new challenges, which result in new learning opportunities and experiences I would have never had as an employee. As a new company, business development and marketing became the main priority. I joined masterminds and industry-related networking organizations to meet potential clients, introduce myself to other industry professionals, and share information about Stormwater Pros' services. I didn't get my first client until six months later in October 2020. The day to day tasks and constant work/reading/writing/reflecting was beginning to pay off, and I could start to see the fruits of my labor. Picking up a couple of other clients before the end of the year, I finally had the ball rolling in the direction I wanted.
Going from 1 client in 2020 to over 10 in 2021 has resulted in tremendous growth; and with the new year ahead, I anticipate the growth to continue exponentially. Setting goals and working hard each day has allowed me to get to where I am today and has resulted in the growth of my business. It is amazing what we can accomplish when we set our minds to something. I hope my story inspires other people to follow their dreams, tap into their full potential, and fight for what they believe in, no matter what anyone else says. Life is too short to not chase your dreams. Go for it!
We all face challenges, but looking back would you describe it as a relatively smooth road?
The biggest obstacle so far has been self-doubt. When you get fired, you feel like you don't belong, and it can be very discouraging. Rather than letting that negativity hold me back, I used it as motivation to prove to others and myself that I am capable of anything and can build a successful business on my own. Whenever I would begin to doubt myself, I would remind myself of the lessons I've learned in my readings and force myself to stick to the process even on the bad days. Self-discipline is a big reason for my success and has taught me how to block the external and internal noises, keep my head down, and focus on myself and the development of my business. There are so many negative things in life that you cannot control; and once you accept that you cannot change certain things, you begin focusing on yourself and on the things that you can control within your life. Self-focus has resulted in self-development and improvement; and I believe that you succeed in business when you succeed in life.
The other biggest challenge has been family-related issues. This goes hand in hand with focusing on yourself. In the time I began Stormwater Pros, my mother was diagnosed with a malignant brain tumor and had to undergo brain surgery and radiation treatment, my sister suffered from mental illnesses caused by opioid drug abuse and was going in and out of various mental institutions while relapsing in between, and my father was diagnosed with Alzheimer's before passing away in 2021. It's been a bumpy road, but I wouldn't trade my family for anything. I love them with all of my heart and help whenever I can, but I accept the fact that I cannot change certain things and need to take care of myself at the end of the day. They have all taught me valuable lessons and my family experiences have helped me grow as an individual and not take certain things in life for granted. I am thankful for my friends, family, and clients, and I am blessed beyond words to have them all in my life.
We've been impressed with Stormwater Pros, but for folks who might not be as familiar, what can you share with them about what you do and what sets you apart from others?
Stormwater Pros is a construction stormwater consulting company that offers efficient and economical stormwater services for construction projects throughout San Diego. We specialize in the entire Stormwater Pollution Prevention Plan (SWPPP) process, which is required for any construction project throughout California that disturbs 1 acre or more of soil, subject to the State Water Resources Control Board's Construction General Permit. Our clients are developers and general contractors, and our goal is to save them all time and money on their project's SWPPP requirements. From obtaining permit coverage to maintaining compliance throughout the duration of the project to terminating permit coverage at the end of construction; Stormwater Pros offers a suite of services to handle any of our client's stormwater requirements and save them money in the process. You can find more information about Stormwater Pros on our website: www.stormwaterprosca.com.
What do you like and dislike about the city?
I love interacting with people and making new connections. I enjoy going outside and exploring new areas and learning about different cultures and ways of life. I like hearing new perspectives and learning from others.
Contact Info:
Suggest a Story:
 VoyageLA is built on recommendations from the community; it's how we uncover hidden gems, so if you or someone you know deserves recognition please let us know 
here.