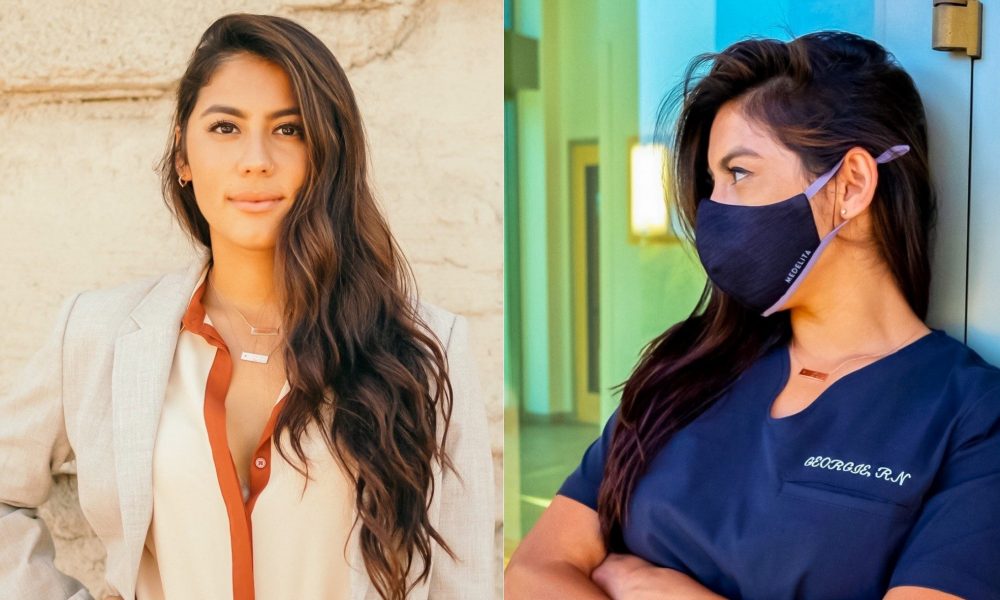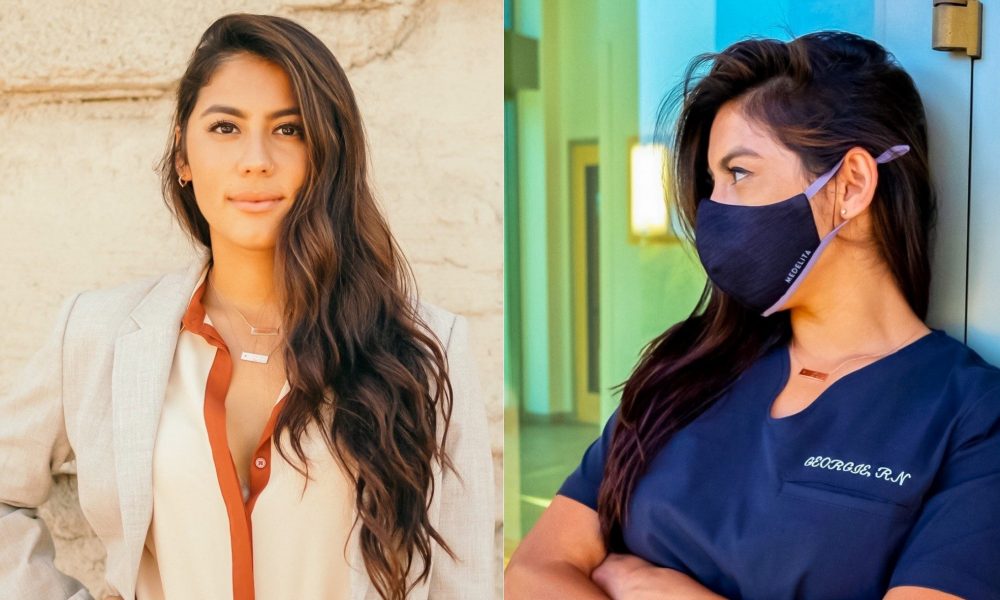 Today we'd like to introduce you to Georgina Villarreal.
Hi Georgina, please kick things off for us with an introduction to yourself and your story.
Hi, my name is Georgina Villarreal, but everyone calls me Georgie or "Nurse Georgie". I am a first-generation college student from Southern California and a proud Latina. I double-majored at San Francisco State University with a B.S. in Health Education and Community-based Public Health and a B.A. in Spanish, where I completed most of my courses studying abroad in Madrid, Spain (hands down one of the best experiences of my life).
After undergrad, I accepted an offer at a number one ranked Clinical Nurse Leader (CNL) program at Rush University in Chicago, IL where I completed an Entry Level Masters of Nursing. Since graduating in 2017, I have had the opportunity to work as a staff and Travel Nurse in Medical-Surgical Oncology, Orthopedics, and Telemetry.
Currently, I work as a Travel Nurse and Entrepreneur. When I am off hospital duty, I am operating, She Can Be Both, a Female Founded, Female Forward, Female Inspired, and Female Handcrafted jewelry line. Aside from work, I love playing soccer, training in mixed martial arts and spending quality time with people I love.
Alright, so let's dig a little deeper into the story – has it been an easy path overall and if not, what were the challenges you've had to overcome?
This is a good question because I believe that we learn more from failures than we do success. I am a firm believer that obstacles and challenges help discover our true strength and resilience. For example,
Being separated from my biological father and grandfathers at a young age due to substance abuse taught me to appreciate and love the people that do choose to be in my life.
Temporarily losing my driver's license in my teenage years due to unsafe driving after the sudden loss of my Great Grandmother taught me to learn better coping mechanisms.
Failing my last graduate nursing course by 1% before graduation was devastating at that moment but ended up being a blessing in disguise. I gained a few extra months to explore downtown Chicago and work on growing a student affinity group I co-founded during my Graduate Nurse Program in an effort to recruit and retain more minority students and staff. Upon graduation, I was awarded the College of Nursing Diversity and Inclusion Award, which meant the world to me.
Not passing the NCLEX (nursing board exam) the first time was truly one of the most challenging moments of my life. When I look back at it now, I realize I was not in the right mindset to take a 4-hour exam. I had just relocated states and was grieving the separation of my parents, not eating healthy, exercising, or sleeping. The second time around, I invested in an online simulation course to aid my test-taking anxiety and made mindful choices to take better care of my health leading up to my second exam, which I passed! Now, I am decorated with Daisy award pins nominated by my patients, and let me let you in on a little secret, they never ask me about my test-taking challenges. So, I want you to know that failing a test is not a failure at all, just a small setback and part of your resilient story.
Lastly, my most recent challenge was deciding to end a long-term relationship with someone I love to move back home to Southern California. It was one of the toughest and bravest things I have ever done, but ultimately, I made the decision for my own happiness.
While I am still healing and learning to "date myself" again as I like to call it, I am enjoying life near the ocean and being surrounded by my loved ones again.
Ultimately, my challenges have made me into the strong and independent woman I am today and for that, I am grateful for the bumpy road.
Appreciate you sharing that. What should we know about She Can Be Both?
Like all great stories, "She Can Be Both", was inspired after a couple of rounds of some really delicious margaritas with my nurse colleagues. We had somehow found ourselves trying to solve the mystery of why women are not celebrated for identifying with multiple roles or careers in life.
Specifically, why should being a Published Bikini Model make a woman feel less of a Registered Nurse? It doesn't, except my fellow nurse colleague who identifies with both felt she could not post pictures from her photoshoot out of fear of being judged. This is because there is a perpetuating stigma of women with "professional careers" being viewed as "unprofessional" if they post pictures of themselves in a bikini. If you don't believe me then just google, "#MedBikini study", where doctors from a highly respected Academic Journal created fake social media accounts to follow female Vascular Surgeons and somehow prove they were being "inappropriate" for posting pictures in their bathing suits on their time off (which was later retracted by the editors for errors in review process).
This is why I created the hashtag #SheCanBeBoth as a fearless affirmation to all women that we are not defined by one thing but many. I want women everywhere to know that "she can be both" sexy and professional, humble and confident, empowered and vulnerable, and unapologetically herself.
This summer, I am excited to launch our signature, She Can Be Both, rose gold necklace featuring a natural red amethyst gemstone to symbolize a woman's courage and passion to embrace her many roles in life. All of our pieces are female hand-crafted in Los Angeles, CA with inspiration and quality in mind above all else. The versatility of this piece makes a perfect gift for you and most importantly that inspirational woman in your life. You can check out our collection and join the She Can Be Both collectives at shecanbeboth.com.
Before we let you go, we've got to ask if you have any advice for those who are just starting out?
For anyone who wants to be a Registered Nurse, it's a selfless and life-changing career. Please know that nursing school is very challenging, but you can't give up. When I decided to pursue nursing, I had no mentors or financial assistance other than financial aid. I may not have had the resources, but I learned how to be very resourceful. You better believe that my test anxiety, dyslexia, and fear of student debt were not going to stop me from chasing my dreams of becoming a Registered Nurse. What set me apart was that I made a conscious effort to figure it out along the way until my dream came true. Just remember you don't have to have it all figured out. The most important part is that you have the will and resilience to not give up until you reach your goals. Repeat after me, "Si se puede", You can do it!"
The second thing I would tell new grads is to not tolerate bullying or toxic environments in the workplace. Working 12-hour shifts is already physically demanding and mental stress caused by environments you can't control will quickly lead you to work burnout and fatigue. If you have exhausted your resources and attempts to find feasible change in the workplace, then it may be time for you to find a new opportunity. Please believe me when I say that there are institutions with relaxation and meditation rooms, outdoor rest patios, state-of-the-art technology, supportive staffing, and safe nurse-to-patient ratios. You deserve to work at a place like that.
Contact Info:
Nurse Georgie 
She Can Be Both 

Image Credits:
Portrait taken in Palm Springs, wearing sangria Infinity scrubs, and lavender Clove sneakers are taken by Drake Wongtosarat Website: onetakedrake.myportfolio.com, Portraits of She Can be Both Necklace, She Can Be Both models, and Georgie at the She Can Be Both headquarters are taken by Renee Rodriguez Instagram: @portraitsbyrenee
Suggest a Story:
 VoyageLA is built on recommendations from the community; it's how we uncover hidden gems, so if you or someone you know deserves recognition please let us know 
here.